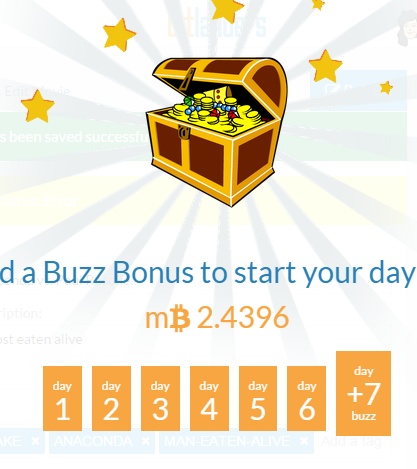 There's a slight increase of my bonus earnings today compared to yesterday's and this is a good thing. I was greeted with a treasure box after trying to submit or publish a specific video on my profile. I had noticed as well that it has been the trend, whenever i try to upload a video, the treasure box comes up and as per my friends in bitlanders, they are also noticing the same thing.
Although the slight increase is somewhat negligible, I am pretty happy that my balance had increased and that I am just a few mB towards redemption again. This time, I am able to redeem hopefully in a few days from now. This is indeed a great thing, just interacting, sharing and I can earn money. No investments needed just pure hardwork.
And also, my base score had as well increased tonight from 40 to 41 which made my current buzz to be 59 because I have a direct power up of 18 always as in everyday.
How's your bitlanders earning so far dears?