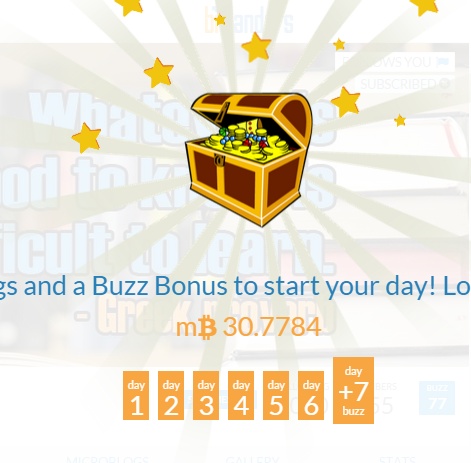 This is by so far the biggest amount earned here in bitlanders. Second was the one I had earned few weeks back which was around 28mB, now it had grown to 30mB and I can't grasp the happiness that I feel. I feel really blessed for earning this much. I love to know that what I am contributing here is giving me back big time!

Now I had already made this as a habit of posting what I had done the previous day which might also help other users to increase their own buzz score and hopefully their earnings as well.

- posted 3 videos, all were my own videos, remember that bitlanders gives more points to those videos which you had taken yourself and not from those which are already available in the web.

- posted 5 blogs, I normally post 3 but yesterday, I was kind of inspired to write, contents were all mine as well.

- posted 4 albums in the gallery, note that these albums that I post are all mine as well and I made albums for them to be categorized, I will be using them later on for my blogs.

- posted a lot of microblogs

- interacted to my co-bitlanders, buzzed, commented and shared. Whenever I visit a profile, I leave marks, I make sure to comment to their works and I visit all categories.

- did all the quests, yesterday's quest was bigger than usual, watching 5 videos enabled me to get +3buzzes which was a great help.

- received blog review, this is the best way of increasing buzz score. Submit your contents for review and wait for your buzz score to increase after receiving the review from Miss Hillary. Please note that the cost would depend on certain criteria. Mine is now worth 60gems, it came to a time when it cost 100 gems. It changes in a daily basis.

More earnings to come!