Soooo, I know it's not just me who've met celebrities both local and foreign but hey it's nice to document these things right? Too bad I don't have a pic of the latest one I saw today!!!
Anyway, let's see... I'm just gonna mention the ones who are really memorable to me or worth mentioning.
Now let me think... Who was the very first celebrity I saw? Uhm... Oh hey I know!!! Guess who! Lol.
♥ Drew Arellano ♥
The first time I remember that I ever saw a celebrity and even had a picture with him was when I started working in a small ad agency. This was a year after college graduation.
My grade school and high school life was bleak and very far from the metro so I can't blame anyone for me seeing celebrities at such a late age. :P
For a few years before the day I met Drew Arellano, I wanted to have a pic with him or just see him. Lo and behold after a year or so he was right in front of me!!! Haha.
I mean who would have thought I'd meet him right? When I heard my boss say his name I was like squealing inside.
He's such a cutie! I was like really shy to even get close to him when I saw him. Omg... Hahaha. I was dying of shyness but I had my photo taken by a colleague at the latter's urging. Hahahaaaa. Omg I felt so lucky that time that I could die even without talking to him. Hahahaaa.
Well I did not have a solo photo with Drew unfortunately. Mariel Rodriguez was his cohost for that event so she was onstage with us. No choice but to have a pic with both of them. Haha. Too bad I can't find the photo to post it here. It's in my old files.
Anyway, after that I think it took some years before I even met another celebrity. Hmmm. I don't remember any other memorable experience. I will just note those I had pictures with or I took a picture of for documentation purposes. Lol.
♦ Kuya Bodjie ♦
Ah the famous and beloved storyteller, Kuya Bodjie from the now defunct kiddie show Batibot. It was the local counterpart of Sesame Street. I liked it better than the foreign show you know. Manang Bola was there and the Ning Ning sisters... Ah those were the days. I even almost became part of the show because I loved it so much I wanted to join. Too bad at the time I couldn't even if I wanted too... *siiiigh*
Anyway, this happened when I attended an acting workshop. Who knew acting workshops could be therapeutic. Lol.
I keep getting distracted from the topic but hey, the workshop was really cool. It was organized by a group of students in a college somewhere in Manila. It was related to everything about theater. Too bad they didn't post the event pictures. Tsktsk.
Before the workshop there were other celebrities who had a talk or lecture. One of them is an actor I've actually seen 3 times already! Whoaaa~ all times were unexpected meetings! The universe must have been sending me a message I didn't know how to interpret. Lol.
♥ Epy Quizon ♥
I am still wondering how in the world I coincidentally saw this actor three times! It's not that I'm not reading the names of who's attending, but maybe I just didn't think of looking. Lol.
Out of the three "meetings", Epy Quizon's name might have been written in an announcement or something in two of those. But no the last one I don't think they put his name on the list as well... Hmmm. And each did not happen consecutively like monthly, but more maybe like almost yearly?
Anyway, the first time I saw him was at the theater workshop I mentioned above. The second time was a surprise because he was the actor for a TV series/dramatization when I joined as a TV extra. Photo op pic above.
Yes folks, I joined as an extra on TV for almost a year. Lol. Not that it was glamorous or anything at all. It was never like that during a few years back. If you've heard about the viral story of a director mistreating an extra, well it's not far off but I never experienced it thankfully.
Ehem, going back to the topic, the third time I saw Epy was at a cozy movie house. It's one of those "indie" movie houses that show festival movies and such.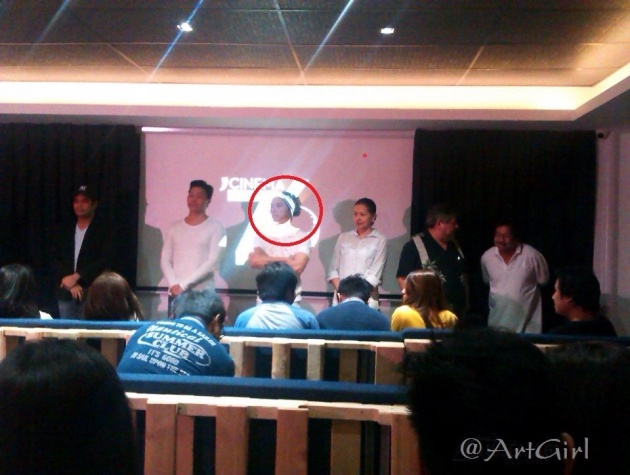 Hey it was Heneral Luna and it was for free so why not right? Lol. It was June 12, so as an Independence day free movie I went and finally got to watch it. Fortunately too I saw the cast of the movie. Wow! I even got to sit beside a theater actress (I am not familiar with). Cool huh?
The rest of the actors I saw at the movie house after the show were John Arcilla and Mon Confiado to name a few.
♣ John Arcilla ♣
This is the guy who played Heneral Luna. The movie is such a hit that he became really famous for it.
I only got a picture with him last year though when I went to the first ever History Con. I wonder if I should be serious about submitting a video to join History Channel Asia as one of it's hosts... *siiigh*
Sometimes I think I do things too half heartedly. Haaaay.
♦ Giorgio Tsoukalos ♦
Okay so as I blogged about last year, I finally saw this guy at last year's History Con. Oh that was a blast.
♦ Macklemore ♦
I won tickets to Macklemore & Ryan Lewis' show last year, so I went! With a friend of course. Lol.
I was lucky last year. I got the things I wanted. Not everything but at least some of them. :D
♦ Chinkee Tan & Francis Kong ♦
Okay these two I already blogged about as well. They're two of the most well known motivational speakers of our time. I only have videos of Chinkee Tan though.
*Disclaimer: For some reason if the videos are not in the center and there's space below, it's because the blog editing is wonky. What shows in draft is all in disarray in preview.*
♣ Heart Evangelista ♣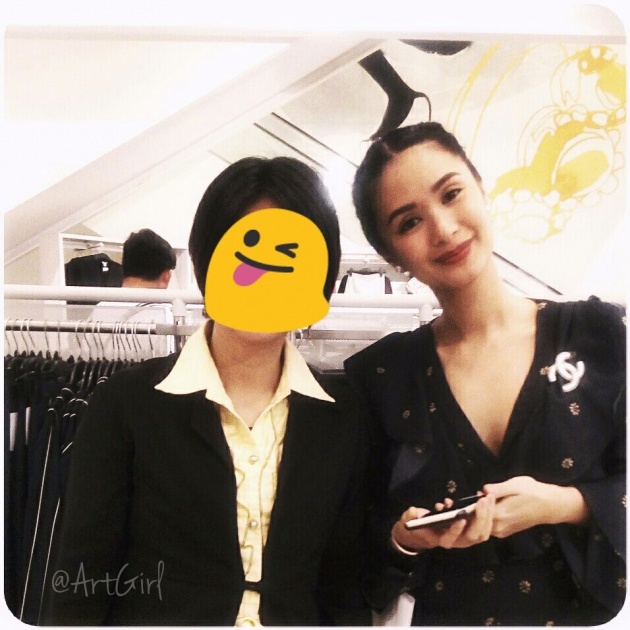 This year, the second celebrity actress I saw was Heart. First one was Jennifer Sevilla, if anyone here still remembers her. Lol.
This was in Robinsons Magnolia during our booth manning. It was quite a challenge just to get close to her because she was shopping and at first I didn't think it would be okay to walk in the boutique she was in, plus she has a bodyguard!!! Whew. But the guy was nice so no worries.
Other celebrities worth mentioning
So aside from the ones featured above, I also saw Jessa Zaragoza and Michael V during the Pepito Manaloto TV episode I joined as extra. I have a pic with Jessa but wasn't able to have a pic with Michael V. Unfortunately I was too shy to ask for a pic when he was right in front of me. So sad.
I also saw Angel Aquino. Hey come to think of it I saw her twice already. Once in Eastwood mall, she was all alone and the other was today in Promenade mall with her kids. Cool.
So I guess that covers everything? Can't think of other celebrities I've seen so maybe this is it. Other celebrities aren't worth mentioning because I don't know them. Some young celebrities these days are just meh.
Oh wait, if you're into comics, I've met the creator of Cresci Prophecies. We're even Facebook friends since 2015. Lol.
And there it is folks. This ends my list now. Ciao.
© Art x Stephanie Rue
All rights reserved.