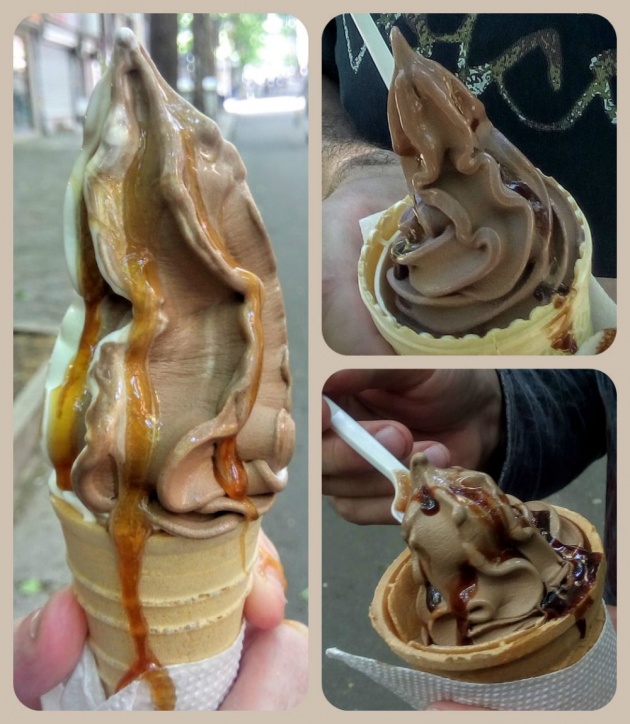 Photo collage by me (edited with Pixlr)

Hello guys,

I was happy to find out that Micky posted a blog related to another double reward topic, this time, a tasty one – Gelato and Ice cream. And here I am writing my third blog in Bitlanders. There are so many things to consider while sharing my thoughts, a huge mixture of food, flavors, and sweets is wandering in my mind right now. So, I will skip any further introduction and start straight away.
Although I am not an expert of the Italian gelato dessert, I have done my research and I find the topic fascinating. The only places where you can find gelato in Bulgaria are the malls, which basically means only in the big cities of my country. Wikipedia gives the following explanation for gelato:
It is generally lower in fat, but higher in sugar, than other styles of ice cream.
Gelato typically contains less air and more flavoring than other kinds of frozen desserts,
giving it a density and richness that distinguishes it from other ice creams.
Video source: www.youtube.com

To be honest, before checking the information on the differences between gelato and ice cream, I believed every Italian ice cream is gelato since the word "gelato" itself is Italian. Well, that happened not to be true. Italian ice cream is very popular in my country, but plenty of varieties exist. For example, you can find a creamy style or more frosty, different brands, different tastes, different toppings. I am a fan of sweets, so I find it lovely I can discuss this particular topic.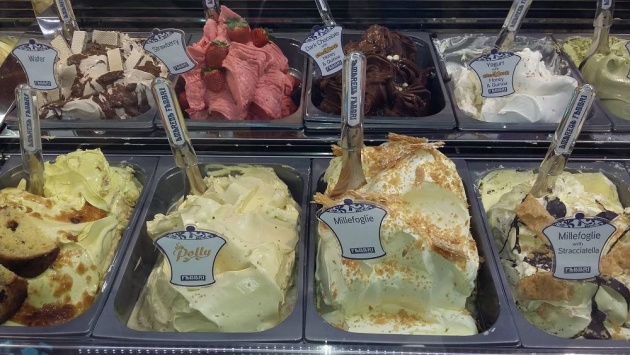 Picture source: www.facebook.com

As I mentioned, I have seen gelato only in the big shopping centers (malls) in Bulgaria. They sell it in coffee shops, confectioneries or gelato bars. Gelato is stored in circular buckets and its price is higher compared to the traditional ice creams. Let's hope it will become more known to Bulgarians in the future since its dietary features are worth considering and impressive.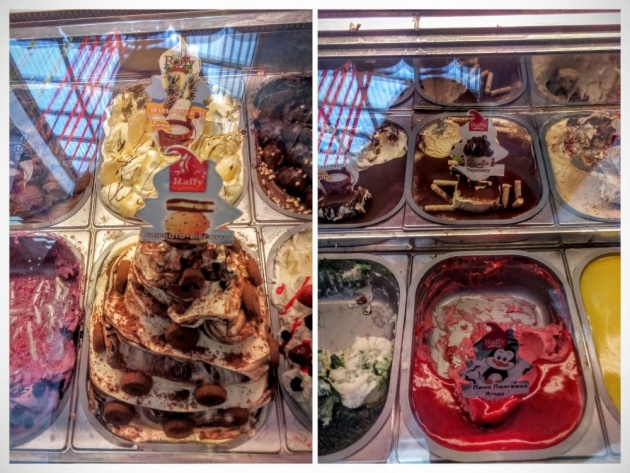 Photo collage by me

This is Italian ice cream, and sellers are situated in kiosks directly on the street. You can then look through the glass window and choose from different "exotic" flavors of ice cream: Tiramisu, Milk chocolate, Baileys, Pineapple, Fig, Snickers, Choco-hazelnut, Pino Pinguino, Biscotto, Strawberry. The way they look is tempting; they are in big steel bowls and are stacked in huge piles of ice cream scoops. Most of them have something extra inside the ice cream, could be cookies, or nuts, or chocolate crumbs, or cocoa spread. The price is measured by the weight of the food. You can choose from a plastic ice cream cup or a sugar wafer cone (wafer cone is measured for calculating the price, but the plastic cup is not). So, if you prefer those big wafer cones, you will end up eating less ice cream. Well, that is a question of taste.

They offer a dessert similar looking to the creamy ice cream, but the recipe is different. It is made by freezing the traditional yogurt and making it in a "twisted style" ice cream. Their products are offered in small shops or in the shopping malls and are in the range of the luxury ice creams. You can use their machines to serve yourself and then a wide choice is available for topping. They have chocolate wafer sticks, biscuit pieces, cereals, nuts, dry fruit, candies and cookies, chocolate chips, caramel, liquid chocolate topping, etc.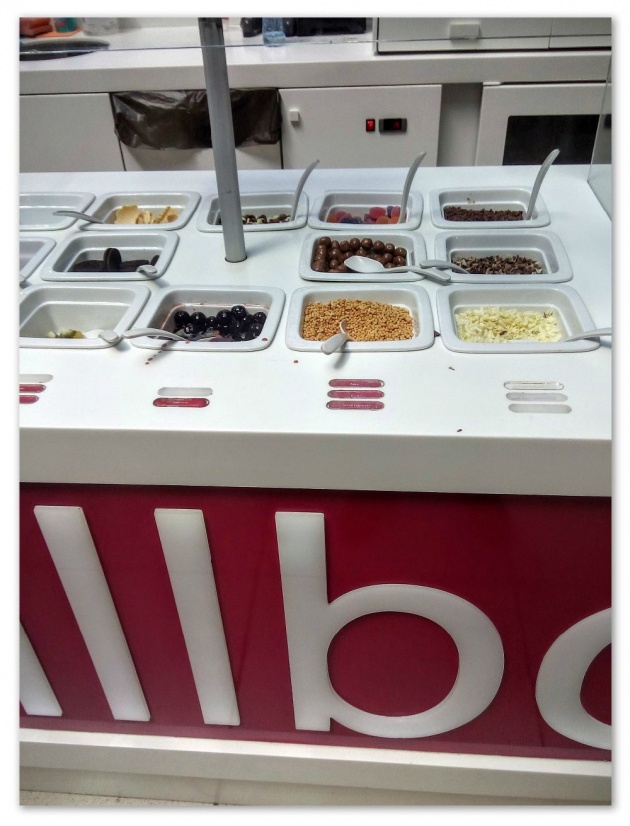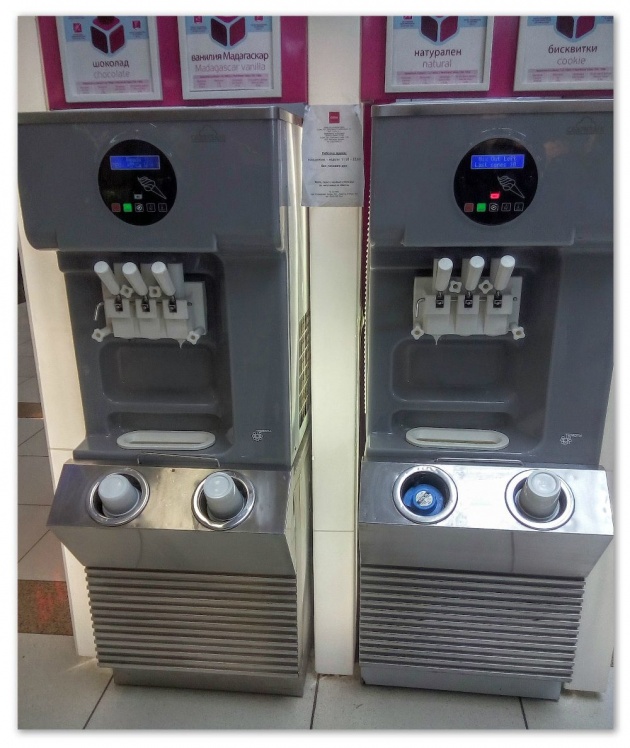 Chillbox photos by me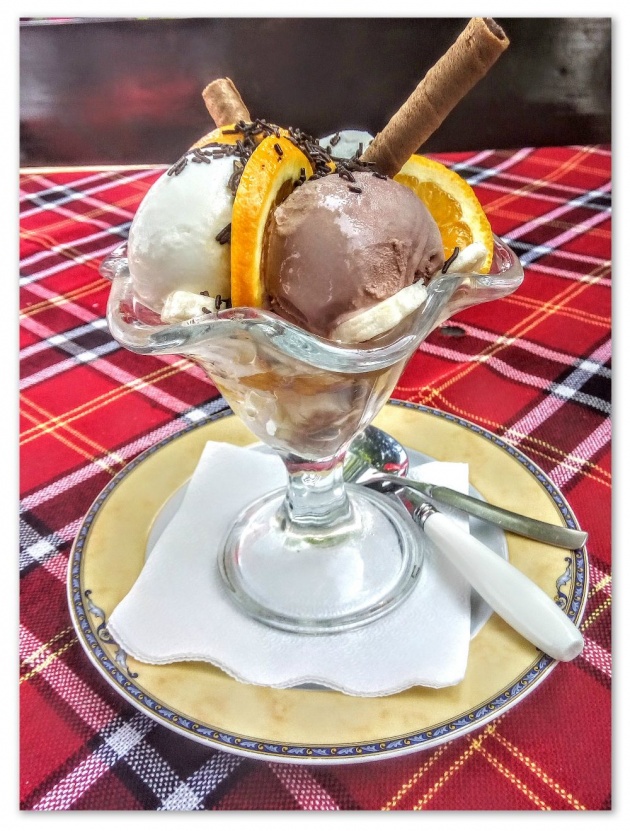 Photo by me

This is a dessert you can find in most restaurants. It consists of two or three balls of ice cream (typically chocolate, vanilla or both), grated chocolate, fresh fruit (apples, kiwi, bananas, oranges) and chocolate sticks. They always try to make the outlook of the sundae appealing: serve it in a high art thick glass and use proper decoration. This is one of my favorite desserts because I can cook it even at home and because of the fruit. We should not forget that sundae is healthier than the same quantity of ice cream because it contains fruit.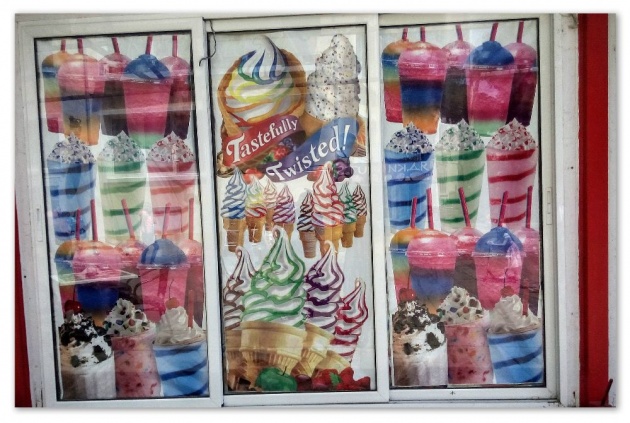 Twisted ice creams (Photo by me)

Those are ice cream machines, which are available in most cities and offer three kinds of ice cream: chocolate, vanilla, and a mixture of both. You can choose a topping from kiwi, caramel, chocolate and strawberry. The cones can be regular wafer cones (not so sweet, smaller and thicker) or sugar cones (sweet, crispy and wider). The price is low, the smallest ice cream is only $0.40 while the biggest - 1 dollar. I used to love those ice creams as a child since they were just becoming popular at that time and I always prefer the creamy desserts. I have seen machines, which sell colorful products, such as banana (yellow color), kiwi (green color), melon (orange color), strawberry (red color) and other exotic ice creams. But they are very rare and hard to find. I think they are just testing the market with these flavors.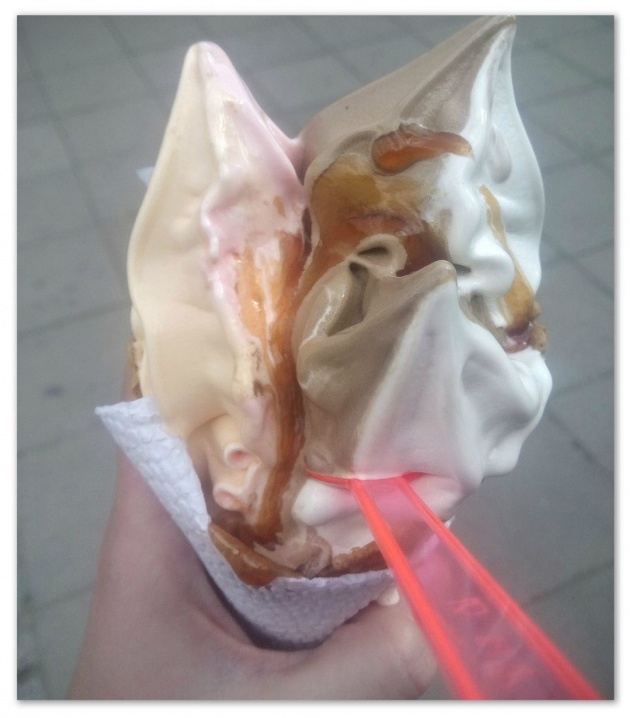 Colorful ice cream (Photo by me)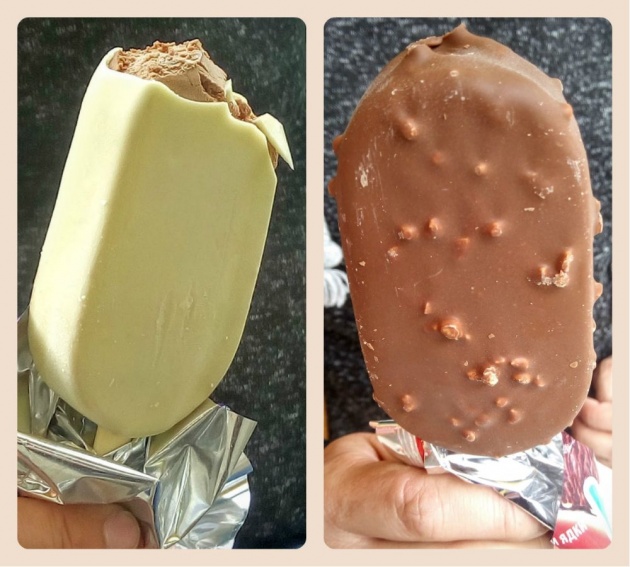 Photo collage by me (edited with Pixlr)

These are the ones you can buy from the shops and supermarkets. Typical brands in Bulgaria include Algida, Eskimo, Boss, Uncle Charly, Familia, Darko, Marsi, Deni, Nestle. Marsi, Deni, and Algida have kiosks for cone ice creams, sold by the weight. There is one I want to mention, called "sandwich", obviously due to its style. Half of the ice cream consists of two square brown biscuits with white ice cream between them. The other half is white ice cream, covered with frozen chocolate with nuts (walnuts, almonds or peanuts). The variety is so huge that I cannot describe it fully in this blog. But you can find everything from one meal ice creams of 50-60 g each to 3 l boxes of this delicious dessert. From chocolate covered ice creams to cones, sticks, ice cream bears, lollipops and much more.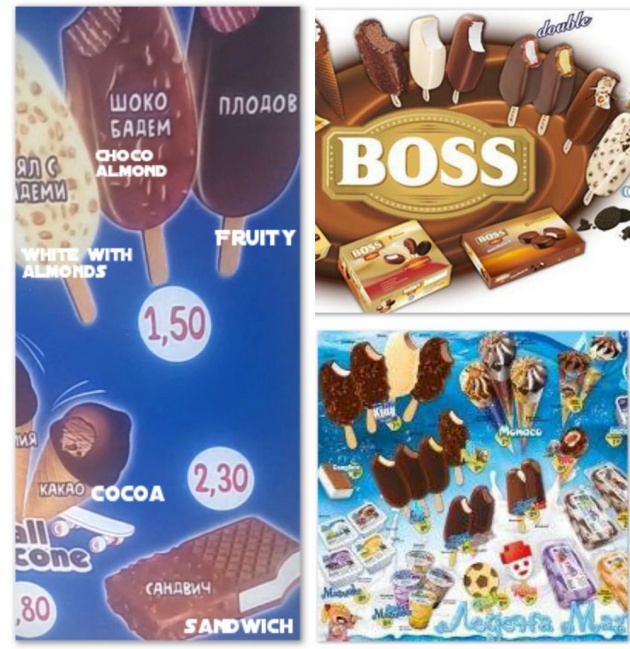 Photo source: www.facebook.com and me (edited with Pixlr)

What is the best time of the day to eat gelato or ice cream? I prefer it as a dessert, even though that is not the healthiest choice. My favorite flavor is chocolate, and favorite topping – caramel, but I cannot recall a flavor I do not fancy. Why chocolate? Because of the cocoa which makes the ice cream specific and reminds me of chocolate itself. Nutritionists recommend eating sweets as a snack, instead of mixing it with daily meals, but I am not a fan of following eating rules. And to define which snack is healthier, we should consider the calorie pack. So, gelato definitely beats the ice cream on this one. If you prefer living a healthy lifestyle, gelato is your best bet. Thicker, fewer calories, still delicious.
Of course, ice cream pavilions are available only in summer because of maintenance issues and the higher demand. In winter, the only ice cream one can find is in hypermarkets; besides that, the price is lower. I buy ice cream only when the weather is nice, but I have friends who love eating it every season of the year. An old rumor says this dessert can heal you if you have a sore throat, but I never saw that happen in reality.
Ok, that is it for now. I am going to grab an ice cream and will see you in my next blog. I hope you enjoyed my thoughts and experience with this summer topic. Thanks for reading and don't forget the dessert!
by NinaB