Day 1 of Mercedes-Benz Fashion Week Fall 2013 fashion shows was a nice adventure. Bittersweet in the fact that our favorite fashion photographer and team member Alena Soboleva had a hell of a fall skiing and must miss this round of fashion week to heal. So we wish her a speedy recovery!
Semyon and I headed up to Lincoln Center the site of the 2013 MBFW shows, most of them at least. The shows are housed in 4 different venues on site at L.C. called the Stage, Studio, Box, and Theater.
The first show we attended was the Timo Weiland Women's show which fortunately for us started late as we arrived at the last minute, but left us zero opportunity to join the other photographers on the risers as it was a total mob scene as you can see below. But no worries we found a great angle to capture video. The show had an incredible female vocalist accompanying the models as they walked the runway.
Immediately after we headed over to the Tadashi Shoji show, and situated ourselves in some very nice spots and captured some great images of this collection. I was a big fan of the looks, the models, and the music. Everything clicked! Semyon thought the opposite and wasn't a fan. Oh well, to each his own. At least more amazing video content.
Our third and final show was this evening at 7pm, the Kenneth Cole show right down the block from our studio on 27th st. This was a fun production. You felt as if you were in a tropical fish tank as the models walked in front of projected fish on the concrete walls. We set up three cameras and captured some unbelievable images that we'll review tonight and tomorrow. The final walk had the models all taking pictures of the crowd in homage to the projected tag line "Social NetWalking", another of Kenneth Cole's spectacular one liners!
Tomorrow is supposed to snow like crazy in the evening. I'm sure the show will go on as planned tomorrow afternoon. Here is Day 2's lineup just emailed from the folks at IMG Fashion:
CZAR BY CESAR GALINDO: Studio (9:00 AM)
PROJECT RUNWAY: Theatre (10:00 AM)
CARMEN MARC VALVO: Stage (11:00 AM)
NOON BY NOOR: Studio (12:00 PM)
NAUTICA: Stage (2:00 PM)
MONIKA CHIANG: Box (2:30-3:30 PM)
REBECCA MINKOFF: Theatre (3:00 PM)
IAN VELARDI: NY Public Library, Lincoln Center (3:30 PM)
TOMMY HILFIGER: Park Avenue Armory (5:30 PM)
NICOLE MILLER: Studio (6:00 PM)
CHARLOTTE RONSON: Box (7:30-8:30 PM)
ACADEMY OF ART UNIVERSITY: Theatre (8:00 PM)
PARKCHOONMOO: Studio (9:00 PM)
The Press at Timo Weiland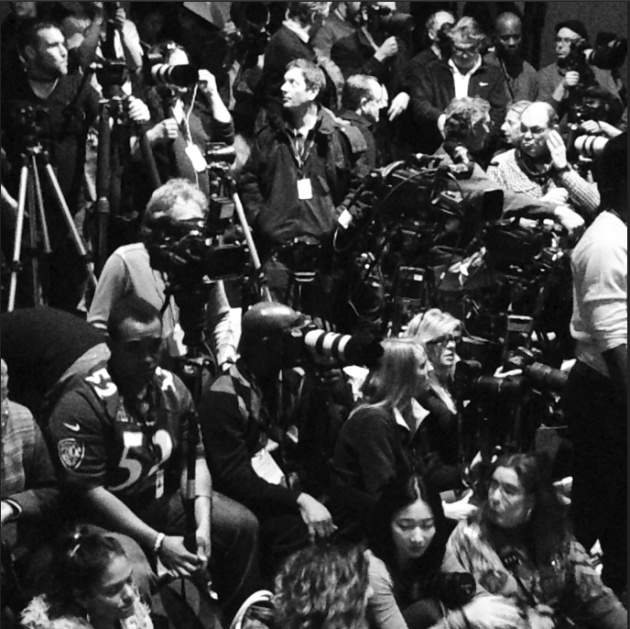 Semyon Shooting Timo Weiland Women