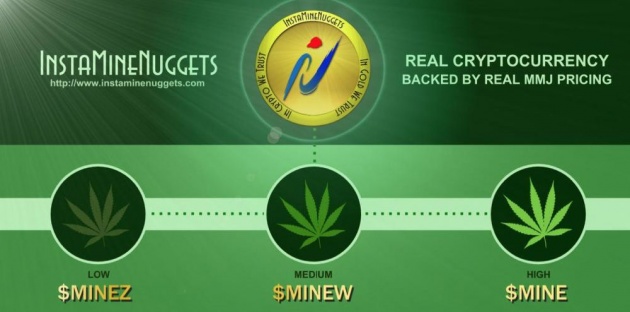 $MINE "NEW ERA FINANCE BACKED BY BLOCKCHAIN TECHNOLOGY"
Written By: Patrick "PK" McDonnell CEO of Coyote WallStreet.

"$MINE "New era finance backed by blockchain technology."
InstamineNuggets (Exchange Ticker Symbol: $MINE) is a unique cryptocurrency
designed to offer its users decentralized blockchain "Crypto Coin Contracts" offering potential rewards while striving to become a viable storage of wealth for the long-term. According to the developments website: www.InstaMineNuggets.com

$MINE was launched February 25, 2015 offering open-source desk top QT software for download and mining purposes."
"$MINE aims to produce an efficient network for miners and adopters alike."
However, there is a twist to $MINE, a 3 prong approach to innovate traditional finance. $MINE developer Jason Flack believes the underlying infrastructure is light years beyond its time and sure to become the industry norm;
"We issued $MINE, $MINEW & $MINEZ as a means of developing the parent currency while offering "Crypto Coin Contracts" utilizing the underlying blockchain technology to reward adopters who are willing to mine or purchase cryptocurrency while supporting our development for a specified period of time." ~ Jason Flack
"This is a totally new concept with an underlying model that was comprised by analyzing dozens of successful small cap growth ventures in the initial phases of development. We have done extensive research and believe our theory will come to fruition in time." ~ Jason Flack
Mr. Flack is speaking on the launch and distribution of $MINEW and $MINEZ which are the underlying "Crypto Coin Contracts" he mentions. Both $MINEW and $MINEZ are capped at 1.5M coins with specific terms pegged to each one mined.
$MINEW and $MINEZ have launched 1.5 million [2X] (CLASS A & CLASS B CRYPTO COIN CONTRACTS) classified as InstaMineNuggetsCLASSA and InstaMineNuggetsCLASSB respectively.
$MINEW will be convertible into $MINE at 2.00 $USD per coin with a 2 year Expiration Date from purchase or can be bought/sold freely like $MINE currently listed on Cryptopia.
$MINEZ will be convertible into $MINE at 3.00 $USD per coin with a 3 year Expiration Date from purchase or can be bought/sold freely like $MINE currently listed on Cryptopia.
The development has experienced huge support from the altcoin mining community with many miners and mining pools staking their claims before all coins halve in reward value.
InstaMineNuggets is definitely an interesting development that we will continue to report on as they journey further along the winding roads of their road map.
$MINE Windows Wallet
$MINEW Windows Wallet
$MINEZ Windows Wallet

Learn More about $MINE
For more information and news on Bitcoin and alternative cryptocurrency follow @CoyoteOfWallSt
There is a very high degree of risk involved in investing. Past results are not indicative of future returns. Coyote WallStreet assumes no responsibilities for your trading and investment results. The indicators, strategies, columns, articles and all other features are for educational purposes only and should not be construed as investment advice. Before acting on any recommendations, one should consider suitability and should seek professional advice.
Coyote WallStreet is a paid cryptocurrency promoter for the InstaMineNuggetsdevelopment team. At the time of this article Coyote WallStreet owned 5,000 $MINE, $5,000 $MINEW and 5,000 $MINEZ.