Mini cheeseburgers on a stick , you'll never miss the bun!
Little mini bites are always the hit at any party. New Year's Eve is the biggest and most festive party for finger foods and little bites. Whether you are the host of a home party, or the attendee at a friends party, appetizers rule on this night.
Maybe because finger foods and easy appetizers that don't require utensils make for easy, comfortable gatherings, casual conversation and the ability to move around with ease and mingle.
After the holidays like Christmas, that require lots of prep time and sit down entertaining, New Year's Eve is a much anticipated relaxing night.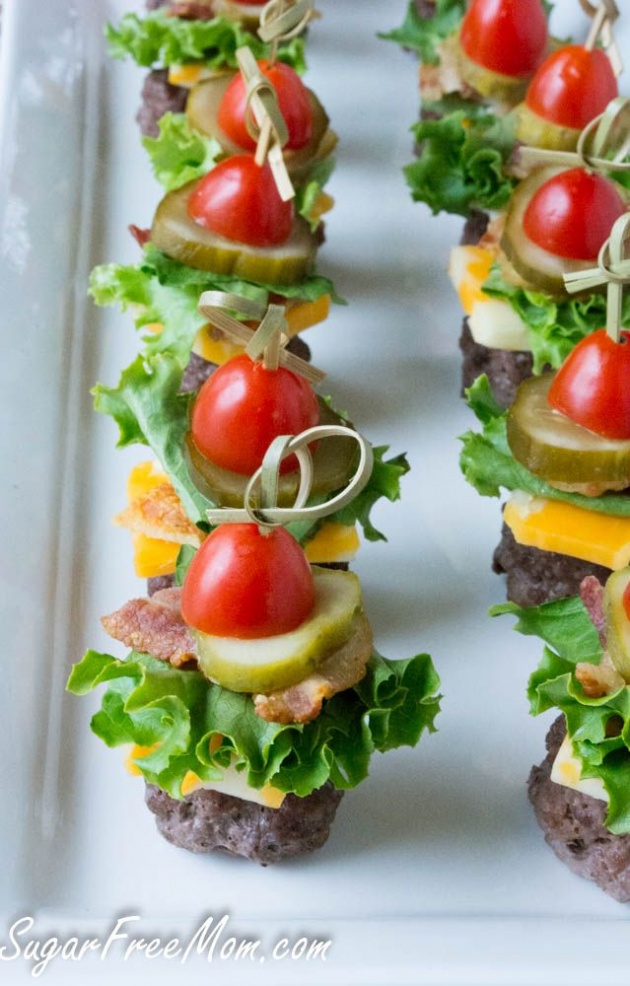 These mini burger bites encompass all things wonderful. They're bunless so they're low carb. They're tiny so you can enjoy more per serving. They're pretty and festive for company.
There's really nothing NOT to love about these burger bites.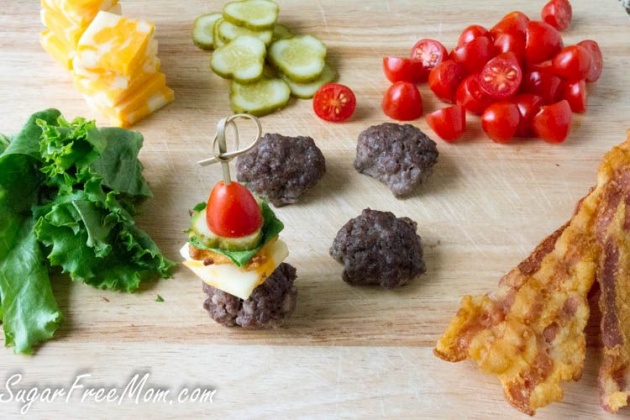 AND they are easy to customize. You could have a table set up for building you own mini burger and leave out all the toppings so others can make it themselves.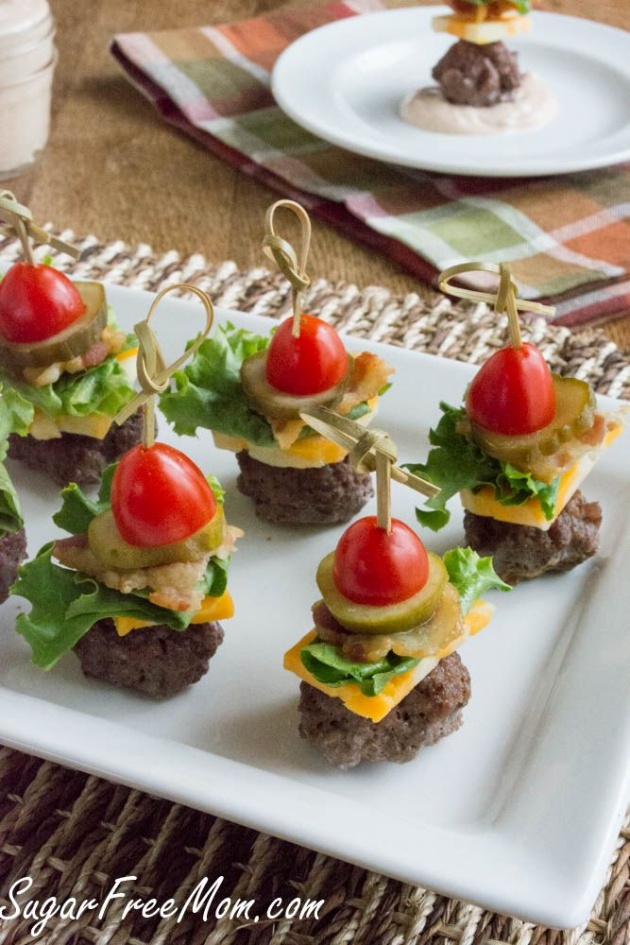 If you make them yourselves for the party they do require some time to cut and prep everything, but then it's all assembly line style and your kiddies can help, like mine did!
A little coaxing of getting to eat some works well too.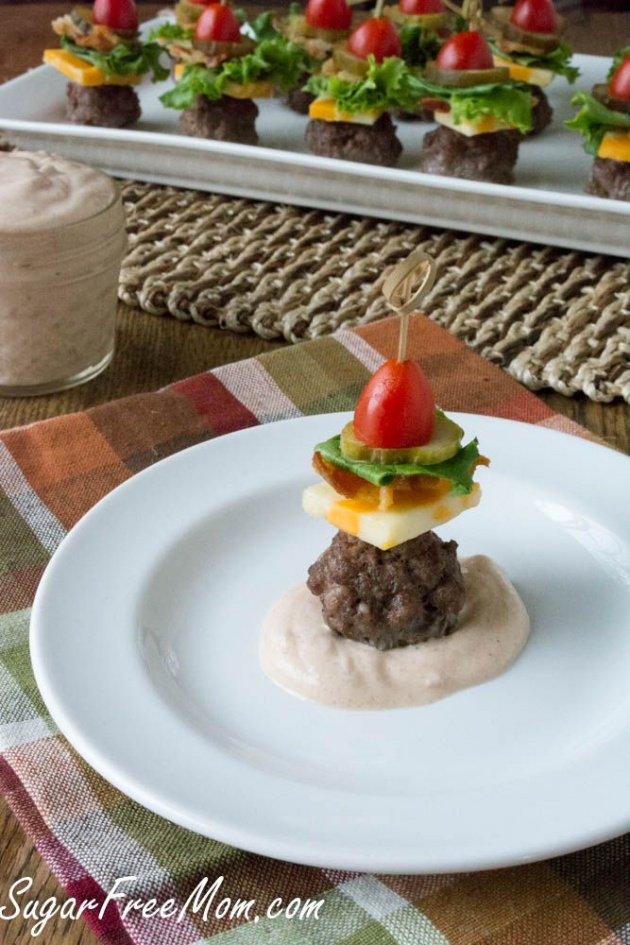 You can use whatever dressing your really like with burgers but I went for a change of pace and made my own thousand island style dressing to dip these bites in.
Be careful with Tabasco sauce, a little goes a long way. Taste and adjust before adding more. I think it's spicy enough but the hubby thought it not spicy enough and would have preferred more. You be the judge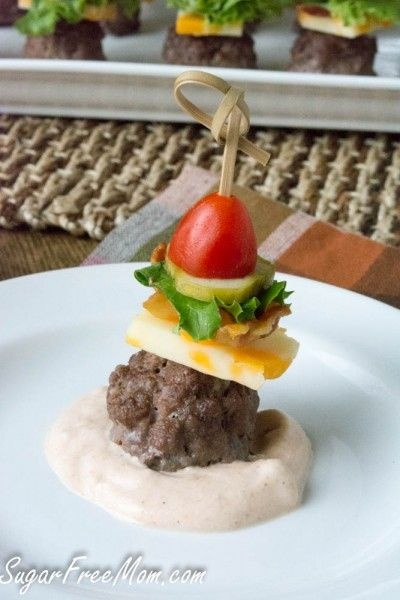 Mini Bun-less Cheeseburger Bites with Thousand Island Dip
Nutrition Information
Serving size: 3
Calories: 236
Fat: 16.3g
Saturated fat: 7.9g
Trans fat: .1g
Carbohydrates: 1.7g
Sugar: 1g
Sodium: 430mg
Fiber: .1g
Protein: 20.1g
Cholesterol: 69mg

Prep time:

Cook time:

Total time:
Ingredients
2 pounds ground beef
1 teaspoon salt
1/2 teaspoon pepper
1/2 teaspoon onion powder
1 teaspoon garlic powder
6 ounces uncured, nitrate free bacon
24 cherry tomatoes, halved
2 cups red leaf lettuce, chopped
8 ounces cheddar cheese, cut into 48 pieces
optional: pickles
Thousand Island Dip
1 clove garlic, minced
1 cup plain Greek yogurt
1 tablespoon extra virgin olive oil
2 tablespoons sugar free ketchup
2 tablespoons chopped dill pickle
1 teaspoon apple cider vinegar
1/2 teaspoon salt
1/2 teaspoon onion powder
1/4 teaspoon pepper
1/2 teaspoon Tabasco sauce
Instructions
Preheat oven to 400 degrees.
Combine the first 5 ingredients together in a bowl.
Using about 1 tablespoon of the meat mixture, make 48 mini patties or meatballs.
Place them on a foil lined baking sheets and bake for 15 minutes.
Cool slightly to handle.
While the mini burgers are baking, cook the bacon in a skillet but remove before crisp. Drain on paper towel and break into 48 pieces.
To assemble burgers on toothpick start with a tomato half, pickle, bacon, lettuce, cheese and burger.