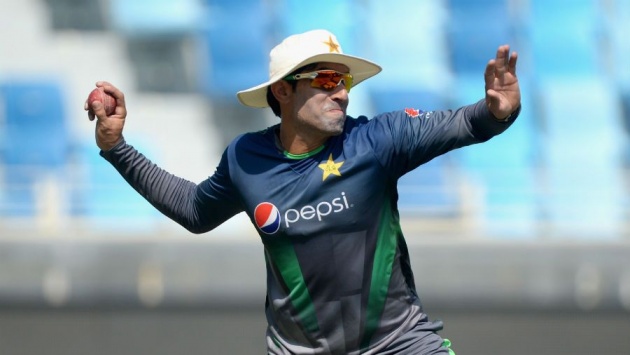 Misbah-ul-Haq has been signed by Rangpur to play in the third edition of the Bangladesh Premier League which begins from November 22. Misbah has not played international T20 cricket since he stepped down as Pakistan captain in 2012, but he has been a consistent feature in domestic T20s and foreign leagues.
Misbah, 41, recently led Pakistan to No. 2 in the Test rankings after a 2-0 defeat of England in the UAE. He had hinted at retiring after the series but the PCB had asked him to delay those plans.
So that means his next assignment would be a tour of England in July 2016. The remainder of Pakistan's Test specialists will play plenty of limited-overs cricket, including the Asia Cup and the World T20 next year, but Misbah who has retired from both the shorter formats, is hoping to keep himself match-ready by playing the Quaid-E-Azam trophy, Pakistan's premier first-class tournament, and later the Bangladesh Premier League.
"I have signed with BPL," Misbah told ESPNcricinfo. "I want to carry on and keep myself motivated and maintain my fitness. So whatever cricket comes in I want to play to avoid being complacent."
Pakistan's domestic season will conclude in February next year. The first Test at Lord's is in July, four months later. So Misbah is keen to secure a contract with an English county to make sure he doesn't turn up undercooked.
"I love the game and want to play it," Misbah had said after the England Test series. "It's really difficult when you have not played any competitive cricket for six, seven, eight months and suddenly you come and play against top players. So this is a period you need to motivate yourself.
"I can still play domestic cricket and be ready for that kind of challenge, but that's not easy. I have mentioned that before because after retiring from ODIs, I can feel that whenever the Tests come the first game is always difficult and the body mechanism is not working. I feel that I am playing after a long time and it takes one or two innings to settle and if you are getting out early it could be horrible for you so these things are there so I am just trying to rethink and work out."