Hi Friends, its Lucifer again with another interesting topic. I am fine and I hope you will also fine. So today I am going to write about the career of another cricketer. Previously, I have written a blog about cricket in which i could not made a good impact. I wrote about an interesting match between Pakistan and Ireland. So Hillary I am expecting a good review for this. Before going to the blog I want to tell you that I am a die hard cricket fan and nothing can spare me from watching cricket.
Today I am going to write about a living cricket legend, a celebrity , a very nice personality, a motivational person and a very humble, polite man from the cricketfields, none other than Misbah ul Haq.
Pakistan Test captain Misbah Ul Haq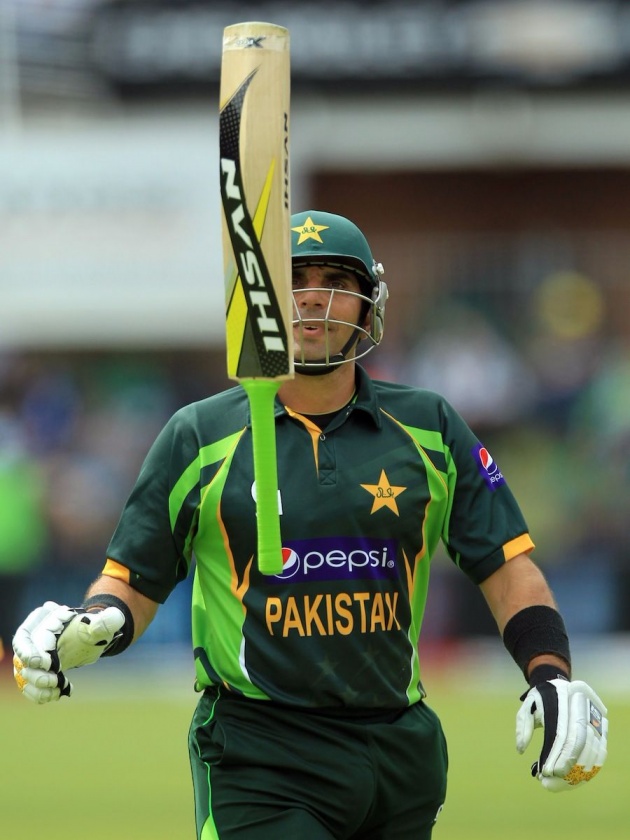 Image source :Google.com
Misbah Ul Haq Khan Niazi was born on 28th May 1974 in Mianwali,Punjab ,Pakistan. He is currently the captain of Pakistan Test Cricket team. He also captained Pakistan One Day International team and Pakistan T20 International Team. He hold a lot of records in the field of cricket. He is the man whose talent nourish with the age. The quotation Old Is Gold is very suitable for his character. Because he is performing more consistently as he is getting old. His last big achievement is a win at Lords and a draw series against England in England. He also won two series against England in UAE. Once he whitewashed them and once they won 2-0 with one test draw. He also beat Australia in UAE. All this things shows how great is he. Doesn't he?
Earlier career of Misbah Ul Haq:
Though Misbah was not as effective in his earlier cricketing career. Misbah made his first class debut in 1998 and after three years he succeeded to make a good impact on selectors and got a chance to make a Test debut in 2001 against New zealand at Auckland. He made his ODI debut also against the same side in 2002 at Lahore. So Misbah couldn't make this chance big and became in and out of the team. He was sent back to play domestic cricket to gain confidence and form. He worked very hard there.
Back to Cricketing fields:
Misbah came back to cricketing fields when he made a T20 debut against Bangladesh in 2007 in the T20 international World Cup 2007. In this World cup he made such an impact which is unforgettable. He was the man behind the solid performance of the team in World Cup under the captaincy of Shoaib Malik. Though Pakistan lost the final against India and Misbah was considered responsible for that. Every cricket fan will remember that shot:
Misbah playing scoop against India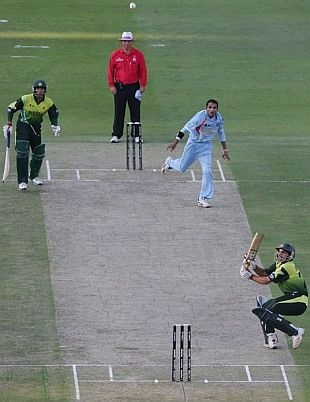 Image source:Hamariweb.com
After that he also played very well in the T20 World Cup 2009. And he was an active member of the winning team of 2009. He was also ranked No.1 in T20 International rankings. He is the only Pakistani to be ranked No.1 in T20 Internationals.He also played a key role in World Cup 2011 which was held in India. He took Pakistan in to the Semifinal of the event but eventually Pakistan lost to India in the Semifinal, and Misbah once again was considered responsible for that.
Big Achievements:
Misbah Ul Haq achieved a lot in his cricketing career. It is obvious that a person who has fans always has haters . So Misbah also has a bunch of haters around the World and also in his own country. He is also criticized in his career also. Several former cricketers said that he use old techniques. He is criticized by his slow batting techniques.So his achieved a lot with this slow batting.
Misbah adjusting the field in World cup 2015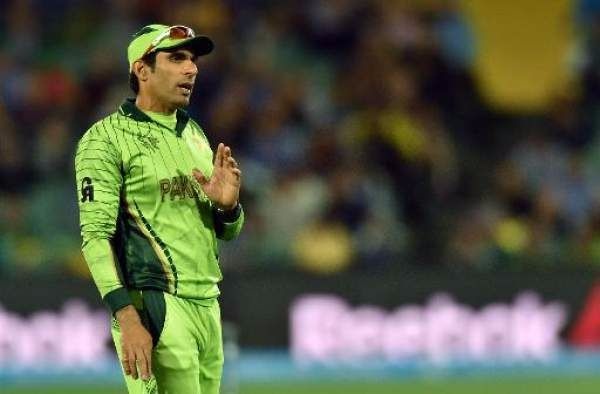 Image source :Google.com
1. Ranked No. 1 in T20s:
He is the only Pakistani to be ranked No.1 in ICC T20 International rankings. He achieved this feat back in 2007 when he was a star batsman in T20 World Cup. He took Pakistan to the Final of the event. But lost the match eventually by playing a wrong shot.
Misbah playing scoop in final of 2007 World cup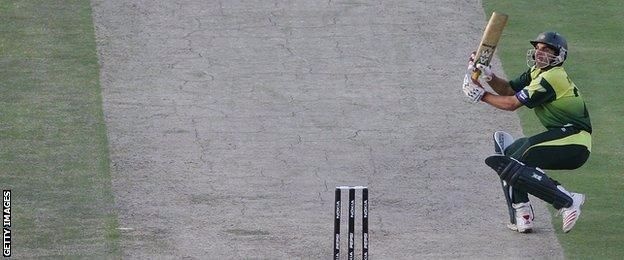 image credits: Google.com
2. Pakistani Captain with most number of wins:
He is the Pakistani captain with most number of wins in test cricket. He surpassed the great Imran Khan. He broke the previous record of 14 wins couple of years ago. Now his leading the table with most number of wins.And he is on the top of the list of successful captains.
List of Pakistani captain with more wins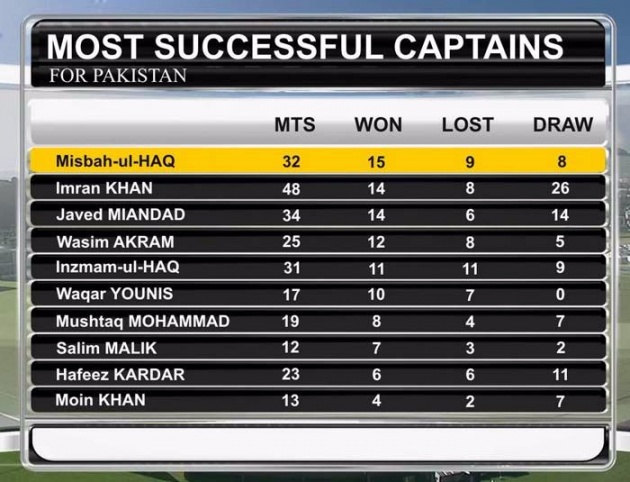 Image source: Hamariweb.com
3.World's fastest Test century:
One of the biggest achievement of Test career is his fastest century of Test career against Austrailia which was really a masterpiece. This inning will be remembered for long time. In this inning he sent the ball out of the park several times. He made century of just 56 deliveries which was later on broken by Brendon Macculum. He also made a record of fastest fifty in that match.
Misbah celebrating after century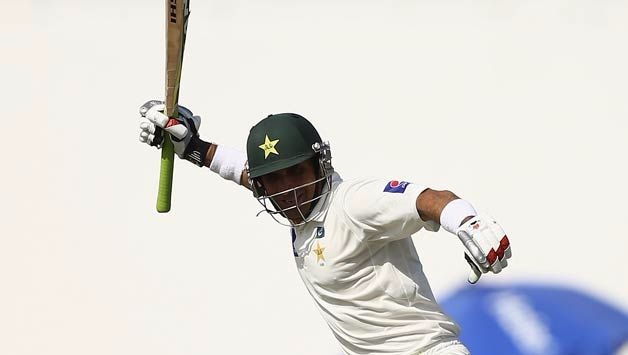 Image source: Cricinfo.com
4.Draw series against England in England:
Recently Pakistan draw the test series in England which was also considered as a good achievement for Pakistan team because it played an important role to bring Pakistan at No.1 spot in test rankings. It was considered as most interesting series from couple of years. Here is the presentation ceremony of the series.
Misbah and Cook lifting the trophy
The video is taken from YouTube.com
5.Bringing Pakistan to No.1 in rankings:
One of the biggest glory for the Test Cricket of Pakistan. He took Pakistan to number 1 in test ranking under his belt. He whitewashed England twice, Austrailia once and also he make Pakistan able to level the recent series in England.
ICC test Ranking chart

The image is taken from Google.com
6.More runs without a century in ODIs:
Misbah Ul Haq holds a unique record of more runs without a century in one day international cricket. He has 5122 runs without a single century in this format. He has 42 fifties in total and his highest score in this format is 96*. In the list of most runs without century the players at the top of the list are all three Pakistani.
List of players having more runs without century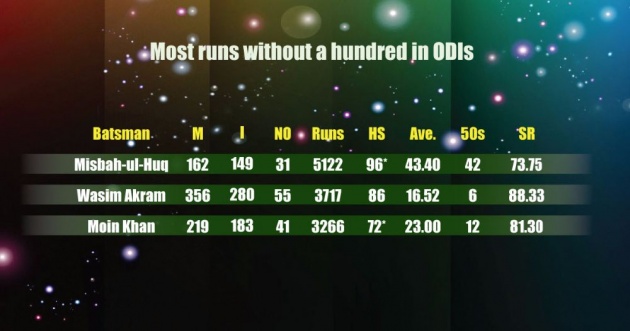 The image is taken from Google.com
7.Test mace for No.1 ranking:
His biggest and most recent achievement was to lift Test mace for No.1 ranking in tests. He is the only Pakistani captain to touch or lift the test mace. All this came from the hard work of his 5 years as captain.
Misbah holding the Test mace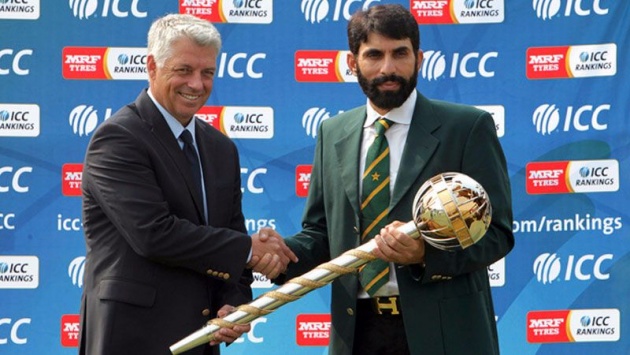 The image is taken from Google.com
8. Century at Lords:
In the recent series against England, Misbah scored a beautiful century in the first test at Lords. It was a great achievement for him, because scoring a century at Lords is not an easy thing. He won that match for Pakistan. This century got more fame due to Push ups done by Misbah at Lords after the century. The video of those Push ups is given below;
Push ups at Lords
The video is taken from YouTube.com
Big Teams:
Misbah UL Haq represented a lot of domestic teams around the World. He Represented Faisalabad Wolves in National T20 world cup. He was captain of Islamabad United in PSL. He also represented Royal Challengers Banglore in IPL. He was captain of Sargoda team and team of Khan Research Labs of Pakistan. He also represented St Lucia in CPL in Westindies.
Misbah Ul Haq is a motivation:
So he is having overall a great cricketing career which only few cricketer can dream. Once he was most hated player in Pakistan but now a days he is considered most loved cricketer in Pakistan. It shows how much challenges a man face in his life. There is a past with struggles behind every successful future. So we should never give up. Because closing of one door opens hundred of doors. You need to be hard working ambitious to achieve feats in your life. Without struggle you achieve nothing.And another thing in achieving things is to note that age doesn't matter for your success. You do not feel shy of doing something which is good for you and for your future. So a solute to the skipper of Pakistan at the end.
Misbah saluting Pakistan Army after century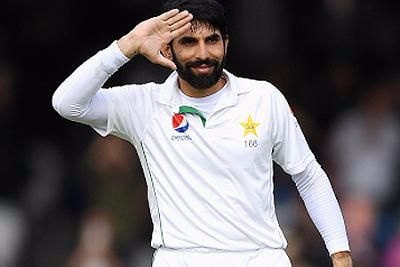 The image is taken from Google.com
I hope you will enjoy the blog and its videos,pictures etc. I am expecting you good response. Thanks.
Good Bye.