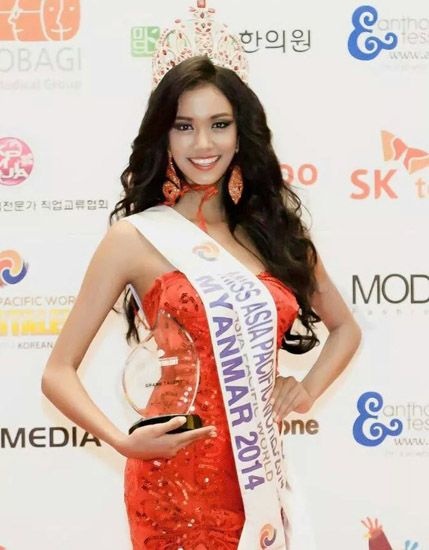 May Myat Noe was forced to return after three months crown crowned in the competition held in Korea.
Finals of Miss Asia Pacific 2014 taking place on 31/5, with the winner of the May Myat Noe Myanmar beautiful. The organizing committee recently informed, May Myat Noe stripped titles. She was forced to return the crown, Miss ribbon was awarded earlier.
The organizers gave a reason: "May Myat Noe is not qualified to become the winner of a major competition." To explain more about this decision, they said, 18-year-old girl lies, disrespect organizing committee, the fans and the media also have good attitude. However, the refusal notice detailing the incident.
May Myat Noe's mother also mentioned in the text, with this information she cheating for extension of temporary residence visa in Korea. The organizers also said they would find another "pretty enough qualified" to replace May Myat Noe.
Miss Asia Pacific World pageant is the oldest in Asia, was first held in 1968 under the name of Miss Asia Quest, with the participation of contestants from countries and regions of Asia and Oceania. By 2005, the competition was known as Miss Asia Pacific International with the participation of contestants from all over the world. In 2008, the contest was postponed due not find a sponsor. In 2011, the contest to become Miss Asia Pacific World by Mr. Lawrence Choi as president. Also in 2011, Miss Asia Pacific World entangled notoriety default on part thuongcua winner. Park Sae Byul (Korean) statement returns the crown because the organizers did not give her any reward which comes as promised.