It's Monday after our film shoot. The whole thing went as expected, with the rain killing our final two scenes. We'll have to go back to get those, but overall, I think it was pretty successful. I can't give enough praise to the crew. I can't thank the extras enough. The donors continue to blow me away with their generosity. I am glad we can all be a part of something that we can all be proud of.

This is my recap (Times are approximate):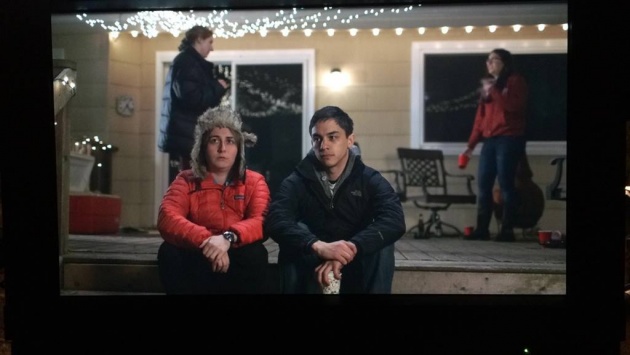 *Molly Nussbaum and I on the set of "Another Day Gone By." Photo by Joe Del Balzo
FRIDAY
8:30am
I'm at CC rentals picking up the 15 pass van that most of Friday's crew will show up in. They hardly look at me, hand me the keys, pull it into the street and start yelling at me to get going because it's blocking traffic. I drive away laughing to myself. These guys are nuts.
9:00am
I show up at my producer and lead actors apartment (Max Pava and Jake Rubin). We load the van up with their gear, double checking for all the items we meant to bring. It's a bit early to pick everyone else up at the pickup point, so we toss the football around in their cul-de-sac. It's a great way to release the built up energy we all have. We hop in the car, take a selfie, and we're off.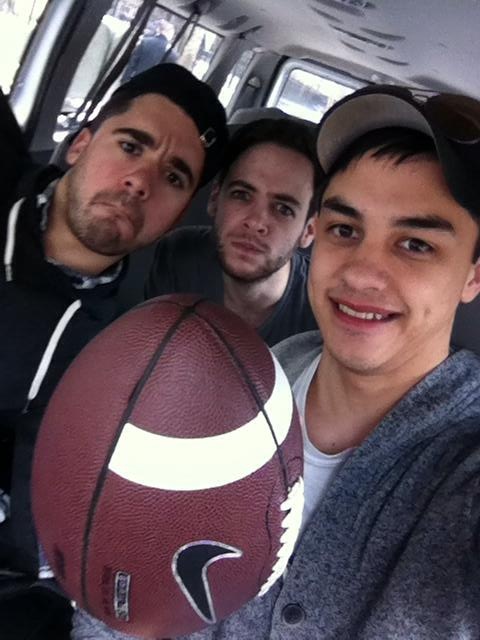 10:10am
We're finally on our way, van full of people. I apologize to those sitting in the back for the rough ride I'm sure is coming--It's a pot-hole filled street. It takes quite awhile to get out of the city. Toby Keith and Max's good friend Ryan Vona fill our speakers. Not what you'd expect for a film crew, but it was fun as hell and a lot better than watching the traffic.
12:30pm
We've arrived at the house. Immediately everyone is off and taking care of their individual jobs. Max and I post up in the kitchen to make sandwiches for the team. Quinn (Production Designer) and Makenzie (Assistant) unload their party decorations. Alex (Assistant Director) is helping the rest of the team find their bearings. Nothing feels better from the perspective of a producer than to see everything functioning according to plan.
1:00pm
We begin setting up for the shoot. Jeff (Cinematographer) , Joe (Gaffer), and Jonathan (grip) begin lighting the back porch. Max, Quinn, and I hang lights on the front gutter.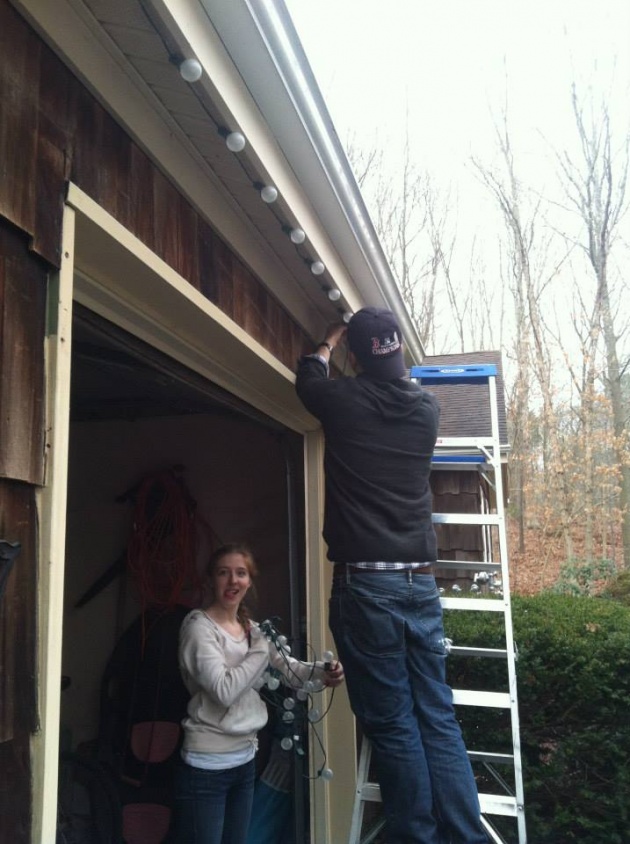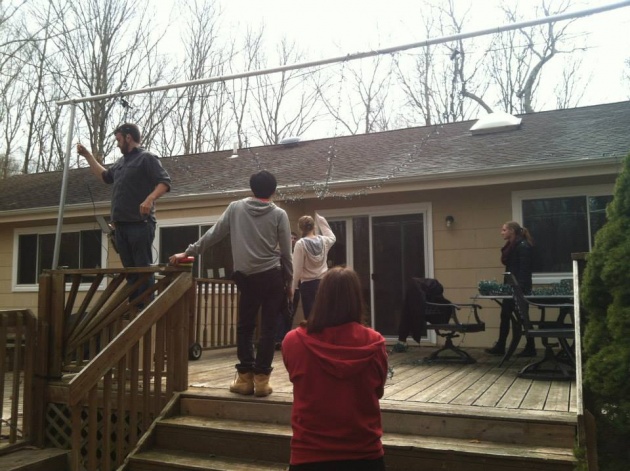 2:30pm
We take a break until dinner. Max and I head outside to throw the football some more. Jeff joins us. It's a lot of prep considering we haven't even rolled the camera once yet. If we had a bigger budget, I would've planned for a day of travel/setup and then shot the next day. But it is what it is, so we move on with what we've planned.
5:00pm
Dinner. With our food budget largely being allocated to Saturday, Friday got the short end of the stick. Max and I decided a few days before to just take $100 to the nearest grocery store and sell out on everything we can. Three rotisserie chickens, a buttload of potato and pasta salads, chips, hummus, a big ol salad and a bunch of drinks. It was awesome and felt great to have a frugal idea actually work.
Jeff shows me the downstairs basement with colored bulbs in all the lights instead of white ones. It looks GREAT, but we only have 8 colored bulbs for 16 outlets. Jeff does a quick call of all the hardware shops in the area. No colored bulbs. We check in with friends coming in from the city tomorrow but no one is available. So he comes up with a back-up plan that he will try to execute with Tommy, our "Line Producer:" Buy white bulbs and spray paint them.
7:30pm
It's finally dark enough to get the first shot off. We roll. Some of the "directing" portion of this night is strange. I don't give the supporting characters many notes, because I cast them with the work they already brought in. Sarah Harper and Nora Garrett are both great so I leave them be. If it's not broken...
For Jake and Lizzy (the leads), the notes are just a matter of positioning the story. I take a moment to chat with Molly (our writer) as she offers a note for their major scene. I like it. It's impossible to say that a director can exist without ego, but if I can help it, I'll try to put it away. If the film is better because we can collaborate as a group and the smart people around me I trust can offer input, then let's do it.
We shift the main scene away from how we've rehearsed and angle it more towards the way Molly offered. I like this because it breathes a new life into the characters. Maybe it's me seeing what I want, but I feel as though the rehearsal shows underneath the now muted tones. A wow do these two look good under Joe and Jeff's lighting and camera: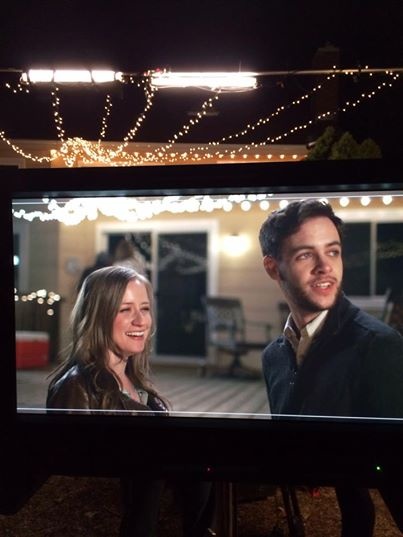 11:00pm
Tommy comes inside with hands black from spray paint. It's probably the only real time I saw him all shoot. I'm happy because him and Matt are taking care of a million things that I am completely unaware of. They set the lights in the basement. It looks so beautiful that the home owners consider keeping it that way. Game on.
1:00am
We only have time for one more shot, but there are still two that are on the schedule. Half the team is pushing for one, the other half are pushing for the other. One of my goals for this production was to make the right decision in the tough moment. This is what being on set is all about. Jeff asks for one-on-one time and we talk through what our options are.
I make a decision to get shot A instead of shot B and we move forward. We get the last take and it's great. The biggest thing for me about this moment was the fact that all of the crew rode the decision together even though it wasn't the one we were all fighting for. After looking at the footage/early edit, this could be the defining moment of the project.
2:00am
Shot is done, crew is wrapped, we head to our sleep location
2:45am
We're posted up in an empty house that our friend has generously let us use. We sit around a table (The only piece of real furniture) and laugh about how this is a highschool dream: To make a film with all your friends and then find an empty house with no "adults" to crash in. Then we all crash.
---
SATURDAY
10:30am
It's less turn around than I would prefer, but the team is amped and we're ready to go. A whole new van of friends show up. Actors and extras. Hugs all around. Coffee, bagels, tangerines... I eat a tangerine. I'm downstairs with the team when all of the sudden, my stomach is churning. It's hard to think about anything else. I'm going to hurl.
I run upstairs to the bathroom and out goes what used to be a tangerine. Not sure if it's nerves or bad fruit, but I run the sink so the team doesn't worry about me. Afterall, I felt fine 10 minutes ago and I'm pretty certain I'll feel fine right after I'm done. It's a good call because that's exactly what happens. I drink an entire bottle of water in case it's dehydration and eat a bar to fill my stomach again.
11:30am
We roll on our first shot of the day. The one where my (Patriots Fan) producer is playing the roll of "Brendan," a drunk Jet's fan. Matt makes out with his girlfriend in the background. The party has really started to come apart at the seams and it plays off beautifully. It's going to be a good day.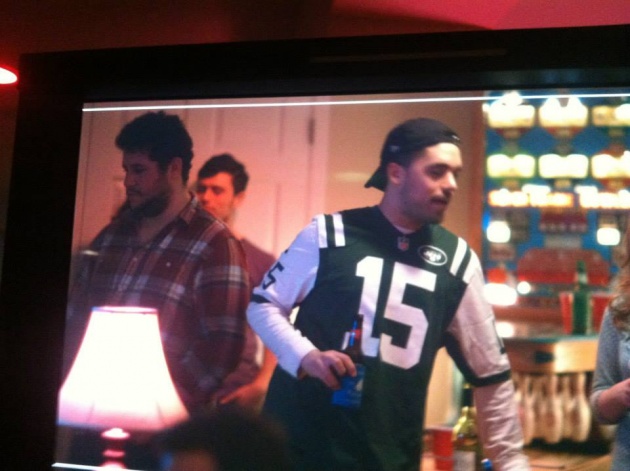 *Not the best picture, but it captures the essence of the moment. Also, Max would only wear a Jets jersey if it was a Tebow jersey. I'll probably keep it forever.
12:30pm
It's a great start and one of those takes where the whole crew breaks out laughing every time I call cut. Gina and Andrea (The two in the shot) play their parts perfectly. Gina throws in an improv'd line about "her ex taking photos for baby gap" that buttons the scene. It's stupid and hilarious and awkward. I love it. I hope it makes it in the final cut.
1:30pm
We get to what is quietly the pivotal scene of the film. It's the one where Dan and Maggie finally reconnect before Dan's girlfriend Inga shows up and causes everything to fall apart again. The main shot goes very well and we move on. As we get into the singles of each of the actors, it starts to feel stale. Lizzy comments that she feels over-rehearsed and I agree.
We've been downstairs in a dimly lit room all day. I ask Jake and Lizzy to think about the frustration they might be feeling over things being stale and use it. Use whatever they are feeling and just roll it into their acting. Whatever it was, acknowledging it, playing with it, who knows, but it seems to work. But the best part of this moment was everyone allowing themselves to continue to be honest. The scene feels new again.
5:00pm
A much needed dinner break. Alex (AD), Jeff, Max, and I regroup in a bedroom to talk over how we need to progress. It's a good meeting and resets us on the right course. But I need a break. I take 10 for myself to lie down and let go of all my thoughts. We've prepared enough, we know our plan, 10 minutes won't cause anyone to lose track of anything. I feel completely refreshed.
6:00pm
We roll on the opening scene. Justine and Peter are a great pair to add on camera and different in a way we haven't seen yet. Funny and awkward because of the text and yet again, we are in a place where the word "Cut!" and laughter from the crew are paired. It's such a great feeling when by all accounts, we should be exhausted, but people are still into it.
8:30pm
The majority of the shoot is done. All of our supporting characters and extras are free to go. I bring the whole cast and crew downstairs to say thank you and send them home. It's been such a fun weekend and every single person involved was great to have on set. The extras were especially fun to work with because of their openness.
Extras: Pascal somehow ended up playing the guy on his phone whose friends never show. Carl played the awkward but smooth grad student who seems to be the center of every conversation. Matt was constantly chasing Alexia (his girlfriend in real life). Jon Schoss just looks like the guy who is supposed to be here. It was all a lot of fun.
9:30pm
We have two scenes left, and by this point, it's clear that our final scene isn't going to happen because of the pouring rain. But we try to get the other by shooting it in the kitchen instead of the patio. We set up, we light, we rehearse. It just. Doesn't. Work. Jeff very smartly calls Ashley, the editor, over to watch. We chat. We wrestle with it. It ain't happening... Time to wrap up.
---
Though we didn't get what we wanted, it's the moment that I am the most proud of the team because they help me know when to quit. We'll have to come back in a couple weeks, but we didn't sacrifice the vision of the piece for some cheap filler. The rain causes us to wrap early and the benefit is that we still have plenty of energy.
11:30pm
We drive home. Because of the pouring rain, we drop people off close to their apartments instead of asking them to just take public transit. It's a gesture that takes a long time, but is necessary and no one is upset that we've done it. Max, Jake and I return the van to CC rentals, and head back to their place.
2:00am
We post up in Max's room and debrief. I can't believe it's over. My brain is going over everything we still need to do, except that it's empty. The shoot is done. What a weekend. I've made new friendships and solidified old ones. I can't get over what a generous group we had from top to bottom. I've never been more sure of what I want to do in life. We talk about the future, our goals. We laugh about moments on set. We bitch about things that are small so that we can laugh about them later.
5:00am
I'm finally headed home. I grab a cab for the 20 blocks. My eyes drift as his music plays quietly. I get out, pay the hack, head upstairs, drop everything and crawl in bed. Nothing has ever felt as comfortable as the mattress under me. Damn, what a great weekend.