Movie Review: Monster Trucks
Photo Credit: http://www.impawards.com/2016/monster_trucks.html
I am a newcomer here (LOL) after more than 5 months being inactive now I wanted to become alive and vigorous again here on @bitlanders hopefully I could spare some of my time being so pre-occupied with my work and with my other blogging site.
And since I wanted to regain back what I have achieved before I am here with my entry to the recent announcement made by @Micky-The-Slanted-Salerno check this LINK if you haven't seen that special announcement for a special additional buzz bonus. I will be watching more movies every day so I could submit more movie review blogs every now and then and thereby gain more buzz bonus.
This new promotional blog topic which is ongoing is inspired by @mannythemovieguy, the multi-Emmy award-winning film critic who has always had a passion for movies. See below a video of one of his interviews to the cast of the movie "God's Not Dead"
Let me start with my first movie review, a movie my kids really enjoyed watching.
This movie "Monster Trucks" is an American comedy film produced by Paramount Animation, Nickelodeon Movies and Disruption Entertainment for Paramount Pictures. This is a bit old I mean it was released in the year 2016 and was directed by Chris Wedge who happened to be the director of the great movies Ice Age way back 2002 and Epic way back 2013 also, both I considered a very wonderful and a much watch cartoon movie.
ICE AGE (2002) and EPIC (2013)
Photo Credit: Edited by @ninski
Watch their trailers by clicking the links below!
~ MONSTER TRUCKS ~
Back to my movie of the day Monster Trucks (LOL), this movie is starred by Lucas Till, Jane Levy, Amy Ryan, Rob Lowe, Danny Glover, Barry Pepper and Holt McCallany. The movie is all about a high school student who found a monster who then lives in his truck, a truck he built from bits and pieces of scrapped cars. He befriends the monster and named him Creech. Later he found out that there are a group of people trying to get Creech away from him and he wouldn't let those people take Creech away from him. Tripp Coley played by Lucas Till found out later that Creech has a family, that its mother and father was captured and being experimented on, so Tripp came up with a plan (his mission in this movie) to save Creech and his family with the help of his friends Jane Levy as Meredith, Thomas Lennon as Dr. Jim Dowd the scientist and Tucker Albrizzi as Sam Geldon.
Watch Monster Truck Trailer Below! :D
Video Credit: https://www.youtube.com/watch?v=wQGawWqJdfs
~ CHARACTERS ~
Photo Credit: www.Wattpad.com
In the movie, Tripp Coley saw a strange and subterranean creature in their junkyard I think that was after an accident happened nearby and eventually took care of it. Later he and his classmate Meredith found out that the creature likes drinking oil and living in his car. When they became friends He promised Creech that he will soon bring him home.
Lucas role was definitely being carried upon awesomely in this movie. So who is Lucas Daniel Till?
Lucas Daniel Till is an American actor and was born on August 10, 1990. He appeared also in the movies Hannah Montana: The Movie as Travis Brody and X-Men First Class as Alex Summers or Havok.
Photo Credit: FilmIsNow Movie Bloopers & Extras via www.youtube.com
Meredith is Tripp's classmate. He went to Tripp's junkyard the night Tripp found the creature. Although she was surprised and a bit scared during the first time she saw Creech she helped Tripp take care of Creech and helped on how to save his family and bring them home.
Jane Colburn Levy is an American actress, born on December 29, 1989. He also appeared in the movies Fun Size and Nobody Walks. She also starred in the Horror Films entitled "Evil Dead" and "Don't Breathe".
Photo Credit: www.reelbugs.com
Dr. Jim Dowd is a scientist who is in charge of Creech's parents in their Laboratory. He observed that these creatures are very intelligent. He also realized that it is not right to experiment on them and he would really like to send them home. That is why when he knew Tripp and Meredith are trying to save the creatures he offers them his help to save Creech's family.
Thomas Lennon is an American actor, comedian, screenwriter, producer, and director who was born on August 9, 1970. He also appeared on the series Reno 911! and on the CBS series entitled The Odd Couple.
Photo Credit: https://en.wikipedia.org/wiki/Tucker_Albrizzi
In the movie, Sam Geldon is Tripp's friend, he also helped in saving Creech's family. Sam let them borrowed his truck for Creech's Mother and Father.
Tucker Albrizzi is an American actor that was born on February 25, 2000. He appeared in the movies Big Time Rush, Good Luck Charlie, I Am Number Four and Alvin and the Chipmunks: Chipwrecked.
This is Creech's Family with Tripp.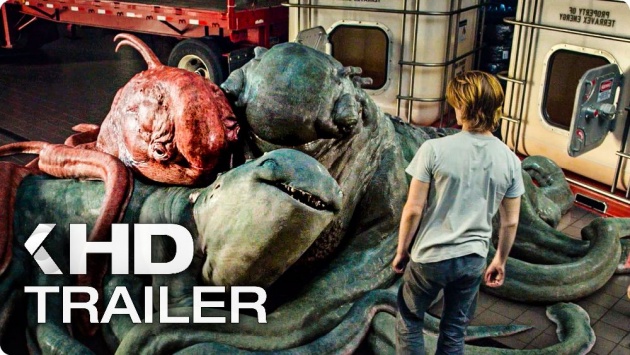 Photo Credit : kinocheck.de/film/fiu/monster-trucks-2017
The truck with Creech and Tripp
Photo Credit: http://hdqwalls.com/monster-trucks-lucas-till-2017-movie-wallpaper
Tripp took a selfie with Creech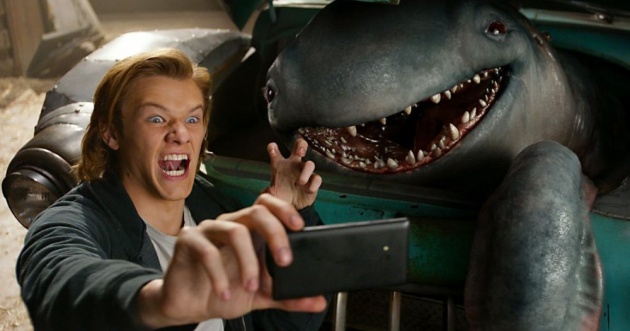 Photo Credit: Peter Travers via www.rollingstone.com
Creech inside Tripp's Truck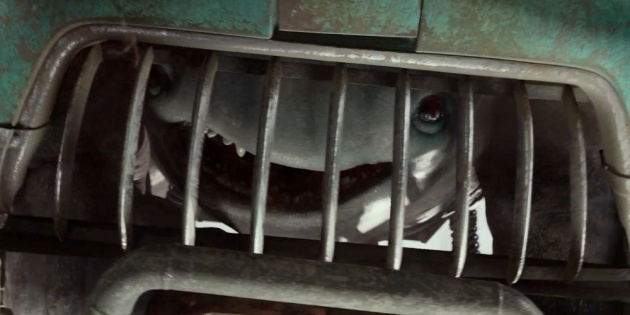 Photo Credit: www.pinterest.com
This movie is recommended for people who enjoy cars and animals, you can really see lots of actions and adventures, not to mention its message that promotes teamwork, environmental stewardship, protecting animal habitats and a lot more. So if you haven't seen this movie yet, I recommend you find time watching it and be entertained.
***********************************************************************************************************************
What about you? What kind of movie do you like to watch? Before you leave, you might want to participate in this survey:
By: TRB - A father of 5, an Overseas Filipino Worker and willing to be part of the worldwide campaign against poverty, climate change, and inequality.