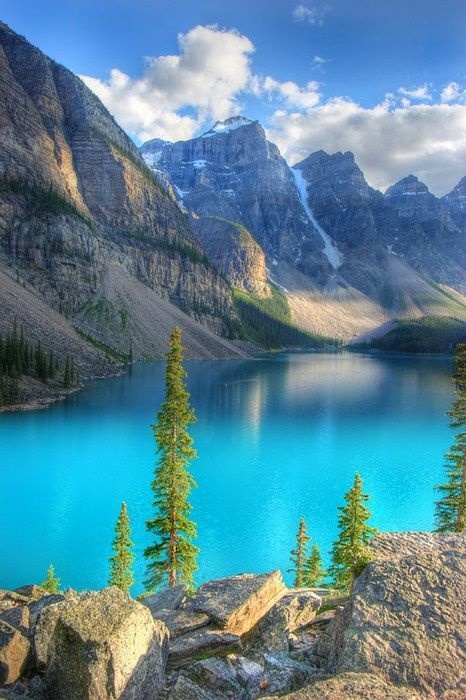 Moraine Lake is a glacially-fed lake in Banff National Park, 14 kilometres (8.7 mi) outside the Village of Lake Louise, Alberta, Canada. It is situated in the Valley of the Ten Peaks, at an elevation of approximately 6,183 feet (1,885 m). The lake has a surface area of .5 square kilometres (0.19 sq mi).

The lake, being glacially fed, does not reach its crest until mid to late June. When it is full, it reflects a distinct shade of blue. The colour is due to the refraction of light off the rock flour deposited in the lake on a continual basis.

Valley of the Ten Peaks (French: Vallée des Dix Pics) is a valley in Banff National Park inAlberta, Canada, which is crowned by ten notable peaks and also includes Moraine Lake. The valley can be reached by following the Moraine Lake road near Lake Louise. The ten peaks were originally named by Samuel Allen, an early explorer of the region, who simply referred to them by using the numerals from one to ten in the Stoney First Nations Language. He may have learnt the terms from his Native American guides, who helped him with the horses. The Nakoda - also known as the Stoney Indians - is a tribe whose culture and dialect are closely related to that of the Assiniboine First Nation, from whom they are believed to have separated in the mid-1700s, and who roamed large parts of the prairies and mountains of western Alberta well into British Columbia. The secluded Valley of the Ten Peaks was part of their original homeland. Gradually, though, all but three of the mountains were renamed in honour of noteworthy individuals, including Allen himself.

Mount Hungabee was not included in the original peak list by Allen, even though it is higher than Wenkchemna Peak, the latter of which is really an extension of Hungabee.