For the last several months I've slowly been working on a new live action short film called 'Morning Cloth.' Here's the poster for it: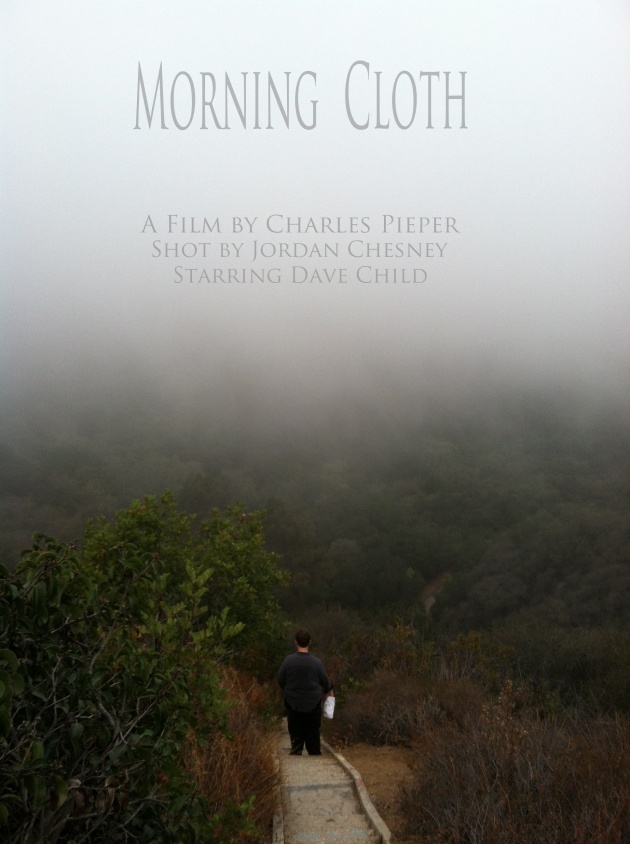 It was shot by my friend and fellow film maker Jordan Chesney and it stars Dave Child. Dave is a friend of mine from back at Emerson College and he's a fantastic stand up comedian.
As you may be able to tell from the poster however this short is not a comedy at all...Rather it's a quiet and moody piece...An ominous dream of sorts, yes. I had a feeling Dave would be fantastic outside of his comedic realm, and I was certainly right as you will see when the film is released....
'Morning Cloth' is based off a small strange experience I actually had a while ago. Without revealing too much (or, at this stage, anything really) I took this tiny seed of an experience and grew it out through a loose dream-like structure to make it into a film....
As it took much longer than I would have wished to shoot it (for it is difficult to arrange even the smallest of films when one is working with and around other's schedules, and for free ((and also when reliant on early morning foggy weather in typically horrifically sunny LA)) ) the settings within the film themselves shifted and changed over time, though luckily, I think for the best.
Sometimes one has to roll with the punches....For instance when the location of a brilliantly dusty and strange old bookstore seemed beyond reluctant to let us shoot I was at first frustrated and irritated, oh yes. So I brewed in those feelings awhile but then kept going and kept thinking and from that came a radically different and new idea which led to shooting in the epic location you now see in the poster...
In the end this change gave the film a much bigger scope and scale and made for a much more beautiful and unique looking thing as a whole...A thing which I am excited to continue finishing up and release to the internet pretty soon....So....Stay tuned!