Video Credits: infobells via YouTube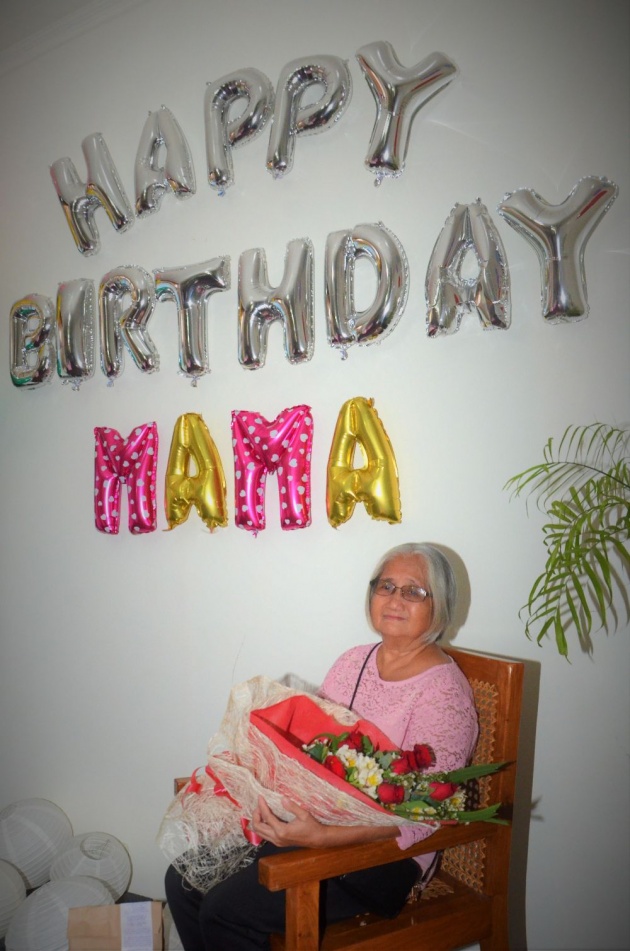 My Mom, during her birthday celebration on September 23, 2017
I never had a surprise birthday before and I cannot find the words to express my appreciation. Thank you all!
That's what Mom had posted on her Facebook account after the memorable birthday event. My brother, two sisters and I had conceptualized this activity as our gift to our mother.
A month before the date of Mom's birthday, I, together with my brother and two sisters made a plan to give her a surprise birthday party. Mom's birthday is on the 23rd of September. My mom, a former public school teacher was already retired from service for four (4) years and we thought of throwing a birthday bash for her but we wanted it to be kept secret until the day to make her even happier.
A plan was made and each and every one of us was given a task. I, being the eldest was tasked to find the place where we could hold the event. The invitations and other needed things will be prepared by brothers and sisters.
The first thing I did was to find a place that could accommodate a small group of 30 to 35 on the date of her birthday.
On one occasion, I was invited to discuss regarding Bottom Up budgeting projects which were sponsored by the Department of Trade and Industry (DTI). The venue of the meeting was at Una Pizzeria in Sorsogon city. Una Pizzeria is known for its Rustic Italian cuisine.
The foods they prepared for the meeting taste good, and the management and staff were well organized and very accommodating, so I decided to request a quotation from the store owner. They gave us three (3) options that we could choose from. I asked my sisters' opinions and made an arrangement with the restaurant management immediately.
Early Preparations:
We invited my mom's former co-teachers and friends through Facebook and we told them that it will be a surprise party. My sister Sherry made a Facebook secret group just for this occasion.
Sherry prepared for the other materials needed for the event including tarpaulin, video messages, and cake. My other sister, Shiela prepared other things such as balloons and the bouquet of flowers. Everything has been set before the date came in.
Some problems occurred:
My hubby's husband passed away on Monday of the same week so we had encountered some minor issues. But the problem was resolved when hubby's family decided to set the burial activity on Friday, a day before the event.
The Big Day!
So as to prevent suspicion of any kind, I went to my Mom's house just before noon. She started asking me if my children and hubby will be coming, so I told her that I wasn't sure because I said that hubby was too tired since his father just passed away. She accepted my explanation.
She told me to eat lunch and we will have a picture taking afterward.
The Execution of the Plan:
The plan was, my sister Sherry will accompany my Mom to the salon to have her hair trimmed. We told Mom that she needs to look beautiful during the pictorial. So, Sherry and Mom went to the parlor while me and my other sister, Shiela, and brother, Seth picked up the needed materials previously ordered and went to the venue to prepare the activity area.
We have been at the venue at 1:45 PM and we helped the Una Pizzeria management set up the place for the activity. The activity was set to start at 3:00 PM. The tables, utensils, multimedia projector and the laptop needed were all ready. At around 2:30, the visitors started to come in. I gave instruction to everyone in the place of what we are supposed to do when my Mom comes in.
We turned off the light in the hall and waited for the celebrant to come.
Meanwhile, my sister Sherry told us that Mom was so eager to go home because she wanted to buy pizza. She had her hair trimmed and it was done fast. So Sherry told us that she was forced to have her hair be curled so as to hold Mom a little bit longer. It was still early and the visitors haven't arrived yet.
At exactly 3:00 PM, Sherry informed us that they are coming.
Upon entry of Mom to the room, we turned on the light and everyone sings a happy birthday song while brother handed to Mom a bouquet of flowers. A party popper was popped out! My Mom was really surprised to see everyone around. Brother accompanied her to the stage.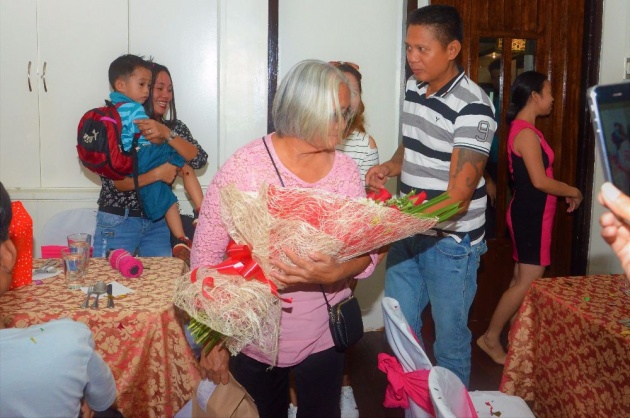 My Mom holding the bouquet of flowers while walking to the stage accompanied by my brother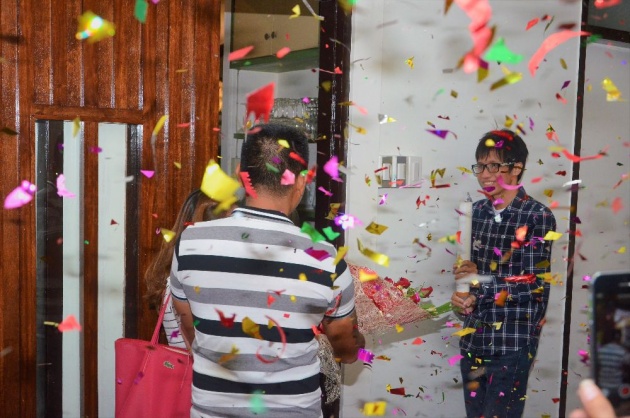 The party popper was popped
We held a short program for the activity: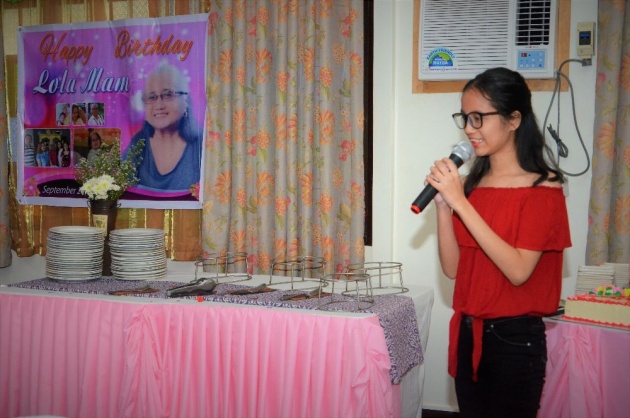 My daughter while leading the opening prayer during the program.
My daughter leads the opening prayer, a dance number was performed by my sister in law's daughters. My niece rendered a very emotional song which made almost everyone in the activity area cried.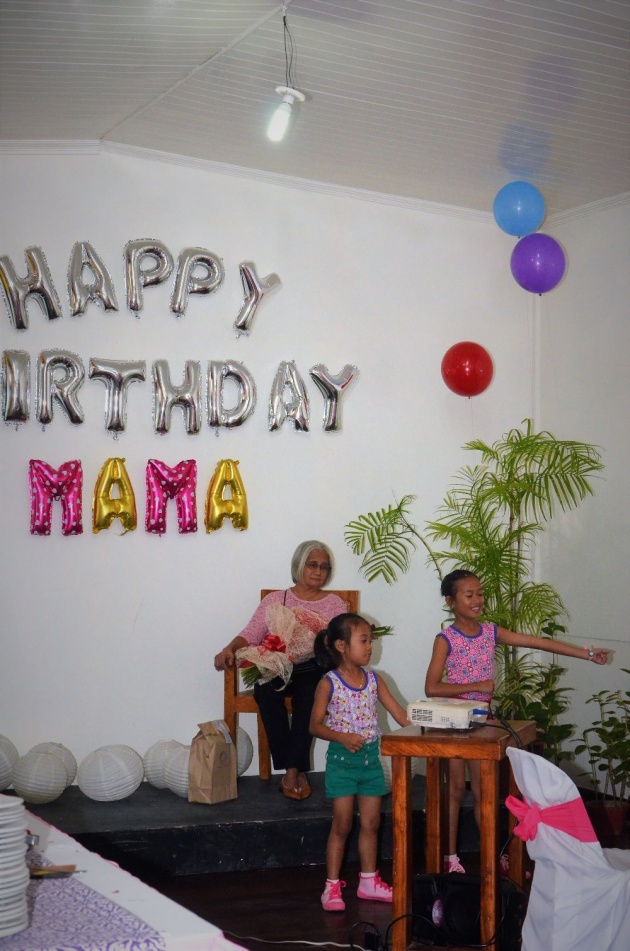 Brother's children's great dance performance
After the short program, we started the party time! Everyone ate the delicious foods prepared by the management of Una Pizzeria. We had Taco Salad, Creamy Chicken and Mushroom in white sauce, fish fillet, spaghetti, and mango panna cotta.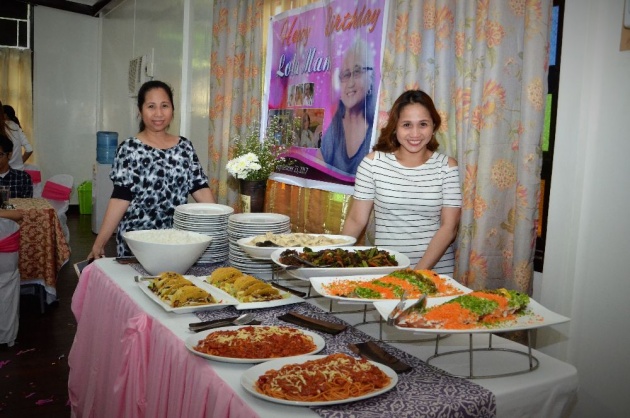 I and my sister posing in front of the table filled with delicious foods
After eating the delicious foods served, my Mom walked and made a pose at every table. We requested some visitors to render a message for Mom. Pre-recorded messages prepared by relatives and friends were also played during the occasion.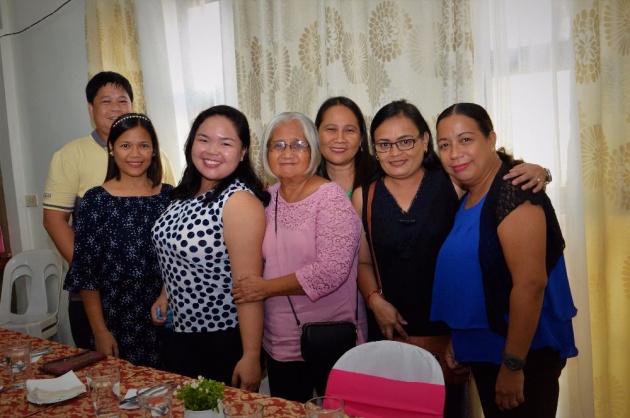 Mom with her former co-teachers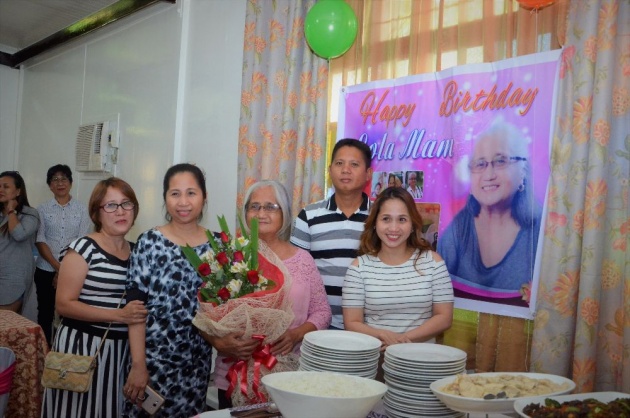 Mom with her four children
Then the final activity – the blowing of candles.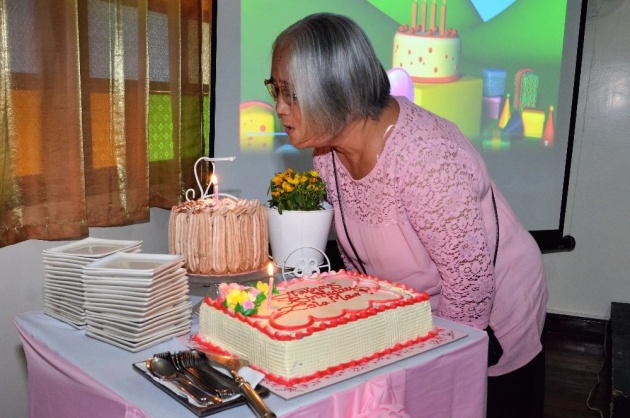 Mom while blowing the candle
Brother once again assisted Mom to the table where the cake was placed. After blowing the candle, I asked Mom to give a message to her visitors. Mother started her message by giving thanks to all those who are present for the occasion. Since she was retired already, she and her former co-teachers seldom see each other. She said she was really surprised and had no idea that there will be a birthday party prepared for her. She was also surprised to see Mam Benny, her former college classmate on this occasion. Mam Benny likewise shared some moments they had during their college years. According to her, Mom would always allow her to copy her work, particularly in Mathematics.
Another round of picture taking on the stage took place. Some ate the cake and others give way for another round.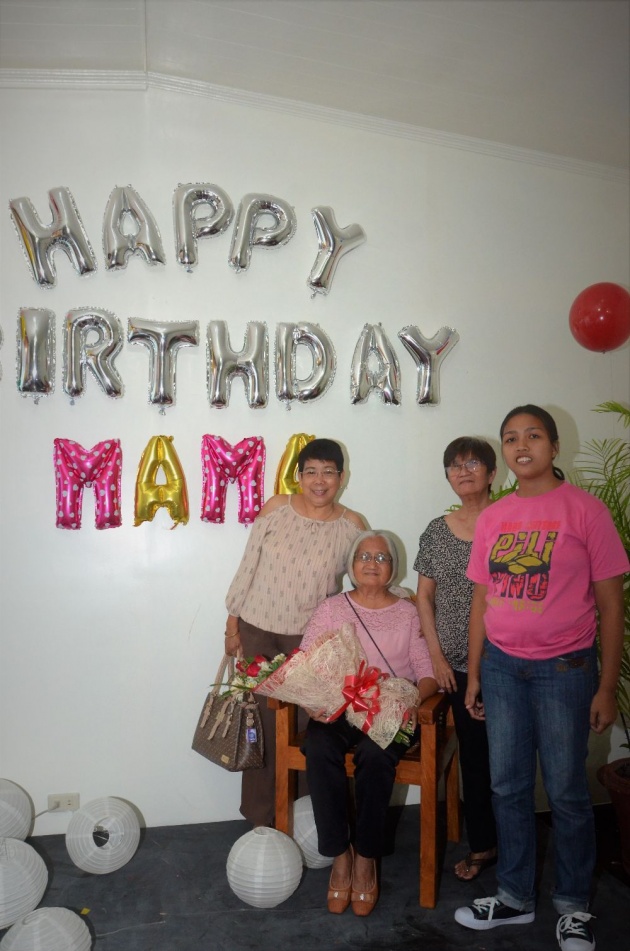 Mom with her college friend (on the left) and her sister (Tita Inday)
It was truly a remarkable experience for our Mom who can't stop reminiscing the activity when we went home. She was also too excited to open the gifts she received from her friends.
We are hoping and praying that she'll be given a longer life because we are planning to travel as part of the birthday celebrations in the coming years.
As of now, we will be starting to save some amount for the next year's plan. Life fly so quickly, I remember I was just in high school and facing a lot of problems with my studies, particularly on the financial aspect. Now, my children are already grown up and my Mom has been there all through the years to help us. She did not even entertain the idea of getting another partner. She gave her full focus on her children and grandchildren.
Video Credits: Kids TV - Nursery Rhymes And Baby Songs via YouTube
To make her happy during her birthday is the least that we can do. Probably, a travel to other places will also make her happy.
Mama, Happy Birthday! We love you!
All photos attached are owned by the Author.
Thank you, my friends, for visiting and reading my blog.
Have a wonderful day!
*****
Written for Bitlanders
by Sharon Lopez
You might also like: