Someone close to me asked me earlier if I have anything in mind for Mother's Day which is coming up in less than a month. I know this event may or may not be very significant to some but for me, I would really like to surprise my mom or mama as how my siblings and I call her. But when my close friend asked me about it, considering that its just less than a month before the day, I realized I have not really thought of anything just yet.

Image edited in Canva credits: Jean Beltran via bitLanders
I had to be honest with her and told her I have nothing in mind yet then asked the same question back to her. It made her think about it too! And so because we are both not yet ready of what gift or special thing we will be presenting to our moms, I thought of researching but I changed my mind because it is better to think about it myself.
So far, I had formulated the following and I will soon be selecting which surprise Mother's day gift ideas on the list will I pursue and give to mama.
What is Mother's Day for Filipinos?
In the Philippines, the Mother's Day falls on a Sunday, 13th of May to be exact for this year. Celebrating this event had been practiced ever since I was small, way back in elementary years and in the secondary, we would always have projects about what to give to our moms during this day, our teachers would encourage us to create cards, or draw and make us give these little presents to mama. The same case is still going on up to this day.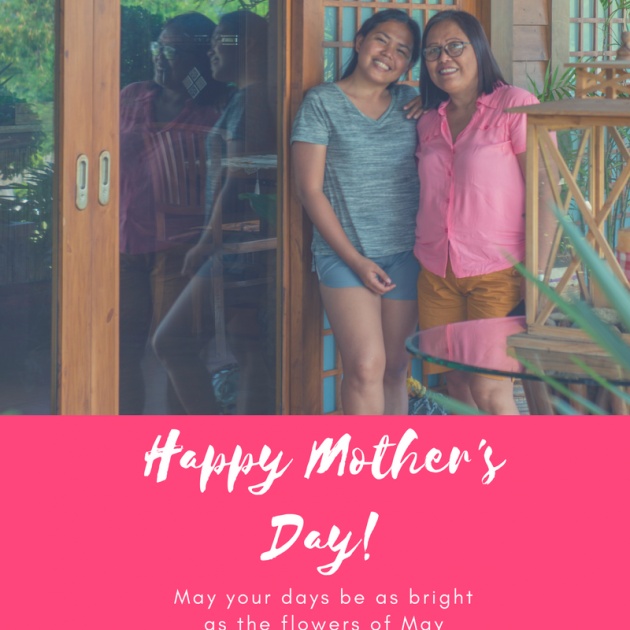 Image edited in Canva credits: Jean Beltran via bitLanders
To Filipinos who are very attached to the family, mothers are always celebrated. They are the light of each household and if a mother had been a good individual to the children, there's no reason why the children wouldn't advance an effort to make their moms happy too.
When kids grow up and become mothers themselves, they'll know how hard it is to become a mom. I have the same realization when I got pregnant last year and went through the hardships of Ectopic Pregnancy.

Image edited in Canva credits: Jean Beltran via bitLanders
My mom was there for me all throughout, from my checkup to hospital admission, she was super brave although I know she easily cries, she didn't show me that she cried when I was crying to the fact that I lost the life within my tummy. She was also there when I was in the hospital after the operation, she didn't leave my side, she helped my husband process my hospital papers and she had been my encourager, mind you, I am having this huge lump in my throat writing this because I am becoming emotional and I wanted to cry but I need to hold back my tears because I am at the office.
Anyway, what I am trying to deliver is that my mom is definitely my strong tower from birth until this day so making her happy even for a day matters a lot to me.
Mother's Day Gift Ideas
1. Bake for Mom.
Video credits: pankobunny via YouTube
I have never tried baking, none that I could remember but my sister in law had a short course on baking so I believe she can help or guide me through this sector.
My mom loves sweets so I hope when I bake for the first time, it would be a success and it will make her smile when she takes that first bite.

Image edited in Canva credits: Jean Beltran via bitLanders
Whoever doesn't like sweets anyway? But to level that up, perhaps baking and cooking for a dinner party will a perfect idea. This can come as a surprise of course!
2. Take mom out with family.

Image edited in Canva credits: Jean Beltran via bitLanders
Just in case my baking and cooking fails or won't pursue, I want to have a fallback. The best idea for that would be to take mama and the rest of the family out for a dinner somewhere delicious.
It would be a candlelight dinner in the city and bring her somewhere she has not yet eaten. I knew some new establishments within the city of Tagbilaran in Bohol.

Image edited in Canva credits: Jean Beltran via bitLanders
I bet she'd love that because she likes going out to the city too! Plus with the entire family with her, she'll be more than happy to get to spend the day with us.
3. Treat mom and dad for a vacation.

Image edited in Canva credits: Jean Beltran via bitLanders
Another option perhaps is to treat my mom for a vacation together with my father, just the two of them. I know they need a break and they need it as soon as possible, this would mean a lot to her as well as to my father so I guess this is as well possible.
I may or may not be present during that vacation! I have found some resorts in Panglao Island or perhaps in Loon, Bohol which are pretty nice and would give them a relaxing and comfortable stay.

Image edited in Canva credits: Jean Beltran via bitLanders
She will definitely like this idea because she had been wanting to go out and spend a night at a resort, I remember her telling me that before.
4. Send sweet surprise bouquet.

Image edited in Canva credits: Jean Beltran via bitLanders
Ladies, single or taken, even the old folks would love to receive bouquets of flowers, the beauty of a group of flowers makes a woman create that curve on her face and so I totally believe that this giving her such will also bring that bright smile on her face.
I remember when I was in grade school, I picked some of her beautiful orchids from her garden and gave her a bouquet of home-grown orchids, she paid a good and big smile but when she realized it was from her garden, she was a little bit dismayed and disappointed.
I know I was just a kid that time but now, buying an expensive bouquet might be one thing that I might consider this May.
5. A memory lane photobook for mom
Video credits: Photobook Worldwide via YouTube
Nothing beats bringing back memories so I had also this idea of creating a what I refer to "Memory Lane Photobook". This is very special because, in this bind, I would be composing and collecting the old photographs from our childhood.
Those extra special moments way back such as our baby pictures with mama, of course, our group photos when we were in the beach, birthday events, and it should be laid out in a way that it gives a glimpse of childhood until we became adults.
I want to make her laugh and be dramatic too when she gets to flip on each single pages. Reminiscing old and past memories where we were joyful and conceivably a little moving would bring memories back and emotions too!

Image edited in Canva credits: Jean Beltran via bitLanders
So far, those are the ideas I have for this upcoming Mother's Day. I wonder if you have your own list of things that you want to do for your mom? You may want to share it with us as well through a blog! You'll definitely be surprised when you enumerate them. I might be doing a combination of two from the list above, depending on my budget and the time allotted. I will for sure update you on what has been my option selected.
Let's see how mom will react to the surprise coming up in May! It is our Mother's Day, they just deserve the special attention, love, and treatment we as children will be giving to them on this day dedicated to her.
Blog entry written and published by Jean Beltran-Figues for bitLanders.com
For more travel blogs, go to my blog section