Mount Everest, also known in Nepal as Sagarmāthā and in Tibet as Chomolungma, is Earth's highest mountain. It is located in the Mahalangur mountain range in Nepal and Tibet.Its peak is 8,848 metres (29,029 ft) above sea level. It is not the furthest summit from the centre of the Earth. That honour goes to Mount Chimborazo, in the Andes.The international border between China (Tibet Autonomous Region) and Nepal runs across Everest's precise summit point. Its massif includes neighbouring peaks Lhotse, 8,516 m (27,940 ft); Nuptse, 7,855 m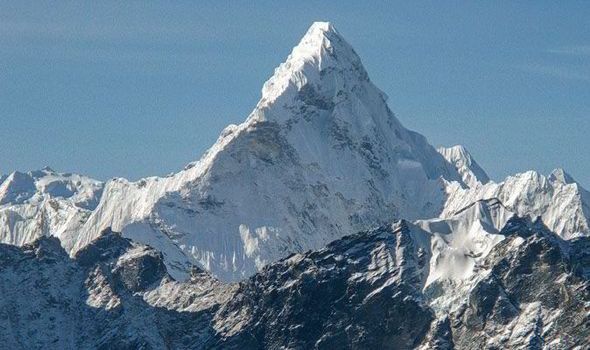 Mount Everest attracts many highly experienced mountaineers as well as capable climbers willing to hire professional guides. There are two main climbing routes, one approaching the summit from the southeast in Nepal (known as the standard route) and the other from the north in Tibet. While not posing substantial technical climbing challenges on the standard route, Everest presents dangers such as weather, wind as well as significant objective hazards from avalanches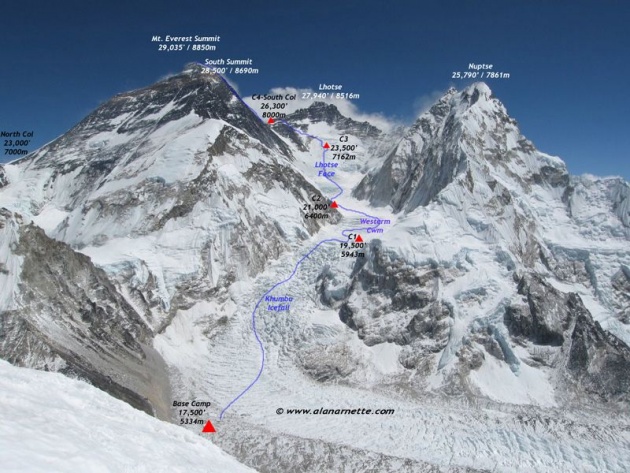 The first recorded efforts to reach Everest's summit were made by British mountaineers. With Nepal not allowing foreigners into the country at the time, the British made several attempts on the north ridge route from the Tibetan side. After the first reconnaissance expedition by the British in 1921 reached 7,000 m (22,970 ft) on the North Col, the 1922 expedition pushed the North ridge route up to 8,320 m (27,300 ft) marking the first time a human had climbed above 8,000 m (26,247 ft). Tragedy struck on the descent from the North col when seven porters were killed in an avalanche. The 1924 expedition resulted in the greatest mystery on Everest to this day: George Mallory and Andrew Irvine made a final summit attempt on June 8 but never returned, sparking debate as to whether they were the first to reach the top. They had been spotted high on the mountain that day but disappeared in the clouds, never to be seen again, until Mallory's body was found in 1999 at 8,155 m (26,755 ft) on the North face. Tenzing Norgay and Edmund Hillary made the first official ascent of Everest in 1953 using the southeast ridge route. Tenzing had reached 8,595 m (28,199 ft) the previous year as a member of the 1952 Swiss expedition. The Chinese mountaineering team of Wang Fuzhou, Gonpo and Qu Yinhua made the first reported ascent of the peak from the North Ridge on May 25, 1960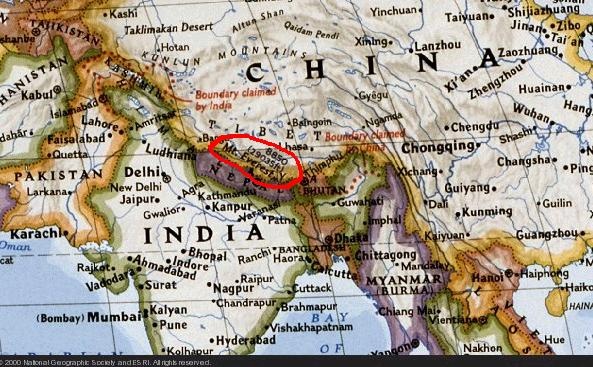 Discovery
In 1802, the British began the Great Trigonometric Survey of India to determine the location and names of the world's highest mountains. Starting in southern India, the survey teams moved northward using giant theodolites, each weighing 500 kg (1,100 lb) and requiring 12 men to carry, to measure heights as accurately as possible. They reached the Himalayan foothills by the 1830s, but Nepal was unwilling to allow the British to enter the country because of suspicions of political aggression and possible annexation. Several requests by the surveyors to enter Nepal were turned down.
The British were forced to continue their observations from Terai, a region south of Nepal which is parallel to the Himalayas. Conditions in Terai were difficult because of torrential rains and malaria. Three survey officers died from malaria while two others had to retire because of failing health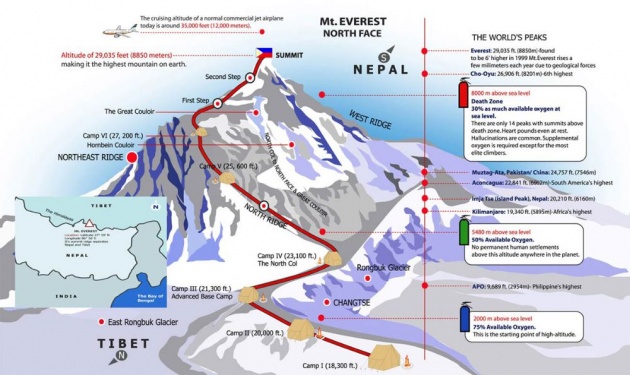 Environment
in 2008, a new weather station at about 8000 m altitude (26,246 feet) went online.The station's first data in May 2008 were air temperature −17 °C (1 °F), relative humidity 41.3%, atmospheric pressure 382.1 hPa (38.21 kPa), wind direction 262.8°, wind speed 12.8 m/s (28.6 mph, 46.1 km/h), global solar radiation 711.9 watts/m2, solar UVA radiation 30.4 W/m2. The project was orchestrated by Stations at High Altitude for Research on the Environment (SHARE), who also placed the Mount Everest webcam in 2011. The weather station is located on the South Col and is solar powered.