Motu Patlu is an India CGI animated Sitcom television series airing onNickelodeon. It is adapted from the classic comic strip on Lot Pot. It was premiered on 16 October 2012, beginning with episode "John Banega Don". It focuses on two friends, Motu and Patlu, living in the fictional city Furfuri Nagar. It focuses on how they land in hilarious situations and later rescue themselves merely by luck. Motu and Patlu are intimate friends of each other.
The director is Suhas Kadav and the theme music composer is Sandesh Shandilya. The producers are Deepa Sahi and Anish JS Mehta. The theme song "Motu Aur Patlu Ki Jodi" is sung by Sukhwinder Singh.[1] Motu Patlu is based on characters created by Kripa Shankar Bhardwaj in 1960s for Lot Pot Magazine. After the success of Season One, Season Two premiered in 2013. Later, Season Three premiered on October 20, 2014 and season 4 premiered in June 2015.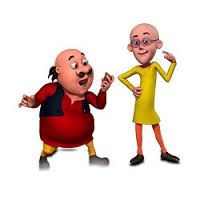 Charactersticks
· Motu: Motu is a fat man who serves as the one of the show's main protagonists. He likes to eat samosas. His best friend is Patlu. He often lands in trouble because of his actions. He is always looking for the easiest way to earn money, have fun and get to eat lot of samosas, even if it means landing himself in trouble. Sometimes he gets over-expressive while celebrating his victory and can do something very foolish, like bringing back a pirate into the present who they had sent recently back to the past. He is also shown bragging about something he has never done. But he is a good man who wants to help others. He wears a red tunic with a navy blue (though mostly black) vest, yellow Pyjamas, and shoes. His talking accent looks influenced by Dara Singh.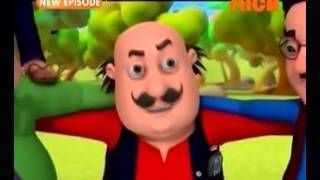 · Patlu: Patlu is a thin man who serves as the one of the show's main protagonists. He is often portrayed as the smartest guy in the whole city. He often gets into trouble along with Motu but he manages to help himself and Motu when they land in trouble. He always advises Motu to be in their normal track and thus lead a "danger free" life, but he can always be coaxed (or forced) by Motu into helping him. He dislikes samosas but loves to read newspapers. He wears a yellow tunic with orange leggings, black-framed glasses, and brown shoes.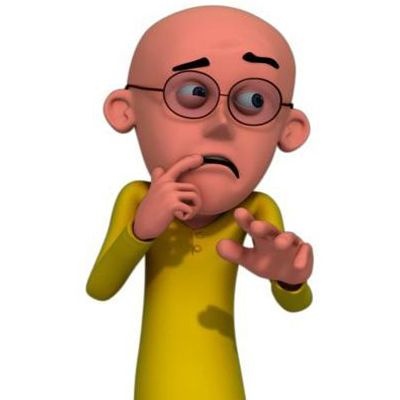 · Dr. Jhatka: Dr. Jhatka is an inventor. His talking style is like a sardar, so he is referred as a punjabi. His inventions are very good and successful but not useful to the people. In fact, instead of helping people, the inventions land the people in trouble. Jhatka is known by his balding hair, green shirt, violet neck tie, and blue jeans. His design is a parallel version of Motu.[2]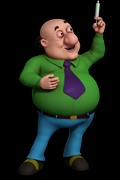 · Ghasita Ram: Ghasita Ram has a 20 years experience in every field but none of the experience is useful to anyone. He is from West Bengal. Almost like Dr. Jhatka, his so-called "experiences of 20 years" often land people, especially Motu and Patlu, in trouble. His design is a parallel version of Patlu. He wears a cobalt blue tunic, purple dhoti, dark brown vest, and shoes of the same color.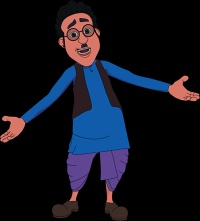 · Chaiwala: A man who lives near Motu's house. He is the only one who makes samosas in the whole Furfuri Nagar which is the favourite of Motu. Motu steals the samosas from his shop and doesn't give the money to him. Motu gets a lot of power by eating samosas of Chaiwala. After eating samosas he shows aggression and can beat anyone, although the chaiwala doesn't like his samosas to be eaten for free. He occasionally rewards Motu by exempting him from the money Motu owes him or even promising him free samosas when he saves him or other residents of Furfuri Nagar.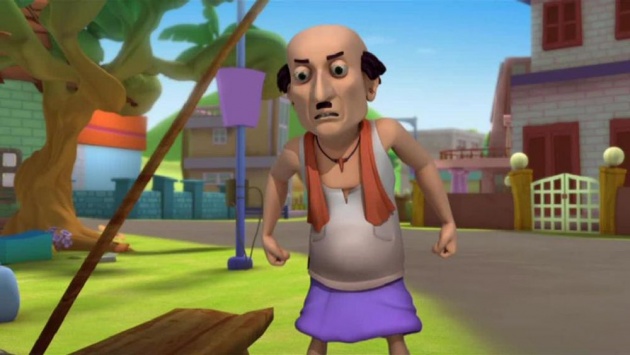 ·
· Chingam: is a police inspector. He believes that no criminal can escape from him. However, chingam manages to catch criminals merely by luck with the help of Motu and Patlu. A Rajinikanth devote with a strong south Indian accent, Chingam is a solicitous police inspector. He takes pride in the fact that no criminal can ever get away from him. A lethal combination for righteous and hilarious.When he fires his gun in the air after telling his dialogue,coconuts fall from the top on his head and makes him fall on the ground.He drives a green motor bike and sometimes also drives a police jeep.He is sometimes helped by two Constables Hera and Pheri.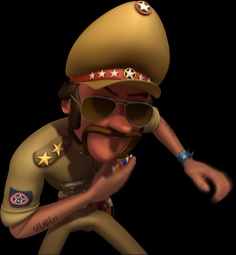 · John: John the Don serves as the main antagonist of the show. John's ambition is to become the fearsome Don. But his plans always fail very badly and thus end up in him getting arrested or being taunted by other people. He writes some short poems. Contrary to normal thieves, he is not afraid of chingam but is instead afraid of Motu and Patlu. He is plump, and short in size and gets insulted for that. He wears a blue dress shirt with dark blue flower prints, yellow undershirt, brown belt, dark periwinkle leggings with blue cuffs.
Number 1: is John's goon who serves as the one of the supporting antagonists. He likes John's short poems. He has brilliant ideas to trap Motu and Patlu but whenever he tells him John says that his idea is bad and beats him, saying that he has a better plan but repeats the same one. Though he respects John, he is always the first to get beaten by him. He wears a blue French check hat, magenta striped shirt, denim trousers, and a yellow ascot.
· Number 2 is John's goon who rarely speaks. He has a dark mark on his eye and a band aid on his over-sized nose. He has dark brown hair, wears a cyan striped shirt, aquamarine ascot, and brownish-orange pants.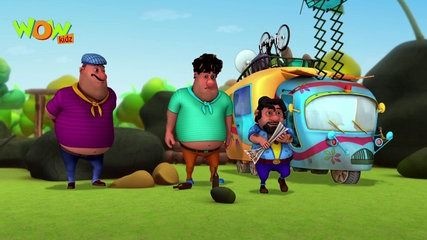 · Boxer: Motu's neighbour/neighbor who wears red boxing gloves, a white tank top, and red pants with vertical yellow stripes. He is an aggressive man. He always wants to help his neighbors but he gets angry and beats them up. He also has an expensive car which gets destroyed by Motu. In "Boxer's Baby", it is also shown that he is not a good parent and could not get his son, Sunny, to sleep.