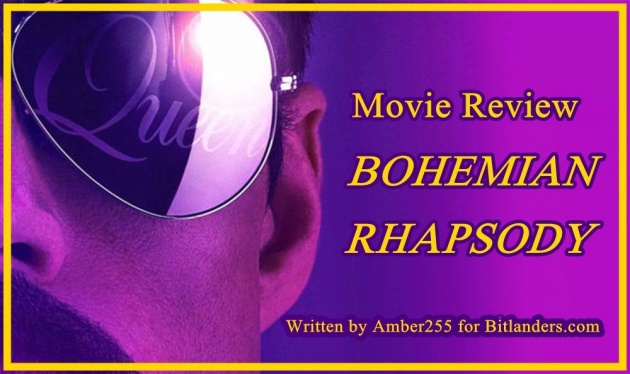 Movie BOHEMIAN RHAPSODY Review - Photo credit: twitter.com, Edition by Amber255 via Bitlanders.com
And so, the winners of Golden Globes of 2019 are named and distributed. There are some awesome winners which I want to present you. A couple of movies I still need to watch, but I will do it, of course. As you may already notice, the movies are my weaknesses. First of all, my review will be about BOHEMIAN RHAPSODY that collected two awards: for the drama, and best performance by an actor. Congratulations to the BOHEMIAN RHAPSODY. Although, my own sympathy goes to A Star is Born.
As you may know, BOHEMIAN RHAPSODY - the celebration of legendary British rock band Queen, their music and outstanding vocalist Freddy Mercury, who not only became one of the most popular musicians on the planet but also defeated stereotypes!
It's about legends. Whether or not this is a fair and accurate account of Freddie Mercury's life, I'm honestly not bothered. All I know is that the film electrified it's audience by putting the thrill of the greatest Rock and Roll performance in history on the big screen.

Credit: metacritic.com
Phenomenal and bright group burst, their iconic songs and innovative sound! Storming lifestyle behind the scenes, and Freddie's uncontrolled lifestyle.
Director and producer Bryan Singer, in 2000 having laid a very solid foundation for the Marvel comic franchise X-Men, and having created less intriguing film projects like The Gifted and Valkyrie presented the story of the legendary Queen and its leader Freddie Mercury.
The film name also resembles the golden age of the band - Bohemian Rhapsody, a song that also tells the story of a man, a record number of weeks was most popular in the British music tops.
Is it real life or fantasy? Probably what we see in cinemas is closer to fantasy and romanticism than real life, but BOHEMIAN RHAPSODY, the story of legendary Freddie Mercury, the leader of band Queen, will try to trigger nostalgia and blow away the dust from the old records for this group.
Let's watch.
BOHEMIAN RHAPSODY, Official Trailer - Video credit: FoxMovies via Youtube.com
The Short Story Of The Movie
BOHEMIAN RHAPSODY is a musical biographical drama about the legendary British rock band Queen with vocalist Fredy Mercury at the forefront. The story of Fredy's desire to sing, join the "fresh" musicians, and become famous. Creating songs that will become hits and bring a wave of craziness in the world. About starry lifestyle, loneliness, and ultimately, the desire to stop performing concerts. All that has happened in Queen's history, and what every real fan knows for a long time - everything has got a consistent cinematic image.
Working dirty work at the airport, Farrokh Bulsara could not even imagine that the world would soon be aware of him. And all this is because he got to know Smile's performers - Brian May and Roger Taylor - in one place at the right time and at the right place. He visited their concert and after came to praise them for good performance.
There he got to know that their vocalist just left them. This fateful acquaintance has changed their lives. That is how the Queen was born, that is how a legend about Freddie Mercury was born too.
The film becomes a guide to the life stages of Freddie, who take him to the peak of glory and close up in the agony of self-awareness. There are contracts signing, the process of creating songs, tours of dozens of cities, and creative discord within the group. A lot of screen time is set aside for Mercury's personal relationship - the film reveals Freddie's love for a woman Mary Austin (Lucy Boynton) and shows Freddie's acceptance of his homosexuality.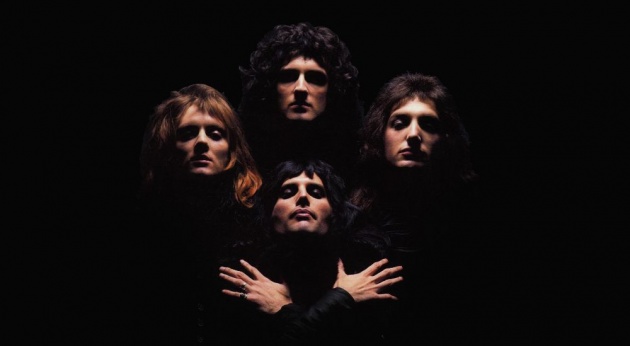 Musical biographical drama about Queen band - Photo credit: youtube.com
The Content Of The Movie
Biographical films telling stories of the life of the most prominent and famous personalities of all ages have long been not a surprise. From ancient Greek heroes or leaders to epic biographical films to contemporary celebrities - at least some of these biographical films appear every year. It is quite natural - sometimes, real-life stories are no less interesting and impressive than those born in the scripts. And if those stories revolve around those well-known to all of us, then we can stay in their coat for at least a few hours and meet our voyeuristic needs observing another person's life through a symbolic keyhole. Movies of the most distinguished personalities in the music world are also not a rarity.
Musical biographical dramas have always attracted the attention of the audience, as they tried to show their fragile and very human side rather than the glossy lie. That's why it is a pleasure to watch such films as Ray, Walk the Line, La Vie en Rose or The doors for many reasons - great music, character relationships, unpleasant-looking reality and of course, due to open scenes, without which it would not be possible to look into the displayed whole.
A biographical movie about the near band Queen who managed to sell nearly 250 million records around the world and its leader Freddie Mercury, who left this sinful land in 1991 should become such movie too.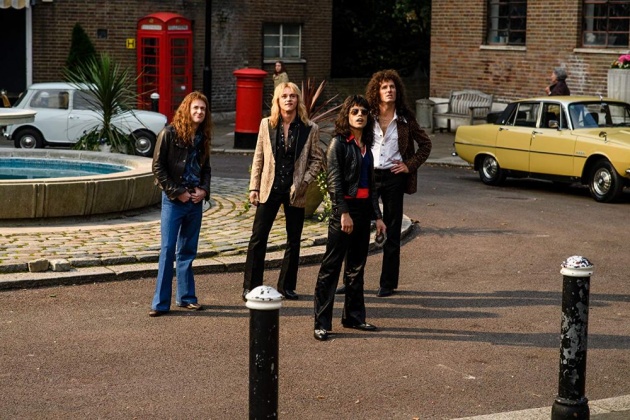 Musical Biographical Drama - Photo credit: imdb.com
For almost thirty years, Hollywood film studios have tried to persuade the remaining members of the band, Brian May and Roger Taylor, to screen their and their friends' lives. But without result. The progress came in 2013 when the project attracted comic Sacha Baron Cohen, who wanted to portray a very realistic picture of Freddie Mercury on the screen. Such a step has made angry the members of the group because they wanted a film that could be appreciated not only by adults but also by young people. After Cohen retreated, the fate of the project hung up again.
But finally, in some miraculous way, in 2017, the management and producer of the 20th Century Fox studio, Bryan Singer, managed to agree with a stubborn guitarist and drummer and got a blessing from them.
As you might have expected, the band was created with a gentle age censorship13 that made it clear that there would be no immoral scenes in the film, where one of the most important accents is Queen's leader. Of course, in order to avoid panic, filmmakers have repeatedly emphasized that it will not be a movie about Freddie Mercury, but about the Queen, so you shouldn't have to worry about light content.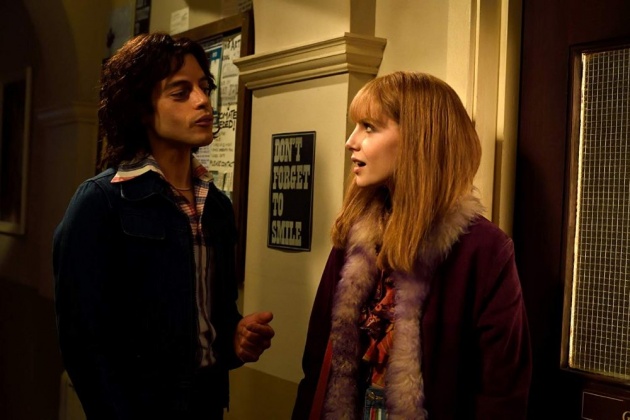 Rami Malek in BOHEMIAN RHAPSODY - Photo credit: imdb.com
Yes, it is a film about music and the history of the very well-known musical works of Queen. In the film we were introduced in an interesting but simple way to the origins of the songs Love of My Life, We Will Rock You, Bohemian Rhapsody, Another One Bites the Dust. Of course, there is also a lot of attention to concerts, where almost all known Queen songs were performed. And it was the best part of this band that really excited me. Musical performances here are divine and very professional.
But if we reject the wonderful music, an interesting story about the creation of works, their long way to the radio, and the magnificent twenty-minute finale in the Wembley Stadium, the film becomes very dull. And it is dull because the whole story seems to have been copied from the Wikipedia page to provide some important facts about the band and its vocalist. And it is not about the group there; it is just about Freddie Mercury.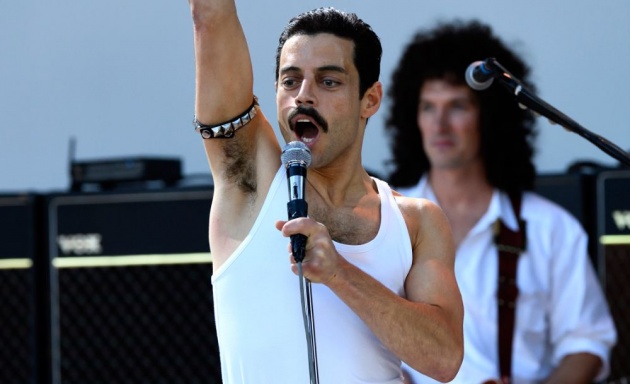 Movie review, BOHEMIAN RHAPSODY - Photo credit: imdb.com
This is a film dominated by just one person - Freddie Mercury. But he is not dominated as a colorful personality, but a person who likes to sing, dance, and be on stage. So we hardly find there any deep-seated revelation about his really difficult way to the musical Olympics and immoral behavior. Yes, there were scenes that tried to very sterile to show this man's lifestyle through parties and homosexual relationships with men, but I didn't believe what I saw on any scene shown in the film. Where is genuine rock and roll? Where are the drugs and orgy? Where, after all, alcohol? Drugs and sexual relations with the same sex were Freddie, and what ultimately hurt him.
The most obvious lyrical deviation due to dramatic history is the scene in the movie when Freddie learns about AIDS and tells all the members of the band when he joins together again in a few years and prepares for a concert at Wembley Stadium. Such truth and sympathy from the members of the group is also a shock to the feelings of the viewers. However, if we compare the facts, the charity concert took place in 1985, although the singer actually learned the diagnosis much later. According to his partner Jimmy Hutton, this happened only in 1987, and publicly announced just a day before his death in 1991. Well, here are some facts and comparisons on how it works in real history and in the movie.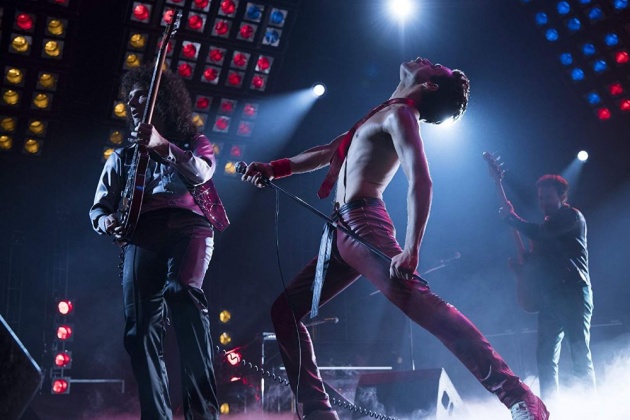 Hollywood film BOHEMIAN RHAPSODY - Photo credit: imdb.com
BOHEMIAN RHAPSODY continues more than two hours - all 134 minutes. Often two hours go beyond the threshold when the viewer already feels boring, and the film must have a greater weight of interest than the boredom. Maybe it will not be unexpected if I say this hasn't happened in this movie. There was no one minute too long; I would say, it was even hypnotic and demanding more. Although the story itself, I would say, it is packed very compactly, in places somewhat laconic, I would agree on some places to survive longer and deeper.
There were scenes that could be expanded, but there were no scenes that would say nothing. Looks like you just for familiar with the young Mercury on the screen, and you're on the final stage of the movie, along with a crowd of 70,000 people at Wembley Stadium.
It is important that the film gives a pleasant impression, at least, because it contains truly wonderful musical works, which our parents listened because even one hundred years later, our descendants will listen to them.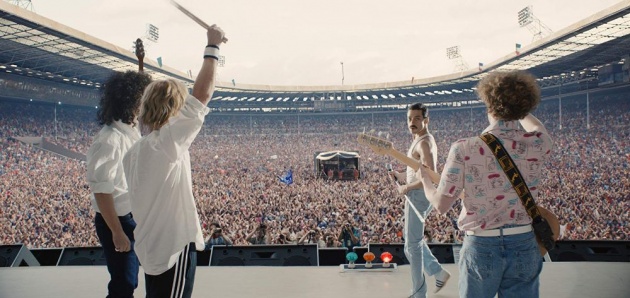 Movie About Freddy Mercury- Photo credit: topsimages.com
The Technical Side Of The Movie
Technically, this is one of the most astonishing cinema projects of the 2018 year. First of all, I would like to praise the filmmakers, stylists, and designers for the very realistic appearance of Freddie Mercury, Brian May, Roger Taylor, and John Deacon. Of course, other important characters in this band have been presented in a very realistic way.
Decorations are also worthy of attention. Thanks to them, we saw greatly restored not only the places where the Queen performed, but also where the members of the band lived. The environment has also provided a separate charm delivering the shown time.
Soundtrack! Well, here I really don't have words. All the famous Queen's works sounded in the film, so I just wanted to sing along with the band when watching the film in the cinema. A wonderful experience, as if you were at a concert.
The soundtrack of BOHEMIAN RHAPSODY - Video credit: 20th Century Fox Music via Youtube.com
Sound editing works are flawless. Video editing is fast. Sometimes it's too fast. It is jumping from one scene to another and stating facts as if you were taking a brochure on some of the most important events in the group. I got a feeling that this fast jumping prevents us at least look briefly at some important events.
What makes it possible to empathize at least with the visual beauty of the film is the very strong work of the operator. The characters received attention, some details relevant to the storyline related to the homosexual affairs of Freddie received attention and, of course, the decorations, without which this band would not shine, attracted attention. Extremely strong camera work was seen in the last 20 minutes of the film when Freddie at Wembley Stadium showed us why we love him.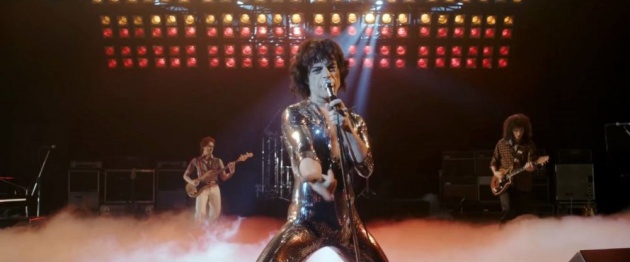 Movie BOHEMIAN RHAPSODY Review - Photo credit: youtube.com
The Collective Work Of The Actors
Known by the popular series Mr. Robot and film Papillon, actor Rami Malek played the role of his life. I'm not joking; this is one of the strongest male roles I have seen over the years. And there is no surprise why he got Golden Globe for his performance in this movie. Not only did he incarnated visually into Freddie Mercury, but he also became Freddie Mercury - beginning with the talk, movement, and energy that this legendary vocalist radiated in each of his performances. I hope the members of the US Academy of Cinema and Science will not be blind and will nominate the Oscar for this talented actor also. He's really worth it.
An astonishing actor's similarity to true Freddie Mercury - an exceptionally expressive jaw, big eyes. Use a false dental plaque to look and sound as authentic as possible - guess who's the idea. At the beginning of the film, the actor seems to feel a little uncomfortable. However, such an impression is probably due to the fact that we all imagine the true singer as a brave extrovert all the time. This film and Rami Malek himself shows that perhaps he was a quieter and more closed person than we thought. The actor especially revealed this at the end of the film, in the final scenes, when the role requires energy and light on the stage. There is no doubt that there is probably a no better candidate for this role.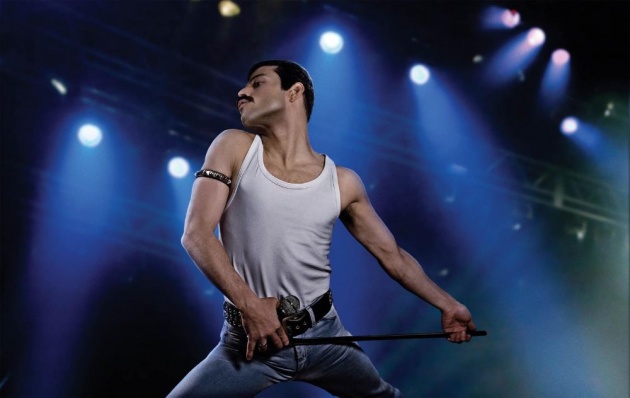 Rami Malek in BOHEMIAN RHAPSODY - Photo credit: twitter.com
Gwilym Lee, Joseph Mazzello, and Ben Hardy appeared in supporting roles. The three were very similar to Brian May, John Deacon, and Roger Taylor. Their acting was also at a high level.
Other characters were embedded by the less talented actors like Mike Myers, Tom Hollander well know from the Pirates of the Caribbean trilogy, Lucy Boynton, Aidan Gillen, and theatrical actor Allen Leech. Each of them had the chance to appear on the screen next to Rami Malek, trying to at least partially match him. And they did it. The acting was good.
On The Final Note
BOHEMIAN RHAPSODY is one of the most inaccurate and sterile biographical dramas for many years, but at the same time, it is one of the most impressive and pleasing musical films for the eyes and ears. It not only revived the legendary creations of the Queen but also thanks to the flawless performance of Rami Malek, Freddie Mercury revived too.
Even before going to the movie, the thought came to mind: the hit Show Must Go On will be used at the end of the movie, on the final stage or in the subtitles. It is obvious that such thoughts have not been visited by me alone - the finish is directly attained by this piece.
Everyone knows that no matter how the group's fates are, the contribution they've made to the music world will never be forgotten and their music will be alive even after many years.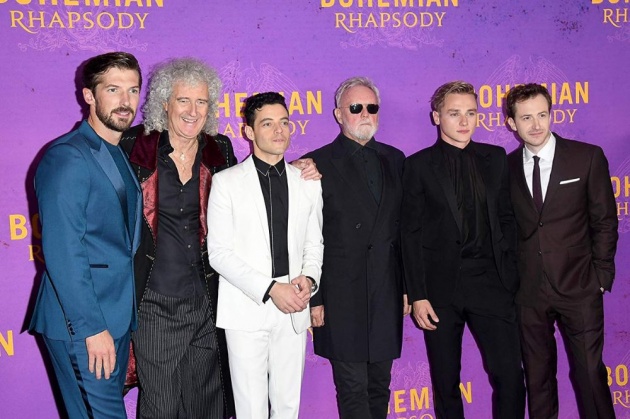 BOHEMIAN RHAPSODY premiere - Photo credit: twitter.com
It's not a perfect movie. But this is an exceptional attempt to make Queen more meaningful. It is an exceptional role for Rami Malek, allowing for a couple of hours to feel familiar lively with the singer. It is a movie that makes you feel sorry for a second, that you have not been born on time and had not an opportunity to be at their concert when they reigned in the music world. And I can only find the most relevant description in their own lines of songs: Who wants to live forever? Forever is our today.
So get ready for the journey in time and travel with Freddie and Queen at the top of their careers - from the very beginning of the band to its career zenith at Live Aid concert in London. In short, all Queen fans just have to see this band, and the show will continue.
Roger Taylor: You're a legend, Fred.

Freddie Mercury: We're all legends.

[pause]

Freddie Mercury: But you're right, I am a legend.

Credit: Film quote, imdb.com
My rating: 9.0/10
Rotten Tomatoes: 62% ( of 100)
Critics average: 9.0/10
IMDb: 8.3/10
HAVE FUN WATCHING!
**************************************************************************************************
Thank you for stopping by and reading my blog.
2018, All Rights Reserved.
You are very welcome to join Bitlanders and share your valuable knowledge and opinion.
**************************************************************************************************