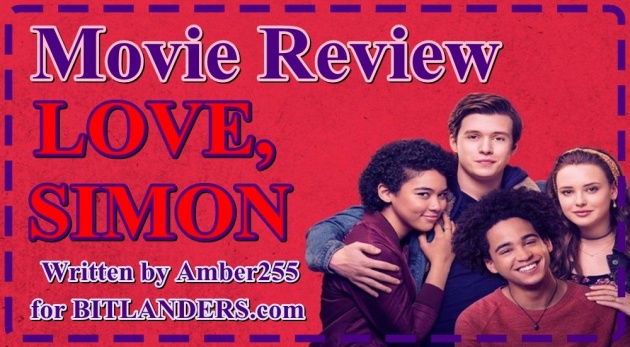 Movie LOVE, SIMON Review: Sensitive Story About Humanity, Tolerance, and Love
Photo credit: Amber255 via Bitlanders.com
Greetings. As it is summer, I thought I will be too busy enjoying summer activities to watch a movie every Friday. Unfortunately, the weather did not let us stay in the fresh air, so we again went to the scheduled movie. The rain can be so annoying, is it not? Ok, let's talk about the movie we watched last Friday. This was the comedy, drama, romance LOVE, SIMON. We did choose this movie at the last minute. I have to say that I knew nothing about this tape before came to cinema. So, I had no any expectations or preconception. The comic, sincere and exciting story LOVE, SIMON tells about the efforts of the young man to know himself. It is also about the unexpected love. Anyway, if you like watching new movies, read the movie LOVE, SIMON review and decide for yourself if you want to watch it.
Greg Berlanti, the producer and scriptwriter of the series Legends of Tomorrow, The Flash and Arrow, as well as producer of cult TV projects Dawson's Creek and Everwood, eight years after his last film returns to the big cinema with another meaningful and very sensitive story about humanity, tolerance, and love for others, regardless of the color of their skin, religion or sexual orientation.
LOVE, SIMON Full Movie Trailer
Video credit: TRAILER CITY via Youtube.com
Short Story Of The Movie
Simon Spier (actor Nick Robinson), the main boy character of the movie LOVE, SAIMON is a student who likes good music, attends theater lessons, spends his spare time with his closest three best friends: Leah, Abby, and Nick, goes to parties, and helps his parents in all kinds of work at home. He is exactly the same as most of his active teenagers. There is only one little but... Saimon has a secret that has not been disclosed to any person. He feels attraction to the same gender.
When one anonymous in the school rumors website says that he is a gay, the Simon, who hides his own homosexuality from his relatives, starts to correspond with him. With each letter, they more and more fall in love with each other. It is true that Simon does not yet know who is really talking to him - a boy is not ready to disclose his identity.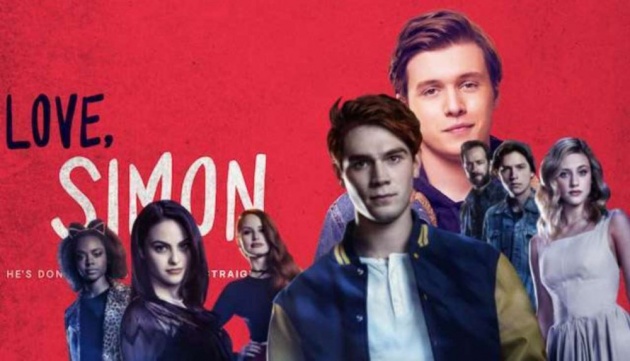 Movie LOVE, SIMON on LGBTQ theme - Photo credit: twitter.com
The complicated Simon's life gets even more complicated when his correspondence is accidentally read by a classmate who takes blackmail - if Simon does not help him to make a relationship with one girl, his secret will be revealed.
The search of your own self for a young person is never easy. And while everyone deserves a beautiful love story, the seventeen-year-old life of Simon is even more complicated. At least, he thinks so.
While reading comedy, drama, romance LOVE, SIMON, this new movie review, don't forget to check QUERLO CHAT:
The Content Of the Movie
I like movies of LGBTQ theme for a few reasons. The first is that such movies are often able to reveal the lives of homosexual people through a rather open and very attractive prism so that viewers can see these people not only in distinct situations but also can understand the one important truth that they are exactly the same as heterosexuals.
Of course, such films may cause a lot of aggression to someone, but I think that some of the people who watched it, may be able to learn tolerance and understanding. And that's a great achievement that will encourage to continue creating similar movies that the people would be able to change for the better beings.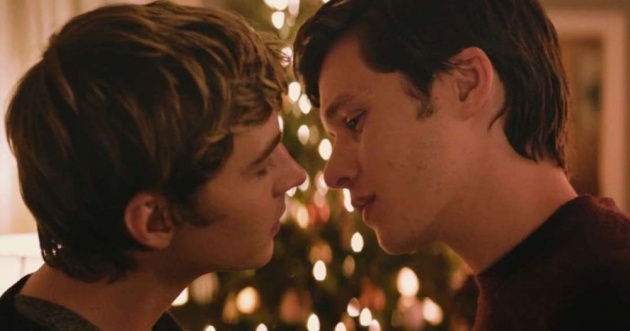 Movie LOVE, SIMON on LGBTQ theme - Photo credit: thanhnien.vn
And this tape is one of such kind. It not only encourages people to understand a rather relevant problem, about which I will write a bit later, but also give a very pleasant, easy, and even I would say, very involving time in the cinema.
The main accent of the movie is the regular school, where life is booming as everywhere. And it is comprehensive to see that there are home parties, there are sports competitions in which the entire school meets, there are extracurricular activities. And, of course, there is bullying. And not only greatest school's achievers encounter bullying but also those who are radically distinguished from the gray mass.
I could say that the concept of the movie is partly reminiscent of a series of The 13 Reasons Why very popular with the teenagers, which also highlights the problem of bullying in contemporary society. I do not say that bullying was not ten or twenty years ago, but they were certainly not as large as they are now. And the main cause of bullying there is shown very thorough, but at the same time, in an extremely simple form, which causes such things to happen.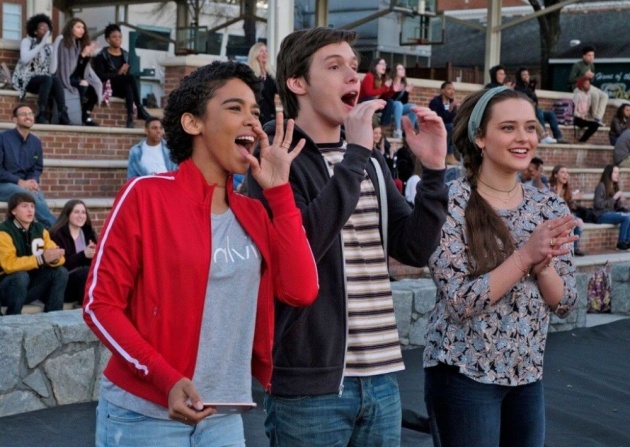 Comedy, Drama, Romance LOVE, SIMON - Photo credit: firenewsfeed.com
The movie also focuses on education, friendship, the family, and very simple things that make the young person a full-fledged person and a part of society. I am not already talking about love, which, incidentally, is presented here from some very picturesque perspectives - secretly, homosexual, and very annoying. This last one has really contributed significantly to the development of a common storyline.
Another and the most important topic in the film is the fear of a young man against society and family, who may not understand and reject him because of his unconventional orientation. But at the same time, the Simon feels the fear to keep it everything inside and torture himself the whole life. Such a struggle with oneself, that is facing the main character of the movie, is justified because not everyone can admit to the whole world about his unconventional orientation, especially when the public can react negatively to such a disclosure.
Aside from a social and highly relevant homosexuality-related topic, I can say that without this part the band retains a very strong shape. The story is told interestingly and fairly lively, there is no shortage of good, rich, and very youthful humor here, which may not be understood by everyone, but even this will not prevent you from creating a smile on your face.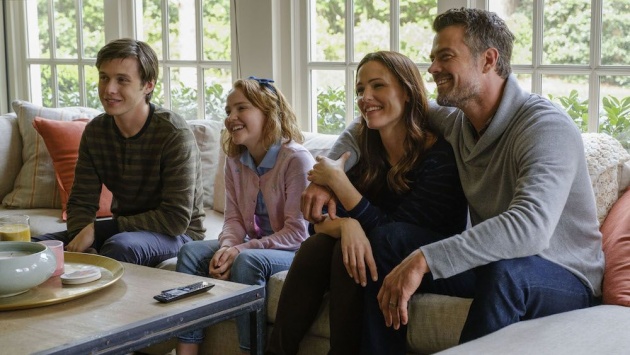 Movie LOVE, SIMON Review - Photo credit: twitter.com
I think the common movie's concept will be attractive to both young and older viewers.
I can not say anything more about the plot because I can say what I do not need to, so I'll better talk about the heroes. Every character in the movie was presented really well. The main character, Simon, perfectly illustrated the most important issues and fears of a young person, which really made great the movie seance. His friends Leah, Abba, and Nick also managed to impress with simplicity and, at the same time, a very realistic look at the manifestation of modest sympathy, which later grew into something bigger.
There were some eccentric people, who always make the fun in such films, so it was really fun to laugh from the school principal, theater teacher, and annoying Martin, as all the humorous scenes in the movie came from them.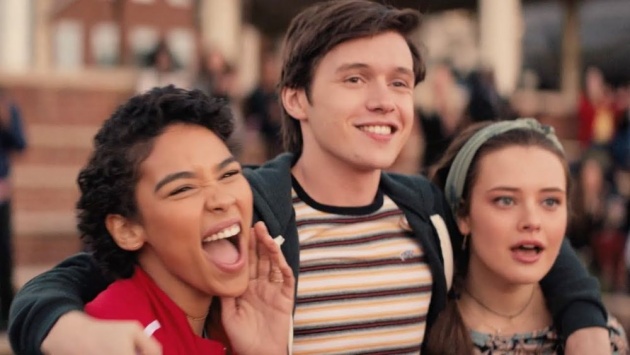 Comedy, Drama, Romance LOVE, SIMON - Photo credit: culturageek.com.ar
On the whole, the film teaches love, teaches people to understand those who are encounter bullying and who find it difficult to disclose and it teaches tolerance that is very lacking among people. Therefore, I would urge this band to be seen not only by those who love school themes, easy stories but also by those who contribute to the existence of the situations shown in this film.
It's a good band in every sense, which at least for me became one of the bigger cinema discoveries in 2018, and probably the very favorite movie of the LGBTQ theme which I would agree to watch more than once.
Nick Robinson & Katherine Langford LOVE, SIMON HILARIOUS interview
Video credit: CaptRiyadh vis Youtube.com
The Technical Side Of The Movie
Though it's a typical and visually very simple drama that focused on the screenplay and directing, the movie has some surprises. And those surprises are some technical nuances that were able to really surprise. One of them is the soundtrack, which was able to fascinate in exactly the same way as the story itself. We heard such hits as I Wanna Dance With Somebody, Alfie's Song, Strawberries and Cigarettes, and so on. Therefore, the atmosphere in the film is really fascinating.
Other technical pluses of the tape are a great montage, which accompanies the movie from start to finish, and a very good operator, which even made to applaud in one scene. And I'm talking about the scene where Simon dances by the song of already mentioned Whitney Houston's I Want to Dance With Somebody. For me, this scene reminded the movie 500 Summer Days, when the main hero moved his hips equally. Both the scenes of one and the other were fabulously filmed.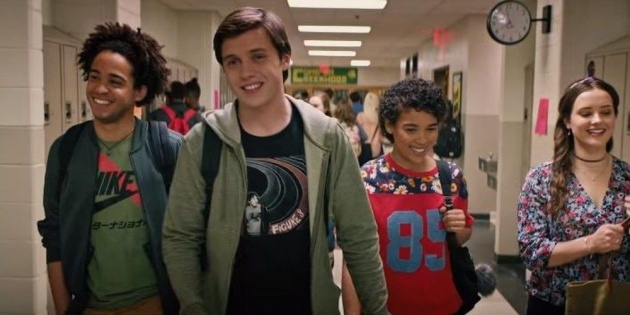 Movie LOVE. SIMON scene - Photo credit: blog.naver.com
The Collective work of the Actors
The young actors did not disappoint. I would even say that they worked perfectly for the presentation of their acting characters from a very natural side. I would particularly emphasize the role of Simon Spier by Nick Robinson. He really let us enjoy every moment of his performance, I would say we enjoyed it the whole movie, from the beginning to the end.
I think Simon is kind of a fascinating guy in a lot of different ways. He's someone who has has had to live with this secret his whole life. He doesn't want anyone to know that he's gay, so he's built his whole life protecting that idea. And I think it's kind of an interesting character arc, to see what happens when someone's perfectly manicured life gets turned on its head. He all of the sudden has to very quickly readapt in the new circumstances. - Nick Robinson

Credit: popsugar.co.uk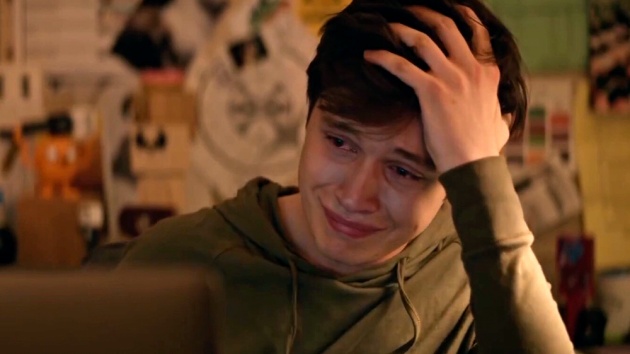 Nick Robinson in the movie LOVE, SIMON - Photo credit: anablogjaesirasai.blogspot.com
We can see also the actor Katherine Langford and Miles Heizer who we could see in the series of 13 Reasons Why, as well as the Iximens star Alexandra Shipp. I would mention also the performance of the actor Logan Miller, who played the Martin role, and Clark Moore played an open homosexual. Each of them brought positive moments to the film.
We could see also the more experienced actors like Jennifer Garner, Josh Duhamel, and Tony Hale, who added a lot of weight to the overall story. Especially the latest one, who has played the role of school principal.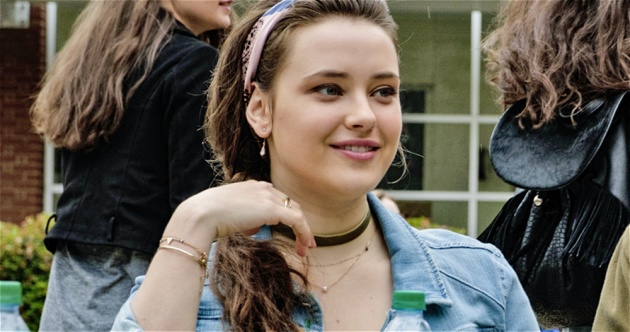 Katherine Langford in the movie LOVE, SIMON - Photo credit: etsanimetayposts.tumblr.com
On the Final Note - Verdict
LOVE, SIMON is a beautifully told story and a very positive by its atmosphere, bold in its openness and so close to the current issues of contemporary society. The main attraction of the tape is the promotion of tolerance not only among adults but also among adolescents who cannot accept other people because of their personal fears and upbringing gaps.
In fact, LOVE, SIMON would be a fairly ordinary and, probably, a work not too much noticed by critics if his character was not homosexual in a romantic teen comedy created for the first time by a large cinema studio. And this is an event, indeed, perhaps more social than cinematic.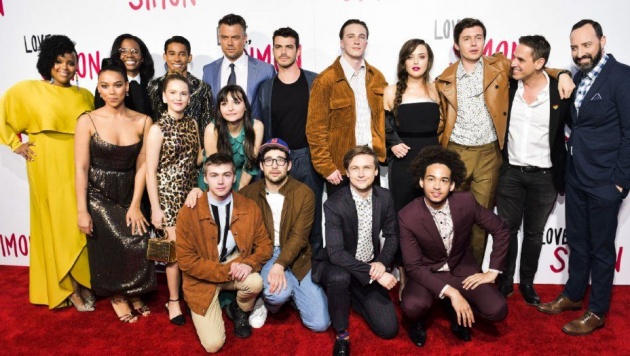 Comedy, Drama, Romance LOVE, SIMON actors, and creators at the premiere - Photo credit: twitter.com
The adolescents who fear the negative reactions of the public, encountering the bullying from the friends, fearing to admit publicly their sexual identity, have finally awaited for their romantic blockbuster.
This band is not only a great look at the young man's world but also a film that sets a pleasant feeling because of comic moments and extremely laughable jokes. The convincing performance of young actors fascinates, and lightweight content is not depressing as most of the cinema projects of similar nature, even nominated for Oscar for LGBTQ theme alone.
The fact that it's 2018 and there hasn't been a gay teen protagonist in a mainstream studio film as the lead character in a romcom, teen movie, or anything, it's way after we were doing this kind of stuff on television. So the absence of it is one thing. But also, the audience deserves stories that reflect our society and the world we live in. It makes the stories richer and deeper. - Greg Berlanti

Credit: gaytimes.co.uk
The history of Simon's love is undoubtedly one of the most influential stories among teenagers over the past few years.
Have a fun watching!
***************************************************************************************************
Thank you for stopping by and reading my blog.
2018, All Rights Reserved.
You are very welcome to join Bitlanders and share your valuable knowledge and opinion.
***************************************************************************************************
You can check my other blogs with movie review:
1. Movie ANON Review: the movie causing a moral dilemma
2. Movie A QUIET PLACE review: the terrifying silence works on your nerves
3. TRUTH OR DARE movie review: a movie that failed to take full advantage of its enormous potential
4. Movie Adrift review: The Survival Drama Based on Real Facts
5. Movie HOTEL ARTEMIS Review: The Absurdity Of Storyline And A Solid Performance Of Actors
and others... Come back to find more...
**************************************************************************************************