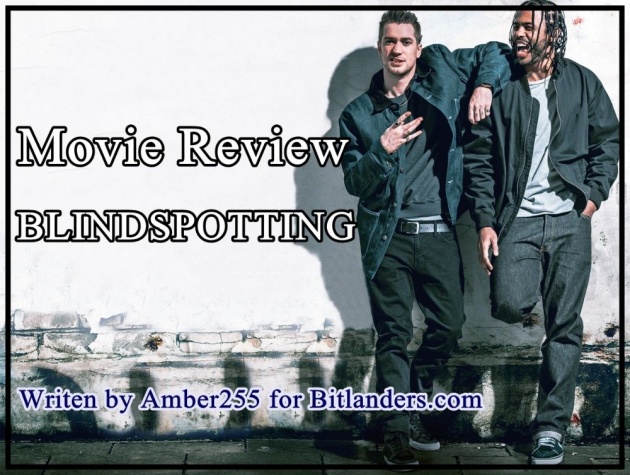 Movie Review: BLINDSPOTTING - Photo credit: twitter.com, Edition by Amber255 via Bitlanders.com
The next film in the IMDb list of 50 best movies of 2018 is the movie Searching, A Star Is Born, and Spider-Man: Into the Spider-Verse. I already added my reviews for those three movies, so you are welcome to check. Today, I will be writing about drama BLINDSPOTTING. More movies reviews you can find in my Bitlanders profile.
The criminal tragicomedy BLINDSPOTTING is the full-length debut of Mexican director Carlos López Estrada, for which he got a nominee of the Directors Guild of America Award. The semi-autobiographical movie script written by long-term friends Raphael Casal and Daveed Diggs, who also performed the main roles.



'Blindspotting' does an excellent job at avoiding the force preachy message about race and social issues a lot better than any Oscar bait movie that calls itself "important".




Credit: metacritic.com



The sharp social problems' agenda in cinematography always was a popular theme, but in recent years this subject has become one of the most popular, and cinematography leaders understand that it is not enough just to raise complex problems but to convey it to the viewer in an interesting and creative way.
The spirit of our time requests for a new approach to the adaptation of topical issues, bypassing unnecessary pathetic and stamps and using the techniques of ultramodern and multi-genre. Last year's success of the satirical drama BLINDSPOTTING set a definite trend for implementing an acute social agenda in cinema, by creating comedy-drama projects telling about the problems of the modern black American.
BLINDSPOTTING, Official Trailer - Video credit: LionsgateLIVE via Youtube.com
The Short Story Of The Movie
Black man Colin (Daveed Diggs) and European Miles (Rafael Casal) have known each other for a long time. The guys take part together in each event; however, the restless temper of friends turns their existence into a real nightmare.
Participating in constant fights and suspicious companies, Colin and his friend constantly fall into various troubles. The police officers already know these guys in the face well, so they don't even ask for documents when arresting them again. Regular detentions led to the bad reputation of young people, but for them, it does not matter.
Being dishonorable citizens, Colin and Miles, in the film BLINDSPOTTING, once again have to do the dirty work. For another violation of the rule of law, men are on probationary works. They have to carry out heavy work in special equipment around the city every day.
Collin, unlike his friend, had long realized his mistakes and behavior, now he intends to radically change his life positions. The young guy does not want to deal with law enforcement anymore and dreams of a quiet, peaceful life. He is trying with all his power to avoid trouble and be completely cleansed before the law. But his main problem follows him - this is his impulsive best friend Miles, who is looking for dangerous adventures and does not want to part with the gun.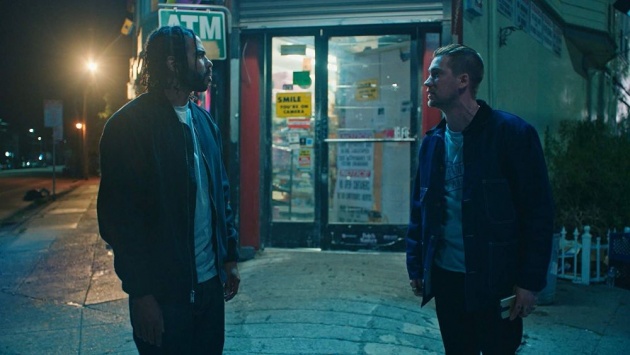 Rafael Casal and Daveed Diggs in BLINDSPOTTING - Photo credit: screenscreamviola.blogspot.com
Collin is going to change his true restless friend Miles, who, despite constant correctional work and punishment, did not realize his guilt. He does not stop taking part in various fights where murders and weapons take place.
Three days before the long-awaited release from probation, black Collin becomes a witness to a terrible crime. The main character of the film accidentally saw a police officer shooting an innocent dark-skinned guy to death. The unarmed and innocent guy died instantly, and the brutal and unjust actions of the officer will go unpunished. Collin is afraid to convey to the officer, but it also becomes unbearable to remain silent.
Accidentally witnessing this incident, Collin is the only witness. But the killer is also not going act responsible for the murder, so he will try to destroy all evidence of his guilt as soon as possible, even if he has to commit another murder. And this is just a beginning of true action.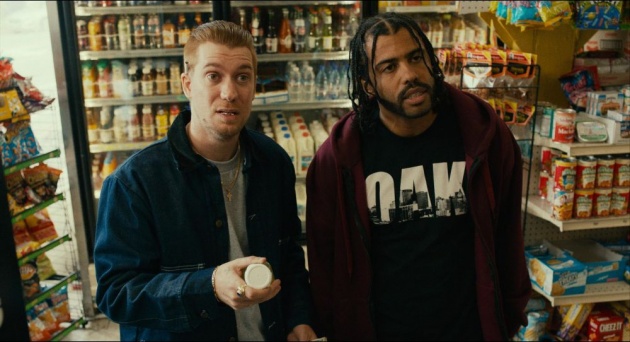 The film about racial discrimination BLINDSPOTTING - Photo credit: twitter.com
The Content Of The Movie
I like unexpected discoveries, when you turn on an unknown film with an incomprehensible title, don't understand what it is, and there it turns out being something that you cannot take your eyes off. It was the case with BLINDSPOTTING. Actually, before I turned on this film, I have not heard anything about it.
Social themes are at the head of the story. The creators of the tape touched such urgent issues as racial discrimination, the arbitrariness of the local police, street crime, and the social adaptation of people in difficult life circumstances. Life problems are also affected: one personage has a complicated relationship on a personal front, the other conflicts with family due to constant troubles.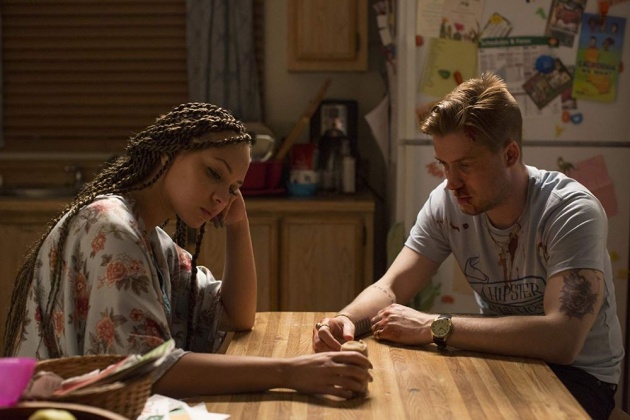 50 best movies of 2018: BLINDSPOTTING - Photo credit: imdb.com
It is especially pleased that the director is young and still not very experienced to present us the only standard Hollywood clichés and stamps.
The story is very interesting, original, completely different from others. It is possible that in places it may seem somewhat sluggish, but I liked how it was shown to us. After all, the rapid development of events for this genre is not necessary - the pace is moderate, but it is so true as the life itself.
Yes, and the story is basically just about four-five days from a person's life, and believe me, the finale of story deserves to slowly get to it and understand what kind of person the Collin is. The finale of the film is so strong that you understand everything to what the author of this work led us. You feel as if you penetrate into the brain of the main character, or he just goes outside, splashing out in different directions, like a fountain that suddenly turned on.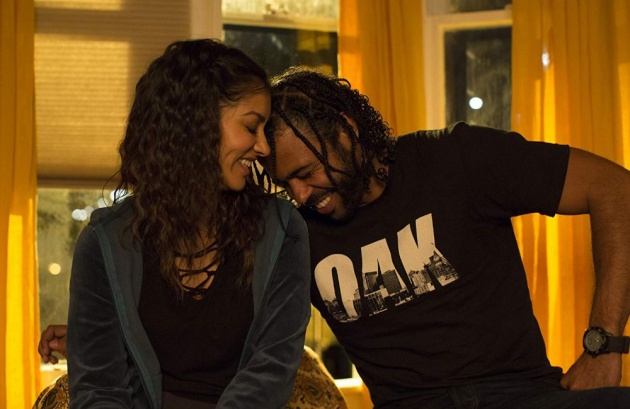 Semi-autobiographical movie BLINDSPOTTING - Photo credit: irishcinephile.wordpress.com
The genre of this film is drama, although they still write that it is a comedy; this, in my opinion, is an obvious overwhelming, since I smiled just once. But it is a drama for sure; we can't argue with that.
An interesting point is a fact that the creators have tried to uncover, or rather show, several current social issues at once. The script also tells about police violence, about the "white man's burden" in the US, surrounded by "black" culture, the criminal justice system, racism, issues of arming citizens and everything we see in a drama format and at the same time a witty comedy.
How much they managed to solve this, of course, every viewer will have for himself; but there is also the opinion that the director turned everything upside down. But the problems highlighted in the film are quite specific, local, inherent in the country where this film was created.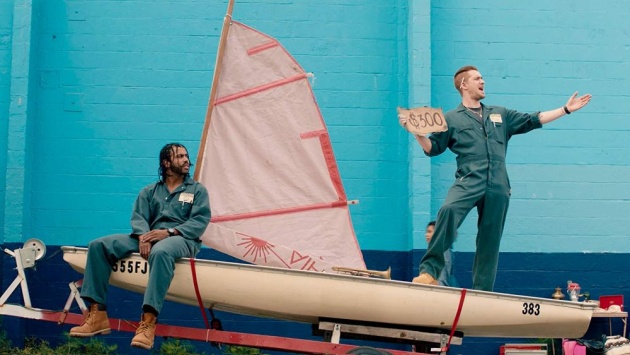 A film about racial discrimination BLINDSPOTTING - Photo credit: imdb.com
The Movie Characters
Throughout the film, we see two inseparable friends tied by children's friendship. The main characters are very fragile, realistic, and lively. It's easy to characterize the main characters: Collin (Daveed Diggs) consciously tries to follow the true path, as if paying a huge price for his past sins, and Miles (Rafael Casal), on the contrary, is a hooligan, adventurer, of course, sinking in a criminal pit.
One of two friends, black Collin is more reasonable and calm, the exact opposite of his white friend Miles, who is a true hooligan. There are not many common things left between them, and it looks all that binds them is the creative impulses, the love of reading rap. If one begins to sing, the second one manages to continue smoothly.
The protagonist symbolizes not so much the image of the victim, oppressed by race, but the image of the reflective accomplice, aware of his responsibility, and an example of how personal actions can affect the overall context.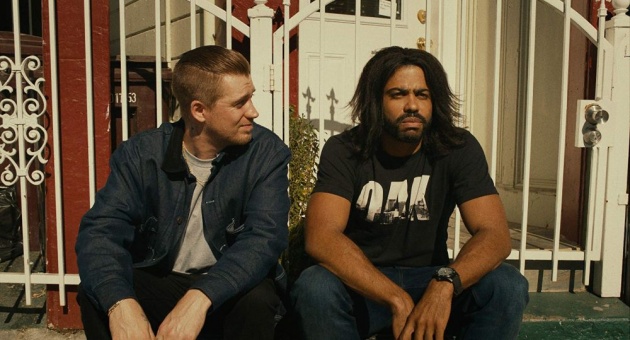 Rafael Casal and Daveed Diggs - Photo credit: imdb.com
The Technical Side Of The Movie
The film does not shine with special effects, and its budget is clearly quite small, but the picture does not suffer from this. For me, it looks that I saw everything I could await from this film. There was no feeling I miss something.
In addition to a great that Carlos Estrada got from his two main actors and the scriptwriters for the success of this film, he can still take a share of the success to himself - BLINDSPOTTING is brightly lit by techniques, and the virtuoso montage contributed to the movie's atmosphere.
By the way, I forgot to add one more fact - Daveed Diggs, the main actor of BLINDSPOTTING, is not only an actor but he also is the vocalist of a pretty good hip-hop group Clipping. You will have a chance to hear him reading rap. Yes, there is a lot of rap in this movie, but it fits perfectly with the film's theme.
Daveed Diggs & Rafael Casal - Easy Come, Easy Go, rap from the BLINDSPOTTING - Video credit: RepublicRecordsMusic via Youtube.com
The sound editing is pretty good too.
The Collective Work of The Actors
The cast was quite good this time - pretty faces of different colors. I liked how they played: emotionally and expressively. Seriously - a good performance, even convincing. Each of the actors demonstrated a range of acting techniques, be it comedy or the drama of their characters, or even rap.
As for two little-known actors, a similar set of qualifications should give the actors a ticket to a big movie, and it would be very interesting to see this duet in action again in another project.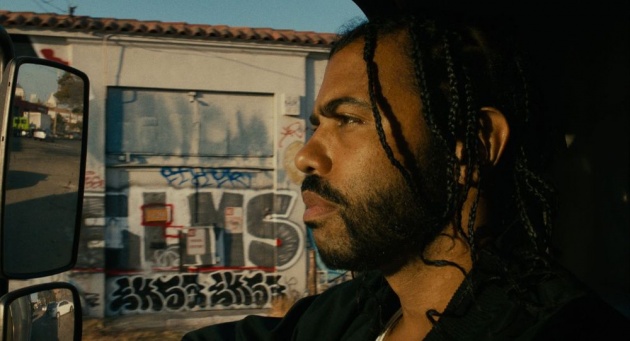 Daveed Diggs in BLINDSPOTTING - Photo credit: twitter.com
I want to praise the actor Rafael Casal, who played brilliantly. His character is a typical white guy with garbage in his head. His colleague in the film David Diggs also played perfectly, especially I liked his rap.
It seemed that they had put into their screen images of a piece of their own lives and elements of the biography, and therefore they managed to show an incredibly realistic acting game. I hope this work will be a springboard for them in the world of big cinema.
From the supporting actors, I want to mention Janina Gavankar, Ethan Embry, Wayne Knight, and Jasmine Cephas Jones.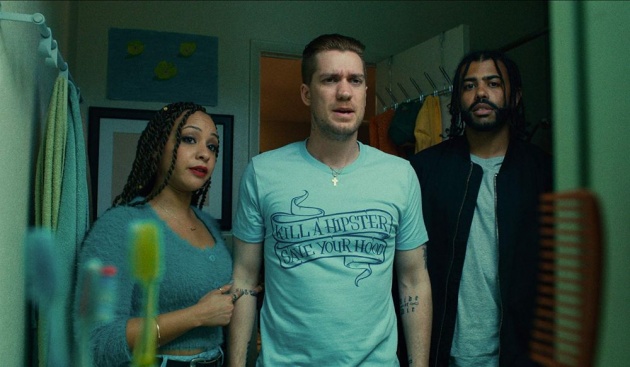 Rafael Casal, Daveed Diggs, and Jasmine Cephas Jones in BLINDSPOTTING - Photo credit: imdb.com
On The Final Note
It has long been known that a true friend is known in trouble, and therefore a true friendship must be built over the years.
BLINDSPOTTING - one more film on the popular theme of the last years of racial discrimination, but presented not in the most popular artistic language - simply, concisely, and without purpose wake up the feelings of the masses. And this approach worked great. As it turned out, this drama doesn't need more - a lot of today's questions got answers in the background of a long friendship between two guys.
Despite the good humor and satire, BLINDSPOTTING is a wake-up signal to society, a call to pay attention to yourself and your actions, analyze their consequences and refuse to evaluate others through the prism of stereotypes.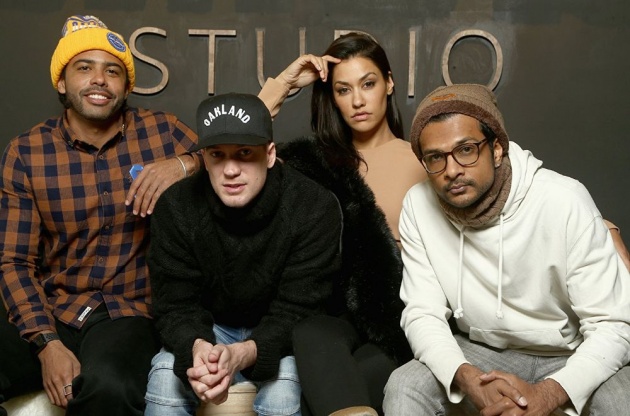 BLINDSPOTTING cast - Photo credit: newsweek.ro
The film is an original statement on a social theme within an independent cinema. The director and the writers managed to create a fascinating genre cocktail where they mix ironic comedy, crime thriller, and life drama. The movie makes a strong and extremely positive impression. I definitely recommend it to you.



Racism, gentrification, police brutality, start-up culture, corporate branding, social media, the justice system ... Blindspotting is eager to take them all on with style and wit, and it succeeds more often than not.




Credit: rottentomatoes.com



My rating: 8.5/10
Rotten Tomatoes: 93/ 100
Metacritic: 77/100
Critics average: 8.6/10
IMDb: 7.4/10
HAVE FUN!
***************************************************************************************************
Thank you for stopping by and reading my blog.
2019, All Rights Reserved.
You are very welcome to join Bitlanders and share your valuable knowledge and opinion.
***************************************************************************************************