Movie Review - Blockers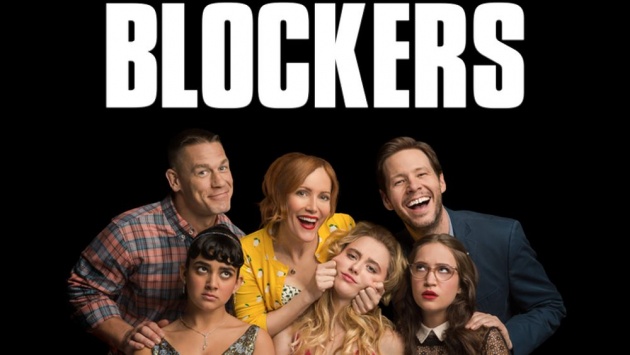 Image Credit: www.forbes.com
✔ Introduction

Dear Friends, I hope you are doing fine and having fun in your lives. Today, I have come up with my another new blog with the title of "Movie Review - Blockers" which is actually a movie review of new Hollywood family comedy movie. This movie is another addition into the films related to sex comedy topics and is a wonderful movie. This film is directional debut of a famous American Producer, Writer and Actress Kay Cannon and she has directed the movie very well. This movie is about three parents who want to protect their girls from having their first sexual encounters with (what they think) bad guys. They want their girls to make right choices if they want to have a go at it but with right kind of boys. There are three high school girls who want to have fun and want to have relationships with the boys of their choices. However, their parents just won't let them lose their virginity just like that. This movie is a great treat to watch and one must not miss this movie. This movie can be watched with your friends and even family members in order to have a good and quality time. If you are that type of person who likes to watch comedy and family affairs movies then this movie is for you. I also like comedy movies and therefore I found this movie such an entertainment that I would say that one should not miss it at any cost. Let's have a deeper look into this sex comedy movie and review its content, picturization and production.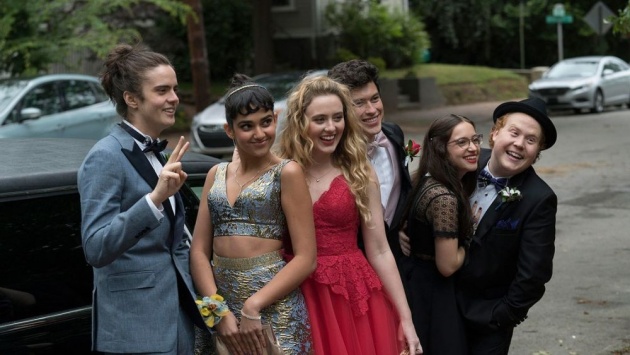 Image Credit: www.vanityfair.com
The state of movie comedy is so frail that the amiable, exuberant, conventional new comedy "Blockers," which maintains good spirits and sustains good gags without excessive contrivance, comes off as a welcome, robust pillar of the genre. The film, directed by Kay Cannon (it's her first feature), has a premise of classic simplicity that relies on the themes of old-school farce and the narrowly conventional moralism that traditional comedy lampoons. Three comfortably middle-class teen-age girls in an Illinois suburb—Julie (Kathryn Newton), Kayla (Geraldine Viswanathan), and Sam (Gideon Adlon)—have been friends since their first day of school. Now they're high-school seniors, still the closest of friends—and the day of their senior prom, they make a pact to lose their virginity that night.
Information Source: www.newyorker.com
This movie has been released on April 10, 2018 in the United States under the banner of Universal Pictures. The details of cast of this mind blowing movie is as under:
✤ Leslie Mann as Lisa Decker
✤ Ike Barinholtz as Hunter
✤ John Cena as Mitchell
✤ Kathryn Newton as Julie Decker
✤ Geraldine Viswanathan as Kayla
✤ Gideon Adlon as Sam
✤ Graham Phillips as Austin
✤ June Diane Raphael as Brenda
✤ Jimmy Bellinger as Chad
✤ Miles Robbins as Connor
Video Credit: Universal Pictures via youtube.com
✔ Plot Of The Movie
The movie starts as three high school girls are talking to each other and are sharing their plans for the event "Promenade Dance" also known as Prom Day. Julie Decker tells her friends that she is planning to lose her virginity on that special day. Out of thrill and to maintain friendship with each other, her friends Kayla and Sam also plan to do the same and join their common friend Julie Decker to have their own first sexual encounters with their boyfriends Connor and Chad respectively. Later, on the Prom Day, Julie's mother Lisa has arranged a party in which she has invited other two parents Mitchell and Hunter of Julie Decker's friends Kayla and Sam respectively.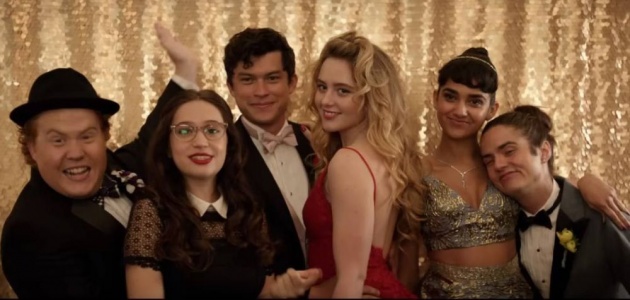 Image Credit: www.filmschoolrejects.com
Now, the girls leave the party at home to go for the prom and text each other about their secret plans. However, they do not know that Julie Decker has left her laptop open at her house and when these messages reach the laptop, their parents get alert and one of the parents Mr. Hunter manages to understand the secret emoji code messages and inform other two parents about their girls' plan. Realizing the situation, Lisa Decker, Hunter and Mitchell hurriedly run towards Prom place on a "Cock Block Operation" in order to stop their daughters from having this act with their boyfriends. These parents want to stop their girls because they have their own thinking as they are of a notion that it is not the right time for them to do this as they are not matured enough and they must find better partners for themselves which will take time.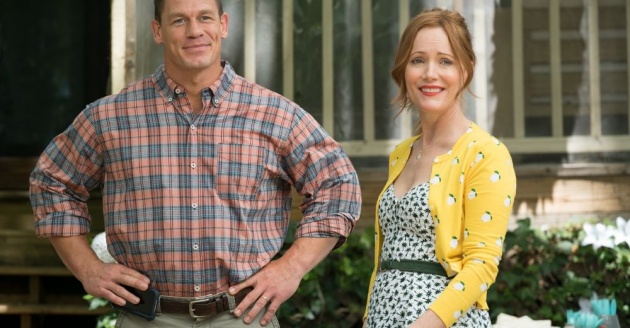 Image Credit: www.justwatch.com
These parents have their own feelings about their daughters which is causing them to be over-protective for their girls. Julie Decker is the single mother, therefore, obviously she is very possessive about her girl and don't want her to go away or indulge in bad activities. Hunter has been away from her daughter throughout his life so far after the divorce with his wife and never happened to meet his daughter which is causing the guilt now. Mitchell can't even assume that his daughter is now big enough to make such decisions for herself and she has not chosen the right person for herself. However, they try to find their daughters and see place to place to locate them.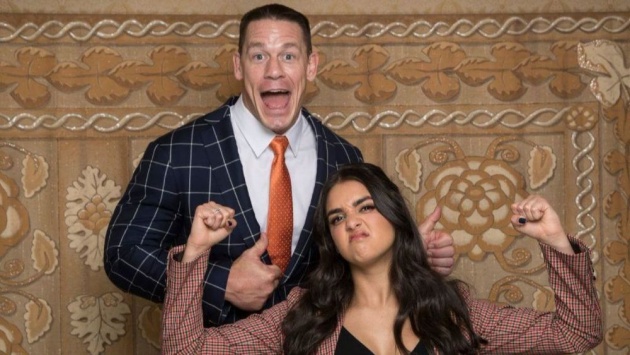 Image Credit: www.latimes.com
When the parents reach the place where Prom is going on, they rush towards the room where their daughter are with their boyfriends. Meanwhile, all the daughters find it hard to go on with their first sexual encounters and decided not to implement their plans for one reason or the other. Some comedy scenes follow as they deny their boyfriends that this is not the right time and they are not comfortable at this moment. As their parents Mitchell and Hunter reach them and treat their boyfriends in a hard manner, they realize that their daughters now started to have good and positive feelings about them as those girls have realized that their parents care for them. Lisa having seen the love between her daughter Julie and Austin, leaves the place quietly as she is satisfied with the decision of her daughter and the fact that Austin is the right person for her daughter. Later on, the movie ends, as all the parents and girls are happy with each other's presence and motives for mutual care and love relationship.
✔ Here is

Querlo Chat

for you. Isn't it fun to chat with a Chatbot ?
✔ My Movie Review - Conclusion
Friends, this family matters oriented movie "Blockers" is a treat to watch. Incidents happen quickly which keeps the audience attracted towards the movie. This movie is about parents' feelings for their kids. Obviously, parents do not want their children to get harm and they want to protect them at any cost. But sometimes, they become over-possessive and it may make their kids itchy. This film has a lesson that family bond is very important which is a true fact. This film takes it audience to three high school girls belonging to three different families where funny activities are happening. This movie is a must watch for the ones who like to watch comedy based movies with a little touch of empathy and love feelings. The movie is very entertaining and interesting and does not have any negative aspects and feelings. On the whole, the picturization of the movie is awesome and the camera work is outstanding. Besides, the expressions and sequences portrayed are very interesting and mesmerizing to watch. The film depicts the family matters in an awesome way. I shall recommend the movie to all Hollywood Films lovers and I hope you will like this movie as well. The film has so far made more than USD 68 Million on the box office and has been among good movies under the banner of Universal Pictures. Although all the movie is filled with best scenes, however, a little clip which serves as an introduction to this movie is appended below for your entertainment.
Video Credit: JoBlo Movie Clips via youtube.com
✿✸✔✤✪ - - - - - - - - - - - - - - - ✿✸✔✤✪ - - - - - - - - - - - - - - - ✿✸✔✤✪ - - - - - - - - - - - - - - ✿✸✔✤✪

Thanks for Reading.


This Blog was written by Rafaquat Noman (a Resident of Saudi Arabia and a Traveler) for bitlanders. If you wish to join bitlanders.com, Click Here. This is the author's original work, therefore, please do not plagiarize.


DISCLAIMER: The contents of Blog above are that of the author and does not represent his company or agency. The sites, videos, and photos used in this Blog are for information purposes only and links are available for direct access. The author does not receive any monetary benefit from those companies or sites.
✿✸✔✤✪ - - - - - - - - - - - - - - - ✿✸✔✤✪ - - - - - - - - - - - - - - - ✿✸✔✤✪ - - - - - - - - - - - - - - ✿✸✔✤✪