Movie Review: GLASS - the last part of a trilogy about superheroes - Photo credit: rewind1007.com, Edition by Amber255 via Bitlanders.com
M. Night Shyamalan created one of the most memorable through twenty years mysterious thriller The Sixth Sense and a number of thrilling thrillers. Between 2004 and 2015, he has experienced a series of creative failures with bad and financially unprofitable films. After such a fiasco, his career hung in the air.
However, in 2015, enlightenment came unexpectedly, and he surprised not only the entire film industry but also the audience with a low-budget horror thriller The Visit who that earned 20 times more than the budget was. As a result, in 2016, we also saw an excellent psychological thriller, Split, which has become the official continuation of the 2000 film Unbreakable.
And now, after the rather successful last two films, returning to Hollywood's A-class directors, M. Night Shyamalan decided to finish what he had started nineteen years ago - his own personal superhero trilogy, the last chord with the story of the main antagonist, nicknamed Mr. Glass.
This is M. Night at his best and all I could say at the end was WOW because I was blown away.

Credit: metacritic.com
The film Split surprised many films fans. And this is understandable not only on the basis of a consensus between critics and cinema enthusiasts but also because this film and the film Unbreakable fit so well that we got an unexpected continuation of the film. The promise made a long time ago for the further development of this story is finally implemented. The film GLASS seems enough interesting continuation for both of its predecessors.
Movie Review: GLASS, trailer - Video credit: Universal Pictures via Youtube.com
The Short Story Of The Film
The action of the movie GLASS reveals in Philadelphia. We see the life of old David Dunn (Bruce Willis) who punishes bad people by taking advantage of his invulnerability and ability to see other people's thoughts. In the same city, Kevin Crumb (James McAvoy) continues to abduct schoolgirls and feeds his Beast with them.
Dunn finds the Beast but does not have time to fight him: the police arrest both. Heroes are placed in a psychiatric clinic. There is also a genius with unusually fragile bones named Mr. Glass (Samuel L. Jackson) - Dunn's longtime acquaintance who once committed a massacre in the name of believing in the awakening of a superpower.
In this specialized institution, three of them will have to undergo therapy with Dr. Ellie Staple (a new character performed by Sarah Paulson). She insists that none of them are superheroes, but simply insane, whose feats have quite logical explanations.
M. Glass spent many years in a psychiatric hospital, and now he finally finds a way to escape from it. For this, he uses a new patient Kevin with 24 personalities, who can instantly turn into an unstoppable and blood-thirsty Beast. Only David Dunn is able to stop these maniacs. But will be he able to resist these physically and intellectually superior opponents who have decided to show the world that heroes and anti-heroes live among us.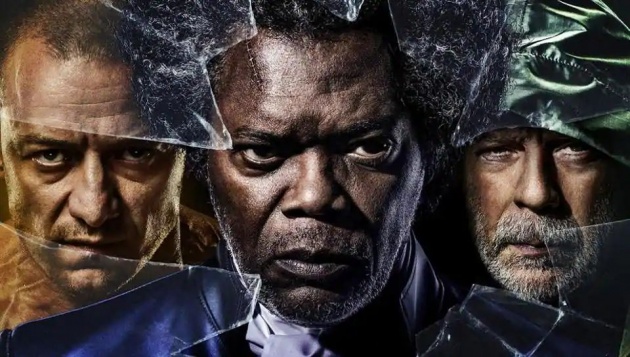 The movie about superheroes GLASS - Photo credit: playview.blog
The Content Of The Movie
When, in 2000, M. Night Shyamalan launched his superhero theme trilogy with Unbreakable, no one could even think that the immediate continuation of this story would take almost two decades. And all because of Walt Disney studio which then curated the first film. With $ 75 million for production and 40 million for marketing, the studio expected better earnings than $ 248 million, so the result was disappointing, and another project was frozen.
We'll never know if it's good or bad because, during that time, M. Night Shyamalan rewrote the idea of the original script more than ten times. The Unbreakable was created for us to understand the superheroes and their enemies' nature.
Then the classic struggle for good and evil was an essential accent that carried nearly two hours of watching.
The second part entitled Split was quite different. Until the finale, it was difficult even to realize that it was a continuation of the Unbreakable until we finally saw David Dunn and hear what he said. The film has become dynamic, incredible, and attracting. It is not only one of the best director's films in fifteen years but has also been one of the most prominent film projects of the year 2017, the success of which has led to the GLASS.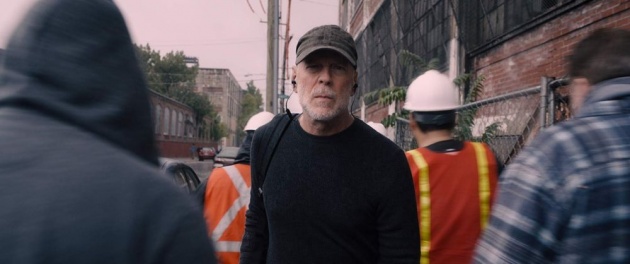 Bruce Willis in GLASS - Photo credit: twitter.com
Before starting a short review of this new film by M. Night Shyamalan, I I want to advise you to watch Unbreakable movie before you go to watch GLASS because you will find it difficult to get into the story of the GLASS if you did not know what about was the first movie. The tape is not autonomous but depends on the predecessor, which has a lot of clarification, so use my advice to get the most out of your preview.
So, now about the film GLASS. The plot itself is pretty dry on the first side of the film, though, in fact, there are some intrigues. But about 40 minutes before the finish, the situation is radically changing. There is a lot of good action, and the tension is rising to such an extent that you can forget that boredom for the first hour, and the shocking final forces you to even blow your eyes out of surprise.
It is a pity that I cannot show more details because then the review will lose all the intrigue. But believe it, such a finale will shock you.
The entire core of GLASS is comics and theories about superheroes and anti-heroes. In this case, the director succeeded in creating a highly accurate and classic comic-based canon that he began to develop in 2000. In my opinion, M. Night Shyamalan has played a bit here, but on the other hand, his very picturesque approach to this type of art is useful for those who have never considered opening any comics book and those who think stories about the superhero are only for children. Why useful? Because at least such skeptical people will be given a great explanation for why millions of geek around the world like to read comics.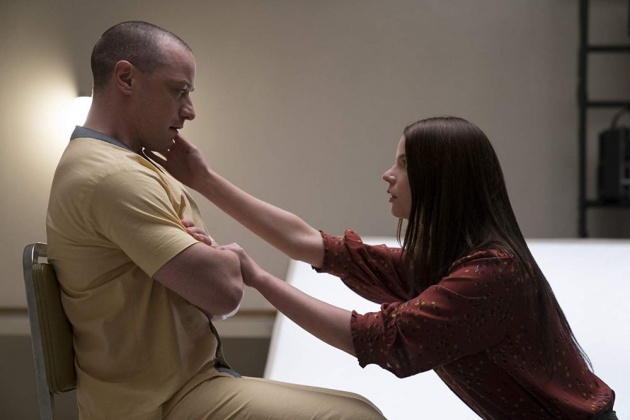 Comic book thriller GLASS - Photo credit: imdb.com
True, although GLASS is a sequel of Unbreakable, it has abandoned the elements of horror, and that affected the atmosphere itself. It is a much easier project with no psychological tension, where the tension comes from a slightly different perspective. So if you expect frightening and seemingly freaky items, you will disappoint because they are just in the first five minutes of the movie.
It is very unusual to watch a superhero movie where there are no men saving the universe, or at least a single city. There is no too much action, but there are dialogues, characters, emotions, and experiences. And all this is good, entertaining, and really interesting.
The film masterfully smashes the hopes of the main characters that they are special, explaining their superheroes abilities with mental disorders and mental tricks.
All personal dramas, characters, and plot circle around the idea of superheroes. The picture is full of realism; there are really few assumptions, but the film nothing says about the superpower itself. It is there, that's enough for the viewer. It does not show its nature. Whether the basis is a scientific explanation or magic.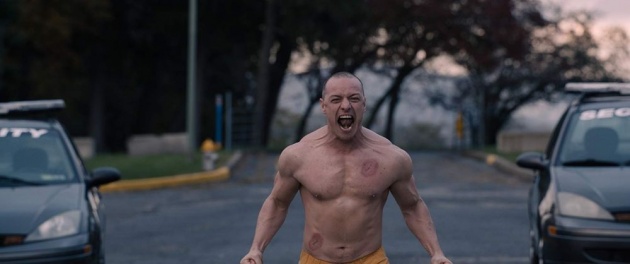 James McAvoy in GLASS - Photo credit: imdb.com
The Roles Of The Movie
The GLASS is a direct continuation of the film Split, which continues to develop Kevin Wendell Crumb's evil theme, and again presents the parade of 24 different personalities of this unique person. If we saw just a few of his alter egos in the earlier film, then the director tried to show at least ten new Kevin's faces. In this case, however, we do not see anything creative, just repetition of what drove the last film. I'm not saying that this is something wrong, just that the effect of surprise scatters somewhere.
On the other hand, Kevin was not an essential accent of history in this film. Finally, after 19 years of waiting, creators gave the opportunity to see Elijah on the screen again, who spent all these years in the psychiatric hospital. Of course, nobody gives us any information about his long stay between the four soft walls, but it was not necessary. The director's purpose was to show the mental abilities of this character, and he succeeded better than I could expect.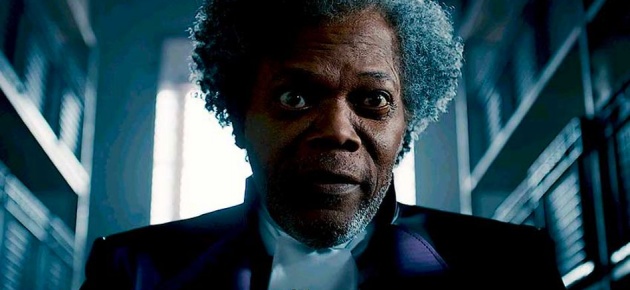 Samuel L. Jackson in GLASS - slashfilm.com
Two hours story is built mostly on the personages. Actually, the three main characters are responsible for almost all the good things in the picture. David Dunn, whose life for nearly two decades since Elijah's closure in hospital, was more prominent and more exposed than his intelligent opponent has. This physically strong hero has experienced many of the incidents that are mentioned in the film. But without knowing his original history, it will be very difficult to look into what the director wanted to tell us.
The other four heroes in this trilogy's film were also important. Elijah's mother, as before, supported her only child. David's son, Josep, continues to admire his indestructible father. Casey supports Kevin and his personalities, and Dr. Ellie, whose debut has become this film, gives some thought to reflection. In her case, we got a similar view to the sweetened sugar. Just, in my opinion, the director wanted to put too much into the plot that it started to crumble at some moments. And everything about such maneuvers as was with Dr. Ellie.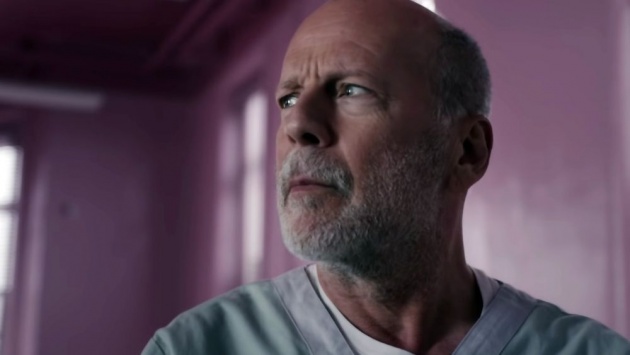 Bruce Willis in GLASS - Photo credit:
The Technical Side Of The Movie
The work of the film operator made the biggest impression here. The clashes between David and Kevin and Elijah's ride on the psychiatric corridors having Beast on the back looked so cool. There was also a lot of attention to the small scenes' details that were important for the development over time.
Music is epic, as it belongs to movies about superheroes. Several musical compositions in the film resembled both Unbreakable and Split because there it was possible to hear thematic music from the films I mentioned.
GLASS, interview with actors and director - Video credit: FOX 5 DC via Youtube.com
Make-up, decorations, costumes and the environment of the action is great. The special effects and sound editing reinforced in some places also looked good. Interesting angles, stylish scenery - the picture has its own, recognizable atmosphere.
I might have some reproaches about video editing because a few moments caused chaos in a smooth story, but in general, it didn't interfere with the preview.
Do not expect non-stop action. Expect action, story, details, dialogue, emotion, more story, and then some more action. This is a great movie to start off 2019 and James McAvoy deserves an Oscar. Like any M. Night movie you will either love it or hate it.

Credit: imdb.com
The Collective Work Of The Movie
The actor, Bruce Willy, returns from the movie Unbreakable as David Dan, as well as the mysterious, lonely and genius Elijah Price, embedded in Samuel L. Jackson. Actor James McAvoy comes back from the movie Split, repeating his role as Kevin Wendell Crumb, with many different personalities hidden in himself, and actress Anya Taylor-Joy, playing Casey, the only prisoner survived with the Beast.
As for the actor, we were already familiar with the main trio. Bruce Willis, who after a few years of performances at cheap thrillers finally got the chance to play in A-Class movie, didn't disappoint. Charismatic and very cool David's character was the same as 19 years ago.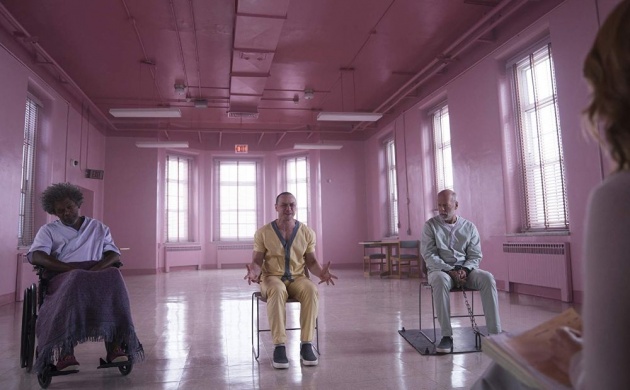 GLASS - Photo credit: wall.alphacoders.com
James McAvoy, who embodied Kevin and another two dozen characters, has once again proven himself as a universal and genius actor. It was his role-playing show, which made me wonder and enjoy the video.
Also, great compliments come to Samuel L. Jackson, who played Mr. Glass. He had the least screen time in this movie, but he used it well enough.
Spencer Treat Clark, coming from the Unbreakable, also joins the main stars, and Charlayne Woodard, who play Mrs. Price, and Golden Globe winner Sarah Paulson in the role of Dr. Ellie Staple.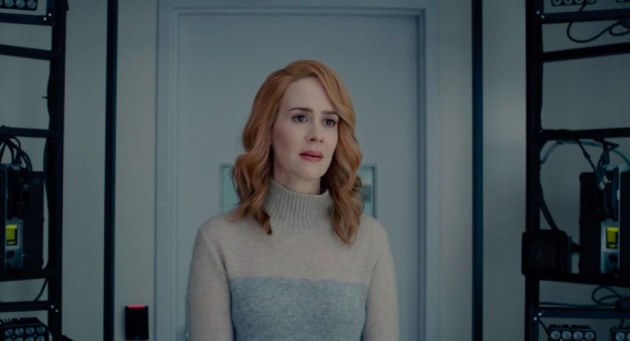 Sarah Paulson in GLASS - Photo credit: unboxholics.com
On The Final Note
GLASS is the last part of the trilogy matured for almost two decades, which logically completes the story of a very realistic superhero.
The film fascinates with its lightness, intrigue, amazing actors, and dynamic action in the finale, but is capable of disappointing with certain nuances of the storyline, the prolonged narrative in the first half of the film, the absence of terrible atmosphere that has been an important engine in the earlier film.
To sum up, it is still the weakest part of the trilogy, but at the same time an engaging and enjoyable film project that does not lack interesting moments, good action, and storylines that are heavily dependent on previous parts. Only did we want such a finale? Answer it for yourself.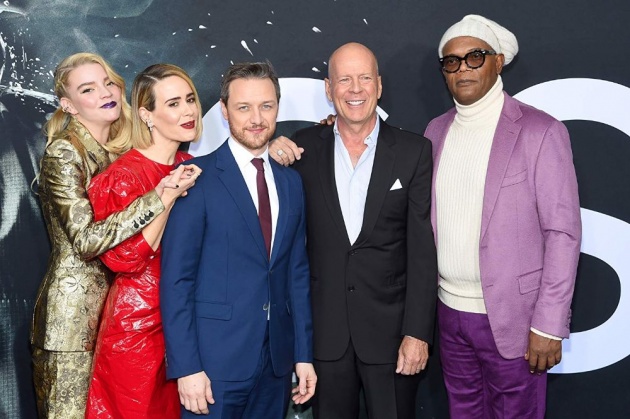 M.Night movie GLASS premiere - Photo credit: imdb.com
The film is not perfect: it is extremely overloaded with details, there are many awkward dialogues in it, and there are problems with logic. But, of course, the fans of this trilogy will love GLASS, as they once loved Split: it is pathetic but raises unexpected topics and encourages to love for an unusual movie, and at the same time, people's faith in a miracle.
My rating: 7.0/10
Rotten Tomatoes: 37/ 100
Metacritic: 42/100
Critics average: 78/10
IMDb: 7.1/10
HAVE FUN WATCHING!
***************************************************************************************************
Thank you for stopping by and reading my blog.
2019, All Rights Reserved.
You are very welcome to join Bitlanders and share your valuable knowledge and opinion.
***************************************************************************************************