Movie Review - Jumanji: Welcome to the Jungle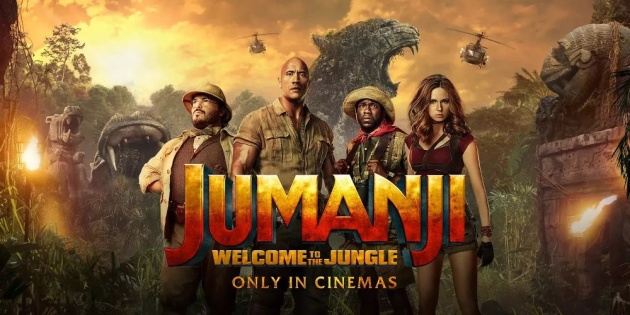 Image Credit: areyoujustwatching.com
✔ Introduction

Hello Dear Friends, I hope you are doing fine and having a good time on bitlanders. I am here today with my another new blog with the title of "Movie Review - Jumanji: Welcome to the Jungle" and it is a movie review of recently released Hollywood movie which is based on Chris McKenna story that he wrote for the film. As a child, I watched Jumanji more than 22 years ago and like many other kids, I liked it very much because of the film's unique story and visual effects. This new movie is a sequel to that initial movie which was released in 1995. This film is also an adventure movie with a touch of comedy as we saw in the first movie, however, I guess, it has more humor this time. This film was directed by Jake Kasdan who is an experienced film director and producer as well as a screenwriter. This movie is also a very entertaining movie as its first version was. Although we missed Robin Williams in this movie, however, other characters performed their characters very well and tried to compensate the gap created in the absence of Robin Williams. I hope you are going to like this movie as well because it has met the expectations and was liked by the movie lovers around the world.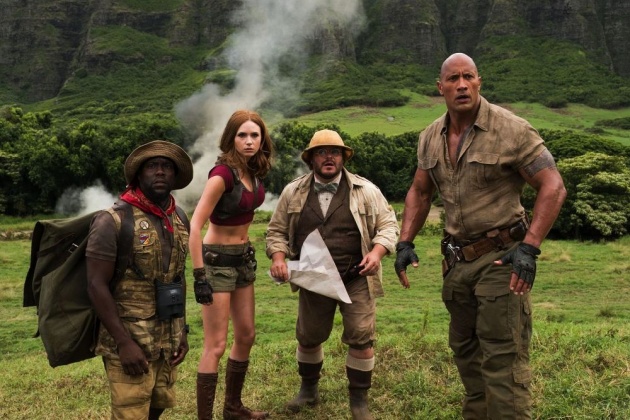 Image Credit: www.theverge.com
This movie "Jumanji: Welcome to the Jungle" was released on December 20, 2017 in the United States under the distribution banner of Sony Pictures Motion Picture Group. Some details of cast of this movie is as under:
✤ Dwayne Johnson as Smolder Bravestone and Spencer's avatar.
✤ Bobby Cannavale as Russel Van Pelt
✤ Jack Black as Sheldon and Bethany's avatar
✤ Karen Gillan as Ruby Roundhouse and Martha's avatar
✤ Kevin Hart as Franklin and Fridge's avatar
✤ Nick Jonas as Jefferson and Alex's avatar
✤ Alex Wolff as Spencer
✤ Madison Iseman as Bethany
✤ Ser'Darius Blain as Anthony
✤ Rhys Darby as Nigel Billingsley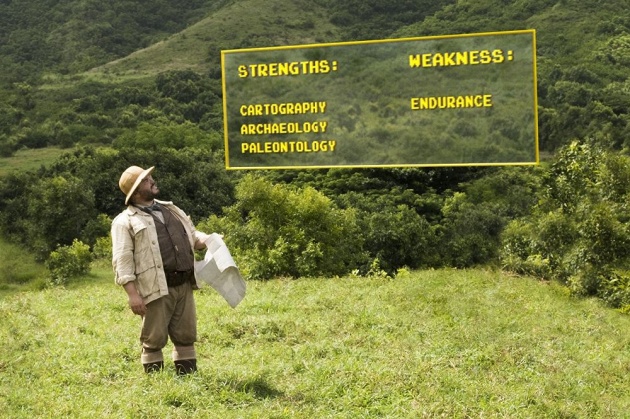 Image Credit: www.imdb.com
Better yet, the main concept transforms from a board game come to life to a video game into which the viewer is transported. That's a conceit that will appeal as much to cynical and game-centric teens as to their young siblings.

All ages will love the way the young actors playing the four principal characters — Alex Wolff (Young Spencer), Ser'Darius Blain (Young Fridge), Madison Iseman (Young Bethany) and Morgan Turner (Young Martha) — are humorously switched into their adult avatar characters once they're sucked into the game.
Information Source: chicago.suntimes.com
Video Credit: Sony Pictures Entertainment via youtube.com
✔ Plot Of The Movie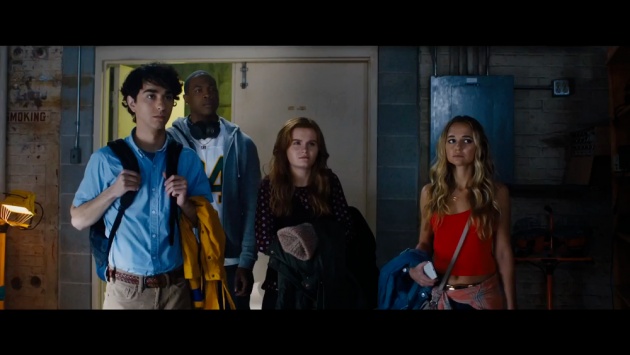 Image Credit: www.perroblanco.net
Four High School Naughty Friends
The film begins in 1996 as Alex Vreeke is curious about the board game in his house when he hears the drum tune and as he gets near, he is kind of sucked into the game of Jumanji. Then there is a scene after 20 years when a high school Principal Bentley is punishing four of its students for their misbehavior and cheating. These students have to serve detention in the basement and are given the responsibility to clean the basement. These four students are Spencer, Anthony nick name Fridge, Bethany Walker and Martha Kaply. While thinking about doing their untoward job of cleaning the basement, they found the Alex Vreeke's video-game and out of curiosity, they start the game. They find it interesting and a good time pass and each individual select his or her favorite player in order to go on with it. Having done that, now as Spencer presses the start button, all of them are sucked into the game.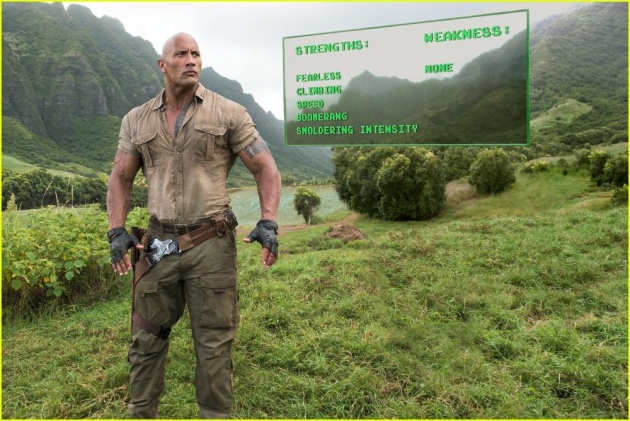 Image Credit: www.justjared.com
Four Players Get Into The Game
They suddenly find themselves in a jungle in the form of their selected players' avatars. Spencer in the form of Smolder Bravestone, Anthony Fridge in the form of Franklin Mouse, Martha as a warrior and martial art expert. The most interesting avatar is of Bethany who transforms into a male Sheldon Oberon, then she realized that she mistakenly selected the player who is a male, however, she thought while selecting that it was a female player. However, now they have to survive the ordeal of this game which will turn into more and more difficult game. Over there, they come to know that the villain of this game, the archeologist Russel Van Pelt had stolen a very precious Jaguar's Eye Jewel in order to control all the animals in the jungle, however it was retrieved from him and now they have to save it from Russel Van Pelt and place it in its right place. They have some extra lives but they will have to use them very intelligently.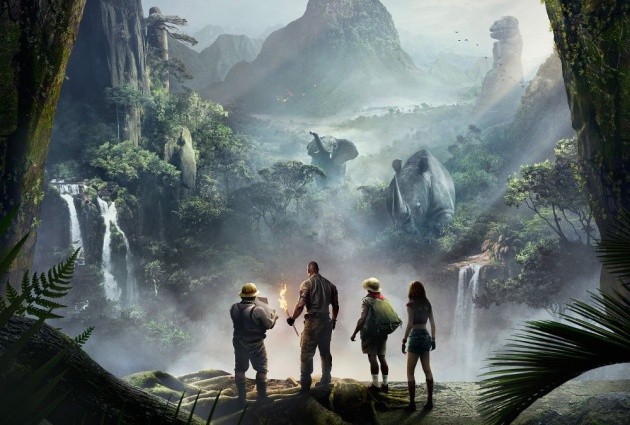 Image Credit: www.perroblanco.net
Players Meet The Villain And Get To Know Their Mission
In the jungle, there they meet Alex who gets astonished and sad to know that he has spent 20 years in the game whereas he thought he has spent just a few months. However, Alex pledges to help all the players to complete the mission of placing Eye Jewel in its correct place and to avoid Russel Van Pelt while doing so. Now all the players manage to get a helicopter and move towards their destination where they have to fix the Eye Jewel. While there, they face a lot of dangerous animals and Spencer has to sacrifice one life of Fridge in order to divert the attention of those deadly animals. Alex also gets bitten by mosquito and loses his life, however, he gets helped by Bethany with one extra life. As the players reach their desired location to place the Eye Jewel which is a Jaguar Statue, they found Russel Van Pelt who desperately tries to stop them from placing the Eye Jewel on Jaguar's Statue and wants to snatch it.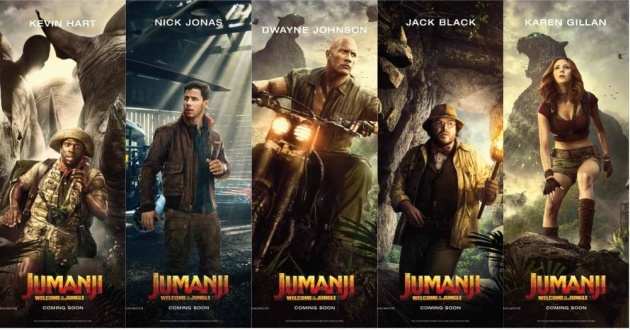 Image Credit: cinemabravo.com
Villain Gets Treated And Alex Comes Back To Real World
However, one of the players Martha, has to lose her extra life and, after a lot of efforts, in the end managed to place the Eye Jewel into Jaguar Statue. At this, the game of Russel Van Pelt ends and he turns into a large group of rats and vanishes away to the real world. Having completed the mission successfully, the players are returned to real world where they meet an adult Alex who was not with them when they were coming back to real life. They see that Alex's house is in good shape and there seems to be a family function going on. Over there, they come to know that Alex is living with his family and the players meet his children. The players are now free to live their happy life in whatever manner they want. However, the suddenly hear the Jumanji's drum tune again and knowing the truth behind it, they destroy the game in order to save other oblivion from playing this dangerous and obnoxious game.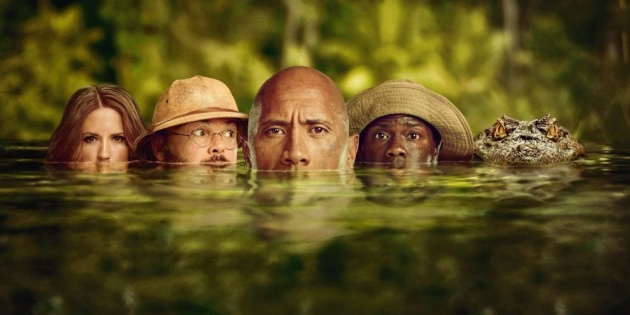 Image Credit: geekireland.com
✔ Here is

Querlo Chat

for you. Isn't it fun to chat with a Chatbot ?
✔ My Movie Review - Conclusion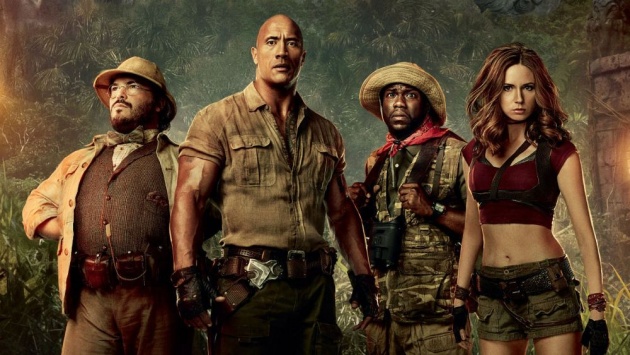 Image Credit: www.salha.com.br
The movie Jumanji: Welcome to the Jungle has not disappointed its viewers and fans. The story-line, movie sequence, visual effects, locations and the acting of all the characters was awesome in the movie. This is what entertainment is and this is what movie lovers want from movies. This movie is a well-produced and well-directed movie and keeps the audience interested in it throughout its playtime. All the actors have done marvelous job, especially Dwayne Johnson was remarkable in this movie who maintains his huge fan following after this movie. On the whole, this movie has been making good progress on the box office and grossed more than USD 960 Million. This comedy-based adventure movie is a must watch as this provides a pleasant alternate to your time and money. Children and Teenage boys and girl of initial Jumanji era liked that movie 22 years ago and younger lot of present era will also like this modern version of movie along with adults as there is innocence and pure environment in the movie.
Video Credit: Movieclips via youtube.com
✿✸✔✤✪ - - - - - - - - - - - - - - - ✿✸✔✤✪ - - - - - - - - - - - - - - - ✿✸✔✤✪ - - - - - - - - - - - - - - ✿✸✔✤✪

Thanks for Reading. This Blog was written by Rafaquat Noman (a Resident of Saudi Arabia and a Traveler) for bitlanders.


DISCLAIMER: The contents of Blog above are that of the author and does not represent his company or agency. The sites, videos, and photos used in this Blog are for information purposes only and links are available for direct access. The author does not receive any monetary benefit from those companies or sites.
✿✸✔✤✪ - - - - - - - - - - - - - - - ✿✸✔✤✪ - - - - - - - - - - - - - - - ✿✸✔✤✪ - - - - - - - - - - - - - - ✿✸✔✤✪