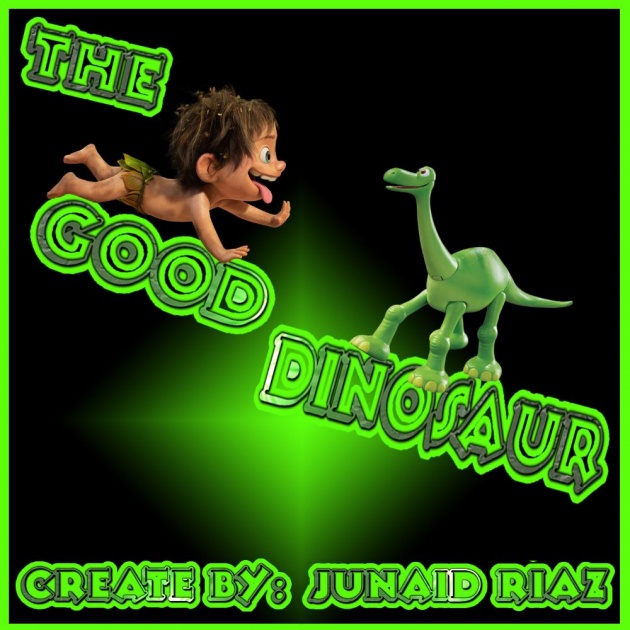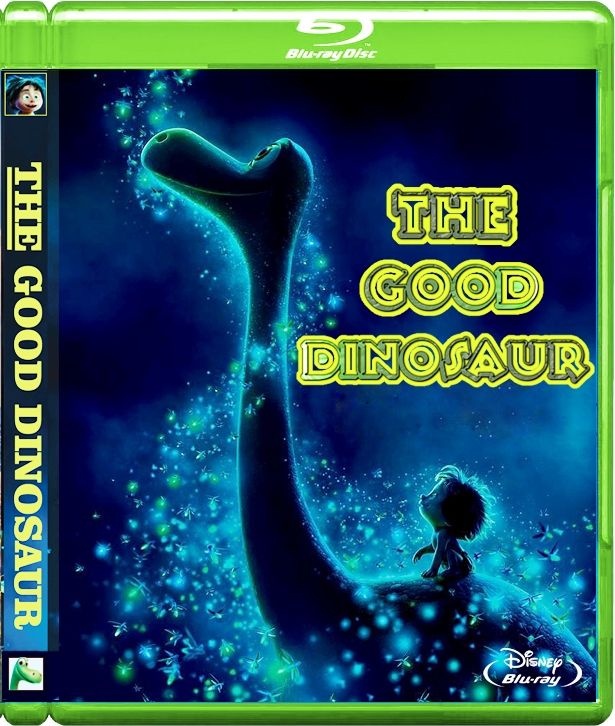 Image Courtesy www.google.com (Edited by me)
As the name of movie "The Good Dinosaur" is totally against the nature of Dinosaurs. The title of this film attracted me towards it very firmly. Dinosaur creature was a very well-known beast like animal who lived on this universe thousands of years ago. The word Good with Dinosaurs doesn't suit on them, that's what I think? What do you think about this? As this word with Dinosaurs drew my attention towards watching this movie, so I downloaded this movie and then I was on my way for finding the facts of good about good in Dinosaurs.

This movie showed a family of Dinosaurs who was living happily in a place near claw tooth mountains with having a farm who was taken care by the dinosaurs. It was very surprising for me to see that a family of Dinosaurs has been shown in this movie who were totally different in nature from others Dinosaurs. As they were not like beast or always thinking about killing and eating other animals. Also they were not destroying anything at all. Instead of it they were intend to live a happy life by living in a circle of family.

⦁ This movie is basically is a story of family of Dinosaurs who were consisted on 5 members of family. Momma (Ida) poppa (Henry) and their three kids (Buck, Libby and Arlo). So the guardian of family handed over some tasks to every kid and they all were supposed to do their job in time. So before start talking about details of the movie I would like to talk about the writer and Director of the movie, who really put their good work to produce a totally different movie with a good lesson about taking care of a family with a good purpose. So this movie was directed by Peter Sohn and produced by Denise Ream. And the story of the movies has been created by some mutual efforts of Peter Sohn, Erick Benson, Meg LeFauve, Kelsey Mann, etc.

As the movie is animated so this awesome films was created by PIXAR Animation Studios and was then released under the umbrella of Walt and Disney Pictures. The movie was released with Inside Out that was also a movie of same category. So, this was first time that two animated movies were released under Walt and Disney Pictures in a year.

Genre Production & Released

Image Courtesy : (Edited by me)
Voice cast:
The voices in the movie has been contributed by Raymond as Arlo who was the little kid in the family. The parents of the kids Dinosaurs voices was contribute by Frances McDormand as Momma (Ida) of the family and the voice of Poppa (Henry) was contributed by Jeffrey Wright. The other members of family the brother and sister of Arlo voices has been contributed by Marcus Scribner as Buck, Arlo's brother and Maleah Padilla as Libby, Arlo's sister. So this movie was given beauty by these voices and a great film was created in the end.
Official Trailer in HD
Video Source www.youtube.com
Story:
What was really inside the movie?

For me the movie was a lesson for living a life without fears. because to live a life with fears is a life that is never lived. So, When Henry got three kids on the start of the movie, the two of them were very good to live their lives, but one of them was a very lil kid named "ARLO" who was very fearful and was not able to do his tasks as handed over to him by his parents. And this was only due to a fear in his heart.
Aim of the Movie?

For me the aim of the movie was to complete a aim that was given by father of Arlo, Buck, Libby. and the aim was to mark a sign on a structure that was built by Henry (father of kids Dinosaurs). The two kids Buck and Libby were able to mark signs easily because they completed their tasks. But the third and little kid named ARLO was not able to complete the tasks and hence was not able to mark sign. Being disappointed Arlo lost his courage and said that he will not be able to mark his sign as his brothers did. So father of Arlo thought of an idea and he took his son with him. Assigned him job to protect the food from critter who always comes and eat their food in winters. So Arlo was on his way to capture the critter and then to kill him.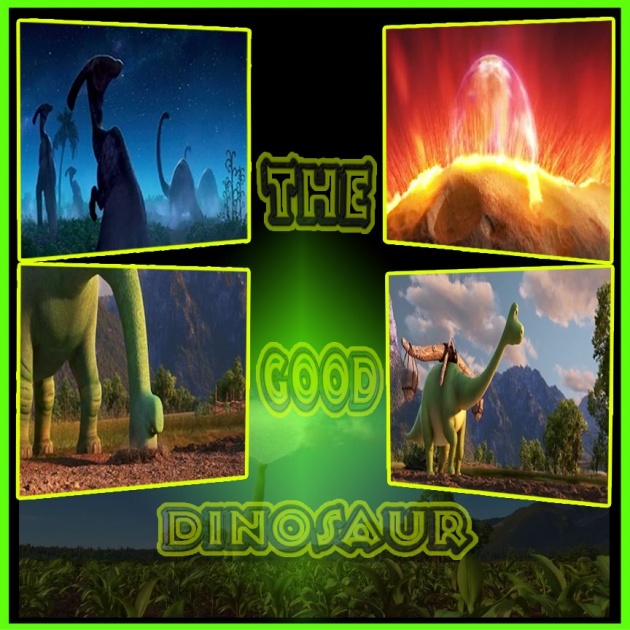 Image Courtesy (screenshot edited by me from movie)
The father of Arlo took with him at night and he tried to teach him that we should not have fear from anything. At night, the father told him that being small is nothing and it is not meant that a small one cannot do big things. So you should not have fear from being weak by your inner self. Instead you should have courage to do anything. So, Henry his father handed over a job to his small kid Arlo to take care of Corn Silo from a creature called "Critter". So the next day Arlo was on his duty for protecting the silo from a unknown and tiny creature who always eat everything in the winters. So the main job of Arlo was to catch that critter and then to kill him.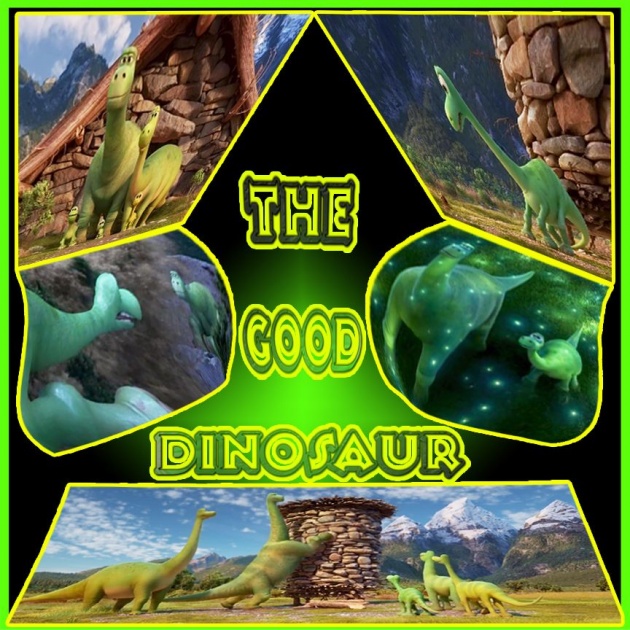 Image Courtesy (screenshot edited by me from movie)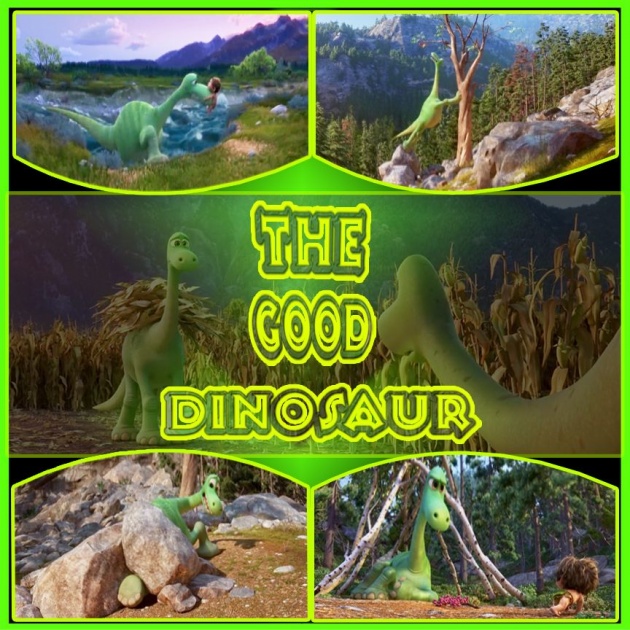 Image Courtesy (screenshot edited by me from movie)
For killing the critter Arlo caught him in his trap which was set by his father Henry. But after catching the critter the Arlo was not able to kill him as he was kind by heart. So he released him and his father taunted him took him to follow and to kill that critter. On the way the father was killed by a storm.
Arlo was very shocked and so he was in search of revenge from critter. His momma asked him that we should have to work hard to harvest all the farm before the winter. But the job has become tough and hard with Poppa. So one day Arlo was on his way to catch critter again.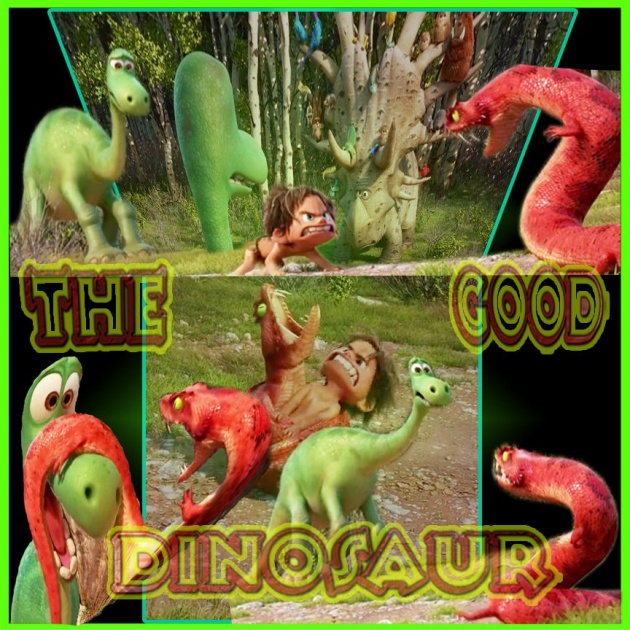 Image Courtesy (screenshot and edited by me from movie)
While on his way to kill critter the Arlo and critter was both fell down into a river and hence the Arlo was out of wits because his head was struck by a mountain. On recovering Arlo found that critter was right in front of him and he tried to catch him again but Arlo was not able to do it. Later, Arlo and critter were attacked by a snake and at that time Critter saved his and Arlo life by dominating the snake. After that Critter brought food for Arlo and he showed attraction towards Arlo and then Arlo found that critter was not a bad one. He also found that he was not responsible for the death of his father. Arlo and critter was then living as friends as they were attacked by another creature of dinosaurs who were always in search of finding and killing critter. But at this time Arlo was protecting him. By some means Arlo did and he save the life of critter from that killing creatures.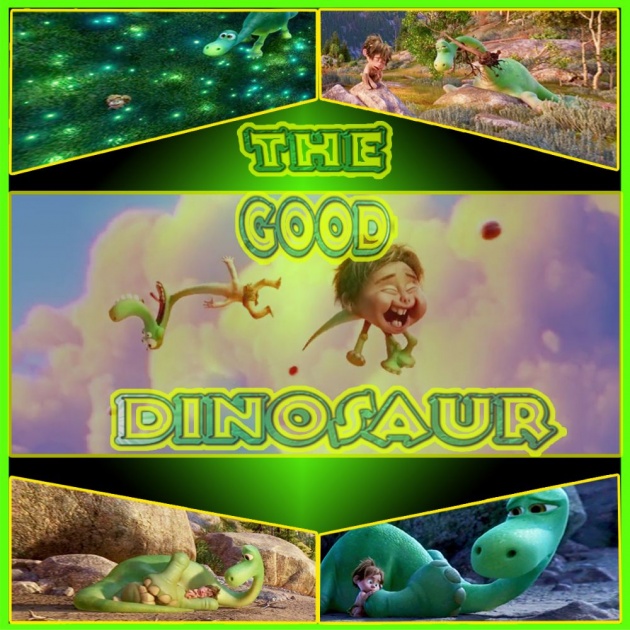 Image Courtesy (screenshot and edited by me from movie)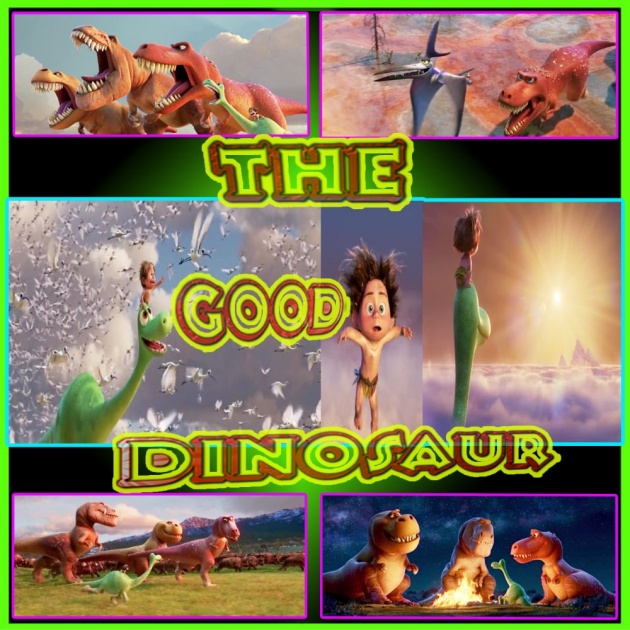 Image Courtesy (screenshot and edited by me from movie)
As the Arlo lost hi way to home while catching the critter. So in the end of the film finally he was able to reach his home by the help of his fellows. On the way with critter Arlo spend time with his good friends and found that there are many things in life which must remain with us. The relation of Arlo with critter has become so strong that when Arlo found his home and critter his family they were sad to get apart.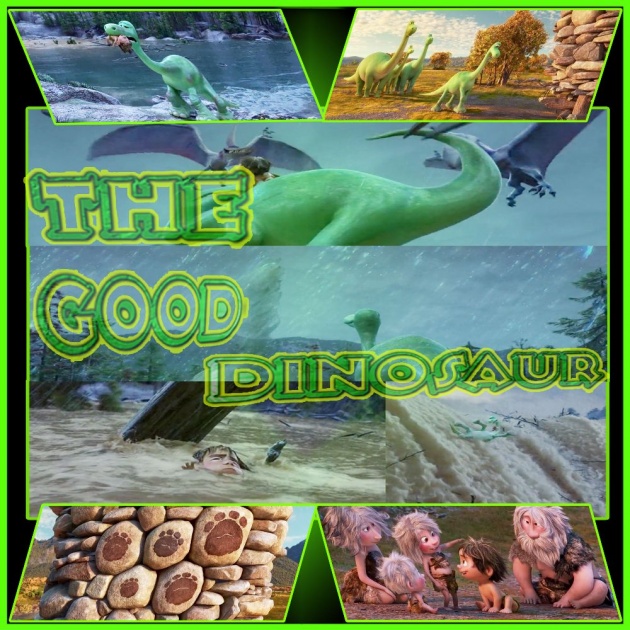 Image Courtesy (screenshot and edited by me from movie)
Movie scene of Marking signs on Silo of family of Henry and Ida
Source: My Personal video on bitlanders
My Opinion about :The Good Dinosaurs":
All in all the story of movie is full of adventure right from the beginning. As it was an adventure for Arlo to control over his fear which he had till he got birth. So, in all movie the main character was Arlo who was given a job by his father to protect Corn Silo. For this Arlo put his all efforts for catching that tiny critter and followed him in all times, he caught it and also he was in strong relation with that critter.