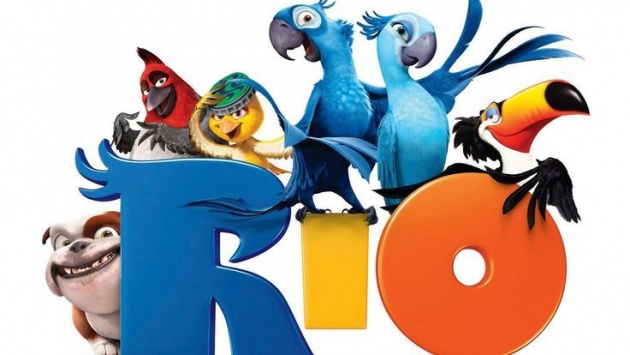 Review:

Rio is one of the most fabulous animated movie after Toy Story 3D. The Brazilian Director Carolos Saldanha made another extraordinary and hugely profitable film "RIO" after his unique creation "Ice age Movies".
Blu, the superbly voiced and smashing outlooks enriched pet parrot somehow come to Linda (Leslie Mann) who become Blu's adoring owner and she was a owner of bookshop. Blu can't fly while he read lots of books on vector angles and aeronautics.
Blu is a useful domesticated pet with the ability of operating toaster, embodying any alarm clock and even cooking breakfast. Funny enough, he even can brush his teeth while a parrot does not have any teeth of his own.
The good sensible time passing of Blu and Linda suddenly hampers with the arrival of a Brazilian ornithologist named Tulio (Rodrigo Santoro). He asked Linda to travel Blu to Rio as Blu is the only existing male of his own kind. And in Rio the last female of their kind was waiting for Blu and he needs to meet Jewel (Anne Hathaway); the last female of Blu's kind.
But there is something hugely odd in these two parrot's living style and also in their nature. Where Blu is nervy in a wooden forest as he is brought up in a home with lots of books and Jewel is totally loveable with freedom and expert on escape plans. The first meeting was totally enjoyable for the viewer of the movie but never for Blu.
The next part of the movie is the story of flee to toucan (George Lopez) who is extremely talkative. Then it leads the amazing showdown of Rio Carnaval, where Blu tackles his long-cherished fear of flying finally.
The Colour sense of the movie, movement of the objects, musical background and lots of glaring animation transform Rio a fully enjoyable family movie, and also an adventure with some delicate messages and a distinct desire to make happy especially for those who are 10-15 years old.
Even if it is 'just a kids film', anyone will be helpless to resist laughing watching Rio. The objects are real clever, looks amazing and totally plan wise executed and it is real fun here. The movie was directed smartly by the professional director with his skilled hand and also the other team members make their decent role for it. The quality of the animation is sensational and the plot of the story is real delightful, brilliant.
The one liner of Blu is also noticeable and also the role of the criminal cockatoo makes the film more glamorous. The festival Carnivals of the Brazil is lighted and the color, rhythmic songs, music and also the talented thoughts of the production makes the film "Rio" something real watchable and enjoyable.
It is obvious that children will like Rio, and also adults won't be bother. Yeah, it may not be perfect, but it is good enough to mark as one of the best animated movie and like Toy Story it has no real message but it has real fun. Thanks to the team for this blooming performance on RIO.
Thanks everyone, Enjoy Buzzing..