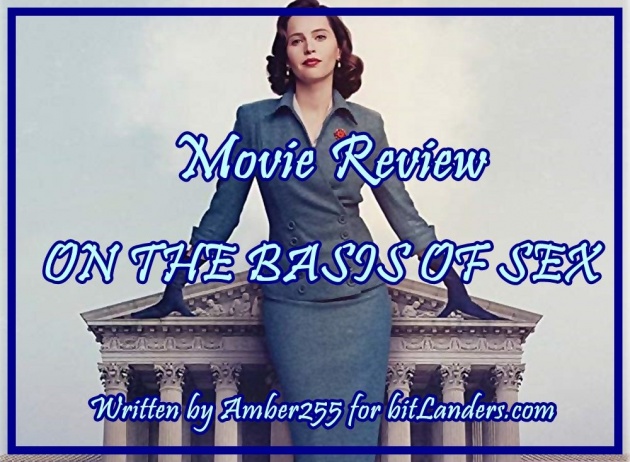 Movie Review: ON THE BASIS OF SEX - Photo credit: twitter.com, edition by Amber255 for bitLanders.com
I don't even know why I like to watch films on a law topic. Perhaps you want to believe that there are really fair things in the corrupt world? Or internal dynamics throughout the film. I do not know. But ON THE BASIS OF SEX film story is another worthy in my piggy bank - the real story, real people, good actors, a logical and slightly intense presentation, a combination of the legal process and the ordinary life of the main characters. Well, undoubtedly - high-quality visual range.
This is a new movie I watched just a couple of days ago, a sincere biographical drama based on an inspiring story of a fierce fighter for equal rights for women in the US - Ruth Bader Ginsburg.
A serious movie that slowly earns its emotion and enlists our involvement. Even before the finish, it's goosebumps all around.

Credit: metacritic.com
ON THE BASIS OF SEX - an engagingly inspiring and very easy-to-develop biographical drama about a difficult historical period and a brave woman who has not only managed to break through the centuries-old order of gender inequality in the US but has yet to climb to the unseen career heights.
However, in the eyes of the patriarchal and conservative society at first, she was just another woman, who occupies the natural place of men. The story of this extraordinary woman, who has already become an icon of popular culture, and is recognized by her black mantle and lace collar, is created by director Mimi Leder, who has worked on TV projects to date.
ON THE BASIS OF SEX, Official Trailer - Video credit: youtube.com
The Short Story Of The Movie
60 years ago it was common for a family to be financially supported by a man, and a woman to be a housewife. In the autumn of 1956, Ruth Bader Ginsburg (Felicity Jones), became a first-year graduate of the Law Faculty of Harvard University, one of nine girls in about 500 men.
Even excellent academic achievements did not break the rooted stereotypes: a graduate of Harvard did not want to hire any law firm in America. That's why Ruth has focused all her attention on the big goal of eliminating discrimination based on sex.
She did not even realize that soon her determination and persistence for the name of justice would inspire the country to fight for equal rights between men and women.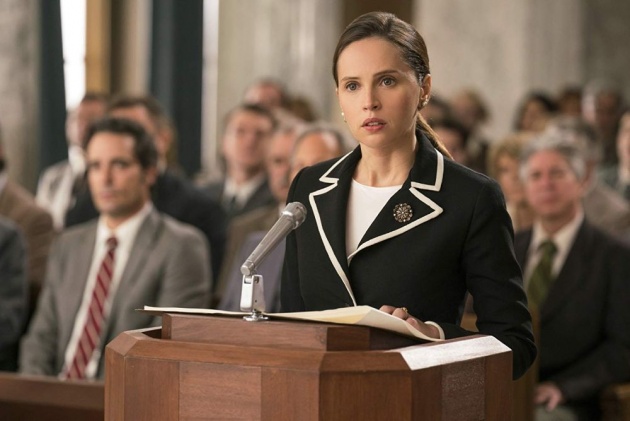 ON THE BASIS OF SEX review - Photo credit: imdb.com
The Content Of The Movie
Heads of State, Government, and royal families gathered at the World Economic Forum in Davos this year, unanimously agree that the future of world leaders lies with women, and women's rights are still a priority area that needs strengthening. Maybe it looks strange and funny now, but the last forced widow's burnout in India just happened in 1987, in Switzerland, women acquired full electoral rights in all cantons only in 1991, in France, the Order of the Prefecture of Paris Police, prohibiting women from wearing trousers in public, even though it no longer had real legal power, was abolished only in 2013, and in Saudi Arabia, the first driving license for a woman was issued only last year!
Women were prohibited not only from exercising active and passive voting rights but also from owning wealth, studying at universities, working (for which spouse's consent was required), having a personal bank account (for example, such right in Great Britain was given only in 1975), participating in professional sports competitions.
But even now, leaving the 20th century behind, we still have to deal with problems such as unequal pay, the right to bodily integrity, the right to quality and professional health care. Not to mention the double standards applied, the different requirements and the societal stereotypes that women face every day.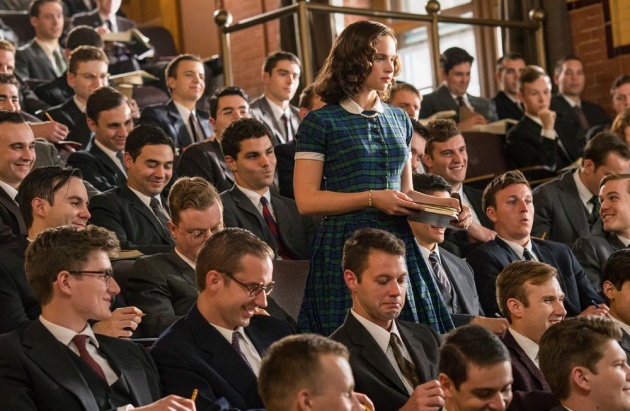 Ruth Bader Ginsburg, ON THE BASIS OF SEX - Photo credit: twitter.com
However, looking back we can see how many small steps have been taken towards equality. And one of the most known personalities on this path is American Ruth Bader Ginsburg - a lawyer, attorney, US Supreme Court judge - that is, not only helped to create justice but also she has become a justice herself.
As soon as cinematic repertoire shows inspiring biographical drama about famous personalities who have fought for equal rights, dissatisfaction usually comes from a certain level of society. Whether it is about homosexual people or about women because the result is the same.
And it is really sad because we live in the 21st century, and some of us behave like darkness in the 19th century. Therefore, in my opinion, such films as this one should be forced to show to all the individuals who don't accept feminism, who still think that the woman's place is in the kitchen.
It is awkward to say, but in Lithuania, we still have such wonderful "men", and worst of all, there are many women who only suffer when they pander to such degrades. And the film is about how a man has to deal with his wife so that the family has peace and respect for one another.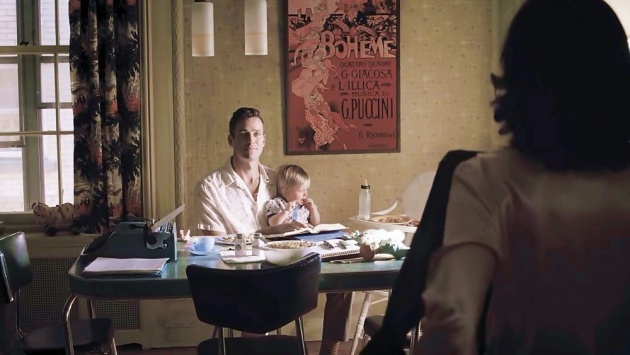 A film based on the true story - ON THE BASIS OF SEX - Photo credit: imdb.com
The film, by its presentation, reminded me of two excellent American bands Milk and Marshall, which also spoke about human rights and the unequal struggle with the established system of recognition. Therefore, if you have seen these films I mentioned, this film project will leave you with the same impression.
The new Mimi Leder film is made up of three phases of the general narrative, divided into several decades. The first and, in my opinion, the most important part of this story was dedicated to Ruth Ginsburg's studying time and her aspiration to become the best student in her faculty. Here, the spectator is shown a preliminary life span of this personality while studying at Harvard and as a human metamorphosis after one very important event in her family life.
After this human and very sensitive episode, Ruth deserves great sympathies that later turned into true love for her personality.
The second part of the film was dedicated to theories about what a woman is and what rights she had in America today. This is not without throwing Wikipedia facts, but it was a part of the common story. After this knowledge, it was possible to form a really strong opinion on how the US was, however, unfavorable for changes, and what the consequences of Ruth Bader Ginsburg's struggle in society could have been.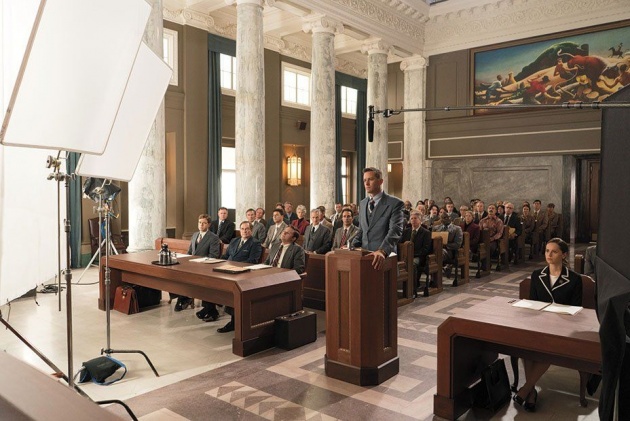 A film based on the true story - ON THE BASIS OF SEX - Photo credit: imdb.com
The final stage of the film was dedicated to the final battle in the court, which determined the future of the country.
Each of the film stages I mentioned was able to contribute to this neat and engaging story about this personality. But not just the biographical elements had an impact. Much attention in the film got her warm relationship with her husband and daughter. Watching every scene that faced household, unconditional husbandry, and rebellious daughter capriciousness, the film gained additional charm as a realistic drama of love, devotion, and strong family ties.
In addition to an interesting story about Ruth Ginsburg's long-standing struggle for equal gender rights and a generally developed storyline that is really easy to chew, the film does not become boring for any moment, although its duration is two hours. That's why I would add a few points to the film.
While reading this movie review, check Querlo chat about one more movie:
The Personages Of The Movie
The fact that Ruth was born as a woman, cross out everything - both innate talents, sharp mind, both eloquence, and excellent knowledge and hard work to achieve it - no law firm is willing to hire her after graduating from university.
Still slowly, fully supported by the lawyer husband Martin, and thinking of his daughter Jane's future, Ruth is hooked on one case based on sex discrimination.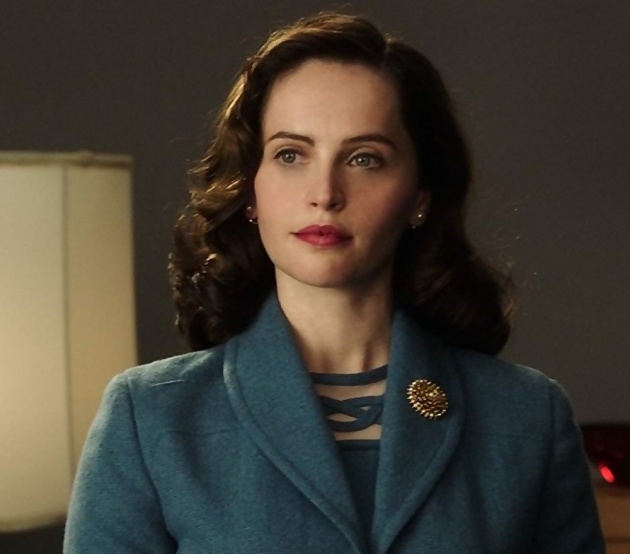 The film about gender equality - ON THE BASIS OF SEX - Photo credit: hellogiggles.com
The penetrating mind of Ruth sees the golden opportunity not only for herself - it is an opportunity to finally break through the system of false stereotypes, because in this case, however, how paradoxically it is, but the man was also discriminated because he did not get an allowance for nursing care.
Although she was trying to find ways to eliminate the obvious injustice, but was not completely naive and did not beat the head to the patriarchal stereotypes, it was necessary to wait for the right occasion. Ruth realized that it would not be enough to cry out about women's rights and inequalities - no one would have paid attention to these arguments, as the situation of exploited or discriminated persons only changes when it is supported by the power.
Judge : The word 'woman' does not appear even once in the US Constitution.

Ruth Bader Ginsburg : Nor does the word 'freedom,' Your Honor.

Credit: imdb.com
A gap had to be found, a gap in the wrong system, to wait for the snake will bite herself into the tail. And such occasion once happened.
Felicity Jones creates a somewhat non-settled and fluctuating portrait of Ruth Bader Ginsburg - on the one hand, it is shown as a very intelligent, persistent, goal-oriented, meticulous personality, talented lawyer, combining studies and career with family life, on the other - often there is uncertainty, mistrust (or incomplete confidence), constraints imposed by gender stereotypes.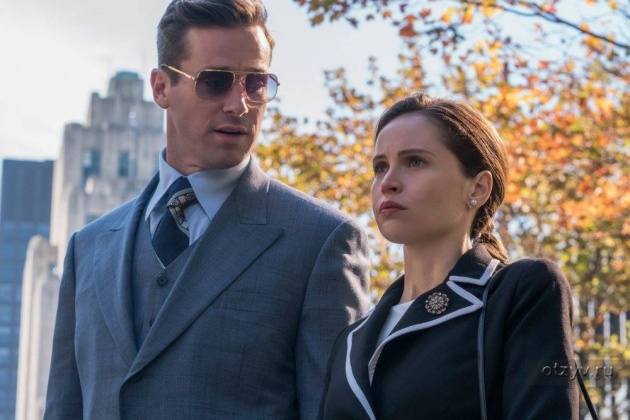 Ruth Bader Ginsburg, ON THE BASIS OF SEX - Photo credit: twitter.com
Sometimes Ruth Bader Ginsburg is brave and maybe even (at least in the standards of that era) insolent, but sometimes she is overwhelmed by doubts and hesitation. It is hard to say how much this is in line with the real Ruth, but in the film, this portrait looks uneven.
Ruth's husband Martin - it is important to know that Ruth was not alone and had strong moral support on his side. The biggest stimulus, sometimes directly encouraging Ruth, is her teenage daughter Jane, who was pretty well played by a young actress Cailee Spaeny.
Interesting characters are Ruth's colleague Mel Vulf (Justin Theroux) and University Dean Erwin Griswold (Sam Waterston). The first one draws attention to his non-standard, alive character - he is often the one with whom needs to argue, but where are two lawyers - there are three opinions, and the truth is born in the debates. The second one is the old mentality that grabs the old rotten and obviously wrong system with teeth, nails, and horns, and is determined to defend it until the last breath. So if Ruth Bader Ginsburg can be regarded as a personification of justice, then Griswold here seems to embody what she struggled with - a conservative, patriarchal, superstition and stereotyped structure.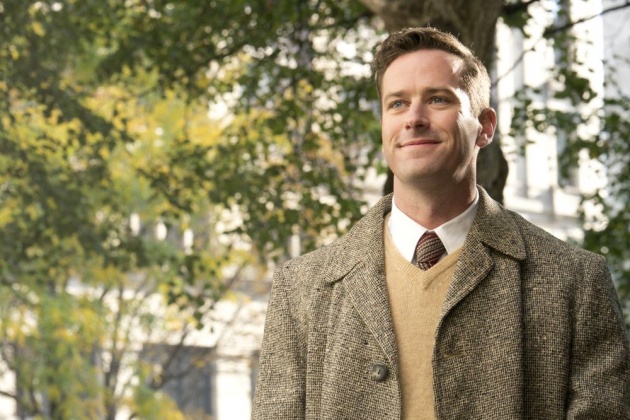 Biographical drama ON THE BASIS OF SEX - Photo credit: twitter.com
The Technical Side Of The Movie
I could praise the filmmakers for their very thorough work to give viewers a picture of several different decades. Perfectly work with decorations, costumes, and hairstyles.
Camera work is really flawless. The scenes where men dominated, as well as the court hearing, which was so fierce that it was possible to think for a moment that we were near Ruth Bader Ginsburg, were very well presented.
From the other technical nuances, the praises deserved the image and sound editing and a very warm soundtrack. The music has really given this film a lot of peace and confidence while creating the right emotional form.
ON THE BASIS OF SEX, Interviews: Felicity Jones, Armie Hammer, and Justin Theroux - Video credit: youtube.com
The Collective Work Of Actors
Not only the well-written script and the great technical side fell in the eye of this attractive biographical drama. One of the most important accents of this film was the impressive acting of actress Felicity Jones. The portrait of Ruth Bader Ginsburg, naturally, convincingly and emotionally conveyed, further enhanced the inspirational story.
In other roles, we were able to see actor Arme Hammer, who was given the role of a loving and wife-supportive man. His performance in this film was very good. Well, Arme is incredibly charming, and it goes through the film - he is organic and real. And again - the perfect supporting partner!
And in my opinion, they both turned out very warm and a real tandem.
Kathy Bates, Sam Waterston, Justin Theroux, Jack Reynor, and Chris Mulkey also played in the band. Neither of them irritated as an actor, as each of them performed the assigned roles neatly.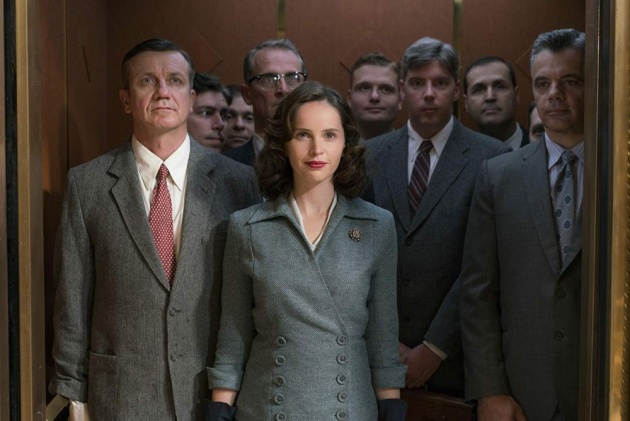 ON THE BASIS OF SEX review - Photo credit: imdb.com
On A Final Note
The band demonstrates the greatest societal challenge of the time period, gives a clear answer to the definition of feminism, and allows a consistent insight into the Ruth Bader Ginsburg struggle perfectly embedded by Oscar-nominated Felicity Jones.
Most of all I liked how actors managed to show the family on the screen. The way it should be for me. Perfect relationship. Proof that you can be a loving and beloved woman, wife, mother and - to build a career, to be realized. It is just important what partner near you. And what are you next to him. And this movie just showed such a great connection.
The theme itself - gender equality, the law for all, without regard to the sex, still worries us. Again, in the film, all this without excessive pathos and wrong accent. Not a struggle for women's equality, not warring feminism, but gender rights of both sexes. And Ruth is absolutely a woman, not a cracker lawyer. And Felicity Jones managed to show it.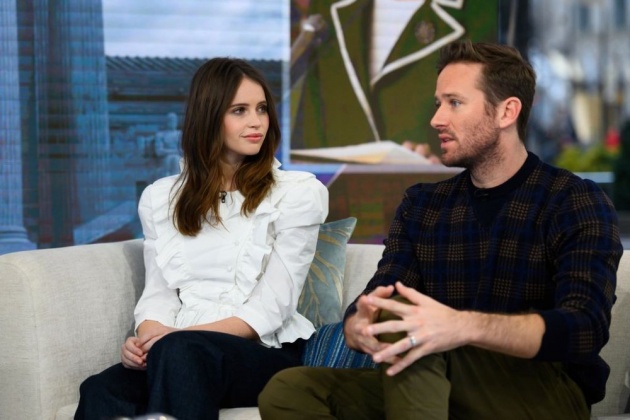 Felicity Jones and Armie Hammer at an event for ON THE BASIS OF SEX - Photo credit: imdb.com

So, in a nutshell, I could say that ON THE BASIS OF SEX is a great example of a neatly created biographical drama that not only allowed you to get to know the interesting personality but also gives us pabulum to think on who we are.
My rating: 8.0/10
Rotten Tomatoes: 73/100
Metacritic: 59/100
Critics average: 7.2/100
IMDb: 6.7/10
HAVE FUN!
**********************************************************************************************
Thank you for stopping by and reading my blog
2019, All Rights Reserved.
You are very welcome to join Bitlanders and share your valuable knowledge and opinion.
***********************************************************************************************