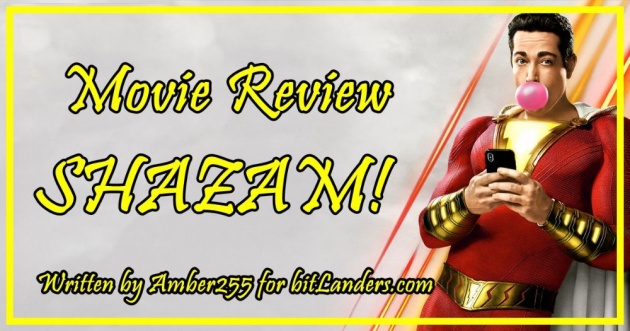 Movie Review: SHAZAM! - Photo credit: iniciativalj.blogspot, edition by Amber255 via bitLanders.com
In an effort to keep up with the success of the Marvel Cinematic Universe, Warner Bros Studio has managed to fail with one big-budget film Justice League, perpetuating the Suicide Squad in the history of comic cinema as the legendary bad and tasteless movie, also to create the beautiful Aquaman and Wonder Woman with enough high scores of critics.
All previous films suffered from all sorts of illnesses, ranging from excessive gloominess, studio attempts to please everyone and everything, and also, as people like to say, from script impotence.
Proves so determinedly ebullient you begin to think they're pumping laughing gas into the auditorium. The most kid-friendly DC film so far, the film is thoroughly entertaining.

Credit: hollywoodreporter
David F. Sandberg, director of the humble and high-quality horror thriller Lights Out and Anabel 2, moved away from a typical genre for him this year, creating a new film project for Warner Bros, the comic based film of DC about a child that stuck in superhero body.
SHAZAM! is an extremely funny film project partially mocking some superhero films, which as day and night differs from other DC comics screenings. So, let's watch and talk!
SHAZAM! Trailer - Video credit: youtube
The Short Story Of The Movie
The ancient wizard long time searched for the one to whom he could transfer all his power. And so happened, that he chooses Billy Batson (Asher Angel). Billy now has to pronounce one simple word - SHAZAM!, and the ordinary 14 years old boy Billy turns into strong superhero Shazam (Zachary Levi). The strange thing happened - with a superpower, Billy got an adult body, but deeply in the heart, he still feels a child.
Now this teenager with an adult body and superpowers want to test it, and he uses it to the fullest in this grown-up version of himself!
What are his powers? may he now can fly or use x-ray vision? Or maybe he can shoot lightning by his hands? Shazam wants to check his abilities' the limits with the recklessness of a naughty child. But there came a time when he has to quickly gain control of his abilities if he wants to fight with the evil Dr. Thaddeus Sivana (Mark Strong)and his deadly forces.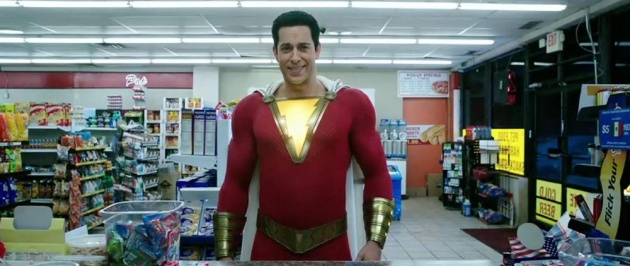 Superhero film SHAZAM! - Photo credit: imdb
The Content Of The Movie
Another comic-based story and yet another attempt by the Warner Bros. studio to retreat from 2013 with Zack Snyder's gloomy story, which two years ago collapsed with the Justice League film. And yes, everything was determined by money, not by the negative reviews of the viewers and film critics.
But it is not surprising that the studio's leaders have decided to innovate to keep pace with Marvel. That's why we've got the fun of Aquaman, which has earned more than a billion dollars in the world and has become the most successful DC comics film project, and a new film by director David F. Sandberg - SHAZAM.
Going to watch SHAZAM!, I had absolutely minimal expectations because although I knew there was such a superhero, I was little aware of him and his feats on the comic pages. Therefore, just before the premiere of the film, I took one comic book in my hands to see how this personage was depicted there.
And, to my great surprise, I saw a lighter version of Deadpool that not only cheered me up while reading the comic but also gave me a lot of positive emotions while watched the movie.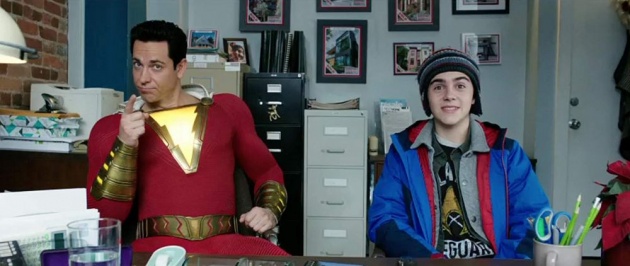 DC film SHAZAM! - Photo credit: kapanlagi
Superhero film SHAZAM!, based on the comics, on the background of its predecessors, looks fresh and unique, natural, within the framework of the already existing cinema universe. It does not try to invent something but remains faithful to all the stamps of the superhero genre, only SHAZAM! is not afraid to look ridiculous, which definitely benefits it. At the moment, SHAZAM! is the frankest and most sincere DC film.
It does not pretend, does not draw inappropriate parallels and allegories with the Bible, does not try to seem something grandiose-epic, remaining itself, presenting itself before the viewer as it is, which, in general, is the main charm of the picture.
SHAZAM! is an atypical comic screening that intertwines comedy with fantasy and even drama. However, no matter how many fantastic elements we see in the film, and how the drama of the main character Bili's life would seem shattered, it all went into the second plan, giving priority to comedy. That's how you look at this movie to get the most effect.
The comedy elements of the band consisted of two perspectives - a fairly ridiculous presentation of young heroes who had not only what to say but also to emphasize all the clichés in this genre with their stereotypical features, and the very adventurous Shazam attempt to perceive the limits of his possibilities. Combining these two motives of Shazam! History, we get a great overall picture that makes you laugh even on the most awkward scenes.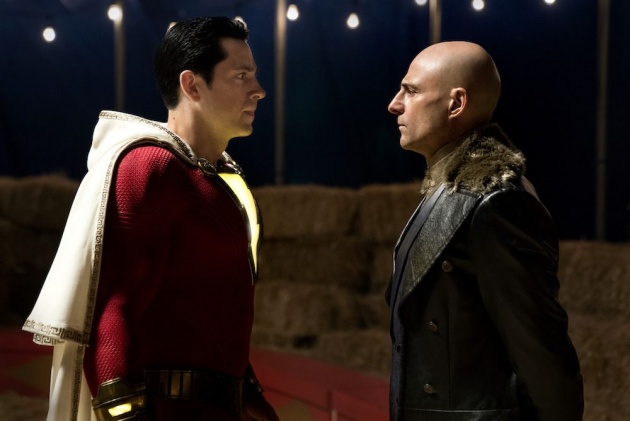 Adventure comedy SHAZAM! review - Photo credit: twitter
You don't even believe this film to belong to DC, but not to the cinema universe released by the Marvel studio. And if I have already mentioned the DC, I can say that the film really belongs to this cinema universe because of the elements it has on Batman, Superman, and Aquaman. In my opinion, this is really good; maybe in the future, we will see Shazam next to the characters I mentioned. Although, at the end of the movie something happens.
And what is the idea? Maybe it would be something very creative for someone and nowhere seen, but here I will disappoint you. A child in an adult's human body is not a novelty since in 1988 it was done in the movie Big. That's why the creators of this film, to honor the film I mentioned with Tom Hanks, partially restored the legendary Big scene with the piano.
And such scenes that target diverse projects are abundant here. Only, of course, to understand all of them, you should know a lot of things about popular cultures. But these geek scenes here were just a fun addition to a common story that would make laugh even the biggest grumblers.
We get a lot of action scenes too. Some elements of the action were very reminiscent of Zack Snyder's Man of Steel, where a powerful clash of two beings in the sky was very similar. Only Shazam with his opponent did not destroy half of the city, as Superman did, fighting with General Zod.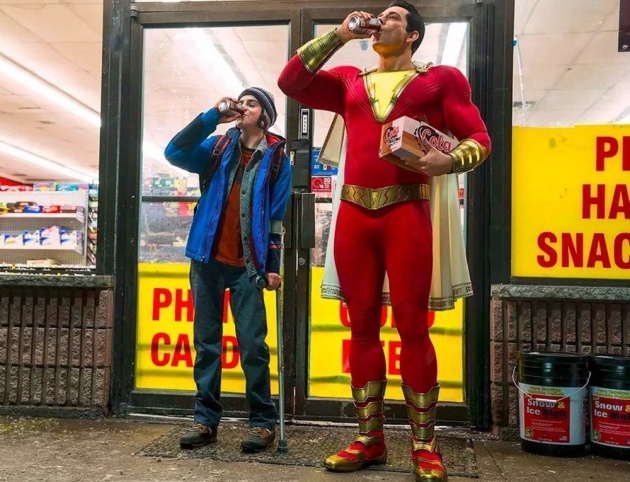 Comic based film SHAZAM! - Photo credit: imdb
The Characters Of The Movie
As you may have understood, the main focus of the film is not the story itself, but the heroes who have allowed it to develop in the right direction.
The main character of the film Billy was presented in a fairly fashionable way, no raising questions about his past, which seemed very vague at the beginning of the film. However, not he becomes the film's excitement, but his alter-ego Shazam.
Shazam's charisma overshadowed all the heroes in the film and did not become worse than the much-speaking Deadpool by his clear presentation. I will repeat that I don't want to believe this is a DC comic-based movie.
Zach Levi and Jack Dylan Grazer steal the show in this superhero film that turns the usual weaknesses of origin stories into a fun time with a good message about family.

Credit: splashreport
Billy Batson would have been an ordinary teenager of fourteen, but, unfortunately, in his three years, he became an orphan, lost in an amusement park. Alas, he did not manage to find his own mother, so Billy was forced to go to a new adoptive family, from which he later escaped, and then from another, then another. And by the time he was fourteen, he had already been to many families who refused him in the end. The only goal in his life is to find his real mother, which he does, in fact, all the time.
Just in one day, his life is changing dramatically. Once in the next big family consisting of some orphans, where even the parents were once orphans, he stands up for his younger brother. Running away from stereotypically typical school hooligans, he accidentally with the help of magic enters the cave of an old magician named Shazam, who is on the verge of death. The magician gives the boy his strength to save the world from impending evil.
It is worth noting that the power that Billy received is not for anyone. The wizard has been searching for a successor for centuries, but before meeting the orphaned boy, he could not find him, because his power is transmitted only to the worthy, the chosen, or, as the film says, to one who is pure in heart.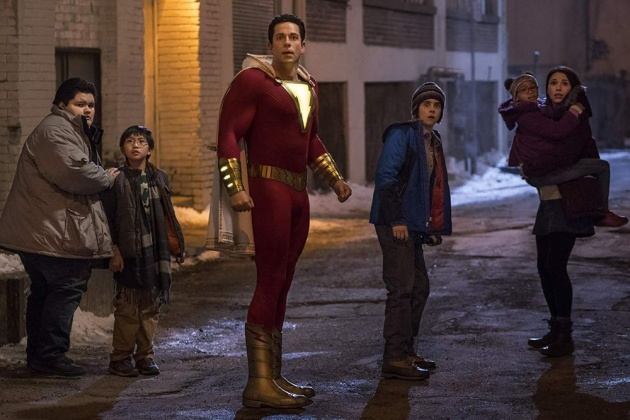 DC comics SHAZAM! - Photo credit: imdb
And Billy turned out to be the most worthy with a pure heart, although a hooligan and far from being the most positive, a child with good intentions. Having gained strength, all that was left for Billy was to pronounce the name Shazam to instantly turn into a superhero. And from about this moment the main fun of the film begins.
First of all, Billy talks about Shazam's power to his younger brother, the disabled Freddie - a huge fan of superheroes who knows everything about them. Together, they begin to learn the skills of Shazam and catch the genuine delight of Billy's newly gained power.
What would a rebellious teenager do when he gets in the body of an adult male superhero? He will go to buy beer, at the same time fighting off robbers, he will visit adult clubs with interest and great embarrassment, and of course, shoot his abilities on camera and upload videos to the Internet, and then, make money with all the selfies.
It turns out that despite the great strength, Billy did not come to great responsibility, because he has no one who would explain to him the right and the wrong things. He engages in self-admiration; yes, he is helping people, but not with pure intentions to help but to once again show off everyone what a cool superhero he is. However, the hero lives in Billy, who all his life sat somewhere deep inside him; otherwise, the power would not have chosen him. Billy grows up; being in the body of a superhero, he begins to realize his own strength and the responsibility that it brings.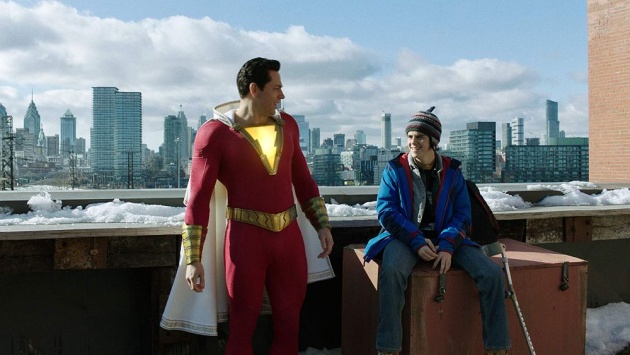 Adventure comedy SHAZAM! review - Photo credit: blogdesuperheroes
Secondary characters were also worked out. All of the second-rate actors who appeared in the film had their own mini stories that unite in one, which allowed them to further strengthen their relationship with Billy.
Even the antagonist in the movie was worked from beginning to end, but unfortunately, his main goal was very standard and was seen in many similar films. Dr. Sivan's character is the faintest antagonist who, like Billy, could get Shazam's power in childhood, but was unworthy. That is why the rejected and unloved by family boy devoted his entire life to the search for magical power he eventually finds. Only here, unlike Billy, not the power of good that flows in Doctor Sivan, but the dark one, where literally all seven deadly sins live, escaping from time to time outside.
It turns out that the one-time villain in SHAZAM! is a simple mirror of the main character, acting according to the classic villainous plan to destroy the world.
How Zachary Levi Got In Serious Shape For SHAZAM! - Video credit: youtube
The Technical Side Of The Movie
Yes, it's not a $ 300 or even $ 200 million cost movie, so it's no surprise that we don't have as many special effects as in Aquaman or Justice League. But from that, the visual part of the film really does not suffer. There are a number of scenes in the film that have had good CGI, and they were enough to show the power of Shazam.
In addition to the special effects, the film captures attention with the heroes' presentation of their outfits, make-up to hairstyles.
The soundtrack is fun. Both the songs and the musical compositions were adapted here in time and place, which created a perfect atmosphere for the film, forced to worry, laugh, and be in tension.
I also would praise the work of the operator, which, thanks to the various camera maneuvers, made me feel like the action was going on near us. Also, the smallest elements associated with DC comics have been carefully touched thanks to the operator's work. This made you feel a geek pleasure.
Audio and video montage is very quality. The story is developing very smoothly, and any moment in the storyline does not suffer. The sound has been strengthened everywhere where the struggle between the good and the bad guys took place.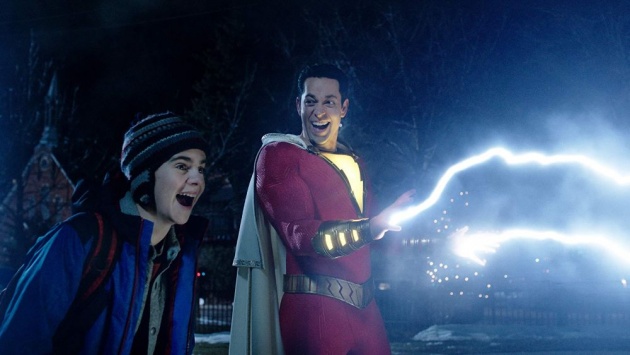 Comic based film SHAZAM! - Photo credit: youtube
The Collective Work Of The Actors
Zachary Levi, a recognized actor from series Chuck, has become not only the biggest star in this film but personally, one of my favorite actors. I know it's just one movie, but he was so fantastic there that it is very difficult to resist him. Here he showed not only great feature abilities but also spreading such charisma that overshadowed all other actors.
The brilliant British actor Mark Strong, who played the main antagonist, also turned out to be good. Only he did not create anything new here but just reminded the previously played bad guys in other films.
Jack Dylan Grazer, Djimon Hounsou, Michelle Borth, Asher Angel, Cooper Andrews, Adam Brody, Meagan Good, Ros Buttler, and others also appeared on the movie. I don't have any reproaches on any of the characters in this movie because everyone has played convincingly trusted roles to them.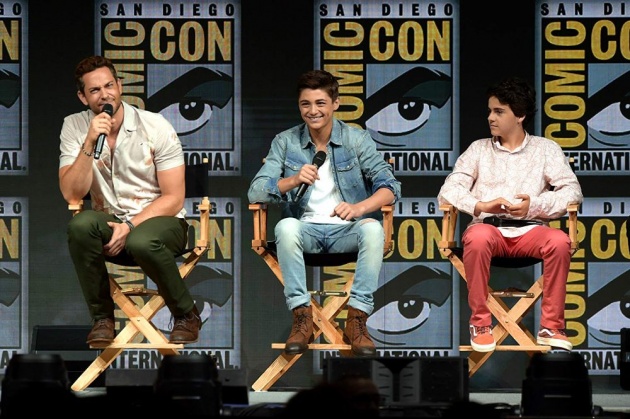 DC comics SHAZAM! - Photo credit: gettyimages
On A Final Note
As a result, it turned out that, despite the minor drawbacks of SHAZAM! , this is still a new page for the DC cinema universe. Finally, Warner Bros managed to make a self-sufficient, well worked-out, and exclusive superhero entertainment film for all ages within its own cinema universe.
And SHAZAM! definitely sets the pace and vector of development along which the studio must move forward, so that their cinema universe does not just show signs of life, but fully reborn.
Easily and funny developed history, a good-looking exterior, and fantastic actor Zachary Levi's appearance is just a part of what can force you to come back to the cinema for the second dose of charismatic Shazam.
I think it is worth saying nothing but to recommend you to visit this great and very comic film, which gives you a great entertainment in the cinema because of the interesting history and quality humor that comes from the screen. Unambiguously, this is the best comedy of this year so far.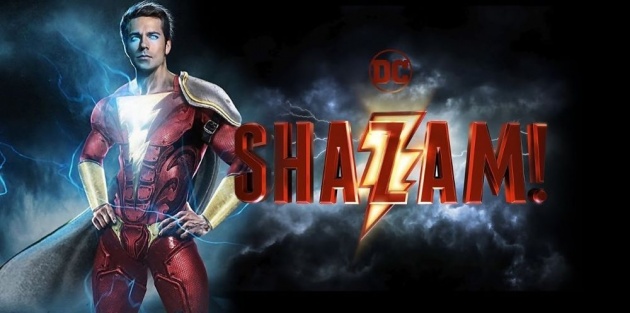 Movie Review: SHAZAM! - Photo credit: youtube
My rating: 9.0/10
Rotten Tomatoes: 92/100
Metacritic: 73/100
Critics average: 8.7/100
IMDb: 8.2/10
HAVE FUN!
**********************************************************************************************
Thank you for stopping by and reading my blog
2019, All Rights Reserved.
You are very welcome to join Bitlanders and share your valuable knowledge and opinion.
***********************************************************************************************