Movie Review - Super Troopers 2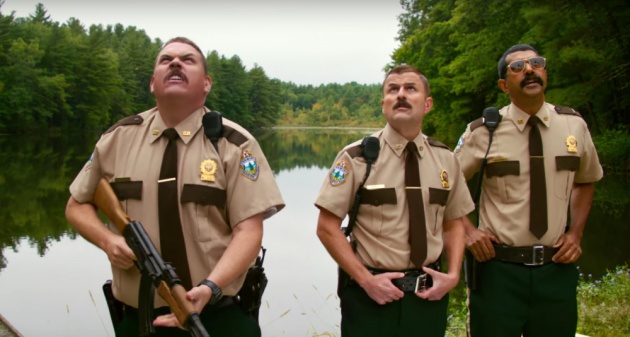 Image Credit: consequenceofsound.net
✔ Introduction



Dear Friends, I hope you are doing fine and having a good time on bitlanders. Today, I have come up with my another new blog with the title of "Movie Review - Super Troopers 2" which is a movie review of newly released Hollywood movie based on comedy. I liked this movie because of its humor and I am sure, you are going to like this movie as well. This film is a sequel to a previous movie with the same title "Super Troopers" which was released way back in 2001. This movie "Super Troopers 2" was produced by Richard Perello and directed by Jay Chandrasekhar who is also starring in this movie as a lead role. The main idea of this movie is based on six policemen who are trying to perform their duties amicably but events lead them to comedy situations and also some of the policemen in their team love to create humor because of their actions.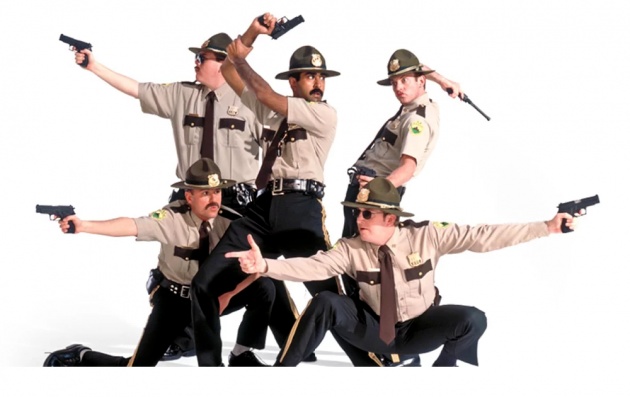 Image Credit: www.thedailybeast.com
This comedy movie is full of laughters and it has been released recently on April 20, 2018 in the United States under the distribution banner of Fox Searchlight Pictures. Some details of huge cast of this movie is as under:
✤ Jay Chandrasekhar as Trooper Thorny
✤ Rob Lowe as Guy Le Franc
✤ Paul Soter as Trooper Jeff Foster,
✤ Steve Lemme as Trooper MacIntyre
✤ Emmanuelle Chriqui as Genevieve Aubois
✤ Erik Stolhanske as Trooper Robert
✤ Kevin Heffernan as Trooper Rodney
✤ Brian Cox as Captain John O'Hagen
✤ Tyler Labine as Mountie Bellefuille
✤ Will Sasso as Mountie Archambault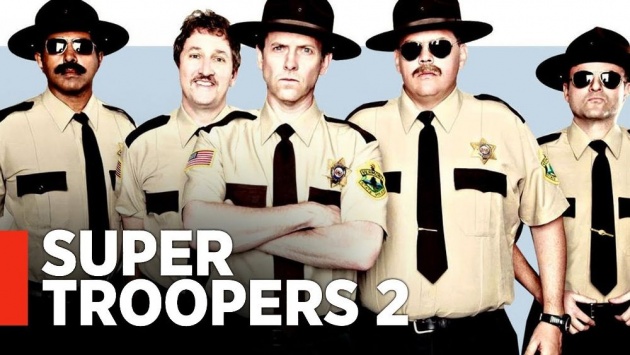 Image Credit: www.youtube.com
It's been 17 years since the first Super Troopers, and these cop characters haven't gotten any smarter or more mature in the interim. The makers of that film—the defiantly dumb Brozen Lizard comedy troupe led by writer-director-star Jay Chandrasekhar—clearly hope that the intended audience hasn't grown up either: Super Troopers 2 consists of a series of gags that aim below the belt rather than at the intellect.
Information Source: www.timeout.com
Video Credit: FoxSearchlight via youtube.com
✔ Plot Of The Movie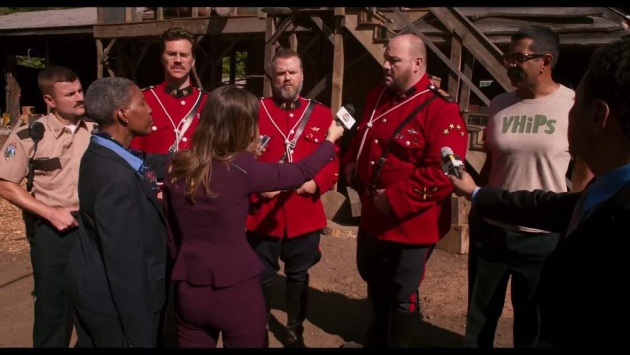 Image Credit: www.traileraddict.com
The film begins as the ex-troopers, who were fired from their job from Spurbury Police Department because of their stupidities, are living normal lives with their friends and families and have adopted different occupations and professions. On one eventful day, ex-Trooper MacIntyre receives a call from Captain O'Hagen who is serving in Spurbury Police Department and ask them to have a meeting with him. Over the meeting, they discover that they are being given a responsibility as Vermont State Troopers in Canada to take over the earmarked land for the United States from Canadian authorities. They are directed to work with Royal Canadian Mounted Police in Canada in order to complete the handing / taking over of the land for the USA.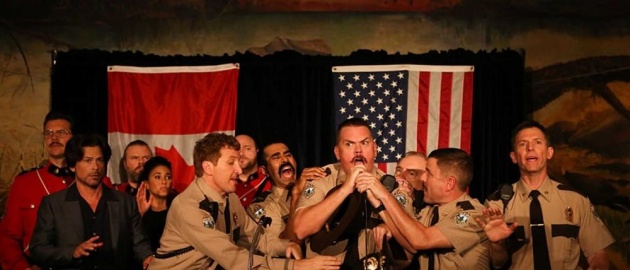 Image Credit: www.regmovies.com
When these troopers reach Canada, they are not welcomed by local people when Troopers go on a visit to meet the people living there because they do not want to be part of America. Therefore, a lot of comedy ensues such events happen such as they are attacked in a bar, a brown bear is released into their station etc. In retaliation, Vermont State Troopers also captivate the Mounties, wear the uniform of the Mounties and do comedy on the roads to create a bad image for the Canadian authorities. However, they are soon caught and are stopped from doing this for a long time.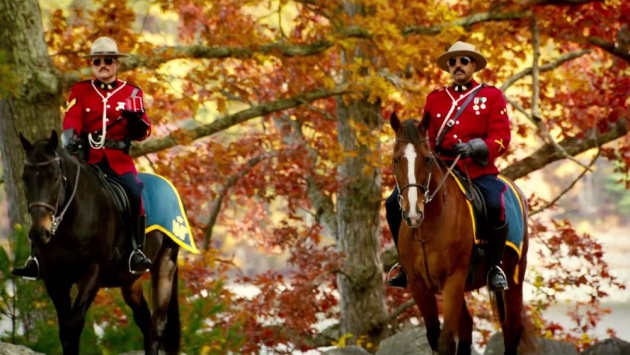 Image Credit: www.digitaltrends.com
Comedy of errors continue as the Mounties doubt the Troopers to be drug smugglers. There, Guy Le Franc acts as the leader and has captured one of the Troopers and his team starts shooting on the Troopers, as a result of this incident, as fighting ends, however things get clear later and Guy Le Franc informs the Troopers that he is actually an undercover agent and he congratulated the Troopers for their successful mission. However, it is revealed later that this territory will remain with Canada which again causes some altercation between the Troopers and the Canadian Mounties. The movie ends as some comedy moments between the Troopers members are shared with the viewers while they were on operation.
✔ Here is

Querlo Chat

for you. Isn't it fun to chat with a Chatbot ?
✔ My Movie Review - Conclusion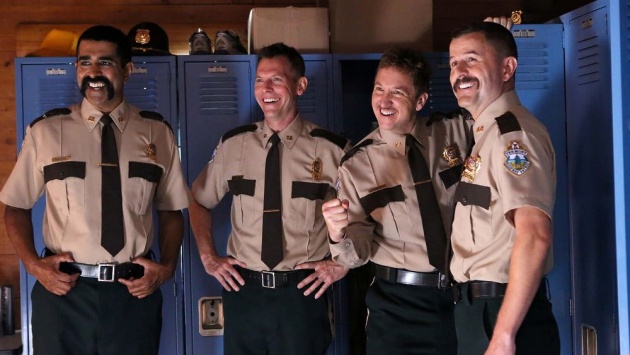 Image Review: www.digitaltrends.com
The movie Super Troopers 2 is a sequel to the movie Super Troopers released in 2001 and in both the films, Troopers have been successful not only in their missions but also on a mission to give the viewers quite a bit laughters. This movie is full of fun and a must watch for the ones who like to watch comedy movies. The film Director and the lead actor Jay Chandrasekhar has done quite a remarkable job and provided the viewers with great entertainment. the story, camera-work, filming, locations and cinematography have been outstanding and all the production team seemed to have worked hard to make this movie a successful movie. Some of the best scenes from this movie are appended below for your entertainment.
Video Credit: Maxim via youtube.com
✿✸✔✤✪ - - - - - - - - - - - - - - - ✿✸✔✤✪ - - - - - - - - - - - - - - - ✿✸✔✤✪ - - - - - - - - - - - - - - ✿✸✔✤✪

Thanks for Reading. This Blog was written by Rafaquat Noman (a Resident of Saudi Arabia and a Traveler) for bitlanders.


DISCLAIMER: The contents of Blog above are that of the author and does not represent his company or agency. The sites, videos, and photos used in this Blog are for information purposes only and links are available for direct access. The author does not receive any monetary benefit from those companies or sites.
✿✸✔✤✪ - - - - - - - - - - - - - - - ✿✸✔✤✪ - - - - - - - - - - - - - - - ✿✸✔✤✪ - - - - - - - - - - - - - - ✿✸✔✤✪