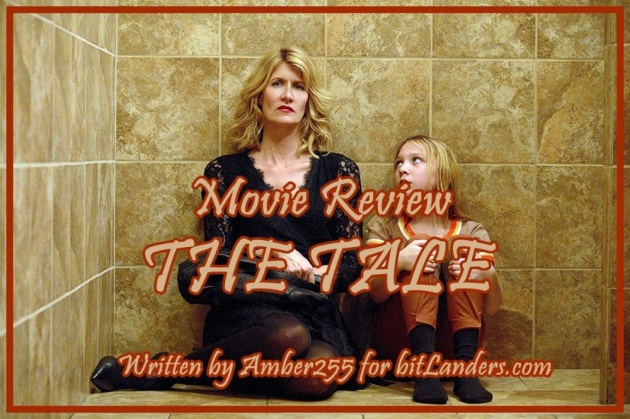 Movie Review: THE TALE - Photo credit: twitter.com, Edition by Amber255 via bitLanders.com
The 36 number in the IMDb list of the 50 best movies of 2018 is the crime comedy Game Night. As I already have added my review of this HBO film, I am moving further. So, here is a review of THE TALE.
This is the real story of Jennifer Fox, who herself shot a film about how she was seduced as a child and how she had to live after that. Probably one of the most daring films in this category. And this is an autobiography, and the authors spat on polite correctness and showed the problem with almost all its charms. What may seem inconvenient for a collective public, turns out to have played well on a personal level in front of the audience, in fact, for this frankness, perhaps the film will eventually gain some popularity.
The Tale is a powerful and clear-eyed examination of sexual abuse and the shifting sands of one's own memories.

Credit: villagevoice.com
The film debut of a real journalist and documentary Jennifer Fox - THE TALE - was held with moderate success at the Sundance festival, where he remained without awards, but with very warm criticism. At the moment of a plentiful discussion of #MeToo movement, it is reasonable to wait for an accusatory intonation from such a plot, but Jennifer Fox is actually trying to understand the silent mechanism of violence.
THE TALE Official Trailer - Video credit: youtube.com
The Short Story Of The Movie
The main character of the film Jennifer (Laura Dern) is an adult woman. She built a successful career as a journalist, and it would seem that life is no longer able to surprise her. But one day the heroine receives greetings from the past.
The woman's mother (Ellen Burstyn) finds her children's diary, where 13-year-old Jennifer wrote one of her first works - a story describing her intimate adventures with two adults in detail.
The reading deeply shocks the journalist, as there are no memories of something similar in her memory. The heroine takes on her own investigation, during which a meeting with former lovers and herself when she was just 13-year-old wait for her, after which she will have to look at herself with completely different eyes.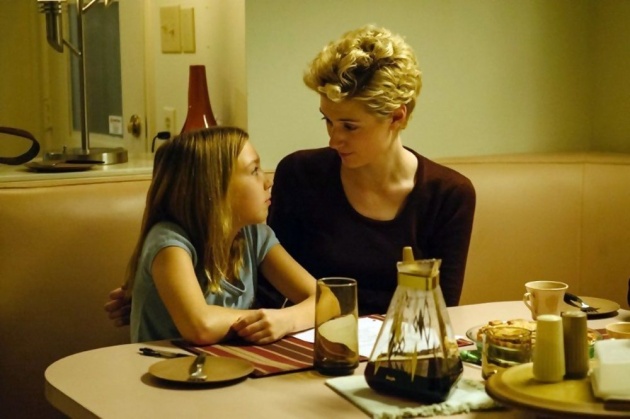 A film about sexual abuse: THE TALE - Photo credit: twitter.com
The Content Of The Movie
I do not remember another such a massive social movement in recent years, such brightly lit phenomenon from all sides, which was the campaign of revelations, united in the foreign press by code name #MeToo. Tens, hundreds, and even thousands of women from all sides claim that they have suffered in their lives, if not direct physical violence, then harassment, offensive hints or dirty sentences. Movie and sports stars, politicians and public figures were exposed to public accusations, dirty linen of recent days or even a half a century ago were brought to light.
Cases of violence and harassment are very delicate, so it is difficult to blame the victims of harassment for not being in a rush to talk about their experiences in public. But the terrible stories full of details of broken fates, disfigured psyche, and physical problems of those who have enough spirit to expose it all in full voice look even brighter then.
Documentary director Jennifer Fox first set out her story on paper and then, finding that documentary words would not be enough to touch the hearts of viewers, she made a feature film with the uncomplicated name THE TALE. In the film, she told about her first sexual experience, and the main thing is about how she was turned into a victim, and why she was silent about this incident earlier.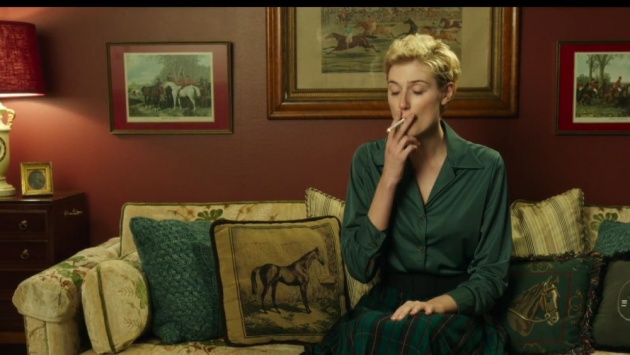 50 best movies of 2018: THE TALE - Photo credit:rock-cafe.info
Frankly, I don't want to talk about how a forty-year-old man lures a thirteen-year-old foolish girl into his bed — that's too scary, and Jennifer Fox shows everything better than any retelling on paper or on a monitor screen.
But the film doesn't boil down to this terrible moment in the main character's life. By the way, Jennifer Fox didn't even change the name of her lead character, underlining that this is her true story. From a cinematic, and not a non-journalistic point of view, it is more interesting to consider the film as a study of the unique feature of our mind to avoid unpleasant impressions and memories, and memory - to form images that do not quite correspond to reality.
Jennifer Fox tried to convey to the audience a certain set of truths, revealed through the shroud of memory, without the poetry and lyricism: sometimes violence doesn't look like violence, sometimes without a trigger you don't remember and comprehend some half-forgotten episode that in childhood may seem to be a victory (although in fact Bill surely had many of the same special Jenny after parting with Fox).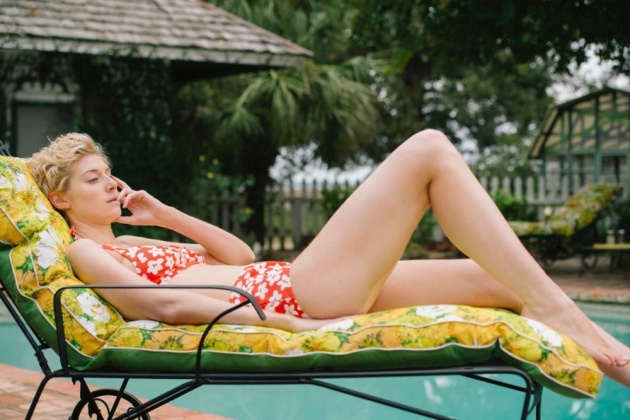 HBO film THE TALE - Photo credit: imdb.com
However, Jennifer Fox, who previously filmed documentaries about the civil war in Beirut, independent women around the world, and the Tibetan masters, does not answer the question of why the therapeutic THE TALE is an obvious feature film.
The plot structure of the form a journey through the labyrinths of memory and dark corners of the personality is mastered with a bang. Jennifer Fox created the autobiographical thriller, heavily diluted with understandable author's trepidation in revealing details; it ultimately consists almost exclusively of scenes which have already been repeatedly illustrated in films not protected from criticism of heavy personal experience.
Stylistically, ТНЕ ТАLЕ generally balances between the blissful melodrama, a television soap of a detective character, and a not too inventive documentary. All of the above, it would seem, shows that the film is exceptionally important, in the sense that it is dedicated to a big problem. Personal experience of Fox is able to arouse reflection in the viewer, and the traumatic personal experience, of course, is not devalued by the most outstanding representation.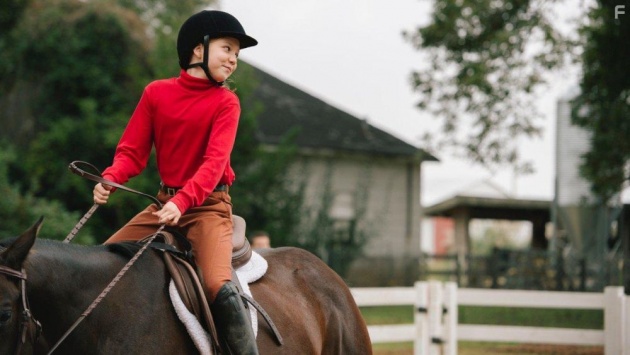 THE TALE review - Photo credit: bugunneizliyoruz.blogspot.com
On the other hand, Jennifer Fox's film, involuntarily, asks another, quite unexpected question. How did it happen that the problems of sexual violence and women on the edge of a nervous breakdown were for a long time given to soap operas?
The concepts of courage in our days in the movies have become very primitive. In the case of Jennifer Fox and her film THE TALE the words about courage take on a completely different meaning. In fact, the film is a cinematic confession, exposed to the white light, viewed from all sides by a magnifying glass and re-tucked into the shadow. Few films looked at the central theme of THE TALE in such a powerful way.
THE TALE- this film is not about WHAT happened, but about:
- how easy it is to charm a child and turn it into your toy.
- how memories can be distorted over time.
- how childhood experiences and the imposition of wrong values can affect the rest of one's life.
- that childish "victories" may, in fact, hide violence.
- that the victim may not understand that he/she is a victim.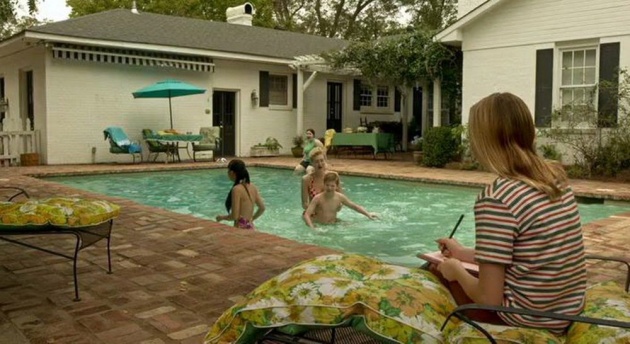 Children Abuse drama THE TALE - Photo credit: youtube.com
The Personages Of The Movie
Jennifer Fox is a successful director of documentary films and a film school teacher, whose rhythm of life does not allow her to stop even for a minute, she is constantly at work, in search, in aspirations for the future. However, an unexpected hello from childhood makes Jennifer slow down and look back - she sees a long-forgotten school essay, inspired by the summer spent on a horse farm in the company of a charming, but a strange couple. Jenny became a woman, but her essay was considered an invention, and she herself tried to forget about the loss of innocence. Now, the old records are gradually bringing back memories, and Jennifer Fox determines to meet her molesters.
Restraint and simplicity are words that can be applied to every performance in The Tale, and nearly all of those performances are excellent.

Credit: consequenceofsound.net
The film begins with the fact that Jennifer recalls the last summer of her innocence with warmth - she thinks that time was the best period in her life, she was a young beauty, new acquaintances were gentle with her and showed most attention. But the deeper the heroine of Laura Dern plunges into the depths of her memory, the more frightening details appear before her eyes. At some point, the girl, who became a woman earlier than nature provided, simply managed to replace the horror and disappointment with artificial joys and false images.
But a small pile of sheets in which the schoolgirl described her emotions, destroys the protective dam and brings Jennifer Fox to those who literally broke her.
It is difficult to convey the emotions and feelings that you experience while watching! Experiences of heroes are so realistic that sometimes it seems that this happens to you. It seems that you also gain decisiveness and go to meet with this once "special" person to throw out your pain to him because you already understand exactly how everything that happened has affected your life by changing it irrevocably.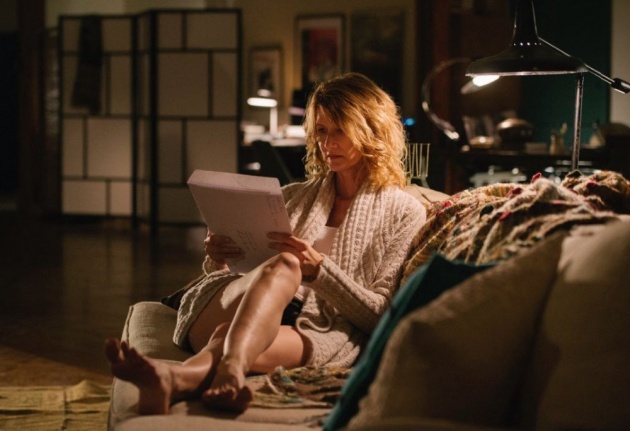 A film about sexual abuse: THE TALE - Photo credit: madamelumiere.blogspot.com
The Technical Side Of The Movie
The direction in this picture is at a very high level, which gives reason to believe that to film the really penetrating history it is enough to have a serious intent, and the skills will come during the performance.
I would like to note that there are no sex scenes as such. You will not see naked people or naked children; there will be no moans and signs of pleasure in the scenes - everything is filmed quite delicately. But you will understand what will happen on the screen, and your imagination will finish drawing a picture - it may even be too open or vulgar.
Purely visually, the film is very pleasant. The female hand is clearly felt. Warm gamma, horses, jogging through the sun-drenched forest, smiling faces, everything looks almost romantic, I think at the beginning, you can take it even for melodrama or even a family movie, but actually, it is not.
Interview: Jennifer Fox, THE TALE - Video credit: youtube.com
Excellent acting, great direction, great camera work. Thank you for the topic raised; so deeply into it, probably, no one has yet plunged!
The Collective Work Of The Movie
Ellen Burstyn demonstrates actress milestones in her 85 years. Her role is small, but still important - the mother, sincerely worried about her, albeit matured, but a child!
Elizabeth Debicki perfectly plays the role of the mysterious Mrs. G. she is cute and attractive and has her own zest and sexuality.
But the main decoration is still Laura Dern. The actress once again finds a way to properly show the difficult image, revealing all the nuances. Her Jenny is angry, heartbroken, hesitates, makes mistakes and is angry - it seems that a paradoxical combination of emotions is characteristic of the survivors of the psychological trauma.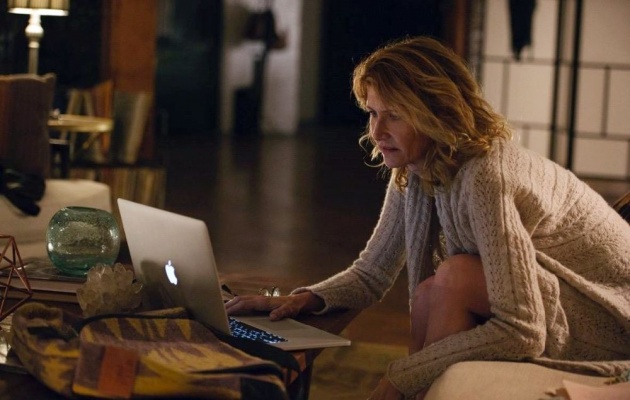 Movie Review: THE TALE - Photo credit: hdlava.com
In my opinion, she managed to show the audience some confusion and shock from the realization of what actually happened in her childhood, and how it does not fit in with her memories carried through all her life
Isabel Nellis and Laura Dern powerfully weathered the burden of the same character only at different ages, but who really demonstrates the skill is a director Jennifer Fox.
Isabel Nellis in the film is a very naive child who lacks love in the family and wants to prove something to someone. In the bed scenes, of course, a minor actress was replaced by an older backup actress.
And I want to mention Jason Ritter - Jenny's coach Bill in equestrian sports. He is kind but strick coach.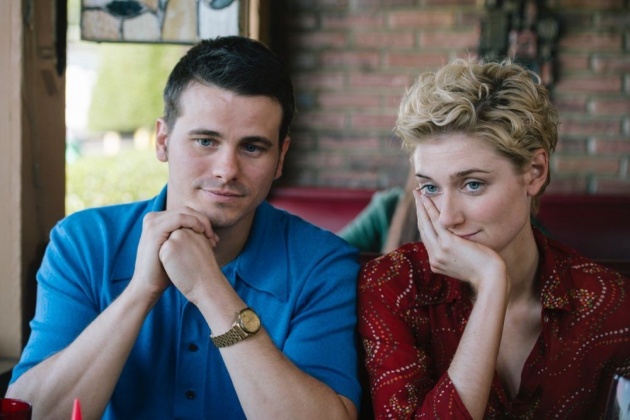 Jason Ritter and Elizabeth Debicki in children abuse drama THE TALE - Photo credit: lennonldismeil.blogspot.com
On A Final Note
It is impossible to estimate how sincere Jennifer Fox in her THE TALE is, whether the life of her characters really happened in this way. But if the story of a girl who fell into the terrible paws of a pedophile and lost the support of a person she trusted is at least half-true, this is already a big brave step towards getting rid of fears.
Sometimes today it seems that the accusations of violence and harassment stepped over the edge of reasonable, but if such movies restrain, if the stories of the victims scare potential rapists, then the Jennifer Fox's naked soul, the perfect game of Laura Dern, and the amazingly innocent face of Isabelle Nelisse deserve the highest awards.
Such confession is very valuable, and the strength needed to translate it on the screen is not given to everyone. Every scene of THE TALE is very valuable. The film you want to watch, but to which is painful to return.
In essence, THE TALE is the answer to the question of why one should speak openly about harassment, abuse, and any manifestation of violence and power.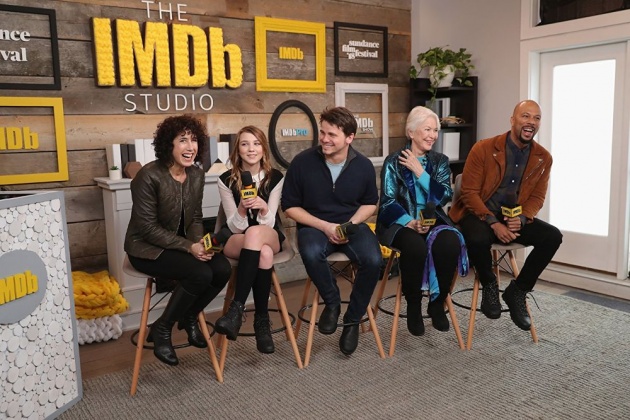 Ellen Burstyn, Jason Ritter, Common, Jennifer Fox, and Isabelle Nelisse at an event for THE TALE - Photo credit: imdb.com
THE TALE is not an entertaining movie. It needs to be watched carefully and thoughtfully, without being distracted from viewing. Perhaps not everyone can appreciate it and fully understand, but it's worth a try.
An extraordinary piece of storytelling and a daring confessional. You've seen nothing like it before.

Credit: oneroomwithaview.com
My rating: 9.5/10
Rotten Tomatoes: 99/100
Metacritic: 90/100
Critics average: 8.5/100
IMDb: 7.3/10
HAVE FUN!
**********************************************************************************************
Thank you for stopping by and reading my blog
2019, All Rights Reserved.
You are very welcome to join Bitlanders and share your valuable knowledge and opinion.
***********************************************************************************************