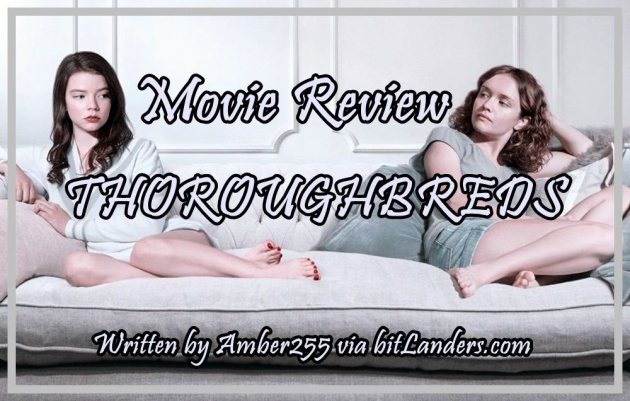 Movie Review: THOROUGHBREDS - Photo credit: topsimages, edition by Amber255 via bitLanders.com
- Photo credit: Finally, the last movie review related to the IMDb list of 50 best movies of 2018. The 50th film is a dark comedy thriller THOROUGHBREDS. If you want to read more movie reviews of this list, just check my bitLanders profile and check my blogs.
This is the debut film of director and screenwriter Cory Finley, characterized as a mixture of American psychopath and deadly attraction.
This is not for everyone but it's one of the most intriguing films I've seen in awhile. Very dark, quirky, offbeat and different. Fascinating use of soundtrack and dialogue in its pursuit of understanding how emotion, relationships and power are subject to manipulation.

Photo credit: metacritic
The film premiere in the world took place in January 2017, at the Sundance Film Festival, and it became one of the main sensations there. It is not so important that the tape did not get the same amazing success as Jordan Peele with his Get Out, but behind the work of Finley is felt a well-defined shadow of old Hitchcock, felt originality and liveliness of presenting material, old-fashioned broken into chapters, obviously, for a clearer delineation of different episodes.
The film was released to the cinemas only on March 9, 2018. This delay in the rental is due to a large number of film festivals where the film was shown. That's why IMDB added the film to the 2018 list.
THOROUGHBREDS, Official Trailer - Video credit: youtube
The Short Story Of The Movie
Two young girls - Lily (Anya Taylor-Joy) and Amanda (Olivia Cooke) meet in the big beautiful house. Once upon a time, they were close friends, but apparently, then their paths diverged. It is immediately obvious that the girls are not very comfortable together, but Amanda stands with her arrogant manner of communication, and the situation seems improved.
It turns out that everyone has their own problems in life: Amanda dropped out of the school and had to constantly visit a psychotherapist who adds all the new diagnoses to her; Lily has to live with the hated rich stepfather Mark (Paul Sparks).
Straight Amanda quickly asked Lily if she had ever thought of killing her stepfather, and then offers to think about it. Such an idea at first seems to Lily wildness, but a little later, when the relationship with Mark becomes even more intense, she begins to think about it more and more often.
But to do this alone is very difficult, which means she needs to find someone who can do it for her.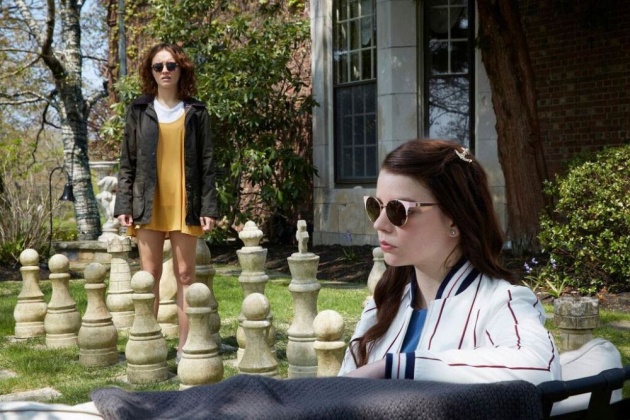 Best movies of 2018: THOROUGHBREDS - Photo credit: mrmoviefilmblog
The Content Of The Movie
As it often happens that the trailer is very different from the movie itself. Before us is just such a case. The THOROUGHBREDS trailer intrigued and seemed like a cheerful, black comedy with a criminal tint about two eccentric young ladies who thought a bad business and most likely fall into the various scrape in this field. Personally, I was interested.
Watching the film, a light trailer's mood quickly cast away, and it plunges you into the art-house atmosphere with a slow narration.
According to the author, the Connecticut suburb is very good for creating a separate world of luxury, the world of psychological exploitation and grandmaster-adjusted plot twists that leave no questions to the viewer on plot holes and discrepancies.
Cory Finley manages to speak out in the frame of a relatively well-developed branch of a thriller as a genre, which usually tells the story of two teenagers deciding to take desperate steps and use desperate measures when they feel that seemingly insurmountable obstacles to friendship and love arise.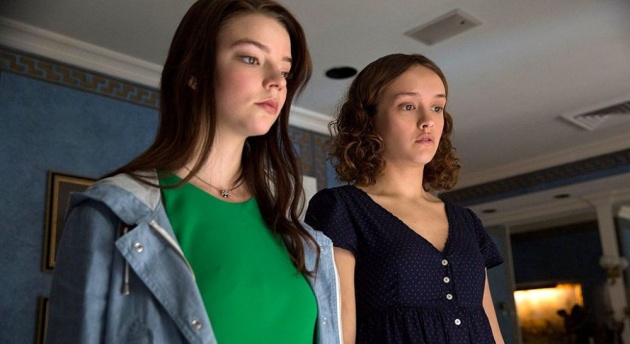 Debut film: indie movie THOROUGHBREDS - Photo credit: popcult.blog
Since Cory Finley is primarily a playwright and author of the plays, THOROUGHBREDS first at first makes an impression to the smallest detail of a thought-out play, where portions of tension are designed specifically for playing on stage, and not for filming, and not only laconic remarks of the main characters are worked out, but also angles, facial expressions, gestures of these two long-time friendly semi-mechanical pragmatic dolls, Amanda and Lily.
Therefore, the beginning of THOROUGHBREDS, filmed in the spirit of a black comedy about two girls with mental problems, gradually and without any hurry translates the tape into a psychological thriller, where the main characters are not naive and act solely on an exact and cold calculation.
The plot is the simplest: a rich schoolgirl with a sociopath girlfriend is planning to kill her stepfather. But for a long time, a movie that adores the details and its characters only observes how they approach this idea.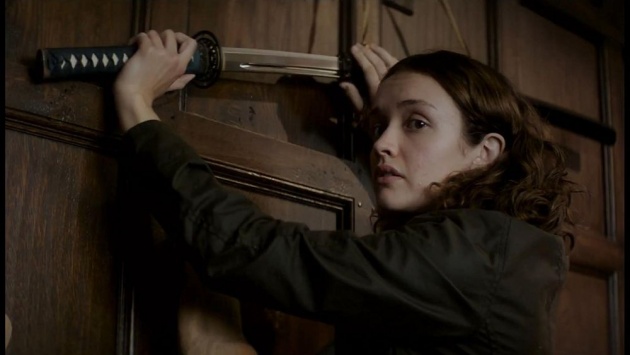 Psychological thriller THOROUGHBREDS - Photo credit: audiovisuellblog.wordpress
The author came from dramaturgy, and if to turn away from the exciting and creative cinematography, in general, drawing a typical British play with one even crescendo for the entire plot. That is what THOROUGHBREDS planned originally.
But the work went to the cinema, and it turned out to become the new Stoker. Plot, theme, form - everything is very close. Just the Stokers are more poetic, and in neat pictures, they hide not witty observations or admiration of the main actress, but haiku and sonnets. Here, the same elegance of the production we see in an infinitely ironic, nihilistic, and slightly evil story about the education of monsters, hidden sociopaths, the true nature, the price of life, and a place in the sun. Pragmatism triumphs over spirituality, murder become a way out, self-sacrifice only changes in location, and not ready for risk losers remain losers, only with a more decent haircut.
Interestingly, Cory Finley, as the scriptwriter, very well manages the rhythm of his dialogues in THOROUGHBREDS. Thanks to thin black humor and through difficult dialogues, Amanda and Lily are again very close. The tempo of the dialogues gradually grows from one episode to another, showing how the connection and their common desire grows stronger as the plot progresses.
The mansion itself becomes a real sinister place, far from the essence of cheap horror, but it is here that the presence of a stranger Mark for Lily is constantly felt.
THOROUGHBREDS, Ending Scene - Video credit: youtube
The Characters Of The Movie
The two main heroines of THOROUGHBREDS - Amanda and Lily - give the impression of two halves of an atomic bomb, ready to explode when they are together. Each of them does not carry any threat separately, but together they form a union of death and act only together.
Early left without a father, Lily hates her stepfather Mark. The reason for the hatred in the plot of the film is obvious: Mark wants to send her to complete her studies not at the university, from where she flew out for plagiarism in one of her works, but in a special institution for girls with serious problems and behavioral disorders. After graduation from this strict boarding school - a completely independent life, and not a penny for the living.
Widowed mother Cynthia (Francie Swift) with Mark's money has a huge luxurious mansion, which is well furnished and constantly demonstrates the wealth of its owners.
When Amanda and Lily meet at the beginning of the film, it remotely resembles the meeting of old friends, and even more distantly, a kind of testing of the capabilities for mutual learning and communication. Amanda, who recently revealed her mother's e-mail, knows well the amount that Lily received for organizing this dialogue.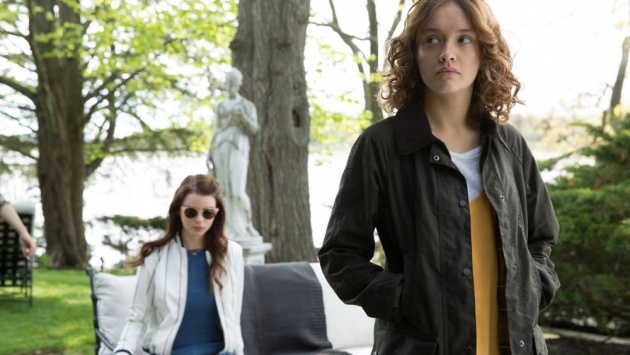 A film about psychopath teens: THOROUGHBREDS - Photo credit: twipu
Then it becomes clear why Amanda is forced to communicate with this girl. They have common features; they oppose themselves to society; they have problems with studies and, finally, the most important thing - they are obsessed with an early ripe girl's misanthropy, which does not make this world more amazing for them and does not expand its boundaries.
Amanda has no feelings at all, she does not understand the words of joy and sadness, and she so easily opened her horse's spinal cord cutting it with a curved Native American knife. As a result, she underwent a course of treatment and became something of a public pariah, insensible and strange. It is naive, but Amanda believes in the phenomenon of Apple founder Steve Jobs and hopes to repeat his path to success, bypassing the acquisition of regular higher education.
Without any doubt, Lily is fascinated by both the independence of the old girlfriend in the statements and proposals put forward and her courage and independence, because it was Amanda who loudly voiced Lily's thought that Mark needs to be killed.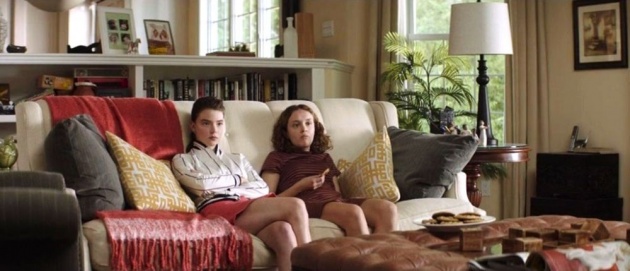 Dark comedy thriller THOROUGHBREDS review - Photo credit: thisislandrod.blogspot
This brings this couple tightly together and gives Cory Finley the opportunity to experiment not only with the semantic solutions in the plot but also visually show most part of the evolution of this murderous friendship.
Finding an assassin, a small drug dealer Tim (Anton Yelchin), for whom the couple found a means of blackmail, shows their lack of principle and desire to do everything with someone else's hands, as befits a young aristocracy. They deliberately looked for such an enthusiastic loser, from whom a great arrogance was rushing, but who was too smart to become an ordinary victim.
Obviously, this role of Yelchin is needed by Cory Finley to organize a certain equilibrium in the frame, because the presence of a lively and emotional Tim goes against the behavior of girls. He, and not they can cause greater sympathy than the heroines of the film, constantly leading a double game that does not stop for a second.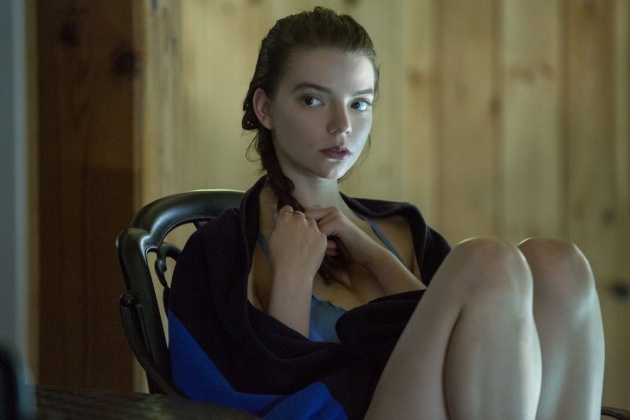 Anya Taylor-Joy in THOROUGHBREDS - Photo credit: imdb
According to Finley, a well-planned and organized part of a murder is not so important as it is important to understand that at the very moment of the murder it is important to keep up passion, but such achievement of the goal leads each time to the loss of a part of the soul itself.
Amanda : At the end of the day, I have a perfectly healthy brain. It just doesn't contain feelings. And that doesn't necessarily make me a bad person. It just means I have to work a little harder than everybody else to be good.

Credit: Quote of the film via imdb
This statement shows the level of her sociopathy and makes it possible to understand that there are no accidental meetings and that such strange antipodes as Lily and Amanda are very necessary for each other to carry out a grandiose business.
Therefore, the THOROUGHBREDS constantly balances between chaos and total control; all these beautifully written characters are beautiful and perfect only externally, the bloodthirst and horror eat them from the inside.
And, of course, it remains a mystery of how Finley managed to balance the four main characters: Amanda becomes the main heroine in the terrifying center of this story, her friend Lily revealing through her eyes most of the internal monologues, assassin Tim, and Mark, the arrogant stepfather, who believes that he should not be afraid of his stepdaughter.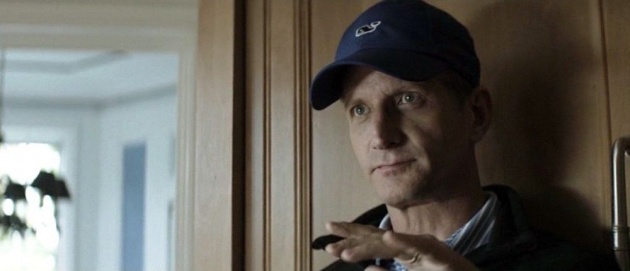 Dark comedy thriller THOROUGHBREDS - Photo credit: thisislandrod.blogspot
The Technical Side Of The Movie
THOROUGHBREDS can be disassembled into details, marveling at the elegant framing, thoughtful arrangement of details, inconspicuous changes of pace in the dialogues, focus on the lips and chain of Ani Taylor-Joy, the hardness of absolutely every pause, and absolutely every piece of montage and much more.
Filmed in modest conditions, mainly in the premises of a single house, the film does not feel modest or cheap or amateur. It does not have screaming ambitions, but a lot of talent and unexpected perfectionism.
The soundtrack is one of the best for all the movies in my life! Atonal howls, tapping and percussion from composer Eric Friedlander only reinforce the effect of perception by programming it somewhere in the depths of the subconscious.
I want to praise a camera work of Lyle Vincent, who actively shoots scenes in two directions at once - direct and from the opposite point, placing either one or another character in the center of attention, as if checking them in turn for the ability to commit the intended murder.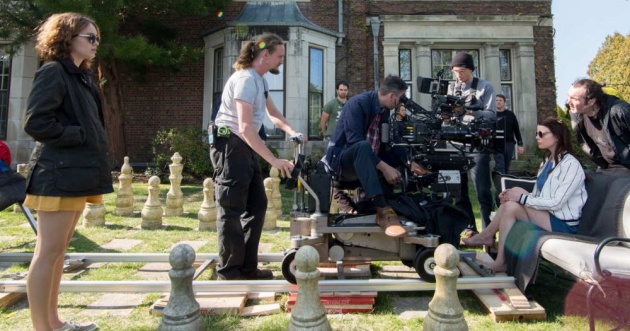 Indie movie THOROUGHBREDS review - Photo credit: vulture
The Collective Work Of The Actors
Prospective Anya Taylor-Joy and Olivia Cook just shine in their game, and the oddities of their heroines showed perfectly.
I want to mention Anton Yelchin who passed away and left his fans untimely. His clumsy character pretty battered by life does not need any overworking; he believes that to make a respectable life with expensive cars and mansions, you need to start from a small. The final episode with him gives hope that not everything is still lost for him, which unfortunately we cannot say about the real life of the actor, which was interrupted.
In supporting roles, we see Kaili Vernoff, Alyssa Fishenden, Jackson Damon, and others.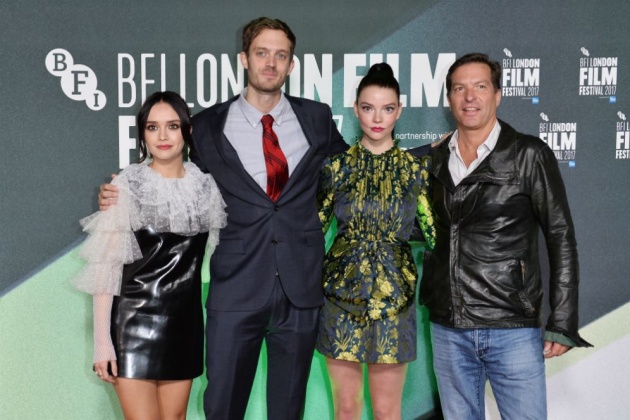 Movie Review: THOROUGHBREDS - Photo credit: theringer
On A Final Note
THOROUGHBREDS is such an entertaining mix of a slowly expanding psychological thriller and teenage drama. It's unusual and a bit scary movie. A film about real psychopaths and the lowest basement of human psychology.
THOROUGHBREDS leave to discuss whether all means are good at achieving goals, but it illustrates the indisputable idea that everything in life depends on ourselves, and fate is a matter of determination and perception.
The film allows us to talk about Corey Finley as one of the most interesting authors of the debut. He made a film about androids with body temperature and circulating blood, but heartless; Amanda and Lily already understand this world too well, despite their young age.
Check Querlo chat about movie CAPTAIN MARVEL:
Summarizing, we can say that we all with varying success try to imitate normal ones, but only some of us know how to do this as accurately as possible, and only some of us do it convincingly.
The film is definitely not for the mass audience and is not suitable for entertainment for the evening, but it will certainly find its fans.
My rating: 8.5/10
Rotten Tomatoes: 86/100
Metacritic: 75/100
Critics average: 68/100
IMDb: 6.7/10
HAVE FUN!
**********************************************************************************************
Thank you for stopping by and reading my blog
2019, All Rights Reserved.
You are very welcome to join Bitlanders and share your valuable knowledge and opinion.
***********************************************************************************************