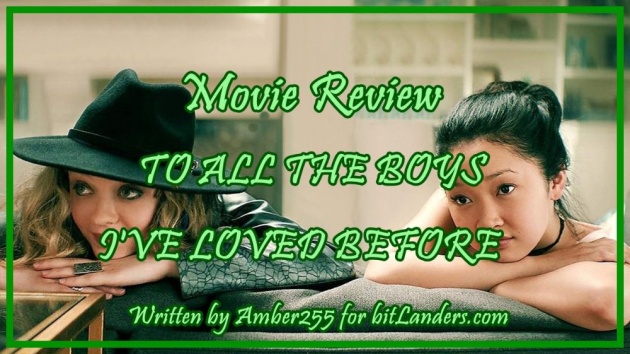 Movie review: TO ALL THE BOYS I'VE LOVED BEFORE - Photo credit: imdb, edition by Amber255 via BitLanders.com
The next film in the IMDb list of 50 best movies of 2018 is Aquaman. Read my Aquaman review as I already wrote it time ago.
I still love to watch a teenage movie from time to time. When I heard that there is created a film by a popular book's first part, one evening I watched this movie on Netflix. Yes, it's a Netflix film. And now I see its title in the above-mentioned list - TO ALL THE BOYS I'VE LOVED BEFORE.
This is the kind of smart movie for and about contemporary teenage life that has been in short supply in recent years.

Credit: efilmcritic
Susan Johnson, the director of TO ALL THE BOYS I'VE LOVED BEFORE, made an effort to adapt the first novel from the trilogy of Jenny Khan, however, in my opinion, events are transmitted just in fragments, sometimes missing important points. But that often happens with a book to film adaptations. And this does not mean that film is bad.
What would be if the five guys you had secretly fallen in love with got to know about your feelings? Besides, all five would know the same day?
TO ALL THE BOYS I'VE LOVED BEFORE trailer - Video credit: youtube
The Short Story Of The Movie
Sixteen-year-old Lara Jean (Lana Condor) is a true dreamer and romantic. Although she had been in love for several times, she never revealed her feelings to any guy. So he wrote a letter to everyone. Knowing that she will never send those letters, she boldly threw out her thoughts. Now there are even five of these letters, and they are safely hidden in the mother's gift box.
Until one day someone finds them and sends them out! Five guys at the same time learn that Lara Jean is in love with each of them.
Among these five guys, together with others, is an older sister's friend, Josh (Israel Broussard), and the most desirable guy in school, Peter (Noah Centineo).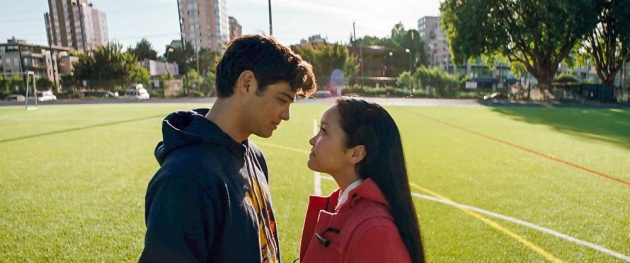 Romantic film TO ALL THE BOYS I'VE LOVED BEFORE - Photo credit: vidsteh84.wordpress
The girl does not experience such things even in the most terrible dream. The situation is unpredictable. The situation is unpredictable. Lara will have to think well about how to exit this situation, but her life will never be as it was before. But maybe it's just for good?
The Content Of The Movie
I love old romantic films about teenagers. And this film gives exactly that atmosphere of good old films: it is cheerful, without vulgar jokes, dirty parties, but with some annoying cliches. Still, it is sweet and romantic.
I must say that have read all three books before watching this film. And I got amazed at how little they showed in the film version. Seriously, it is a pity that of such beautiful and deep book only a very small amount is shown. It would be better to see a mini-series. I really hope for the second part of this story.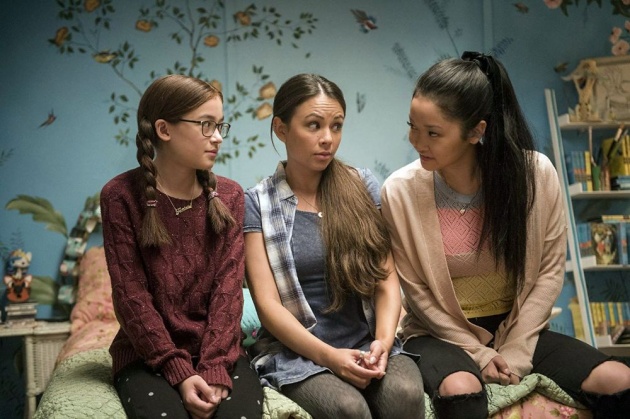 Teenage movie TO ALL THE BOYS I'VE LOVED BEFORE - Video credit: ivyjuneblog.wordpress.com
The film came out easy, quite simple. No sexual subtext, but it is still the story of first love. There were 5 letters, and as you understand, they reached certain guys. Plus, one letter is in the hands of a sister's boyfriend, thereby heating up the situation.
We can foresee all the manipulations that occur in the film, but there are unusual moments too.
I've noticed that the genre of melodrama has become too primitive. I understand, of course, that waiting for something special from a teenage love movie is stupid, but I still don't understand how all directors and screenwriters are not hesitant to use the same clichés in these films? Or maybe they do it specifically so as not to overload the viewer's brain?
Netflix film: TO ALL THE BOYS I'VE LOVED BEFORE - Photo credit: doragiglio.wordpress
The main thing is that while watching you clearly feel the parallels between the heroine and yourself, because we all in one way or another way experienced love in such age, but did we have the courage to accept our feelings or share them? That is the question.
The film does not emphasize that drama and the inner world of the characters, as the book does. I think those who read will understand me. At least, for me, when comparing a film, it does not reach the height of the original book. In any case, with a neutral preview, we have a nice movie for a one-time preview.
The Characters Of The Movie
Duration of the film rather big - 99 minutes, and during this time, we get familiar with various characters. The central heroes are perfectly spelled out, and you can try to understand their characters. Even if they are standard but interesting and all different.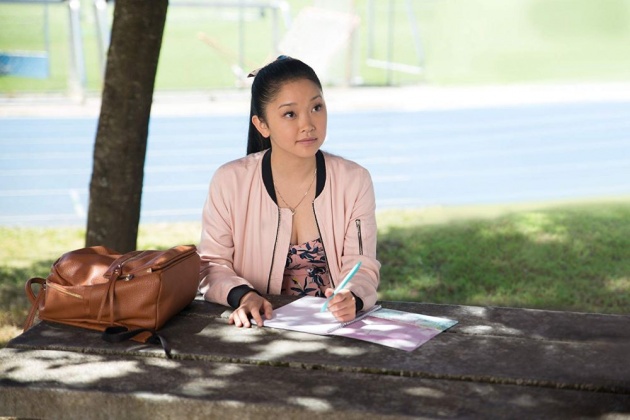 50 best movies of 2018: TO ALL THE BOYS I'VE LOVED BEFORE - Photo credit: imdb
Lara Jean is the personification of an unusual girl for the 21st century, who still writes letters and does not spend time on Instagram. Yes, she really writes love letters for guys who will never see them. In my opinion, she does it to let out thoughts and dreams that will never become a reality. She dreams of guys for whom she even does not exist.
And the most important thing is that the main character, despite the role of a good girl, is able to adequately stand up for herself, without screaming, cursing, fighting, and other supposedly spectacular scenes, and calmly explain why she prefers this or that behavior. And even the school's main handsome one is no exception.
In fact, she shows all teenage girls how to be themselves and live according to their principles, without losing their sense of self-esteem.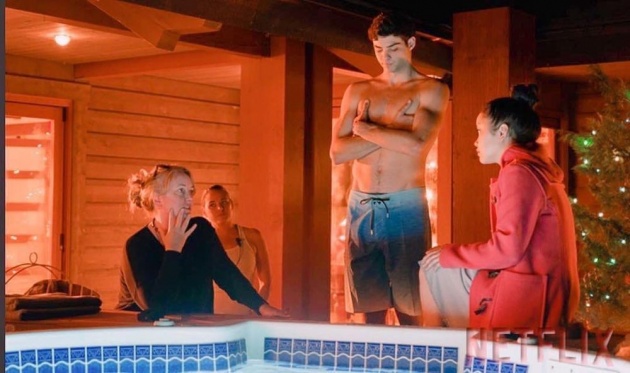 Book to film adaptation: TO ALL THE BOYS I'VE LOVED BEFORE - Photo credit: movie-bar
Peter, like his hero in the book, he expresses self-confidence and strength, inspires people, infects with optimism. But in his heart, he still has an open wound about which he does not tell anyone. He can open up to only to Lara Jean, and this helps them to get closer to some extent. It is easy to believe his personage and empathize.
Noah Centineo perfectly conveyed the image of a narcissistic athlete, who, by the way, also knows how to love, and in matters of the heart can be assertive, without losing respect for the girl.
Lara Jean : So, love and dating? I love to read about it, and it's fun to write about and to think about in my head, but when it's real...

Peter : What, it's scary?

Lara Jean : Yeah.

Peter : Why? Why is that scary?

Lara Jean : 'Cause the more people you let into your life, the more that can just walk right out.

Credit: imdb
Josh - this pain in his eyes, his confusion, exhausted look. He lost two dear persons in his short life, and this loss affected him badly, but he tries to build relations with Lara Jean. The family of girls loves him as he is a kind friend and a great guy.
Peter is a popular guy, a school star, cool guy with a beautiful smile, and he is the dream of all girls. She is a modest girl, she doesn't stand out between others, she keeps friendship with a strange friend, but she has a wonderful inner world, and her mother died of cancer! yes, too many cliches here.
TO ALL THE BOYS I'VE LOVED BEFORE review - Photo credit: youtube
So, he meets with the coolest girl in school, but eventually, he switches to such a quiet girl and falls in love with her. You foresee every event in the movie in advance. It's like a cocktail of all the youth melodramas released earlier.
According to the plot, the girls of the Covey family are half Korean. Is it was impossible to find the corresponding actresses since they do not give such a feeling at all. Vietnamese - yes (Lara Jean), Chinese women - yes (Margot), but not Korean women.
By the way, some interesting points. As Jenny Khan, herself said in one of the interviews: a lot of studios interested in the book to film adaptation, but always put forward a condition: to change the nationality of Lara Jean to white. Jenny Khan decided to keep the Asian appearance of Lara Jean. Only one film company agreed with her choice - Netflix bought the rights to the film.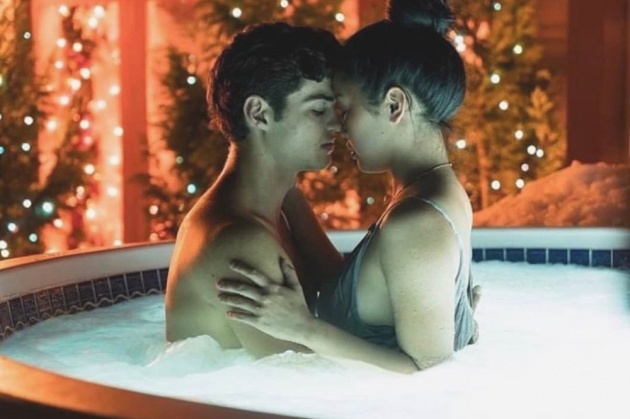 Teenage movie - Photo credit: twitter
The Technical Side Of The Movie
From the technical side, most of all I want to mention a good soundtrack that raises the rank of a film in my eyes. The music was very unobtrusive, just in the background. Easy pop songs, nothing depressing or disturbing. A couple of tracks with pleasure flew into my playlist.
Also, this film is very beautiful visually. It has beautiful decorations. Watching a movie is nice from start to finish!
With sound and film montage everything is OK. Just do not expect anything sophisticated in the melodrama genre. Do not expect any dynamics and funny moments here. Well, those who prefer melodramas may be able to appreciate the film.
TO ALL THE BOYS I'VE LOVED BEFORE Sequel Announcement - Video credit: youtube
The Collective Work Of Actors
Lana Condor's play is commendable. A good generation of actors is growing! Their authenticity and playing up emotions makes me feel like a schoolgirl again. Recall my problems with unrequited love and a depression time after it.
Noah Centineo who embodied Peter played beautifully. It is worth watching a movie just for the sake of his game, how alive his character is. He really adorned this spectacle. He did not build from himself an unreal handsome guy and was quite natural in the frame. It is a pity that most likely he will stay in the world of average"movies and TV shows.
Israel Broussard in the role of Josh also did a great job.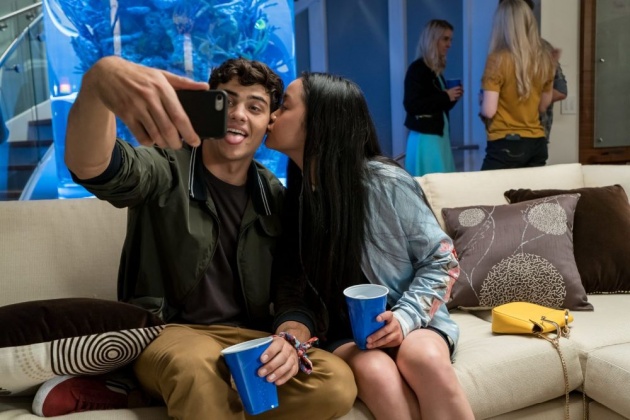 Netflix film - Photo credit: twitter.com
The choice of actresses in the roles of sisters seemed to me not entirely successful. And if Anna Cathcart in the role of the youngest Kitty was simply superb, well conveying the character and inner world of her heroine. That with the other two sisters is a bit more complicated.
Janel Parrish in the role of Margot looked older than her heroine, while the heroine of Lana Condor looked quite like a girl. I could not even believe that there were only two years of difference between them.
On A Final Note
This is a romantic film about teenagers, about first love. Sometimes I had a smile on my face because what was happening was pleasing me. I would never get back at such an age as 16 years, but the film left a pleasant aftertaste from such a delicate picture. If you like a teenager movie, go ahead and watch it.
The film is kind, bright, sweet, and the main thing is that TO ALL THE BOYS I'VE LOVED BEFORE is not at all vulgar (which is a very big rarity today). Here we have the talks about family values and personal losses, and new acquaintances, and the fear of a broken heart.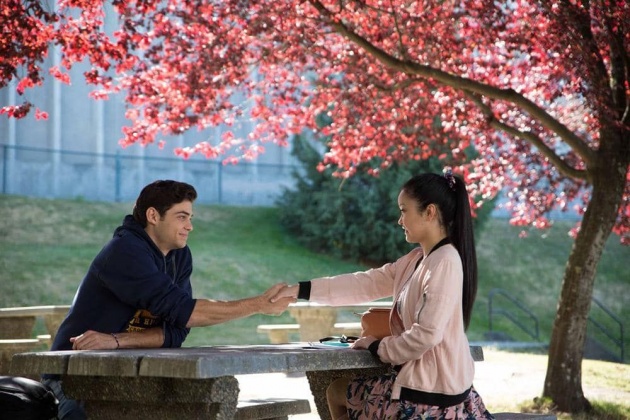 Movie review: TO ALL THE BOYS I'VE LOVED BEFORE - Photo credit: netflixlife.com
This romantic film is a great movie to watch alone or with a friend enjoying such love as it happens only when you are sixteen years.
With all its flaws, TO ALL THE BOYS I'VE LOVED BEFORE still is a great movie to watch alone or with your friend, to enjoy such love as it happens only in sixteen years. The film will be interesting not only for teenagers but also for older audiences. Watching it, someone will remember themselves, and someone may understand the behavior of their children.
The film is precisely what it should be: pleasing and clever, comforting and fun and romantic.

Credit: choice.npr.org
In short, make a tea, take a chocolate bar, sit down comfortably, and enjoy watching.
Don't forget to check QUERLO CHAT about another movie I offer you to watch:
My rating: 7.5/10
Rotten Tomatoes: 97/100
Metacritic: 69/100
Critics average: 8.7/100
IMDb: 7.0/10
HAVE FUN!
**********************************************************************************************
Thank you for stopping by and reading my blog
2019, All Rights Reserved.
You are very welcome to join Bitlanders and share your valuable knowledge and opinion.
***********************************************************************************************