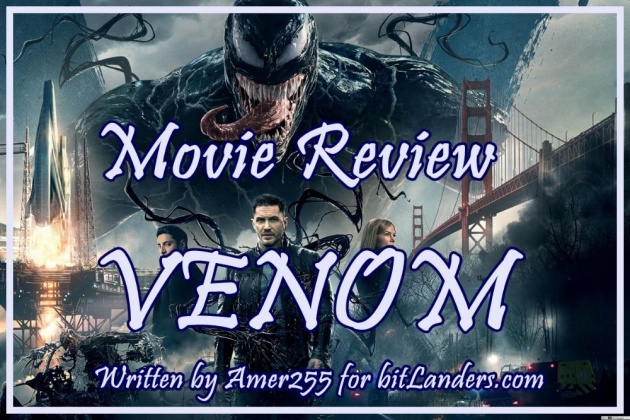 Movie review: VENOM - Photo credit: besthdwallpaper, edition by Amber255 via bitLanders
Seeing that next film in the IMDb list of 50 best movies of 2018 is VENOM, I already wanted to switch to the next one. I really thought that already wrote a review about this sci-fi action thriller, but it looks like I did not. I know that in my movie reviews I many times mentioned this film, but yes, I neglected to add a review about this movie itself. Funny. So, I am correcting my mistake.
Marvel's universe now is filled with another antihero: Venom came to the cinemas last year. Marvel's comic hero Eddie Brock, Venom, was first introduced to the film audience in 2007, in the film Spider-Man 3. In comics, Venom is one of the main opponents of Spider-Man, a hybrid of human and alien. Now, this charismatic and psychologically complicated Marvel anti-hero has received his own movie.
It's such a bizarre mixture of tones that Venom feels like the perfect successor to The Amazing Spider-Man films, almost to the point where you begin to wonder whether or not this was originally intended to be a spinoff to those films.

Credit: starburstmagazine
Personally, I was very much looking forward to the screening of history about the genesis of one of the largest Spider-Man's opponents Venom. Maybe because of all of Marvel's colorful personages, Venom is probably one of the most interesting characters. Maybe because of the darker and more brutal history that contrasts with the wave of children's films. I don't know, but I still waited. It became even more fun to find out that VENOM was directed Ruben Fleischer, famous for his brutal but funny debut Zombieland.
Together with a large team of screenwriters, the director invites you to see film project not only based on solo comics about Eddie Brock alter ego, but also to see the best Venom on the screen, which is more quality than the misunderstanding that happened in 2007.
VENOM, Official Trailer - Video credit: youtube.com
Short Story Of The Movie
Journalist Eddie Brock (Tom Hardy) is insistent, persevering, and has a special sense for sensations. One evening, when Anne (Michelle Williams) narrated of the strange and mysterious laboratory tests of the genius scientist Carlton Drake (Riz Ahmed), Eddie decided to look at them in more detail.
But unsuccessfully: his interview with a scientist ends, as soon as the journalist mentions it. Disappointed, Eddie gets unexpected help coming from an ordinary member of Drake's team, and he secretly enters the laboratory. And there one of the greatest mysteries in the history of humanity is waiting for Eddie: attempts to cross the DNA of an extraterrestrial origin with the human genome. The aim of Carlton's experiments is a new, improved kind of humanity.
The unauthorized stay of Eddie at the lab ends with a great deal of failure: one aggressive hybrid of the new race is able to attack a journalist. Going crazy out of horror, Eddie still managed to escape, but his poison penetrates into his body.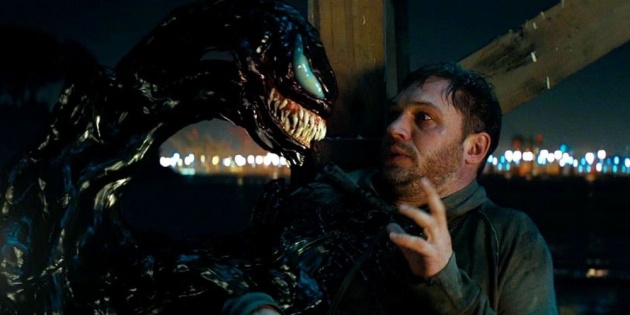 Best movies of 2018: VENOM - Photo credit: imdb.com
The same evening he felt bad at home, and soon Eddie felt that he was not alone. At first, it is just a strange new voice in mind. Later, it is horrifying changes in the body. And later, when the killers sent by scientist arrives at his apartment, it turns out that the scientist's experiment worked perfectly exactly in the body of Edward: he turns into a supernatural human-alien hybrid Venom.
A creature whose two personality sides - the bloodthirsty of an alien and the morality of the human being - makes him unstoppable, the horror of all criminals.
Content Of The Movie
As soon as I learned about Sony's cinema project for one of the most popular Marvel comics heroes Venom, I was very happy. However, it is one of those characters who reminded me of the fun time watching animated Spider-Man series.
Check Querlo chat for another movie I offer you to watch:
Of course, it was strange to know that this film will have nothing to do with the Marvel universe and Peter Parker, embodied by Tom Holland. And it is strange that the symbiote who turns Eddie Brock into Venom is closely related to the Spider-Man. It is Spider's DNA that makes it take certain qualities from him, and at the same time, change the shape of the parasite into a very related superhero.
Although, on the other hand, we have already seen Venom in 2007, created by canon. But his presence in the third part of the Spider-Man directed by Sam Raimi was simply regrettable. So waiting for this new film, which is just for Venom's character, was worrying and curious about what the creators will show us, for what we will be able to love this comic's personage as twenty years ago.
The main source of Venom's history has been comics about him since 1993. In them, this giant monster became a kind of warrior and defender of the city, who dealt with things in a brutal way. There was a lot of black humor, and that was really good. Sometimes you want to take some breath away from excessive violence.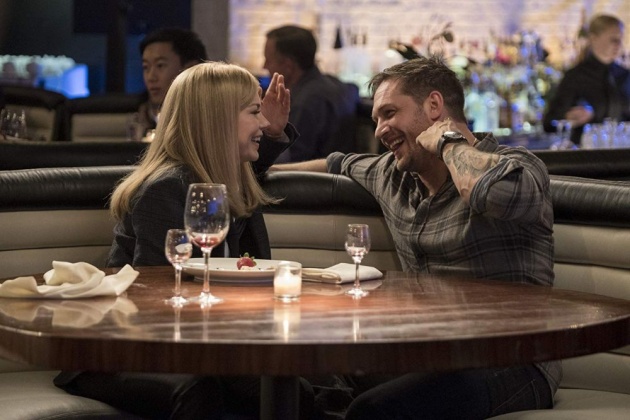 SCI-Fi Action Thriller VENOM - Photo credit: twitter.com
Such an attitude to this character raised only the most positive emotions because it was interesting to watch his adventures and change of behavior in the face of difficulties. This was also promised by director Ruben Fleischer, who, from the time of the announcement of this project, said that the viewers would have a bloody and very picturesque approach to Venom.
Finally, two weeks before the premiere, there was announced that film gets age censorship of 13 years and the fact that even 40 minutes were removed from the final version of the film, which, according to Thom Hardy, were the best.
Of course, this statement did not promise any good, so the huge expectations for this band were down and just had to wait for the premiere to make sure that Sony without Marvel's help was still able to create something good and surprise both comic book fans and regular viewers.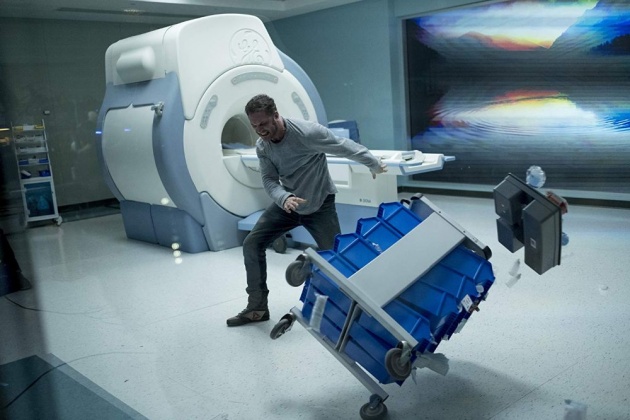 Sony film VENOM - Photo credit: twitter.com
And, in fact, after returning to the movie, I felt indignation and joy at what I saw. This tape is the most real meat grinder, which is only advisable for those who want to get a simple two-hour entertainment without any normal storyline and more interesting story. But about everything from the beginning.
The film's tone is not as gloomy as it may seem from the trailer. It's an easy-to-chew movie that tries to be funny, but it doesn't work for many reasons. One of them is the use of laughs in bad situations and the use of very cliché phrases to at least somewhat cheering the audience in the cinema. But it doesn't work. And you know why?
Because the film got low age censorship, and the creators could not make full use of violent comics material. It is a pity, really a pity, we could have a similar image to Deadpool's films, where both violence and black humor are loose and inseparable.
If you think that you will see in the film how Venom eats people or at least defeat their bodies in macabre ways, then you will be very disappointed. I knew there won't see much violence in the film because of the censorship of the children, but I really did not expect that everything would be so sterile here that no blood drop could be seen on the screen.
It is obvious that creators did not care what the film will be like; it was important to make it available to the widest possible audience so that during the first weekend in the US and around the world the film could make enough money.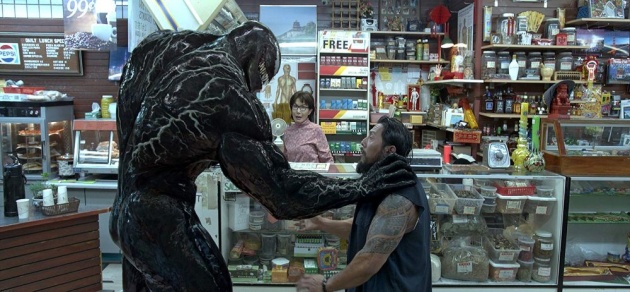 SCI-Fi Action Thriller VENOM - Photo credit: imdb.com
In addition to fighting internal demons, filmmakers are still trying to explore some other topics in the film, such as friendship or love. But it gets lost somewhere in the chaos that comes out of the screen for almost two hours of display.
There is quite a lot of action in the film, so the review should not look prolonged. Here we have not only clashes between Venom and his enemies, but also the scenes of firing and good catching. Is the action alone able to compensate for the disappointment seen? However, today you will not be surprised by the action, and it is really possible to have a good story and interesting storyline's turns. Whether it's a serious drama or a comic-based movie project.
The Characters Of The Movie
One of the few pluses in this film is the main character Eddie Brock, his influence by the symbiote, and later transformation into Venom. He is acting first as a villain, but lately having acquired the features rather of an anti-hero.
Superhero movies are almost always a great success. It is understandable: everyone, I believe, secretly dreams of having at least a small fraction of those superpowers that would allow them to break free from the clutches of the ordinary, become a star! But does everyone like to be super-correct and super-kind, positive character? Frankly, the bad guys cause no less interest and admiration for most of us. Venom - which literally means poison, is one of those charming characters - anti-heroes.
The plot is built on the ups and downs of Eddie Brock and his new friend. When a hero becomes infected with a symbiote, he is no longer alone with his problems. Venom helps him cope with difficulties, gives strength and confidence. But he uses the carrier for personal gain. Their relationship is not easy: the principled Brock and the evil symbiote do not immediately find a common language.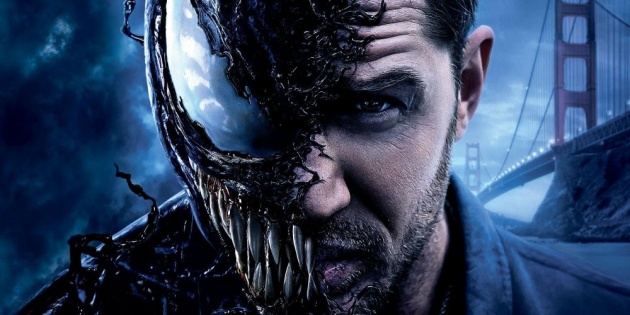 Comic film VENOM - Photo credit: twitter.com
This symbiote cannot exist separately in the conditions of the atmosphere of our planet, for this reason, it parasitizes on the body of its victim by eating it from the inside, after which it moves to the new. But finding a strong carrier this creature comes into symbiosis with him, they become one.
One of the side qualities of such a union is the manifestation of the worst sides in the carrier person, and according to that, an initially positive hero is needed for balance, which probably was the protagonist of the VENOM - Eddie Brock, which greatly differs from the former Eddie, shown in Spider-Man, which was envious and vindictive. In general, anti-heroes rarely get solo pictures, since the good must always win, but Venom is a very interesting character from the comics.
Influential scientist and businessman Carlton Drake turned out to be an interesting antagonist. This is a young genius manipulator with the syndrome of God. Deadly experiments on the homeless Drake justifies concern for the fate of mankind. And his real attitude towards people sometimes slips into pathos monologues.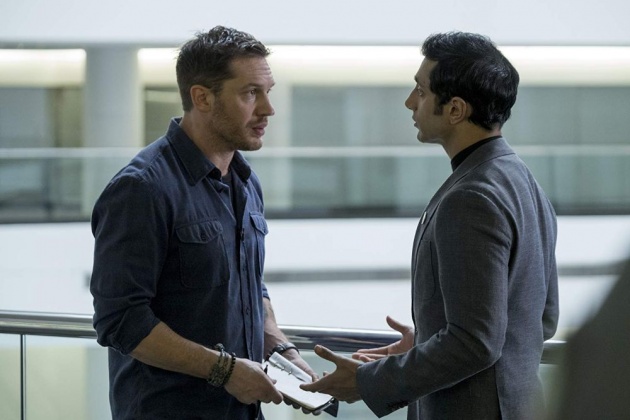 Comic film VENOM - Photo credit: imdb.com
Anne Weying, a lawyer and a reporter's friend, works for Drake. Romantic relationships with Brock are not good, but they are not so important in the film. Anne helps Eddie with the symbiote and moves the plot. But the heroine is not particularly memorable, like all the other minor characters.
In the last minutes of the film, the conflict of symbiote and Eddie is finally resolved. Now the heroes are one team, Venom. Now they cheer each other with jokes. Is it good or not - it's up to the viewers.
Venom : You come in here again... In fact, you go anywhere in this city, preying on innocent people, and we will find you and we will eat both of your arms and then both of your legs. And then we will eat your face right off your head. Do you understand?

Credit: imdb
The Technical Side Of The Movie
Most often in fantasy movies, the creators try to compensate a poor storyline by powerful special effects that make movies of this kind more pleasant to watch in cinemas. But not this time. Taking into account certain scenes of the film, it became clear that the film was hastened to release. I really do not understand how with a huge budget in 2018, it is possible to create an average and hitting eyes animates effects, which are equal to the first X-Men that appeared in 2000.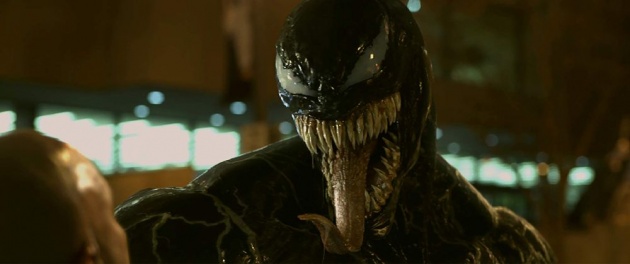 SCI-Fi Action Thriller VENOM - Photo credit: imdb.com
The soundtrack in the film is great. Both the musical compositions give a sense of epics, and the main song of the film, Venom, performed by Eminem, deserves attention.
The operator worked well. It was not such a camera work that caused euphoria from the seen images, but not so bad that it would not be possible to look at the main hero's adventures when confronted with powerful opponents. What was missing was the openness of the scenes on which Venom was raging. Maybe we'll see those deleted scenes of the film in other versions, and we'll be able to fully evaluate the work of the operator. Because it was clear that some scenes suffered a serious cut due to the softer censorship.
Video montage cripples. And here it can be said that this film lacks the 40 minutes that might be able to turn it into a pretty good movie. Some scenes have nothing in common, or they are so irresponsibly arranged that it is difficult to grasp the meaning they carry.
Sound editing, like for a blockbuster, is powerful. In the cinema hall, one of the delights is to observe powerfully sounding scenes that are able to squeeze some tension from time to time.
VENOM - Eminem (Music Video) - Photo credit: youtube.com
The Collective Work Of The Actors
In recent years, the public's beloved Tom Hardy has enjoyed great dramatic roles, resulting in the nomination of the US Academy of Arts and Sciences in the Best Secondary Actor category for the film The Revenant. In this film, he also radiates his charisma and good-performing features.
Of course, it is no secret that he is a good actor, so all the scenes with him, where he has to keep up with the symbiote, seem to be fun. If not Tom, the film would look even worse. I can add that the actor has succeeded in creating such Eddie Brock as we saw in animated films or serials and comic pages. Therefore, it is nice that at least he did the homework correctly, not as the scriptwriters and the director of the film.
A number of great actors appeared in the supporting roles, but they didn't feel comfortable here either. Michelle Williams, Jenny Slate, Riz Ahmed failed to convince by their characters. They were just here because they had to do some actions that allowed Venom to be created. But none of them was exceptional and special.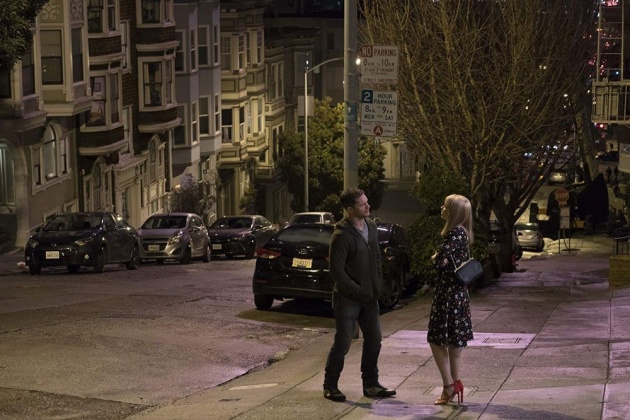 Superhero movie VENOM - Photo credit: twitter.com
Yes, another actor appeared in the film for a few minutes, whose charisma equates to Tom Hardy himself, but I don't want to reveal his name and surname. He should simply become the principal antagonist of the next film if any will be created.
On A Final Note
Superhero movies do not stand in one place. Every year, studios and directors try to jump even higher by offering viewers a new experience. Alas, VENOM stucks somewhere in the past decade.
All in all, I just want to say one thing: this project is a clear return to the 2000s when the poor superhero movies dominated the cinema screens. And while VENOM stands higher, it nevertheless becomes one of the biggest recent disappointments in the comic cinematography. Apparently, because Marvel has set up an overly high level that only bold experiments like Deadpool or Logan can overcome. Who said comics can't be brutal and fun at the same time? Can, really can. And VENOM could become such too if not the fear of studio Sony bosses for the financial aspects of this film.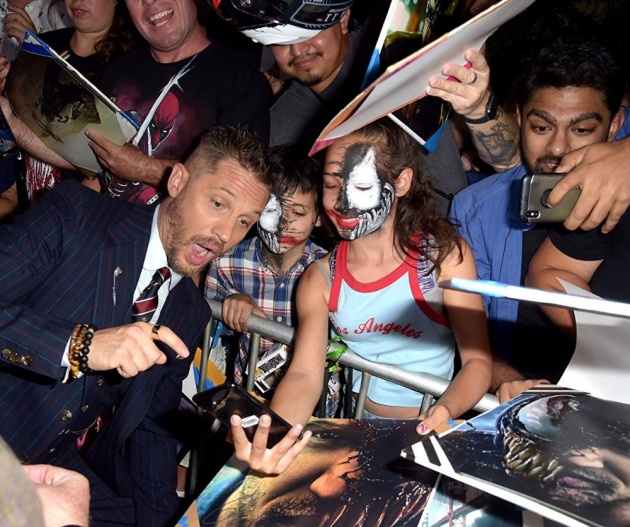 Movie review: VENOM - Photo credit: imdb
VENOM has two scenes under titers, so I urge you to stay and wait for them as all decent fans of comic films do. The first scene, which becomes one of the best moments of this film, should be particularly appealing. About the second scene, I will only say that there is not much to expect from it. It is not related to Venom or the Spider-Man belonging to the Marvel Universe.
As a result, the viewer gets a messy horror movie with black humor and childish censorship. It's a strange combination that does not work as needed.
If you are in doubt about going or not going to see "Venom", please just go, I guanrantee that you will not regret it. The movie may not be amazing or fantastic, but it certainly is fun, and it has its strong points, like Eddie Brock and Venom`s relationship.

Credit: metacritic.com
My rating: 6.0/10
Rotten Tomatoes: 29/100
Metacritic: 35/100
Critics average: 8.1/100
IMDb: 6.8/10
HAVE FUN!
**********************************************************************************************
Thank you for stopping by and reading my blog
2019, All Rights Reserved.
You are very welcome to join Bitlanders and share your valuable knowledge and opinion.
***********************************************************************************************