Do you pass by and buy anything when you see bazaars? I've been in several and I think it's both fun and boring to sell in some on several occasion. Haha.
♠ Etymology ♠
According to Wikipedia, the word bazaar is of Persian origin. It basically means it's a marketplace, it can also be in an enclosed space or along the streets.
But what does one do in such a place?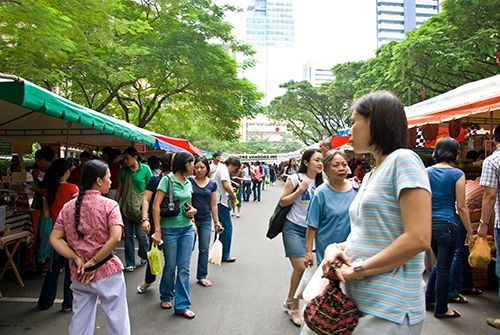 Well for most people it's a place to buy items being sold and cannot be found in malls. Yes, most of the time people who join local bazaars aren't established as an official business yet. Like me, I just wanted to see and test the market first to know if I should start a business for real or just stay as a freelancer for the meantime.
♦ What I Do Whenever I Join as a Seller ♦
Back in 2007-2008, when us siblings stayed in one house, my "sis-in-law" held bazaars in Cubao. I could join in too, provided I help them out.
We'd sell all kinds of things, from new trinkets to preloved books/comics to used clothes, shoes etc depending on the market theme. I even sold old cameras back then, the kind that you had to put films in and you roll something with each shot, those kinds. Them old school cameras which are now so definitely obsolete.
When I left the rental house some years ago, I stopped doing or joining bazaars. What would I be selling anyway right? It's not like I had a lot to sell. Didn't want to pay to join too so I haven't been in any marketplace setting as a seller for more or less a decade.
♦ My First Bazaar as an Artist ♦
2016 was the year I went back to being an artist. The last quarter of the year, I finally considered joining bazaars for experience, and perhaps added exposure as well.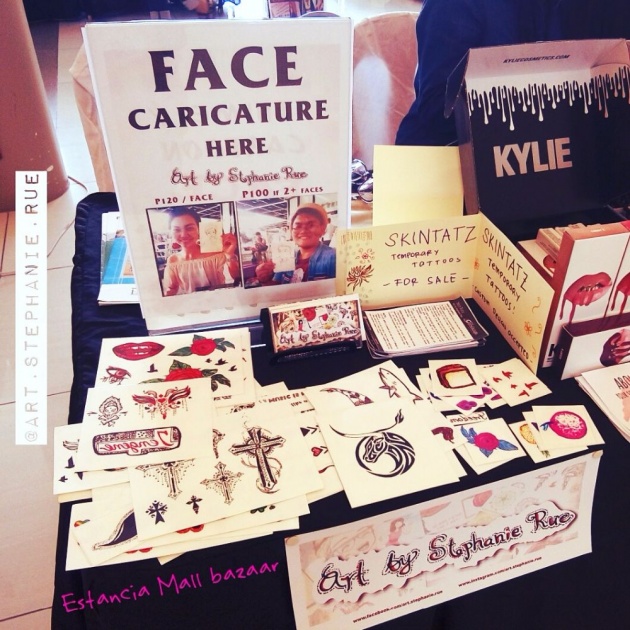 In 2015 I was actually beginning to move back to my art roots. And then I met someone and got more inspired to do art that it almost made me crazy. Ah love, such a fleeting love affair. Kidding. Haha.
So anyway, the first time I joined a bazaar as an artist, I still feel like it was a failure. This was in October of the past year. It wasn't really as fun as I expected, perhaps because I was not having fun just waiting for people to come along.
As you can see in the video above, Estancia Mall in Capitol Commons, Pasig City is not that much crowded and the people were not into my SkinTatz temporary tattoos that much so I felt I was perhaps out of place. It was like I was testing the waters to see what happens. And so I found out I must have been at the wrong place at the wrong time.
One good thing about it was I was able to see several cute dogs being walked around the area. This is a video of one of 'em.
♦ 2nd Bazaar Was Another Learning Experience ♦
After the Estancia Mall bazaar I found an artsy bazaar to join next. Actually the organizer emailed me (I think), and since the fee is quite affordable, I joined it.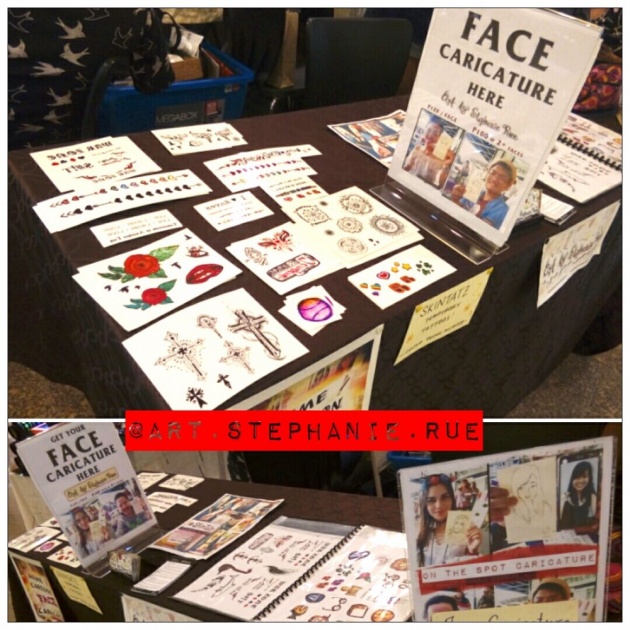 Unfortunately the event was not really advertised by the mall and the area was too far off or not easily accessible to people. Only very few people would even notice it given the area and lack of announcement / banner to inform mall goers about it.
Good thing the organizer cut the price in half. It was supposedly a two day event but I only joined the next day and it was still a flop.
Although they kinda did refunds, it was still a big disappointment results-wise but a good thing in another way: I was able to meet and converse with other bazaaristas, a local term for sellers who join bazaars, on the 2nd day. Plus I learned the basics of calligraphy! Wow!!!
This pic below was something my "mentor" initially wrote down, and I copied and made my own version of it. Oh yeah!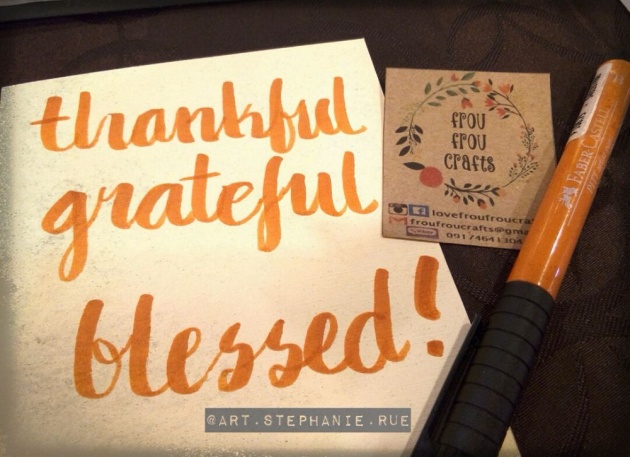 My calligraphic skills are not that great yet but at least I finally know how to do it!
Aside from this new "discovery", I learned about another bazaar which, as it turns out, is much suited and is the best venue for what I sell.
Clearly we must not let present disappointments hinder our future success. It's better to take the bad or seemingly unfortunate incident as a learning experience and appreciate the good things you find however small it may seem. In that way, any effort you did will not be a complete waste.
♥ The Best and The Last Bazaar of 2016 ♥
Thanks to a fellow bazaarista, I finally found the best bazaar to join! And it's a lot nearer to me than any of the other two I joined! Hurray!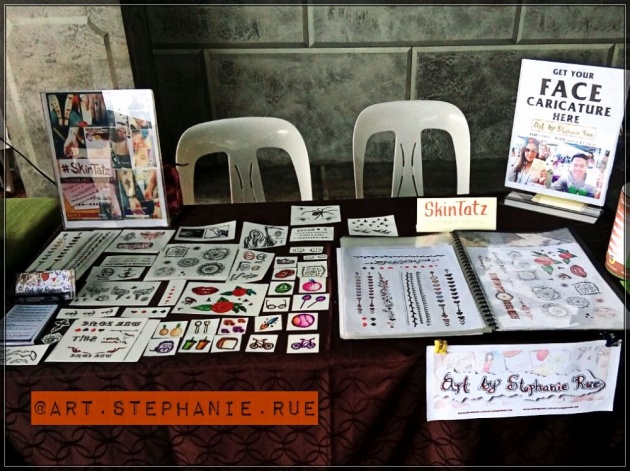 Pictured above was my booth setup in the November Art Market in Art in Island, Cubao. They provided the tables and chairs, all I had to bring was myself, the cloth and my items for sale. Oh yeah!
Not that the chairs and tables weren't provided in the previous bazaars, I just wanted to point it out is all. :D
I prefer joining bazaars that are held on weekends and also have the above-mentioned items provided by the event organizer. Access to electricity is also a plus so I can charge my phone. It can get really boring when there's no one dropping by at your booth so having my smartphone with me is a good thing. :D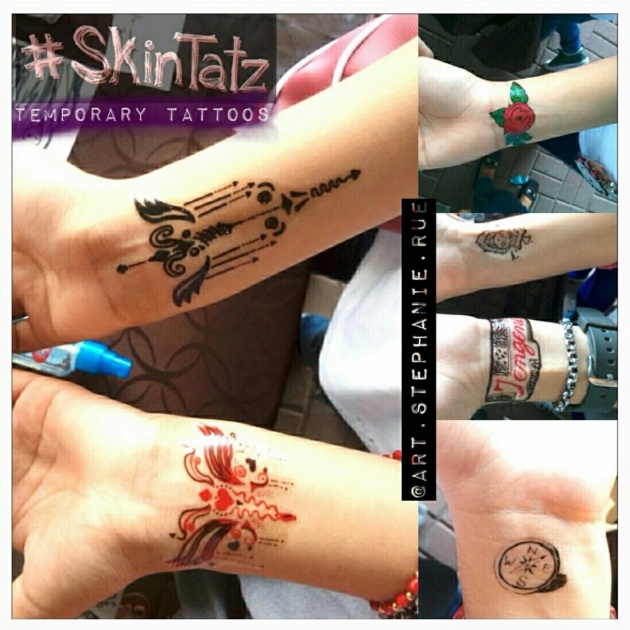 Of course it was not without hassles to setup shop outside. There were days when strong winds kept blowing away my SkinTatz. Damn that was stressful I tell ya. A few of us experience the flying items out of nowhere due to sudden gusts of strong wind. Some of us had to put rocks and lots of scotch tapes on our items to keep any from flying.
At least the following day we were prepared for the windy challenge. It never bothered me again. Haha. I brought plastic cover to put over my items. Voila! Like magic, no more items being flown away. Hahaha.
At each Art Market weekend I joined, I was able to sell more than I did the first two bazaars I went to. Whew. On top of that, it's almost, practically free! Although they do get free advertisement too from all of us sellers who sell our wares there. Haha. We do our own promotions for people to drop by at the art bazaar.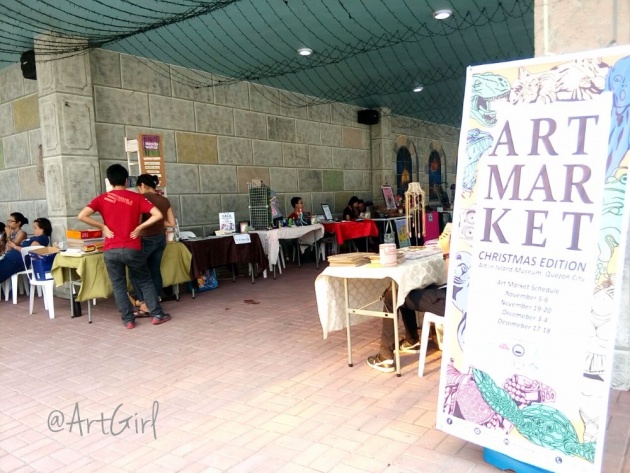 I was there almost every weekend of November to December 2016. Suffice it to say, I'm happy enough with the turnaround that I will be joining again this coming Mar 18 & 19! Oh yeah!
If you happen to drop by Cubao on those dates, come by and say hi! :)
♠ What I Learned So Far ♠
People will buy what you sell even if you don't call them over. If they like the product and are interested enough, they will come near and look at the items then ask questions about it. Eventually they will decide to buy if they find value in it.
This is in direct opposition to what I do in real estate though. I still am learning the ropes in that other career path but I'm getting there. Pretty soon I will be selling condominium units like hotcakes. Mark my words. Hahaha~