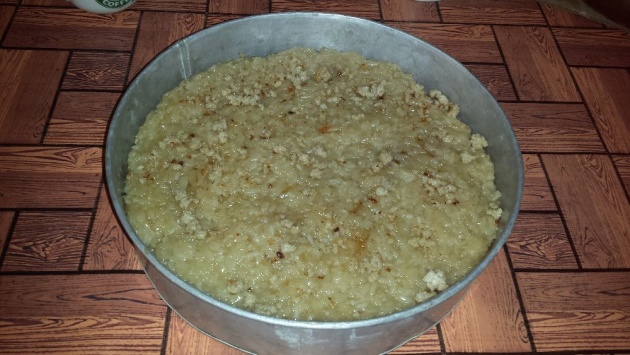 Biko is one of my favorite Filipino Delicacy and I just wanna share the simple recipe of it to those who want but didn't know how to make. Ingredients are few, and not so expensive plus the preparation was also easy aside of preparing the coconut cream & milk manually , you probably need 3-4 coconuts and the grater plus the white clothe strainer and squeezer but it can be bought on the market ready and fresh and all you need to have and prepare are the following;
* Ingredients for BIKO
1 Kilo Glutinous Rice (Malagkit na Bigas)
4-5 cups Coconut Milk
1/2 Kilo Muscovado or Brown Sugar
3 pcs. Pandan leaves
* Ingredients for LATIK
500 ml or 4 cups Coconut Cream
PROCEDURE FOR THE LATIK
Do the Latik first just put the coconut cream on a deep frying pan let it steam or boil then stir continuously to avoid burning of the forming solids which is the latik, do it until almost oil and solids separates and until it was slightly brown. Strain the oil or separate the oil in the latik solids and set aside it will be use for topping later
PROCEDURE FOR THE BIKO
1. In your regular rice cooker or any cooking pot put the washed & cleaned sticky/glutinous rice and the coconut milk just like doing the regular rice cooking ,add the pandan leaves, just make tancha lang with the coconut milk so it would not be over or becomes malata. Let it simmer.
2. While simmering/boiling add the muscovado or the brown sugar gradually with continuous stirring until all blends together and turns brown. Let it cook for a few minutes, but make sure it would not be sunog!
3. In a huge frying pan or Sangagan, put 1-2 tbsp. coconut oil from the latik and pour or transfer the sinaing na biko and just like doing the fried rice mix everything on it for few minutes, then let it cool before transferring on the bilao or in a molding dish. It's up to you if you're "masipag" to do it but if you're lazy after pagsasaing of the malagkit it can be okay na din, but it is more delicious and makunat to eat when it done by that process daw according to my Nanay. Don't forget to remove the pandan leaves,. Top it with the latik after setting it on the mold.
You can also replace the pandan with langka flavor or with the purple yum food color and flavor.
Then enjoy eating!
Picture was from my own Biko with latik which I made this Christmas