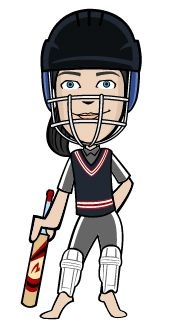 Surprise surprise surprise!
Last night was full of surprises, from the blog reviews I had received, to the big buzz score, to the comment given by Mr. Bitlanders, it was just overwhelming and then the cricket costume too! Awesome night indeed! I had been waiting for this costume to be released so I can change my get up and I was also looking forward for any additional buzzes they will be giving. Yes, I am actually after to that though.
But unfortunately, expect the unexpected indeed because the costume didn't come with any additional buzz! It costs 5 gems per piece, cricket helmet which has two color options, there's also the cricket bat, cricket trousers in blue as well as the cricket blouse in blue as well. But no buzz points will be added. It made me sad honestly and it made me think twice if I will be purchasing it. I do still have some gems left in my account though.
Well after thinking twice, I still purchased it. I thought that if bitlanders didn't give us additional points for this, I am sure there's another way that they are giving us what we had invested. Of course we had purchased the gems and it is just legit that we should get something in return for giving out those gems. It cost me 20 gems which should have been two blog reviews which will give me a minimum per say three buzz points that will definitely help my score in the next five days.
Anyways, I am now ready to get the cricket game started, who's planning to be in my team? Haha. Well let's see what Bitlanders is planning about it and let's wait for a big surprise!