It really was a tough task reading books worth 200+ pages in a week and preparing a detailed 30 minutes presentation covering major chapters, various stories but most importantly pitching them to the audience during presentations, that was our routine at student lecture theaters in college for a whole semester, I really miss those days and wish they come again, they remind me of my weaknesses and how much i needed to work on reading skills, to sum it up i learned so much.
Today i don't even remember some books and their authors, on the other side, i won't forget some books and their authors either, those books really helped me learn amazing things about people, their habits, way of expressions and storytelling. We were given books about different authors, some were related to our course and sometimes we had the liberty to select books of our own choice, that was the time when i selected the particular book "All marketers are liars" or if i may recall, the book selected me.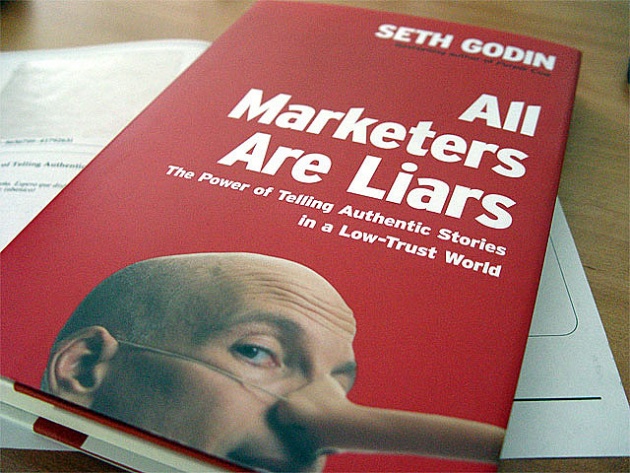 Written by "Seth Godin", who is an American author, entrepreneur, marketer, and public speaker. Seth being a big fan of "Steve Jobs", during his public speaking sessions always dresses up like him. No wonder Steve Jobs was a great inspiration and a role model for many marketers and entrepreneurs. Coming to the book, i wonder what attracted me to select this one out of many books on the table as a choice for me, maybe the color of it, maybe the cover, i still don't know but I am glad i picked this one up.
This book talks about the marketers being liars and goes back to the early humans, who started story-telling regardless of them being true or false but the story-tellers found their audience who would listen to each word carefully and believe them, the author Seth Godin has connected those story-tellers as marketers in the new world who create lies and share them with their target audience through different means and channels of communication like word of mouth, TV, social media etc but later, the author shares the reality behind these marketers, its really simple, they are not actually liars but great story-tellers, those marketers are very creative and use innovation to create and bring special stories to their target customers based on their needs and wants, i have hundreds of examples to share but I leave them to everyone because I am a believer and I love great ads.
This book is easily available on internet (.pdf version)
Please follow me @iZuhran