"Poetry is the rhythmical creation of beauty in words" (Edger Allan)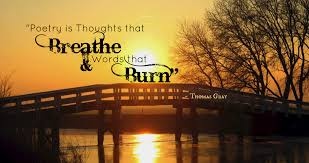 I have great love for poetry and I have read all the prominent Urdu poets. But Iqbal is my favourite poet because he is quiet different from all other poets. He reminds 'man' of his position in the universe. His poetry is optimistic and purposeful. Besides, he is a great thinker and dreamer of Pakistan.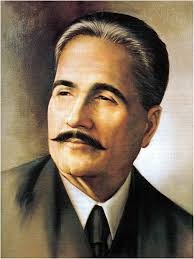 Allama Iqbal was born at Sialkot on November 9, 1877. He received his early education at Sialkot. He passed his Intermediate Examination from Murray College, Sialkot and received a thorough grounding in Arabic and Persian, as a pupil of Maulavi Syed Mir Hasan. Then he went to Lahore and joined Government College where he came in contact with Dr. Arnold. He qualified his M.A. in philosophy. In 1905, he proceeded aboard for higher studies. He took a doctorate from the the Munich University in Germany, and qualified as a Barrister-at-Law from Lincoln's Inn, London. On returning home in 1908, he started practicing at the bar besides teaching. He died at Lahore on April 21, 1938 and was buried adjacent to the Badshahi Mosque.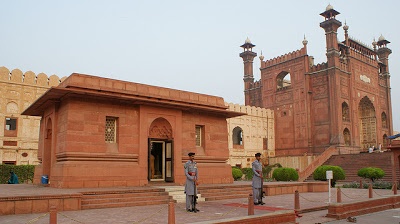 In the beginning he wrote poems in Urdu but later on he began to compose verses in Persian as well. It was through the medium of Persian that he was able to convey his message to the Entire Islamic World.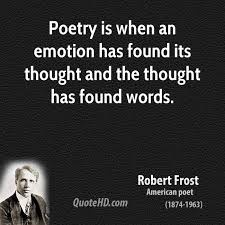 "Poet is a liar, who always speaks the truth". (Jean Cocteau)
Iqbal is my favourite poet because he discarded the traditional themes of Urdu poets and introduced new subjects. He wrote stirring nationalistic songs and tried to infuse the sprit of freedom form Hindus, in the heart of his countrymen. He elevated the meanings of certain words. He wrote very good poems for children as well. He can be rightly called the "Poet of Nature" because he has depicted the natural scenery with the colouring of his poetical genius.
"Poetry is record of the best and happiest moments of the happiest and best minds. (Shelly)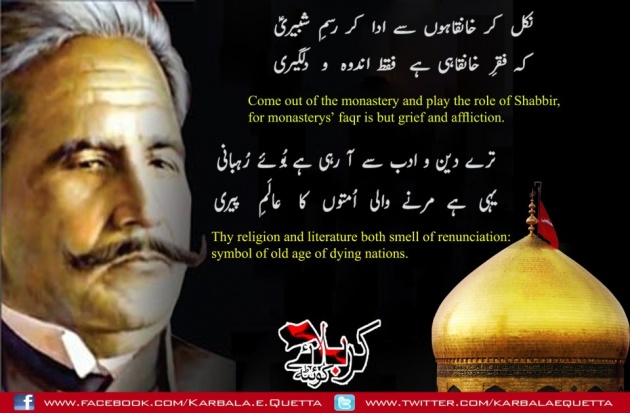 Iqbal is a revolutionary poet. He wants to change the entire social set-up. He believes in the freedom of man. It was due to his message that Muslims of the Sub-continent struggled for freedom. He turned to practical politics and was elected member of the Punjab Assembly. At one time he became the President of All-India Muslim League. It is he who first conceived the idea of Pakistan and demanded a separate homeland for Muslims in 1930. He has expressed the desire for the formation of an Islamic Society and the unity of the Islamic Countries.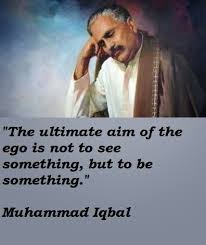 He presented the well-known concept of "ego" or "self" and laid great stress on its development. According to Iqbal success in life depends on cherishing noble "desires" and on constant "struggle".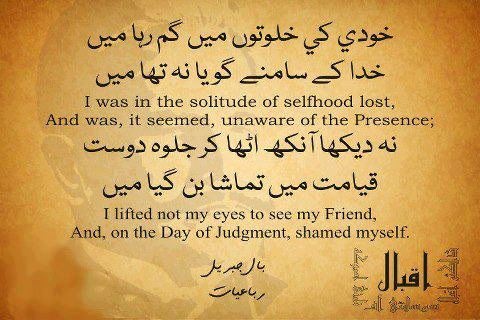 Inspired by Holy Quran, Iqbal says; "God does not bring about a change in the condition of any people unless they take initiative in changing their life". Iqbal says that movement of life and immobility is death. He says that danger and hardships illuminate Man's personality and raise his position in life. Iqbal also admires Western progress in the field of science and technology.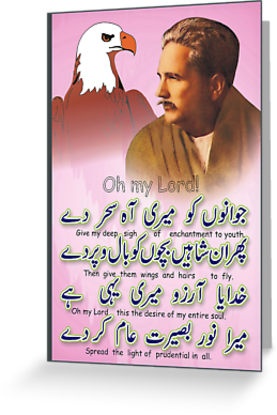 In the end, we can say that Iqbal is not the same person; he is a "movement". He calls the Muslims youth back to the teachings of the Holy Quran and follow the life style of Holy Prophet. In fact his message is the message of Islam. It is because of these qualities that I am inclined to read "Bang-i-Dara" and "Bal-i-Gibril" again and again. He is my favourite poet and his poetry has great charm for me and for every young Muslim.
There is no other instance in the history of mankind of a poet and a philosopher working much a miracle in shaping the destiny of his people.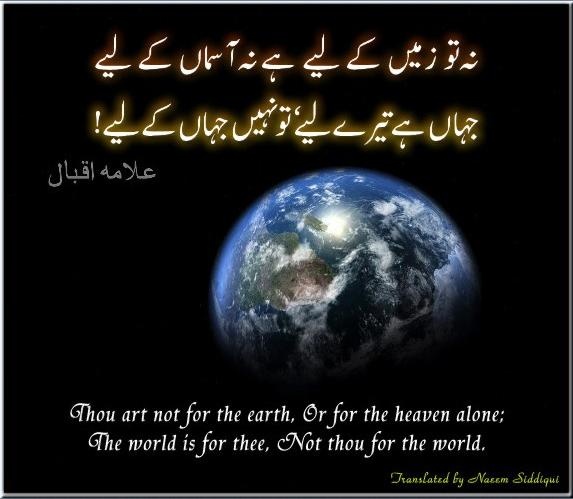 Written By: Syed Faiz Mujtaba