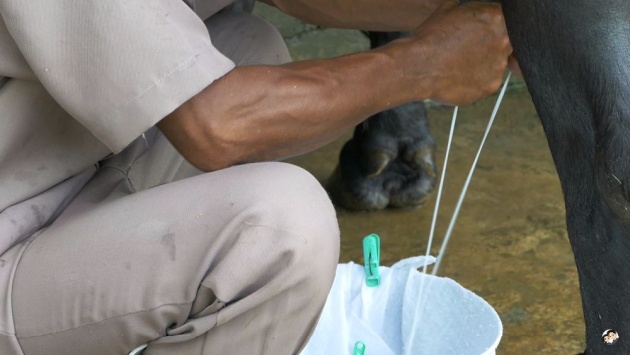 A preview of what we did at the Ubay Dairy Farm. Image credits: Jean Beltran-Figues via bitLanders.com
It never occurred to me to visit Ubay Dairy Farm even after numerous times that I had passed by this spot. I know they offer great milk products such as Chocobao as my favorite but it never came to my mind to visit it, I would usually ask my brother to buy me their Chocolate Milk whenever he has the chance to go to Ubay.
I had no idea that I was missing a huge part of my life. After that tour which I refer as educational one, I had learned a lot about the milking industry. I will share to you today, how I felt and how amazed I was with these creatures.
Ubay Dairy Farm
Video credits: Jean Beltran-Figues via bitLanders.com
Check out my previous blog dealing about the creatures which are being reproduced to provide what this cooperative has now been selling locally and even to the rest of the parts of the country: Ubay's Carabao Farm
There are two spots that can possibly be visited for the Carabao business. One is located at the main road which has been referred as Bohol which sells the milk products while the second spot was at a kilometer distance referred as the Ubay Dairy Farm or Carabao Farm.
It's quite amazing that just a few minutes away from the highway, we were welcomed in this facility surrounded by lakes and green grasses of hills. I spotted a few ones grazing along the other hilly areas.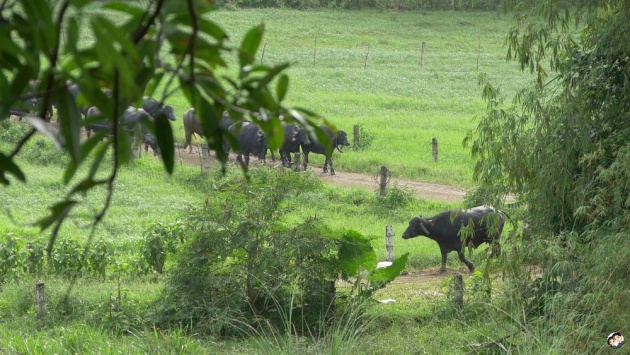 Image credits: Jean Beltran-Figues via bitLanders.com
Because it was still raining, the operation was a bit delayed as per Kuya Alex. It was supposedly two in the afternoon but it was already 30 minutes after two but the carabaos were still unseen from the facility.
"They'll come soon, the worker is calling them, they'll start walking from the hill towards the milking area." Kuya Alex explained while we were introducing ourselves. He started showing us around their facility. They have a corner for grinding the plants and root crops for the additional carabao feeds.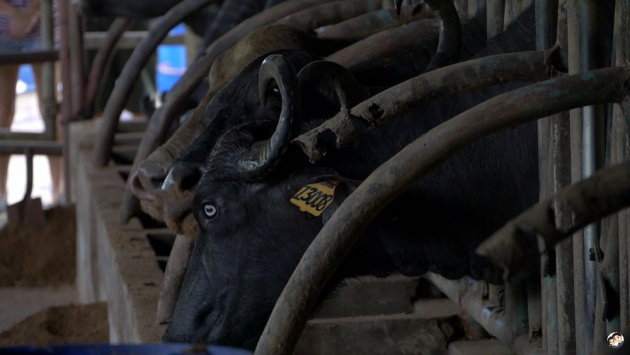 Image credits: Jean Beltran-Figues via bitLanders.com
There's also an area where the carabaos give birth, where the newly born stays with their moms for five days. Then there's a milking station, a shower area as well can be spotted in the milking station. Then another spot where they keep the young ones and feed them by hand.
Buffalos Running From the Hill
While I was recording the information given by Kuya Alex, I heard one of our companions shout stating that the carabaos are now on their way to the station. I hurriedly run to the open area and there I found the huge buffalos walking their way down from the hill. They were actually left in the grazing area for a couple hours and a worker calls them to come down.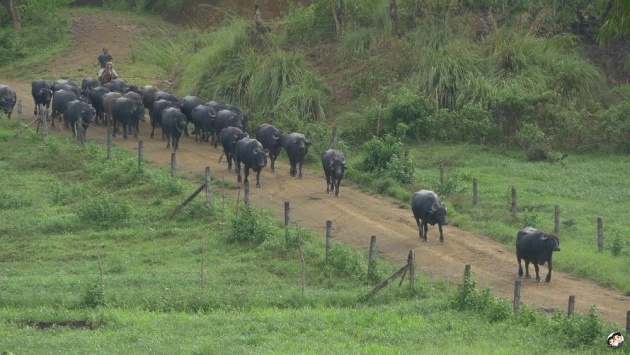 Carabaos from the hill. Image credits: Jean Beltran-Figues via bitLanders.com
A leader walks first while the rest followed him. This carabao showed a distinct horn form, it was not the normal one as its horn faced downwards like a shy animal. They were fast and were almost running, not too long, they were already in the facility. I could see them following their leader very religiously, they knew what to do and where to go so the job to keep them intact at the milking or shower area was very easy for the workers.
As per one of the worker, unlike the local buffalos, these type of carabaos are very tamed and safe. They don't kick randomly, they do so when they feel harm. And they don't attack humans as well which is a good thing because I won't even think of getting close to them if they would just attack anyone wearing red or something like that.
Shower Time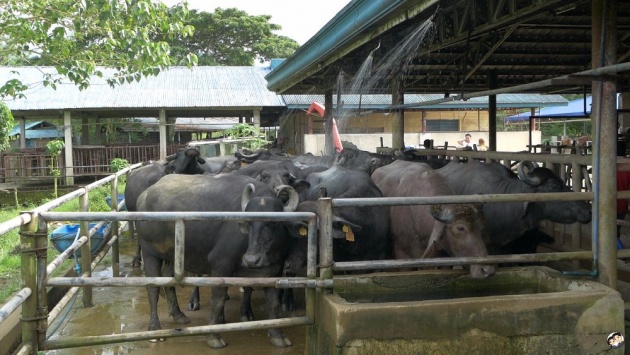 Image credits: Jean Beltran-Figues via bitLanders.com
It was a fun to see these animals walk from the top of the hill down led by a single carabao. They seem to know where they are going as the worker was actually in his horse behind them.
As soon as they reached the facility, they went to the shower area! There they stayed and enjoyed the shower. It took a few minutes then the water stopped. They were guided by the staffs towards the milking cell. They had been assigned to each cell which was then locked with metal plates. I was a bit sad to see them like that, the vegan side of me says it is a pity seeing them in that situation.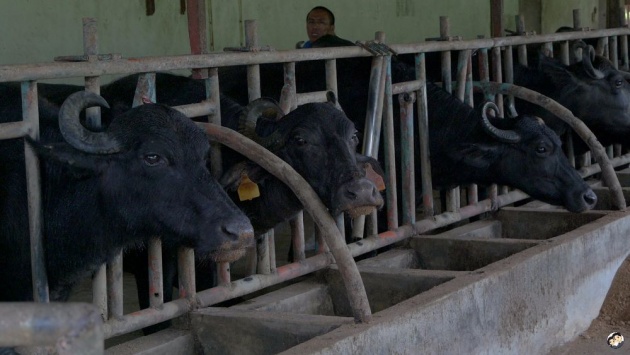 Image credits: Jean Beltran-Figues via bitLanders.com
I somehow looked into their eyes and feel like they were abused, that they didn't like what they are doing and that they need freedom. One of the carabaos were in fact having teary eyes. I wonder if that was because of his situation being locked in a cell or maybe perhaps it was because he hurt himself and his horn was broken, there was even white and red blood covering its remaining right horn.
Automatic Milking Machine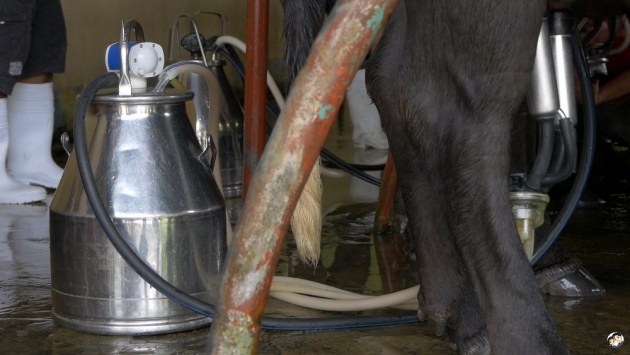 Image credits: Jean Beltran-Figues via bitLanders.com
As the carabaos quietly nestled in these iron cells, the workers brought milk containers with tubes in them. By just the look of those materials, I have an idea that these were for the extraction of milk.
I look closely at the carabaos, they were busy eating some organic supplementary feeds which were produced within the facility as well. These feeds were intentionally given so they would behave and get busy munching on them while the workers start milking them.
There were two lanes of cells, on the left hand side were the automatic milking while on the right lane was for the traditional hand milking.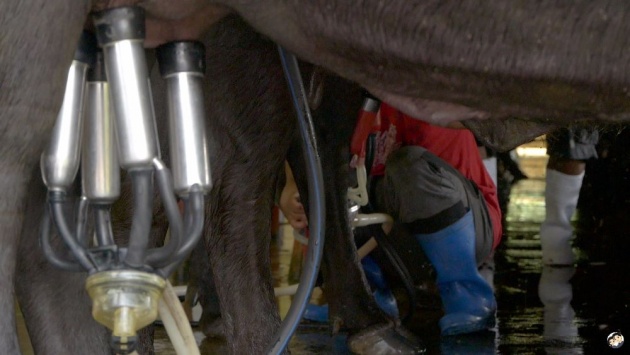 Image credits: Jean Beltran-Figues via bitLanders.com
One of the staff workers came up to us and advised us we can go closer too so we would see how the machines work. He placed the ends of the tubes which was like vacuum pulling the ends of the carabao's nipples into it. It then moved upwards and downwards, like dancing in an up and down rhythm. We then noticed milk substance getting into the tubes towards the transparent container.
Some of the carabaos might had been hurt at some point as they started becoming annoyed and start stepping their feet on the ground, sometimes would try to kick but it was a soft one.
Hand Milking My Way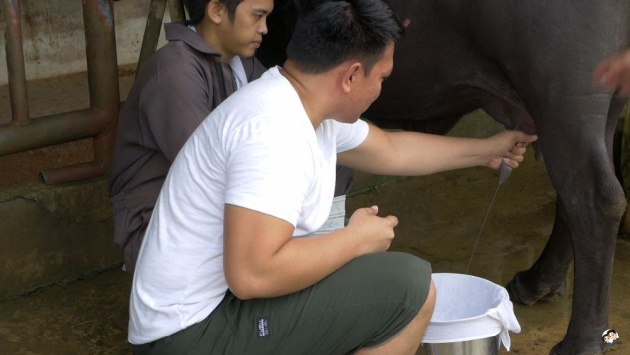 Image credits: Jean Beltran-Figues via bitLanders.com
Two of the staff workers went to the hand milking area, they were holding with them a stainless container with cheese cloths on top of it, they sat beside the carabao facing their stomachs. Then they grabbed the nipples and started pushing it, the white milk substance started squirting out of the carabaos into the stainless containers.
The workers looked very seasoned with the way they handle and push those milk out. They were squirting huge amount that it looked like water coming off from a broken gardening hose.
Then they offered that we could try it out. My brother and sister in law went on and asked guidance on how to do it. I was confused if I should do it but after seeing my brother who was not really good with it, I was encouraged and I thought I should do this or else I might not have the same opportunity again.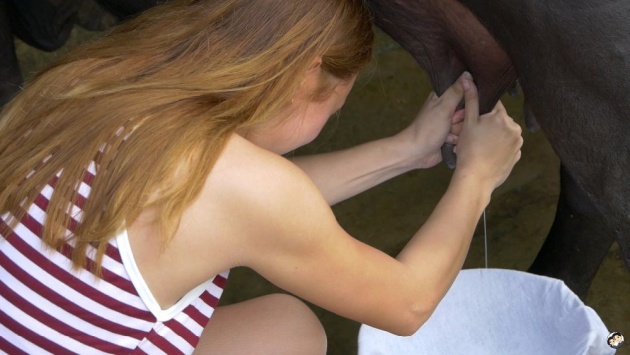 Image credits: Jean Beltran-Figues via bitLanders.com
So this worker guided me that I should lock my point finger and thumb around the nipple, then squeeze the bottom end to push out the milk. Holding on one of the four, I could feel the abundance of milk. It took a few attempts before I got a tiny squirt out. I felt amazed! I then got my groove and the milk coming out was increasing! Then the carabao moved its hind legs that I had to stop what I was doing.
It requires experience to be able to hand milk carabaos. As per the workers, hand milking is faster but also a bit tiring however, they kept the traditional hand milking so that the animals would still allow their calves to feed on them.
Video credits: Jean Beltran-Figues via bitLanders.com
After all the tutorials and such, we thanked the workers for showing us how their job works and we greatly appreciated their hard work to produce the milk and take good care of these animals as well. As per Kuya Alex, they would still feel bad when they cull some of them. So as much as possible, they would sell them instead to local farmers so they could help them with their farm and rice fields instead of culling them.
It was one of a kind experience. We were all glad that we got the chance to visit the farm and be able to go through the same processes that the workers do on a daily basis. I hope that these workers are compensated well enough for the job they are doing.
I hope you had a fun time reading this blog!
xoxo,
Jean Beltran-Figues