It gives me the exciting feeling upon entering the Bitlanders site after 7pm Philippine time since it is the time for treasure box and I am now earning around 500,000kbm every day and that is because of the blog "Manufacturing Pharmacy Practice Experience + side trip tour in one of the prestigious Pharmacy Schools in the Philippines" and gallery post "Honeybngd: Places in snaps 2016" I submitted, reviewed just last few days and was rated with 4 stars each. Now I feel the need to write a new blog to keep my daily earnings as high as that or even more especially that the 3 Kings Crown is fast approaching which means more buzzes every day for 180 days! This is my first time to invest on an online site and I'm very thankful and excited that I get to buy the crown tomorrow! This is now my 5th blog and to start off here is a brief meaning of Mountaineering from Wikipedia, short clip of Mt. Capistrano from Shesaiso Laroco's youtube account and a selfie:

The term mountaineering describes the sport of mountain climbing, including ski mountaineering. Hiking in the mountains can also be a simple form of mountaineering when it involves scrambling, or short stretches of the more basic grades of rock climbing, as well as crossing glaciers.

- According to Wikipedia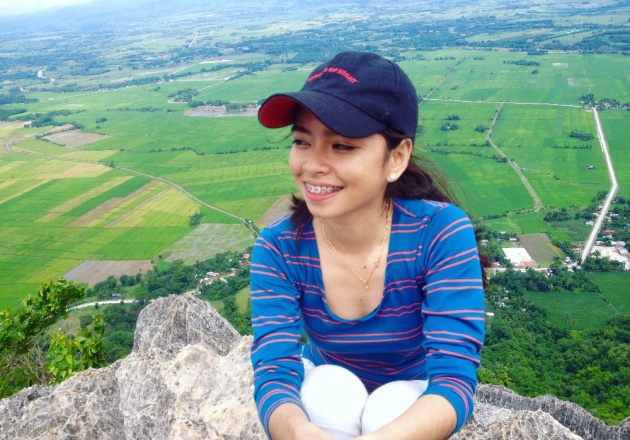 Own content.
Me at the peak. My best selfie so far!

My First Mountaineering Experience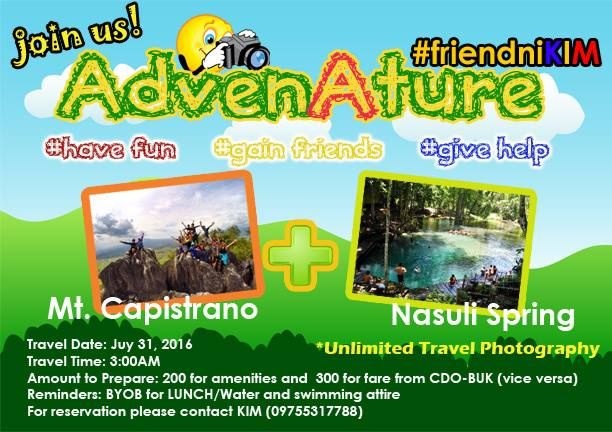 Photo credit: Sir Kim Libutaque

Last year, July 2016 my history teacher back in high school posted at Facebook this event poster of Adventure to Mt. Capistrano and Nasuli Spring. He is a traveller and a photographer as well. This caught my attention since there have been a lot of people including some of my friends who has amazing pictures on Facebook and Instagram of the breathtakingly beautiful view from the peak of Mt. Capistrano and to climb a mountain even once in my life has been one of the things I really like to try.

Mt. Capistrano is located at Sitio Binalbagan, Purok 9, Brgy Simaya, Malaybalay City in the province of Bukidnon, Philippines. This is one of the minor summit in the province of Bukidnon and it is a 610 meters high land form which is visible in the highways of Malaybalay City.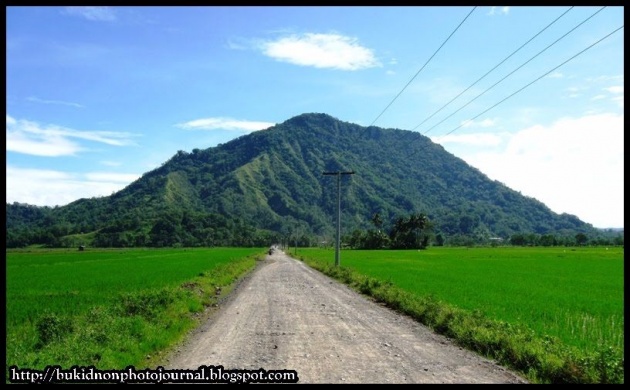 Photo credit: bukidnonphotojournal.blogspot.com
Weeks from the said event, I was too hesitant to ask permission to my mom and dad since they were too strict to me when it comes to going places away from the city and when I always asks permission to go out it usually needs days or even weeks of processing my request and a last minute of their final approval or disapproval but then again to make the story short I asked and they let me join (quite a miracle I know. Haha I know my dad will read this. Hi Dy!)

So early in the morning on July 31, 2016 I went to the meeting place at Divisoria with my mom and lolo accompanying me to meet my high school teacher Sir Kim, the event organizer as well to asked about some details about the climb. After that, Sir Kim made some orientations to the group. We brought packed breakfast, liter of water, and I remember I took vitamin to boost my energy. We were grouped for our van ride and then we headed to Malaybalay City a 2-hour travel from Cagayan de Oro City where the beautiful Mt. Capisrano is situated. It was raining that time around 5am, I am with my 3 college friends, my adventure seeker friends Nneka, Naume and Ellaine along with other 30+ climbers. We were praying that the rain will stop pouring when we will start climbing so that it won't be that muddy and slippery as well as to that we can capture pictures with at least a little rays of sunshine. So we arrived around almost 7am and now I get nervous and excited as well, nervous because I've read blogs about their experience of Mt. Capistrano and says it was a hard one and exciting because I've got to try another first time experience! That kind of masked my nervous feeling.
We arrived at the jump point of the summit.
Every climber needs to pay an environmental fee at Ms. Imelda Villaruz' residence, we listed our names in their logbook. We also paid barangay fee and a climb permit fee but it was already included in the package so Sir Kim took charge. We met our tour guide Sir Jairo and he told us more about Mt. Capistrano, he even rated the difficulty level of this mountain at 8/10 and it needs around 2 hours with a lot of trails to reach the peak. Trying to be chill but still a little nervous inside. I can't back off now!
Start of Open trails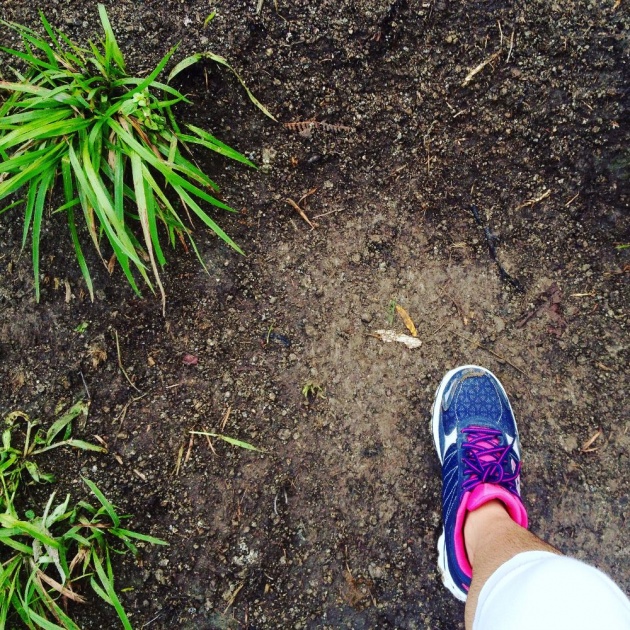 So from the jump point we walked through plant fields and there is a concrete staircase after it which marks the assault. It is around 300+ steps after heading to the open trail, there are installed ropes which is a life saver to me. The rain stopped the moment we arrived in Malabalay City, God answered our prayers. After awhile the ropes were now nowhere to be found so you need to keep your balance since it is starting to be steep. We were heading up but I am already thinking how to go down without ropes and with the other trails ahead of us! Kind of scary.
Next to it is a forested trail which I find to be the most difficult part of the trail since it is very steep and this one is always wet and so slippery. Balancing skills will be tested here, you can crawl to keep yourself on the ground and in this part you will really get mudded. Although twigs and roots are spreading through this trail for you to hold- another life saver indeed. There is a campsite after it where trekkers pitch their tents to spend the night with, we were there for a day-hike so we moved forward through the Steep Rocky Trail, limestone rocks begin to appear – a sign that the summit is near. It is not that difficult but I find it the most dangerous one since you can accidentally wound yourself with abrasion or scratch or worst, you will fall. You need to secure yourself by being careful with your steps and movement with this one.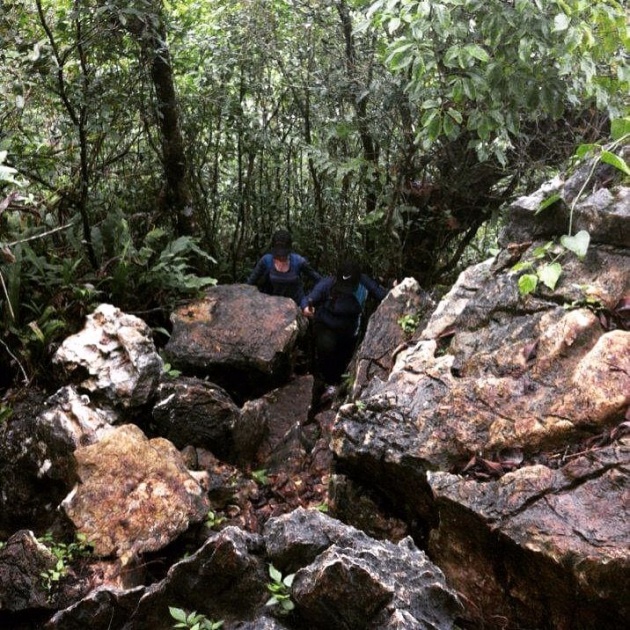 Arriving at the peak
So after all of the struggles now a beautiful rock formation at the summit will welcome you- and not just that one, also the breathtakingly beautiful view of the City with the amazingly cool green rice fields and mountain ranges which includes Mt. Ragang, Mt. Kalatungan and other mountains of Bukidnon. You can hop from rock to rock to get your amazing picture poses.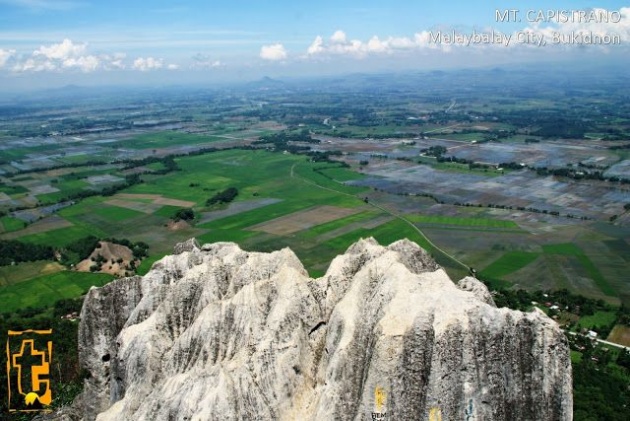 Photo credit: http://trekero.blogspot.com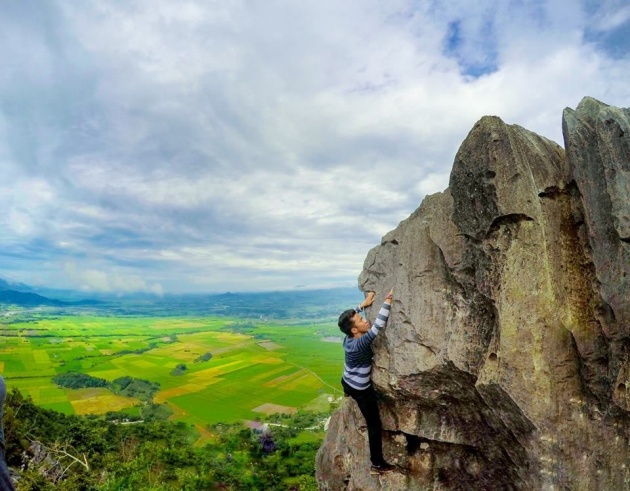 Photo credit: Sir RJ Dumalag
The only thing I don't like about there is that there were a ot of vandals in the rock formations and trash can be seen in the ground. Climbers should really be disciplined with this one, climbers should not leave any trace of vandals and trace there, it was so sad to see it at the summit. We should always love back the nature because it awes us with the breathtakingly beautiful views like this one.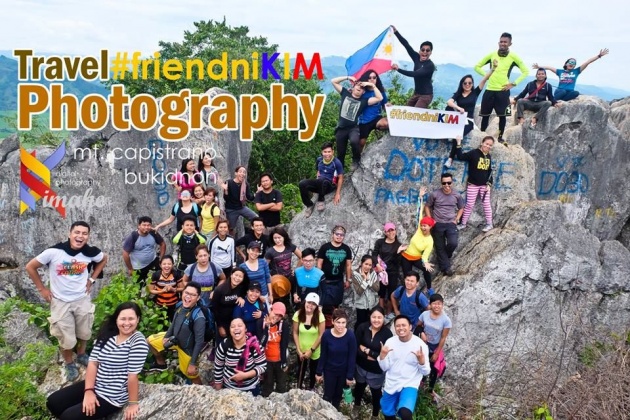 My fellow climbers. Photo credit: Sir Kim Libutaque
Here is another video clip of Mt. Capistrano's experience from Sanching's youtube account:
Heading down
We started going down after an hour of enjoying the nature, eating breakfast and having pictorials at the summit. It was also very difficult to go down the mountain! My butt was full of mud since I am using my sliding skills to get through that downward slopes! But it was indeed so fun and satisfying I get to check another one in my bucketlist even with all the struggles, all will vanish when you reach the top! So after the climb, we dropped by a calenderia downtown and went to Nasuli Spring afterwards, just about 30mins ride from Mt. Capistrano jump point. Such a relaxing place to stay after being so tired!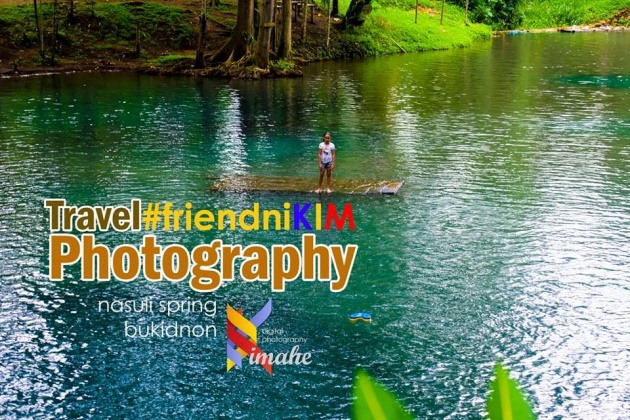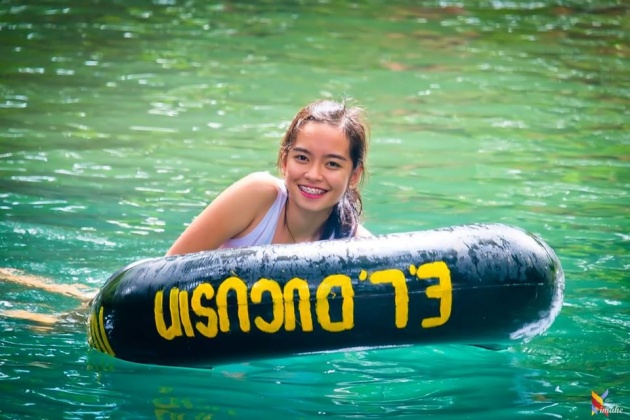 Photo credit: Sir Kim Libutaque
Contact either of the tour guides below through Facebook if you want to go to Mt. Capistrano at Malaybalay City:
Thanks for reading and God bless!!!