Most of the times people use bitcoins for trading or store of value purposes. Often even the people who have been using these in exchanges to trade havent really used bitcoins to make purchases in day to day life. One might ask "what is the point of buying bitcoins just to use them to make purchases?" The answer to this question lies within how you are able to acquire bitcoins and at what price. In this blog I will lay out how I went about buying bitcoins in Pakistan then using them to purchase hotel bookings on the go from Expedia while on my trip to Turkey (Istanbul, Izmir and Antalya). Not only was it a great experience it made me realize the true power of the technology that Satoshi Nakamoto was able to bring forward. Many people talk about how blockchain the underlining tech running over bitcoin is what's more important to them I say use bitcoin once and you will realize why bitcoin is what it is.
Buying the Bitcoins:
This was fairly simple I deposited funds in urdubit and put up buy orders at a bit lower then market rates. I was to buy them at around 101 to the dollar. What that means is if I had purchased USD directly from the market it would have cost me Rs. 101 = $1. If I had purchased the USD directly which I had to go through a local exchanger it would have cost me Rs.102.50 which is around 1% over charge. The risk of carrying such huge amounts in cash just to pay for hotels has its own risk plus the limit imposed of not carrying more than $10000 per person was also a problem. The other option I had was to use a credit card. I used agoda to book my first hotel for 3 days if I remember correctly in Istanbul and paid with credit card to see what the cost difference was. The charges were as follow:
102.50 Market Rate + (3%) Bank Charges * $400 Cost of hotel for 3 days = Rs42230
After purchasing this I was still a bit reluctant to use bitcoin as I was scared. The other advantage I had in using bitcoin was that no credit card details or information would be sent to Expedia while it being a secure platform it is still not unhackable. Still a bit scared I went a head and pulled the trigger purchased the bitcoins from urdubit and made my first purchase of a hotel on Expedia (I can't thank them enough for what they are doing)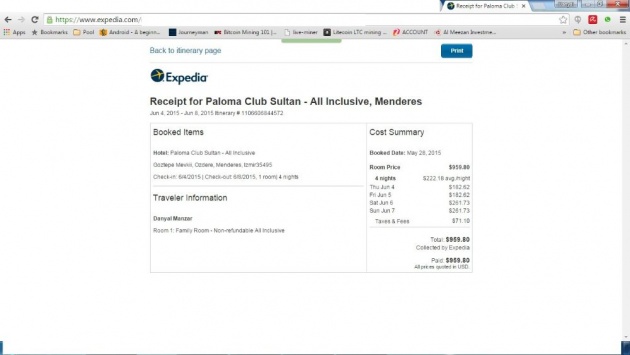 .
So here is the breakdown of the above receipt:
Rs.101 * $959.80 + 2Rs (Btc transfer fee roughly) = 96941.8
Same calculation if I had done with Credit Card:
Rs102.50 + 3%(bank charges) * 959.80 = 101330.885
Instant saving of Rs 4389.085
The whole process was a lot faster than credit card as most banks require us to call the bank firs tell them that we are making an online purchase get the card activated and then have to enter a lot of information such as address, phone number card details etc, with bitcoin purchase, Expedia redirected me coinbase payment gateway and it asked me to pay equaling amount in bitcoin. While I don't recommend paying from an exchange directly I added the withdrawal fee of bitcoin from Urdubit which is 0.0001 btc which I mentioned (rs 2 at the time of the purchase) and sent the btc to coinbase. The coinbase receiving address was active for 15 mins. One of my fears was what if the address expires before confirmations. To my delight the payment was accepted on 0 confirmations. The booking was held until the network confirmed the payments to coinbase however and I received a confirmation email that the invoice had been paid and my hotel booking is done from Expedia in about 30 mins. The screen shot of the receipt is attached above.
Now lets be honest here, this above booking was for a wonderful resort in Izmir and I would defiantly recommend anyone to visit this resort, I was still fearful what if the hotel goes we wont accept this books? So I didn't book rest of the hotels at that point. And I decided to travel to Turkey with these 2 bookings and book the rest when I get to Izmir and checkin.
After my wonderful stay at Istanbul I took a flight from Istanbul to Izmir. I was easily able to check into the resort without any problems. The resort itself was magnificent with 2 private beaches, a private water park and a whole lot of other activities. The package including full food and all activities so I didn't have to pay a dime. The first thing I did after this experience was to book the next hotel with bitcoin in Antalya and then another in Istanbul as my flight back to Pakistan was from Istanbul.
In conclusion I would like suggest to everyone who use bitcoin to use bitcoin once to make payment for their purchases and they will realize its power especially cross boarder payments are bank free, fee free and its almost stupid not go the bitcoin route if booking directly. The one thing I would please request is for expedia to start accepting bitcoins for flights and car bookings too. Thank you Satoshi Nakamoto and Expedia for making this possible and much lower rates.