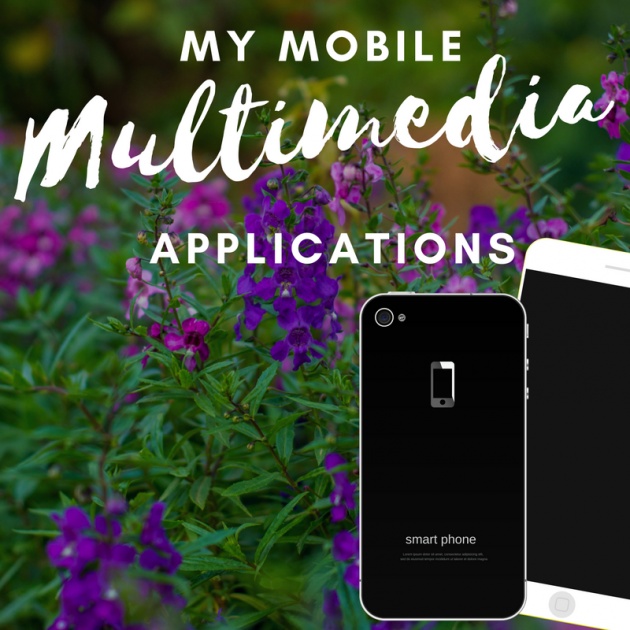 Image credits: Jean Beltran via bitLanders
I have blogged about my favorite mobile applications before, those which I often use like all day long plus I also asked my husband to share his own top mobile apps because we don't share the same kind of operating systems, I use an Android while he is an iOS user.
Read related blogs:

• My Top (5) Five Most Used Mobile Apps
• James' Top (5) Five Most Used Mobile Apps
Today, while using my phone, I somehow figured out a new blog topic in mind and it's all about the mobile media apps which I often use on my phone.
Image credits: Image credits: Jean Beltran via bitLanders
Our phones are now referred as "smart" ones, smartphones which have been considered as one of the necessities in this generation that even a toddler has one! Well, there are reasons behind that but today, I would like to share how a smartphone is changing our lives as human beings. How these little palm-sized devices are just equipped enough for us to live in this digital era.
Multi-media is a chunk of this electronic, digital realm which is taking every human by storm. YouTube videos and vloggers are just increasing, subscribers area hiking up non stop! Most people are more willing to watch a vlog than read a blog! Are you one of them?
But aside from video, there's images, photographs, GIFs and a whole lot of other aspects of multimedia. It's quite crazy that these vlogs, photos, and microblogging through images are possible with just a mobile device! Let's not argue about the quality here, what I am pointing out is the reality that a smartphone is powerful enough to do the job!
So, to get started, let me share to you the applications I have installed on my phone which I consider as my top go-to portable apps so I can fulfill whichever multimedia requirement I needed for my work, my hobby or even my online gigs.
Image credits: blog.fedu.vn
1. Snapseed
These applications I use for editing the images I take through my mobile phone. I had been a snapseed user since forever and I like it because I can easily add certain things which can't be found in the in-phone editing options with Android.
Withe snapseed, they provide automatic styles just like how Instagram provides automatic filters to your images. There are times when these styles work on a certain photo.
Image credits: www.reddit.com
However, there are also a lot of times when the auto-style edits won't so I got to use the extensive tool options for the more in-depth editing which includes tune image settings like adjusting the brightness, contrast, saturation, ambiance, highlights, shadows, and warmth. Note that these certain settings can easily be accessed by swiping up and down, left and right, it's super easy and user-friendly!
One of my favorite features is sharpening and structure. Sharpening is very basic, it means sharpening the edges of the image while the structure is like giving more details to the items in the photo. It has a bar which enables you to see how much are you adding, it can also smoothen the details by dragging to the left.
Did you know that when posting on Facebook, it has a tendency of lowering the resolution and quality of the image so editing these images first by increasing its sharpness and such helps the photo look still in nice quality?
Image credits: blog.keepitreal.pt
There are lots of other options with Snapseed. Here's the preview of the rest of the tools available. Make sure you have the latest update installed to get the most out of its features. Having all these feature with a free application is too much to bare but it's true! You can save the image in without having those product watermarks! Amazing right?
2. Lightroom CC
If you have used the Adobe Lightroom on your desktop like me, I bet you'd want to have a portable version of it on the mobile too! That is also the reason why I have mine installed on my mobile too!
Image credits: www.tested.com
The application has a set of free features as well as premium ones. Let's talk about its free features instead.
Lightroom CC allows us to select multiple photos altogether for editing. The same basic options such as cropping, adjusting light specifically the brightness, exposure, contrast, highlights, shadows and whites and blacks, color for the vibrancy, saturation, tint, and temperature, of course, adding presets and effects.
Image credits: techcrunch.com
Perhaps my favorite feature of Lightroom is the copy settings option. This is super helpful in the process of editing as the changes made on one photo can be pasted over to the next. This will make the editing faster and more efficient!
3. AZ Screen Recorder
I previously used DU but I switched over to AZ, they are actually very similar to each other and what's so cool about them are the fact that one can record mobile activities!
Image credits: appk-world.blogspot.com
I had used this multiple times to show certain actions on my phone such as when I tried to transfer my PayPal funds to GCash which happened instantly. Then there were times as well when I had to illustrate issues and bugs of certain other applications, I can use it to record the screen as well as record my own voice too!
Video credits: Jean Beltran via bitLanders.com
Editing the screen captured video is super easy, it can even capture 60 FPS! It has Time-lapse as well and there's an option to overlay certain texts and logos in them during the edit process.
Oh, I should not forget that this also allows screen recording while also capturing your front or rear camera! How amazing is that?

4. Quik
Image credits: www.nairaland.com
Since all smartphones in the market now include dual cameras, the only concern would be how to edit the videos taken?
I don't like to take time in editing the videos on my phone so I only use an application where I will just be selecting the clips and it will create a video compilation for me right away.
Image credits: www.cosmic.org.uk
I always use Quik for that. Quik is actually a GoPro application. It compiles all the selected clips into one short video and it has preset to choose from which already has audio so what I only have to do is add the title of the video and publish!
Super quick and easy, plus I don't have to worry about the audio selection and such. Exporting it is very smooth as well. Below, I have created a video of our Pandanon Island adventure!
Video credits: Jean Beltran via bitLanders.com
My Samsung Note FE don't have any games installed and I had made sure to leave it that way so I can only use whichever is really needed. Playing games on my phone is a bit of a distraction so I had to be extra conscious on that so I would only be doing what really matters.
What are your media application for your mobile? Do you have the same list as I do?
---- o ----
Blog entry written and published by Jean Beltran-Figues, A Pinas traveler and photography hobbyist, find more travel blogs in my blog section, click here.
---- o ----
Check also my recent blogs:
• Review on KKD STK + BBQ : Affordable Filipino Cuisine
• Celebrating Our Third Wedding Anniversary
• Half Day Tour to Sipalay Negros Occidental
• Punta Bulata Resort and Spa is a Hidden Gem in Cauayan Negros Occidental!
• 5 Reasons Why I Can't Get Over Natural Native Sea View Cottage
• We Fell in Love With The Cottage on a Hill at Negros Occidental!