After my first drama project, 'A Day to Forget' filmed late last year, I have turned my attention to a non-fiction piece (as part of my University degree). I have limited experience in producing documentary style projects but I am looking forward to getting my teeth into the idea I have chosen.
The working title of the film is Helping Hands: Between the Sticks.
The concept of the film is centred around football (soccer) goalkeepers, and the theory that they are under appreciated and over looked when compared to outfield players, such as strikers. I plan to focus particularly on the psychology of the role of goalkeeping itself, and the added stresses and strains the role has over others in the sport.
"Goalkeepers are lonely specialists, put in a position that is mostly a set-up for failure. They rarely touch the ball, when they do it they have the entire spotlight, saves are expected, and mistakes are very costly" – Angle Ubide.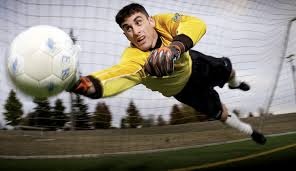 Picture from Wikimedia
The structure of the film will very much depend on the research I undertake, including interviews with both current and former professional goalkeepers, football coaches as well as football pundits and fans. The answers and views I gather together from these individuals, mixed with my own independent research (which I intend to share with the interviewees) should allow me to construct an educated and intriguing insight into the way goalkeepers are received in the modern game.
Additional points I want to research include...
How the role of a goalkeeper has changed over the last generation(s).
The separate training regimes goalkeepers undergo away from the rest of the football squad (feeling somewhat isolated?).
Use range of statistics supporting my theory, e.g. English Premier League strikers have the highest average annual salary, with £806,000 whereas goalkeepers make just £533,000 in comparison.
I am currently in the research and pre-production stage of the project, developing the visual style and my questions to ask any contributors through research, in addition contacting the aforementioned contributors to enquire about their availability.
Will keep you all updated!