My Moms bed and breakfast just west on San Antonio Texas has plenty of comments but they are astounding, If I deliver just half the level of my parents hospitality and kindness I will be just fine. Your amazing! Loven my parents success. +after setting them up they give a 3% discount if you pay in Bitcoin. LOL
Kasper - Copenhagen, Denmark
May 27, 2015 at 1:57 am

Karen & Mike's place was absolutely amazing! The view, the design of the house, the room and the hospitality was all a 5 five star experience! The guesthouse we lived in was very cozy with a big soft bed, AC and a great bathroom. Karen & Mike welcomed us with open arms, ice tea and treats. They were both a joy to talk to and they was very helpful with ideas to our trip through Texas. We only stayed for 1 night and had a local rodeo to attend, therefore we sadly didn't have time to experience all the benefits like seeing the sun set from over the valley from the terrace or taking a walk on trail. The next morning Karen made us a fantastic breakfast from all the things we like the most! Scooped watermelon, sausage, potatos, omelettes and homemade smoothies. – nicely decorated and served on the terrace with the most amazing view! If you are in the Austin, Bandera, San Antonio area be sure to go by Karen & Mike. It's the ideal AirBnb experience – just like you see being presented in videos etc on the AirBnb website! You will arrive like strangers and leave as friends:)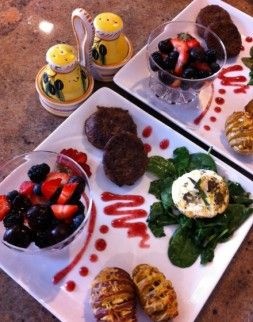 Robert - Austin, TX
May 27, 2015 at 1:58 am


My girlfriend and I stayed here for a night after a day spent hiking Lost Maples State Park. In short, it's hard to imagine a more lovely location for a B&B in the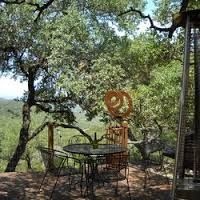 Texas Hill Country and it's hard to imagine two more gracious hosts than Karen and Mike.
Perched on ridge overlooking Bandera, Boerne, and the lovely surrounding countryside, this property is truly one of the prettiest places I've stayed at in Texas. And Karen and Mike are such friendly folks who made sure our every need was attended to throughout our stay.
Our accommodations were very comfortable all around, the breakfast and snacks Karen and Mike made us were delicious, and the overall stay was just such a wonderful experience. I only wish we had had more time. I heartily recommend Karen and Mike's B&B to anyone contemplating a trip to the Hill Country, and I look forward to coming back soon.
Robert – Austin, TX

Kelly - Austin, TX
May 27, 2015 at 1:59 am

Can't imagine a more peaceful and quaint place to spend a night in the hill country, nor sweeter hosts! My husband and I stayed here for 1 night and thankfully arrived before dark so we could catch the sunset over the hills. Enjoyed the evening kicking up our feet by their enclosed fire pit and soaking in the awesome views with a glass of wine. The room was perfect, SUPER comfy bed, delicious homemade healthy treats were laid out, we really felt at home the entire time! Mike & Karen exceeded expectations all around, they're wonderful, down to earth, sweet people who were a delight to get to know. Not to mention their breakfast – oh man that breakfast, words cannot express how delicious that was (would love that egg recipe!) Highly recommend Mike & Karen's B&B if you're rolling through the hill country and need a place to unwind and get away from it all, with a beautiful view!

Pat - Indianola, Iowa
May 27, 2015 at 2:00 am

We had a wonderful time with Karen & Mike. Such an interesting couple–we could have visited all day! They had thought of everything to make us feel welcome and comfortable. The breakfasts were a feast for the eyes as well as the tastebuds. They know the Hill Country well, and were able to offer travel advice to us, but the best view may have been right from our own screened in porch!

Jeanne - McAllen, TX
May 27, 2015 at 2:01 am

Oh my goodness!!! There aren't enough words to describe this wonderful place…Tranquility herself lives here! We had a wonderful time listening to the breeze blow up the hill and is just got better from there. Karen and Mike are just fantabulous! Their place is creatively decorated, clean and most of all welcoming. They spoiled us rotten and we enjoyed every minute of it!!! (‿)

Larry - Houston, TX
May 27, 2015 at 2:02 am

This is a great place to getaway from the city. The view is great. The area is quiet. The facilities are good. The hosts are attentive, nice and interesting to talk to. Breakfasts are special, different, and good tasting. We used this location as a base to travel to places in the Hill Country, like Fredericksburg. We plan to come back more than once.
One note: If you want a quiet vacation, you should book for enough nights to get the whole cabin, since the screened-in porch would be shared otherwise. The bedrooms are tight, so we needed to store some stuff in the screened porch for convenience.

David - Broxville, NY
May 27, 2015 at 2:03 am

Had a great time and the location was beautiful. Everything as advertised and google directions worked fine. Karen was away but Mike was a great host, someone you could just sit with and talk for hours. As someone mentioned earlier, the room is small so best for good weather where you could take advantage of the porch or plan to not spend much time in the room. This was our first trip to Hill Country and I was afraid it may be too far south, but actually only an hour from either Kerrville or Fredericksburg so a good base in a quiet location.

Edward - London, United Kingdom
May 27, 2015 at 2:04 am

Karen and Mike were fabulous hosts. They were very helpful with directions and recommendations for the area, and the breakfast was amazing! The property is lovely and the views would have been great if we didn't go during spectacular storms. We would happily stay with them again.

Diane - Houston, TX
May 27, 2015 at 2:04 am

We had a wonderful experience at our first B&B. The property had a breathtaking view, a clean and comfortable room, yummy food and such friendly hosts. Felt like we were on top of the world. I wish we could have stayed longer!

Frank - San Antonio
June 23, 2015 at 12:48 pm

"My then girlfriend and I arrived on Friday afternoon and were greeted by Karen and Mike with open arms. Karen graciously showed us around the beautiful hill top B&B. No pictures can do the gorgeous view justice as it is absolutely breathtaking. The following morning, Karen and Mike prepared us a delicious breakfast. They were kind enough to prepare a breakfast they do not usually prepare for my girlfriend, and I absolutely loved the waffles and french toast. The bacon with sugar and red pepper flakes was the icing on the cake. Not to mention, we loved sitting and talking with them! Most importantly, when we left the B&B my girlfriend and I were fiancés. Karen and Mike are without a doubt two of the most caring human beings you will ever meet. They worked for weeks with me to plan the perfect sunset proposal for my girlfriend and she said yes! I highly recommend their B&B for anyone looking for a cozy, pleasant, relaxing, and budget friendly getaway! "