My Summer Escape at Villa Escudero
Wazzup guys? It's been a while since I've blogged. I'm going to write about one of my summer escapades here in my country. Yeah, it's already June (rainy season month in the Philippines) and I'm still writing about swimming outings, haha.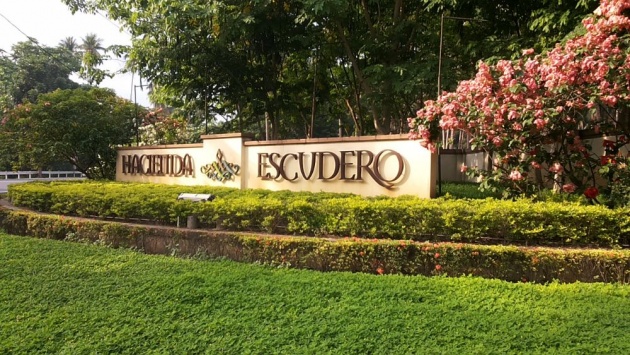 Photo credit: lapiz-lazuli
Well, we went to Hacienda Escudero, originally a coconut plantation, to experience their one-of-a-kind restaurant last May. You get to eat with your feet dumped in a flowing stream from a small man-made dam. But the cascading waters look like a mini waterfall so the restaurant is famously called the Waterfall Restaurant.
But before you can go to that eating place, you need to travail other sights inside the hacienda. The estate was huge! When we entered the main gate, we got lost on our way to the reception area. Turns out, there was like a subdivision with private houses at the farther end of the entrance road. Dad even asked for directions just so we could reach the right building inside the hacienda.
Before you Go...
Before I ramble about what we've seen inside the Villa Escudero, I would like to share a little mishap about our trip to the said place. I don't know if it's old age or what, but my father missed his turn in the Expressway. We took a detour just to reach the place, thanks to Waze. So, if you're planning to go there, don't forget to fully charge your phone, have a reliable pocket wi-fi with you or subscribe to mobile data, and download an accurate and helpful navigation app. Also, have a presence of mind if you're the driver.
Booking Reservations
My cousin booked our reservations. Originally, we plan to take along grandma, but a week before our scheduled visit at the hacienda, we decided it best to just let grandma rest at home and cancel her slot. The villa isn't that wheelchair friendly because you need to use the stairs and ride a carabao for you to be able to exhaust your visit at the vicinity. Cousin got a prompt reply for refunding my grandma's slot (and my uncle's) but I don't know if they quickly got the refund.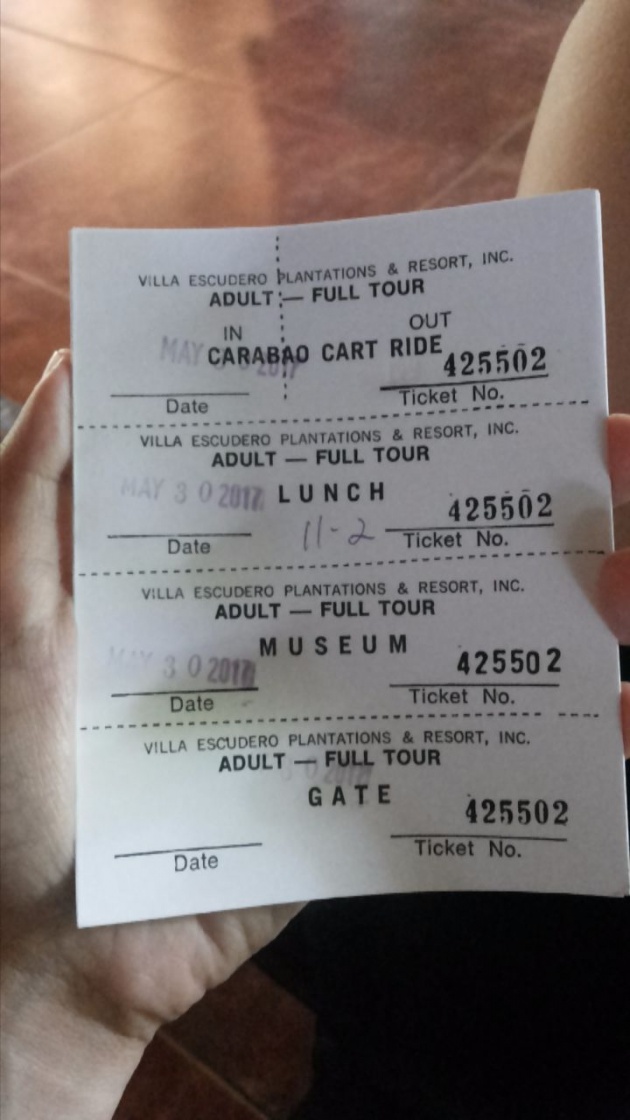 The Ticket. Photo credit: lapiz-lazuli
Anyway, when you arrive at reception desk, you need to present a government-issued ID along with your reservation details. If you're a foreigner, I think a passport would suffice. I noticed that the hacienda had a lot of staff, so if you need or want to know something, don't be shy to ask one of them. While waiting for our slots to be converted, were given welcoming drinks (samalamig).
The Museum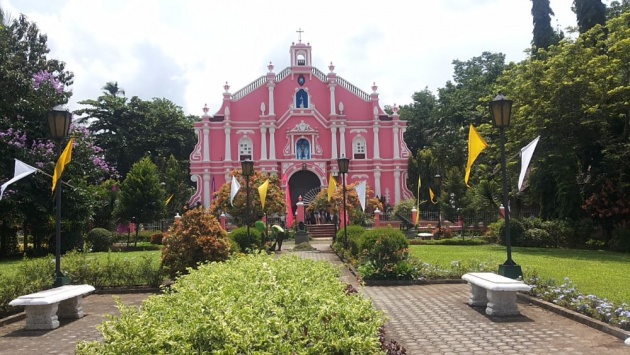 Photo credit: lapiz-lazuli
Our first stop was in the Escudero Private Museum. Taking pictures and capturing videos are not allowed inside the museum for I don't know what reason. The building looked like small church but it really used to be one many years ago. The owner just turned it into a mini exhibition hall for their various collections. If you're sensitive to smell or can't stand the heat, I advise that you skip this trip because you will feel nauseous and uncomfy, even if there are many big industrial fans placed inside the museum.
The first floor comprised of sculptures/statues of saints, Mary and Jesus. The side halls were home to biological artifacts—insects, shells, taxidermy animals (there was even a pangolin!), some plants, etc. When you go to the 2nd floor, you will see various collectibles such as old banknotes, dolls, ancient maps, huge potteries, historic clothes worn by famous people like presidents, fighting gears and weapons, and other relics.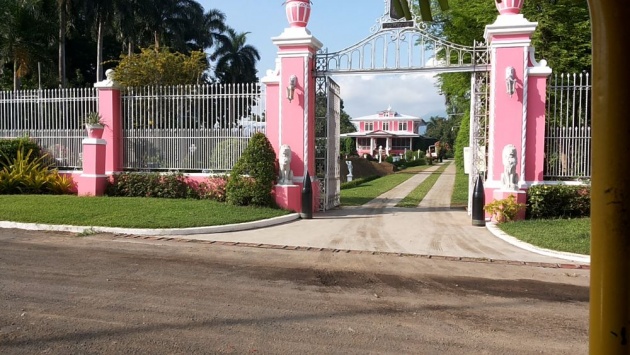 Escudero Ancestral Home. Photo credit: lapiz-lazuli
After visiting the museum, a few walks would lead you to the ancestral home of Arsenio Escudero; it isn't allowed for public viewing.
Carabao Cart Ride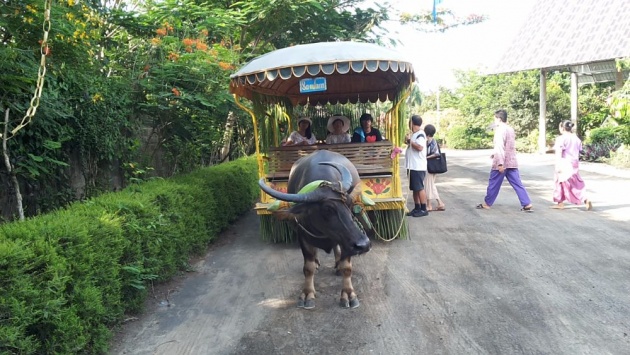 Photo credit: lapiz-lazuli
Next to that was the water buffalo cart ride. You won't literally ride the carabao, but blessie will pull a cart; that's where you'll be sitting. The carabao cart ride will take you to the Waterfall restaurant. When the ride begins, a staff suited in one of Philippine's national clothes will start playing his guitar and sing old folk songs. I think they are kundiman. After two kundiman songs, you will reach the restaurant's entrance.
Video credit:
lapiz-lazuli
via
bitlanders.com
I kind of pitied our carabao being whipped just to let her go fast, but I remember the saying: "balat kalabaw" (carabao-skinned), so thick they won't feel anything or get inflicted with sickness. Anyways, even us humans get stressed like them...
At the Waterfall Restaurant
There's a baggage counter before you head downstairs leading to the restaurant. Leave other stuff—clothes, bottled water, shoes, etc—in there except your valuables like phone, wallet, IDs, etc. There are shoe shelves where you can opt to place your footwear (yes, the one you're wearing) because the flow might take them away, never to be seen again.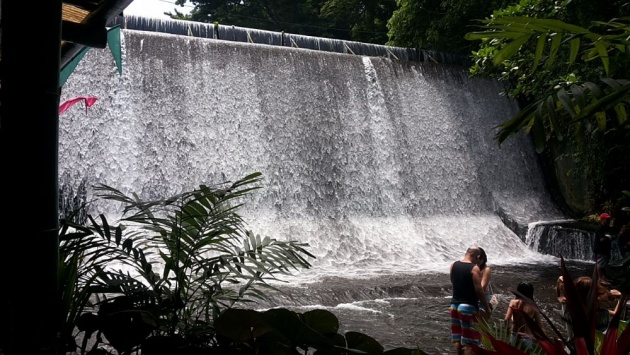 Photo credit: lapiz-lazuli
It is a buffet restaurant so you can come for seconds or even thirds. The cuisine is Filipino like grilled tilapia, afritada, pakbet, pancit, etc. Vegetables and fruits are abundant; they taste good, especially the watermelons. You can order coconut water and it will be served in its shell. Their ingredients are sourced mainly from their harvest (after all, it is a hacienda) so they're guaranteed fresh.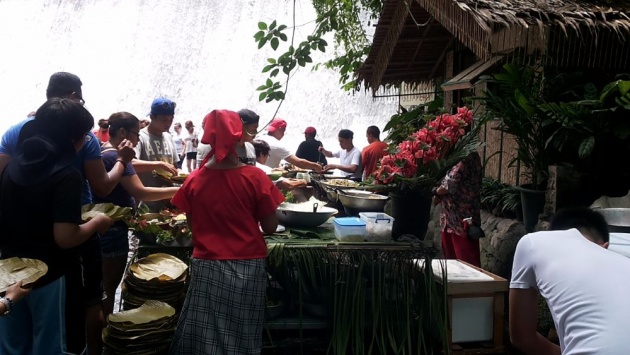 Photo credit: lapiz-lazuli
Be careful when you tread the flowing waters because it's really ugly and embarrassing when you're carrying your plate filled with food going to your seat and then suddenly you slipped and tossed your food in the water. Well, that exactly what happened to me. Good thing my relatives reassured me that it was okay, really. I'm only human. Btw, you will feel the algae under your feet; don't worry because they aren't slimy. There were also small fishes swimming in the flowing water.
Photo credit: lapiz-lazuli
After you had your fill, you can visit other areas of the hacienda like the swimming pool and the rafting dock. I wanted to experience rafting in the river but it required a partner and no one in our group dared to do it, so I just casted all my frustrations in the less-than-5-foot pool (and at the fun kiddie pool).
Video credit:
lapiz-lazuli
via
bitlanders.com
There were guidelines where you aren't allowed to raft if you don't know how to swim, even if you're wearing a life vest.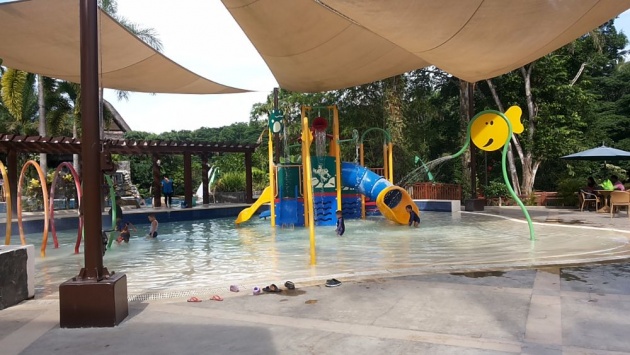 Photo credit: lapiz-lazuli
You can order food in the pool area; items are a bit pricier but hanging out in a gazebo with a calming view would be better if you were munching on something. I wish I had tried the halo-halo, but my nasty laryngitis won't let me. There's also a mini shop beside the washroom (that's in front of the pool) where you can buy swimming outfits and toiletries; they're a bit strict on swimwear so it's mandatory to have the proper outfit.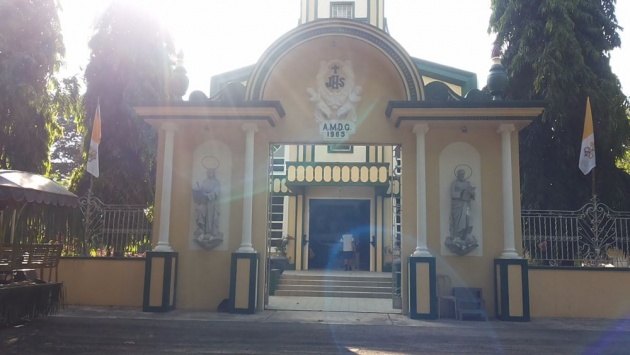 Photo credit: lapiz-lazuli
We went on a Tuesday so there was no cultural show available for viewing, but I think it I find it ok to miss it because the hacienda might be full of tourists on Thursdays, Fridays, and/or weekends. We visited a church inside the villa on our trip back at the main reception hall.
I hope I provided some information that you need if you want to visit Villa Escudero. Cousin had this on her bucket list of must-see places and as soon as she stepped into the waterfall restaurant she kinda said: mission accomplished, I can now fly back to London.
Btw, here's a Querlo chat about things you need to consider when travelling:
Disclaimer: Pictures, videos and writeup are owned/made by lapiz-lazuli. Views and opinions in this blog post are truthful but subjective and are not influenced by sponsorship of any sort.