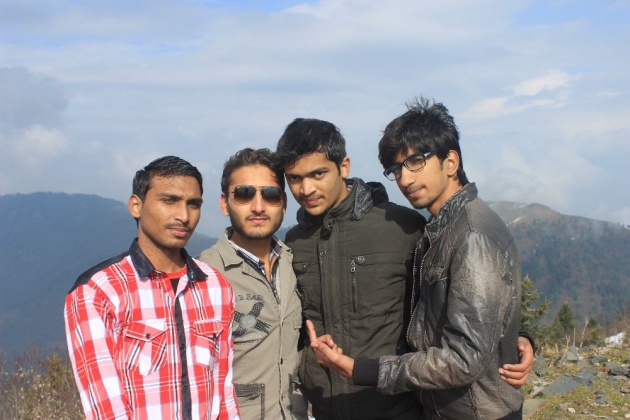 (Image Source=My won)
Morning of Second Day
On the night of our first day, we planned to go early morning for Miranjani because we wanted to reach the top of Miranjani at day.. So, we could see the beauty of Nathia Gali from the Top of the Miranjani.
So on the next day, we were didn't wake up early because last night we guys enjoyed a lot and went to sleep late night. We visited Nathia Gali and had dinner at Red Onion. Our Friend Zubair ordered Chinese Food and we were expecting something tasty. After our ordered were being served, we taste it and I really disliked it very much. Later we came back to Hotel and had conversation about different matter and our Principal shared his experiences with us and he also told us his visit to Paris and many other Countries. We guys also had pillow fight and a blanket fight. My friend Zubair tried to steal my blanket and run but I caught him by slapping hard on this back he fell down on Ahmad and he grabbed him and punched him. We had great fun till late late and we continued to laugh until everybody slept and nobody knows who slept first and who last.
Next morning I woke up first at 6 o'clock and start to disturb my friends. So, they awoke up and we should got ready for Miranjani. But they didn't wake up and I were alone who was awaking and ultimately I slept again. At 8 o'clock Our Principal woke up and he got fresh himself then awoke us up. I hurriedly rushed to bathroom and brush my teeth, face and comb my hairs. One by one, we all got fresh but we were running behind the schedule we planned. We were at breakfast table at 9;15 that was very late and I ate as much as I can before the Miranjani's height was scaring to me and I thought that plenty of energy would be needed today, that was correct. Waleed, Ahmad and Azeen went out of hotel before us to smoke.
Sat out for Miranjani
We sat out for Miranjani after 30 mints of our breakfast. We actually didn't know the way to Miranjani and don't have any GPS with us to guide us but there's a lot of people to guide anyone. Before we leave the hotel, drizzling was begun and I asked that now what all plan is ruined by this rain. Before anyone of us speak, the owner of hotel said, " Don't worry about this drizzling, It is not going to rain. It is the daily routine of Nathia gali in winters. Go tension free and have fun". That gave us relief and our clothes too that were water proof. But we unable to captured snaps when we were heading because it was drizzling and it can damage our cam's lenses that why we didn't take a risk but later drizzling stop and we were able to take some really cool pictures on Miranjani Mountain. When we asked someone(Student was coming form school) that which way leads to Miranjani Mountain. He looked at us with surprised and said, "Guys, you heading toward Miranjani in this weather. You can't make it". Well, that was discouraging but we all were determined not just to track up Miranjani a bit but we determined to reached the top.
The Miranjani mountain way should be going upwards and the way that leads to Miranjani from Nathia was totally opposite; downwards. We were laughing that we already walk downstairs much and didn't see the Miranjani track on which we were going to spend next few hours going upwards. As we reached near to Miranjani mountain and saw resting corner for the tourists. From near by, a guy(Residence of Mountains) started to walk towards us and asked us that where we were going? We told him that we were going for Miranjan mountain to reach its top and asked him the way. He told us that he was going to look for a job and he could be our tour guide. Our Principal asked him that how much money he needed for being a guide for us and he demanded 300 Rupees. We agreed on that and near the tourists rest corner a roughly track is going up. We told us that this is that way which leads to Miranjani Top. All of us started our tracking on the one of the highest peak. Tracking was tiring as we were moving against gravity and that's the most difficult task in this world to work against gravity. We were throwing stones from the track downward, Guide told us not to do that. There is a city and these stones hit people some times.
Tragedy of our Trip
The tragedy happened was very scary and that actually shocked us morally and we felt that now what is gonna happen and how we gonna make it. The tragedy was we forgot to take water bottle with us and not even any soft drink as we were in great rush not to get late. But we took a Thermos filled with tea with us. Our Principal said, "Okay boy, you forget water that's your fault not mine give me a cup of tea". We thought that we should now took tea with other in order for survival.
Surviving Technique I thought
I agreed that we forgot to take waters bottles with us that is main thing every tourist should has. But we forgot water not our brains and thought of a great Idea. I remembered that when I was packing My friend's bag, He putted bottle of chocolate(Powder form) in his bag. I asked him to give me his bag and I checked and told my principal that we got plenty of chocolate. He said, "Nice technique you used my boy". All of us drink new type of tea that as far as I think no one else yet has taken before. Our tea was looking black because we mixed a lot of chocolate in it which gave us strength to reached top and I wore his bag just for chocolate. After tea break, I said to my sir, " Okay sir, I'm gonna do some running". He gave me permission and said that just watched your steps and down fell off. I ran about 1 kilometer and tired as i was running against gravity. I sat down to catch my breath and in a short while my friend Azeen was also following me and he joined for rest. He got DSLR with him. I asked him that rains stopped. Now we should do some photography.
I wished and ALLAH Fullfilled
With in mints, all of my friends reached there where we were resting and I wished from the depth of my heart that everyone experienced the cloud beneath them and we have come up on height and clouds are still above us. Allah accepted my wished and all of the sudden, from the right side cloud was rising up. First we thought it was smoke but later our guide told us it was cloud you were seeing and I captured it hurriedly before it gone.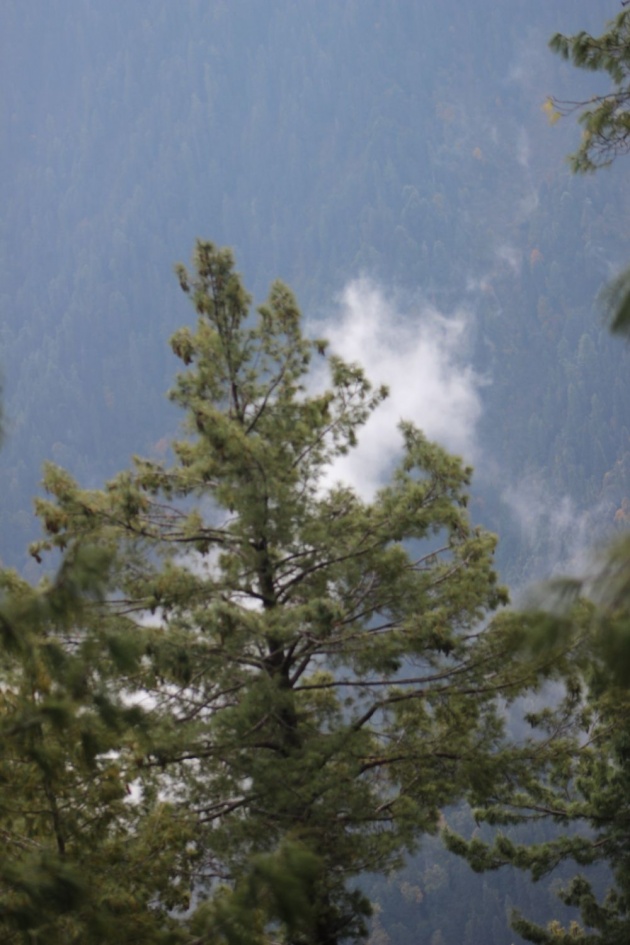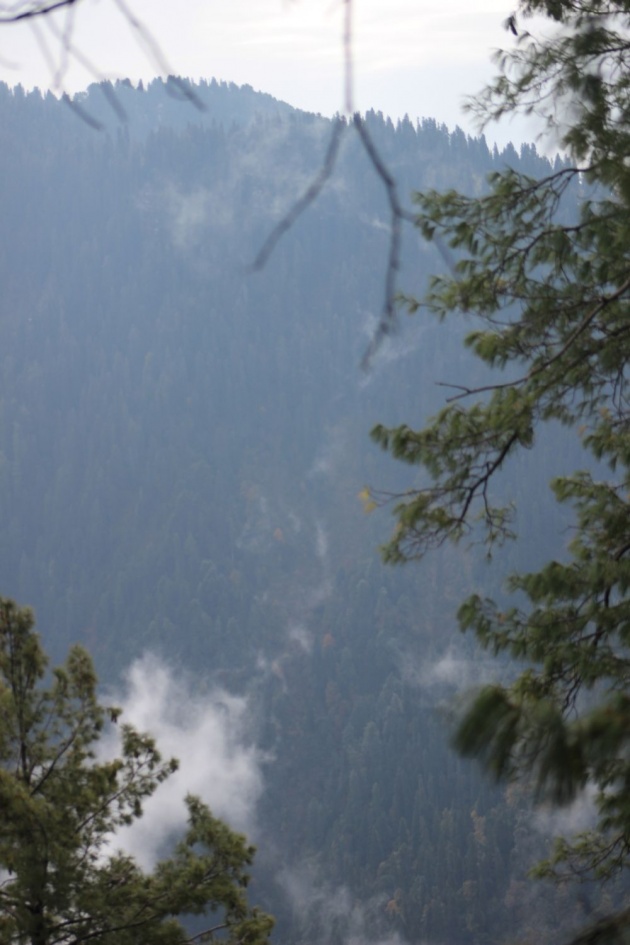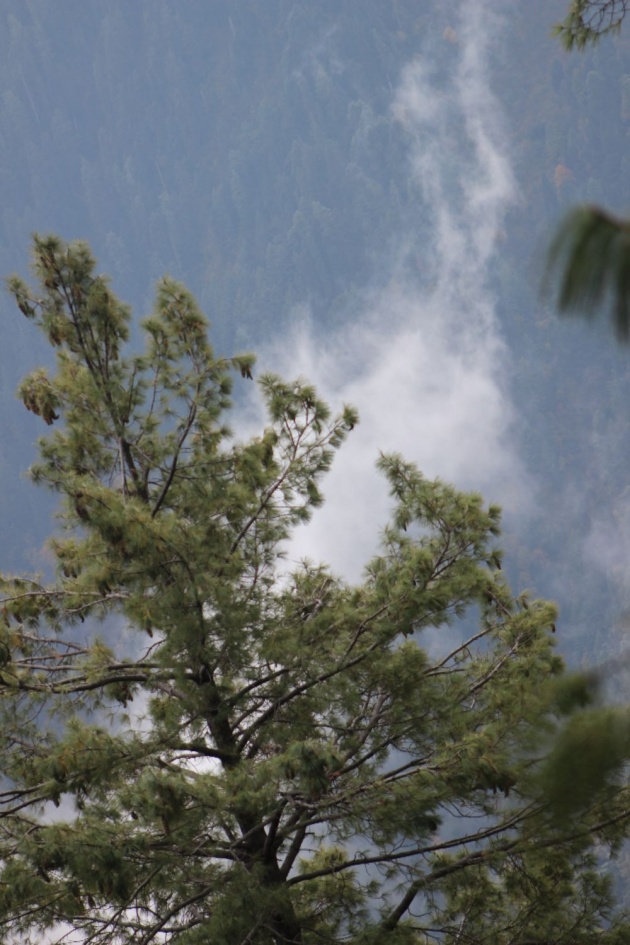 (Image Source=My won)
These are the snaps I clicked when I wished and ALLAH gave it you on spot. I was very happy to see this scenic sight that i wished for and miracle happened. Nature's beauty is more than the beauty of our cities. We citizen being facilitated with resources and for the sake of such resources we have finished the beauty of our City that is Natural Beauty that ALLAH created. It was the first and best click of our second day.
Saw Mukeshpuri Mountain
We were standing on the Miranjani and saw a mountain that is opposite to Miranjani. We asked the tour guide that what was the name of that mountian. He told us that its name Mukeshpuri Mountain and it is smaller than Miranjani mountain. Well frankly, it doesn't seem to small than Miranjani but it is. We saw the top of Mukeshpuri was covered with snow and from that part mountain was looking like white mountains from top and black from rest. These snaps was also clicked by me.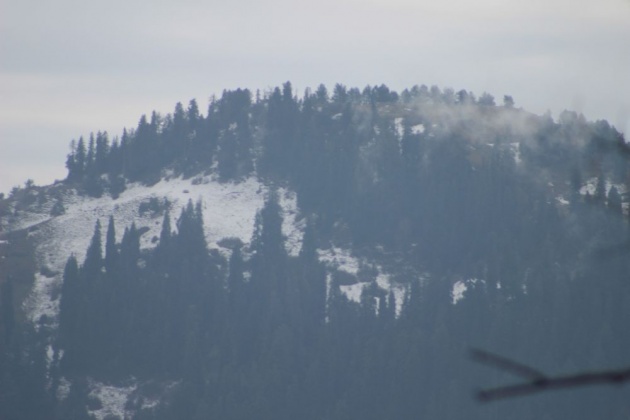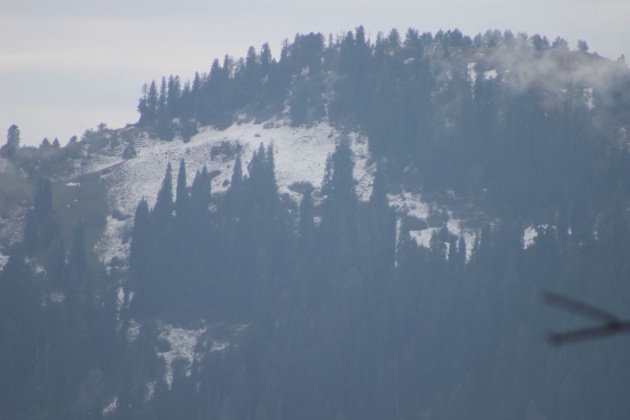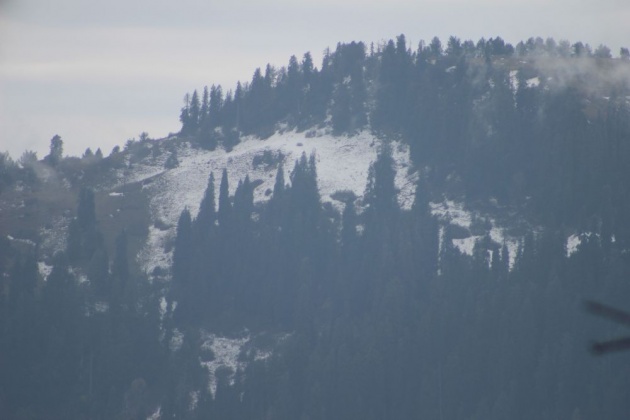 (Image Source=My won)
Our Photos on Track
After clicking photos of clouds and Mukeshpuri, My friends started to captured their photos. They captured nice and memorable photos. Our tour guide was a good man, he told us that we are very nice people and the mostly Lahories are. That is the compliment we get wherever we go. We clicked many photos where we rested. We also clicked selfie with phone selfie cam and captured it with DSLR. In a unique way my friends captured photos.
This is the of the unique way of capturing selfie now a days. This photo is perfect and accurately captured. I just shocked to see the focus of the DSLR. Too much pixels density it delivered. I think I should buy DSLR and start photography just for creativity and share some interesting things on internet. And this creative photo was clicked by our principal and you can him in the screen holding cam and next to him is Waleed.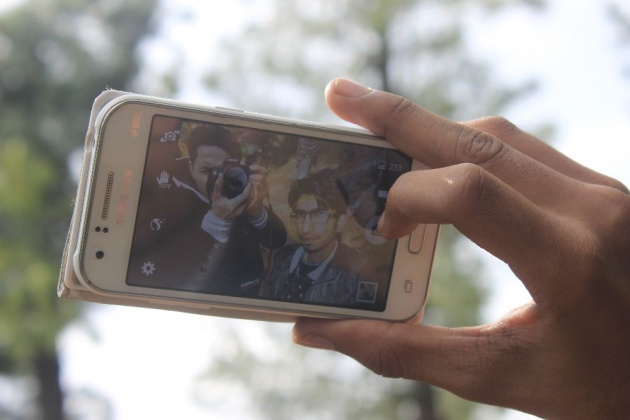 (Image Source=My won)
As usual, we were childhood buddies and we love to fight with each other and also sit next to each other just to teas each other. I clicked this photo and Ahmad was capturing photos of grass with his phone that's why he wasn't looking in the photo.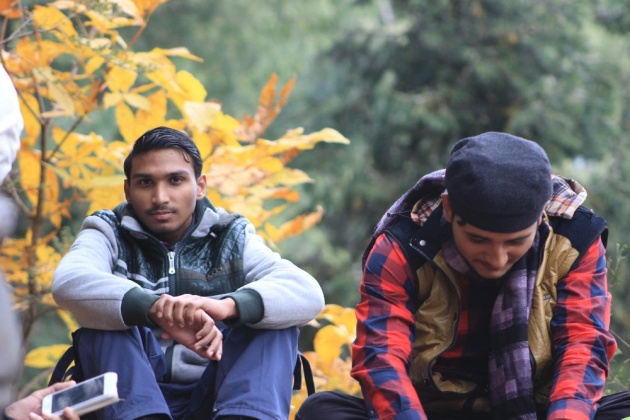 (Image Source=My won)
This is photo is clicked by me and the interesting thing about this photo is not the person standing in red hod. The interesting thing is that my friend Waleed was captured in this photo while recording the sound of blowing winds. The music or noise wind producing by rustling with leaves and trees soothes my ears and this sound was tried record by friend but he was unable to record but he recorded our voices.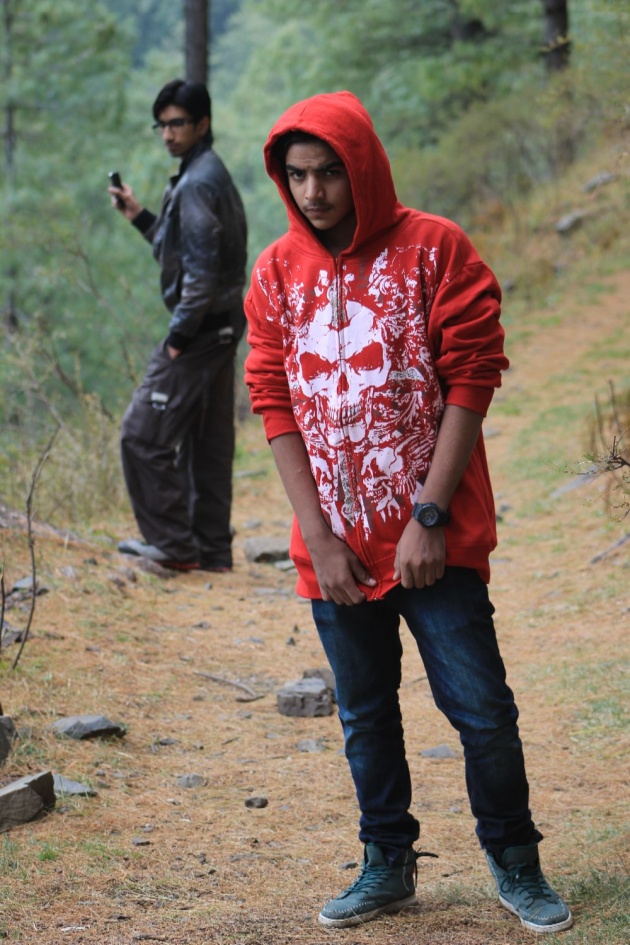 (Image Source=My won)
Here the Mister Ahmad just had finished their photography session with grass. You can see the heap of grass in front of him.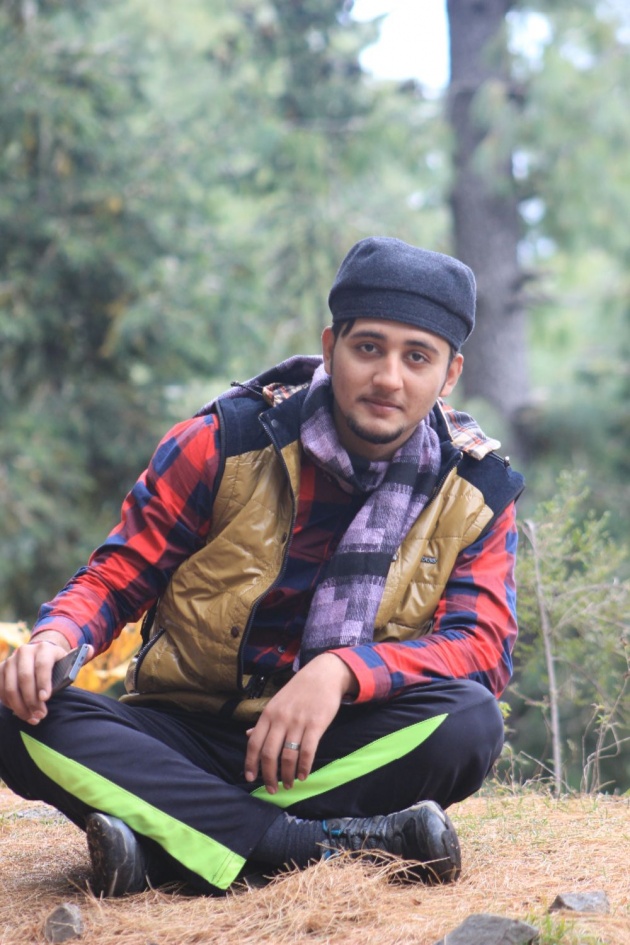 (Image Source=My won)
This is me standing along tree The tree is on steep path and I was unable to stand on my own that's why I balanced my self with tree to take at least one photo of me at resting point. After taking a long rest of 18 minutes all of my friends started to move forward except Azeen, Waleed and Me. We stopped to take some photos of us at resting point.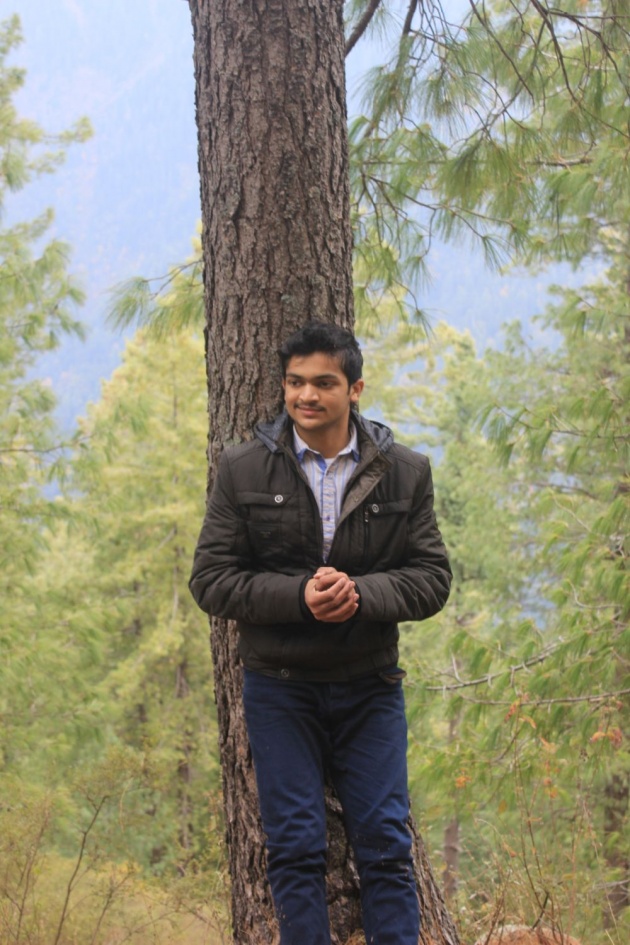 (Image Source=My won)
We three started to capture some beautiful sight with us. I was photographer of them to take all of the pictures on resting sight. Azeen asked me to take his photo along yellow leaves.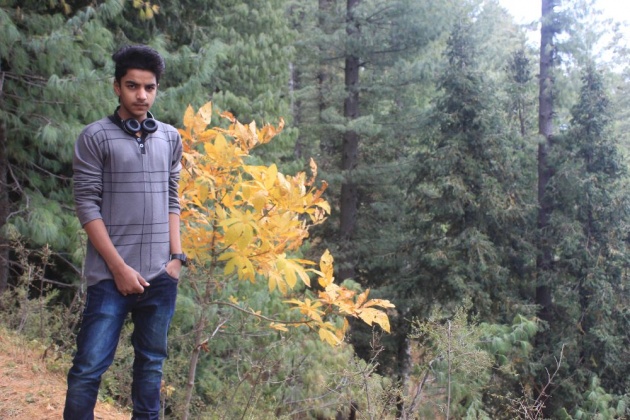 (Image Source=My won)
In this picture, Azeen hurriedly wore his hod due to low temperature their but before he was showing off that he was wearing one shirt only in such cold environment. and Waleed was afraid of falling down that's why he grabbed Azeen from back.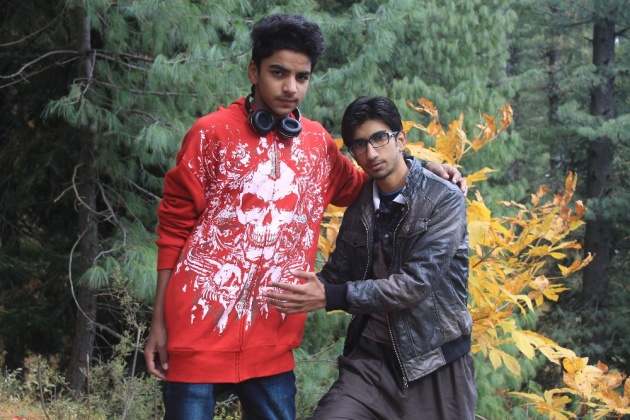 (Image Source=My won)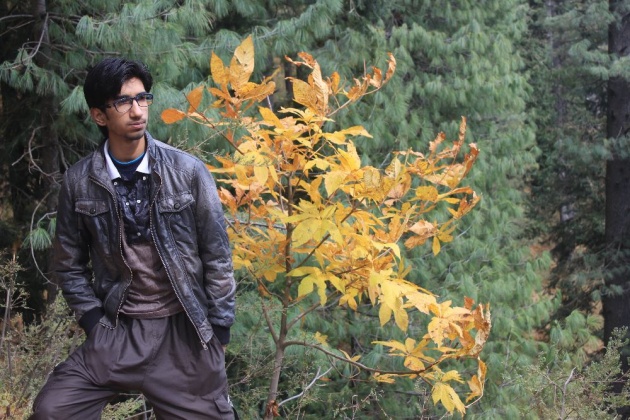 (Image Source=My won)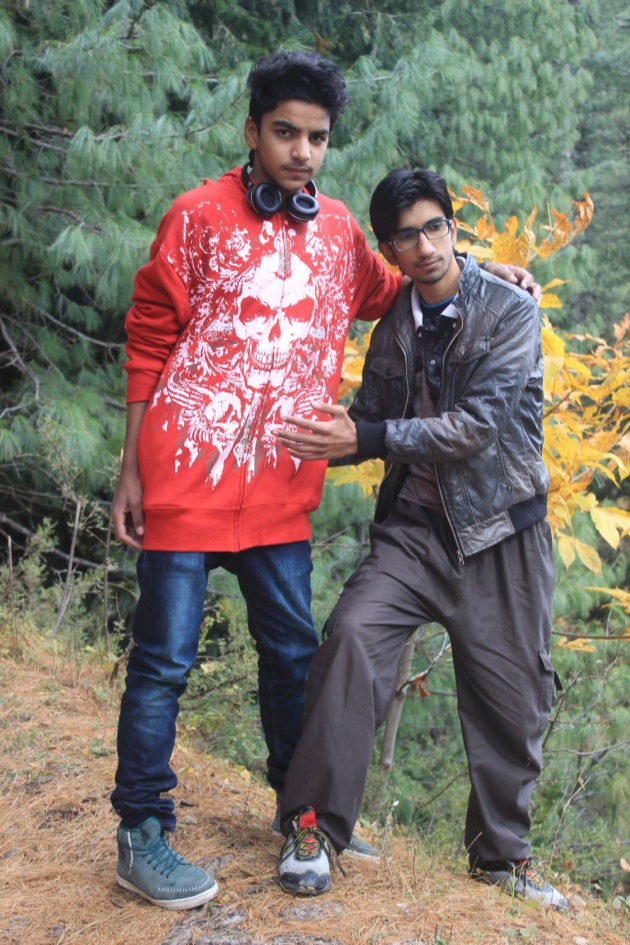 (Image Source=My won)
Snaps With Broken Tree
After 30 minutes we also moved from their and felt that the others had gone much far from us and we have to walk fast to reach them but suddenly, we happened to see a broken tree laying there and we hurriedly fitted the lens and captured some photos with it. The tree had has huge roots. It was on the ground but some its roots were still inside the ground. We tried to judge that how was it broke?. What thing uprooted it from the ground and Waleed said, " It can be natural disaster, leave this topic and concentrate on photos". He was curious to have best cover photo and profile picture for facebook like everyone does. I wanna quote here some Golden words:-
"I still remember those days, When photos were taken for memories not for social media".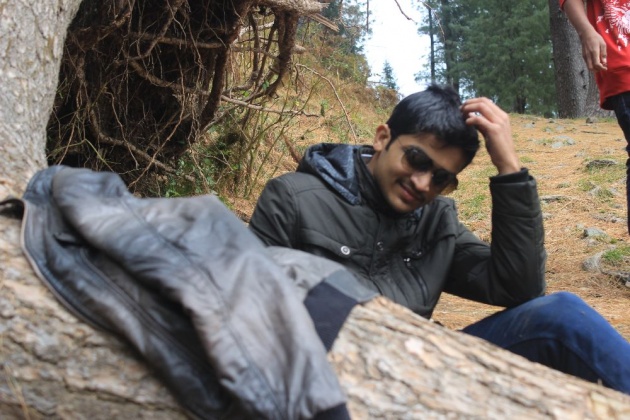 (Image Source=My won)
This photo is captured by Azeen Ali. Waleed was thinking of seating near it but he said that he thought something might bite him and gave him infection. I gave a shout on it and told him that he wanted best cover and scared of sitting near the tree. When I pumped him, He sat but not for long just about 15 secs, hardly.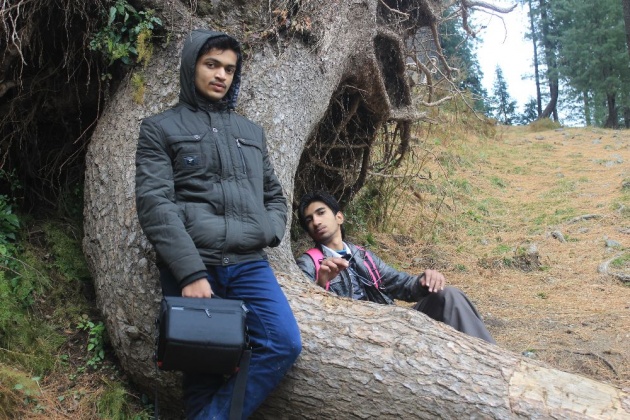 (Image Source=My won)
I thought of taking selfie with DSLR. I said to Waleed, " If we don't take a selfie with DSLR, then no benefit of taking other pictures". As people takes selfies with their phone but we took with DSLR and the result is awesome. In Photoshop, I saw too much depth in our skin and apply texture on it. After all every smart phone gives best selfie but I think this is the best way to capture selfie when you have DSLR in your pocket and one thing more I forgot to mention that we took this picture by manual focus. Now you can see how much it would be difficult to focus on our faces then background.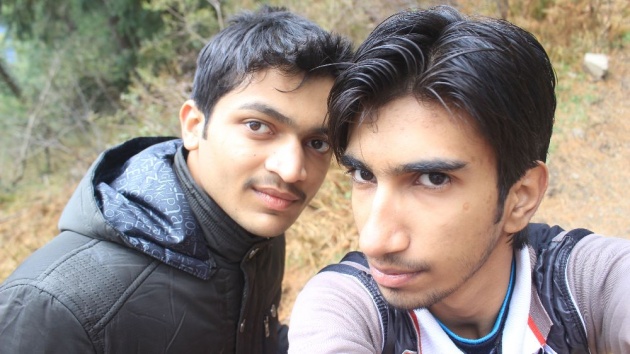 (Image Source=My won)
Well, this is not our selfie but a photo of looking up to Azeen who was standing on roots of tree. Actually we took this photo only to show the depth but we was unable to show that because trees not letting us to show. They were too tall. Our others friends had gone too much far from us that we thought we should go now. Otherwise, we would reach the top by evening. We started to walk like lazy cattle move across landscape and then phone ringed (Gring Gring), It was my principal. I answered he said, "You lazy cows, move fast we were waiting for you and don't you dare to take shortcut you'll lose the way to us". Frankly, We were thinking of taking shortcut because eyes were lying to us that this shortcut leaded to them instantly. But we avoided to do that, we followed the simple path and with in 15 minutes we were together again. They were resting. Everyone was on ground, taking sun bath alone. And meanwhile, Sun went behind clouds. That was funny thing.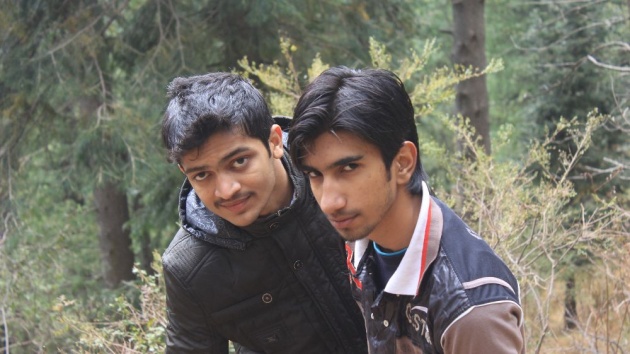 (Image Source=My won)
Here, these two besties taking rest again together. They had some kind of strong bond of fighting with each other. It was the only snap of resting because our principal told us not to take photos. Clock is tick ticking. So, we moved again and we were tired as we didn't take rest as they do. My friend Azeen whispered that his legs could not walk further. I replied him that let walk a bit and then we told everyone to catch breath. We track up about 200 meters then Azeen fell down and said that he could not go further unless he takes some rest.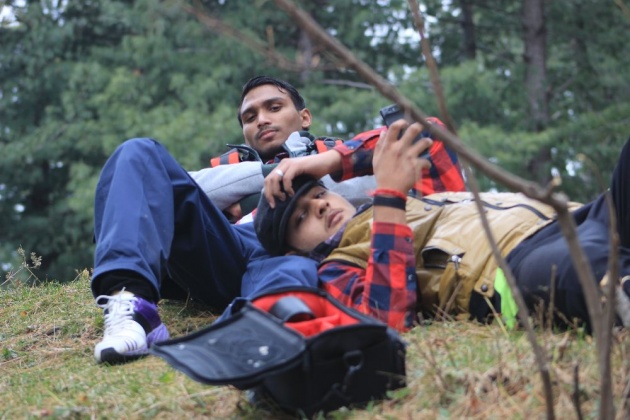 (Image Source=My won)
The place we again stopped to rest is just heart touching. The mountain you seeing behind my sir is Mukeshpori Mountain. It was huge and from this spot we can say that Miranjani is on more height than Mukespori because at this spot Mukeshpori was almost equally to us and we could judge that our sight angle was neither deviation or elevation. It was almost straight angle. Here My friends took to much photos to show that they track upped the Mukeshpori height and we took some groupie and some snapes with Sir Khalid.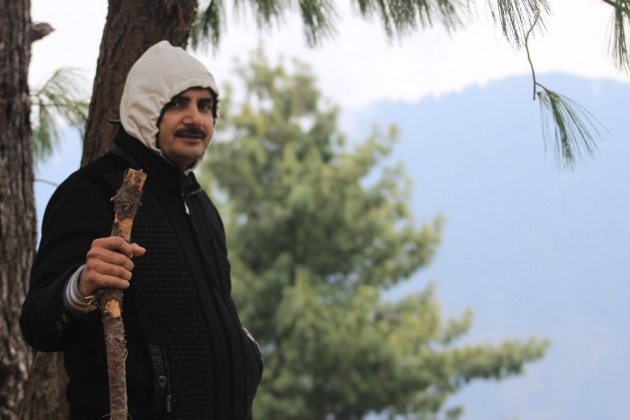 (Image Source=My won)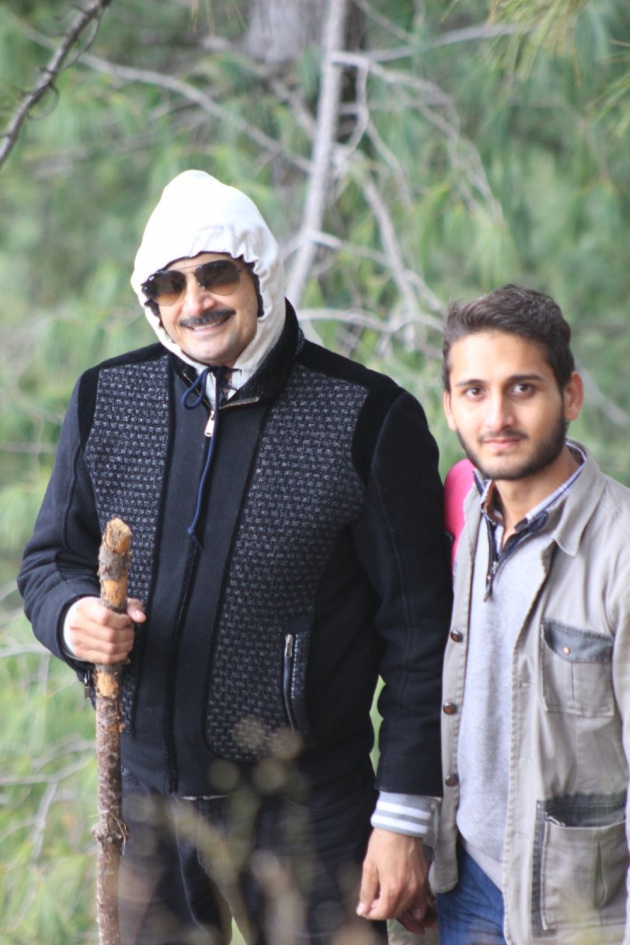 (Image Source=My won)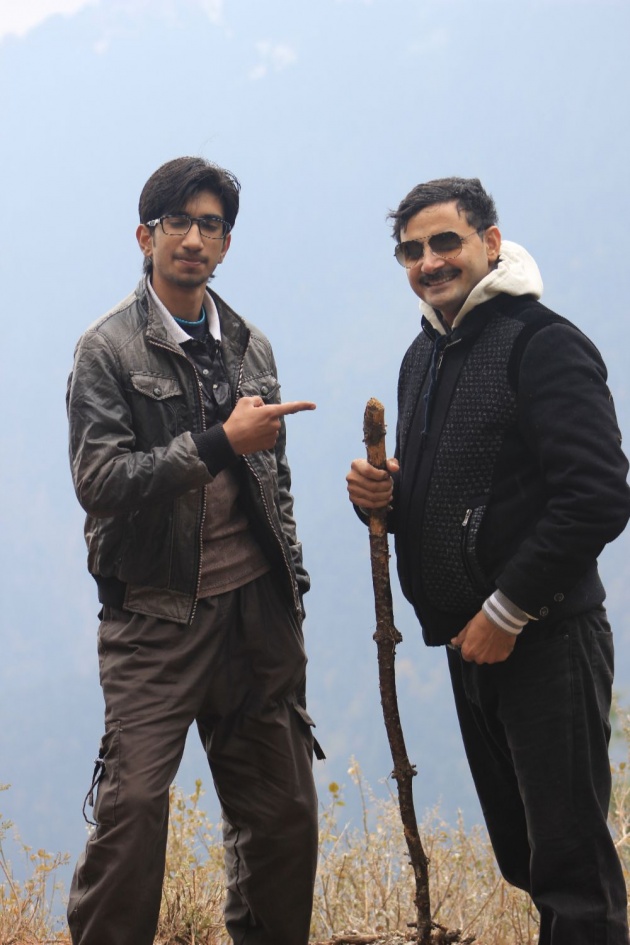 (Image Source=My won)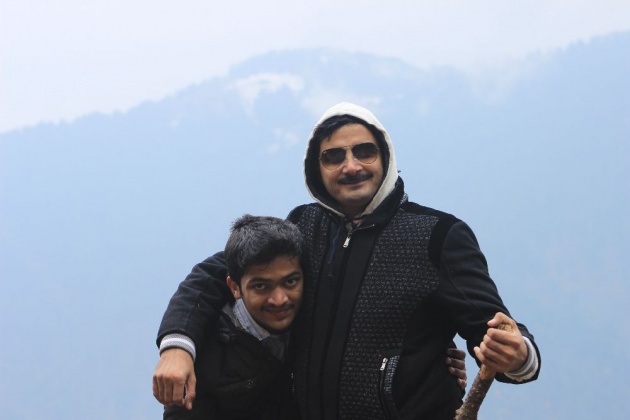 (Image Source=My won)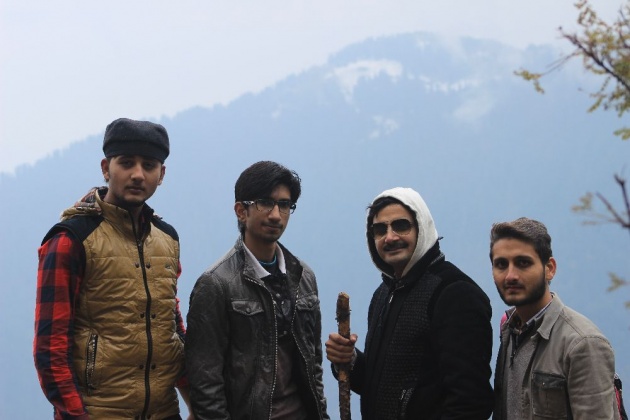 (Image Source=My won)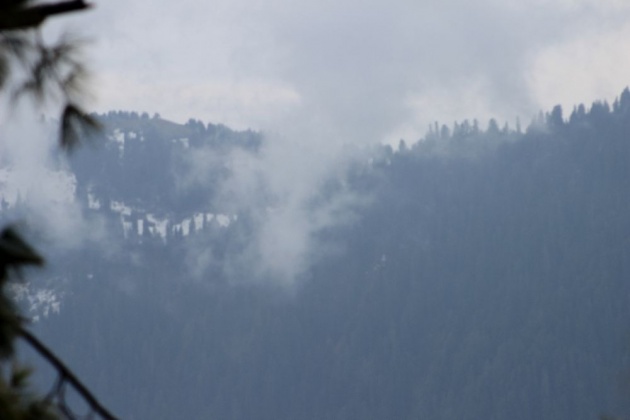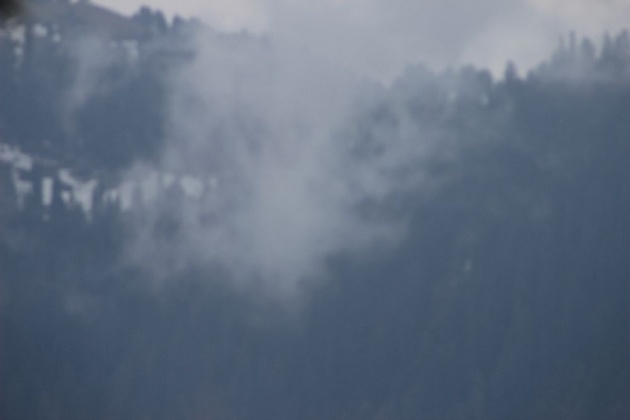 (Image Source=My won)
In this photo you can see the petroleum jelly in my pocket. I took is because it was cold outside and my lips could get rough and skin can burn. Last December 2014, I was riding in cold weather, everywhere is fog and I forgot to wear hand gloves. As the result of my mistakes, my hand skin turned into black that's why I took precautionary measure to take a petroleum jelly with me. Later, Rizwan, Sir Khalid and Me moved on with our guide and others stayed there for capturing more photos.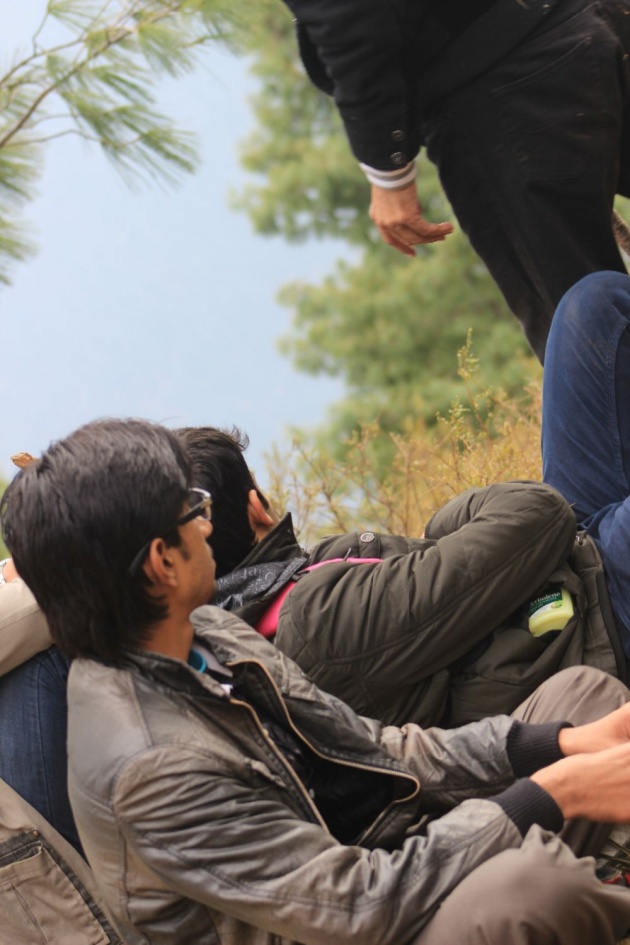 (Image Source=My won)
These are the moments when I was moving along my teacher and friend. Azeen took thiese photos and I also made one of them my facebook cover as well as Blog cover.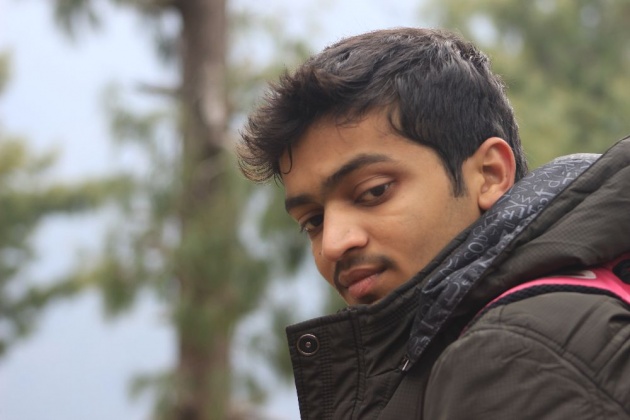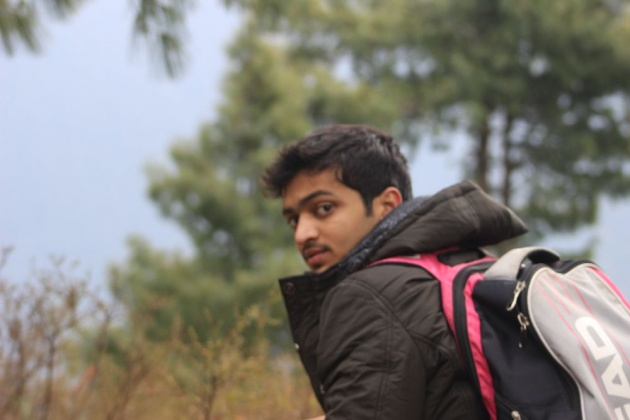 (Image Source=My won)
Every company of friends have every kind of person but our company has smokers. They were already worn out with lack of stamina but they smoke and on asking they told that if we didn't smoke on the Miranjani then everything is waste. Really they thought like that.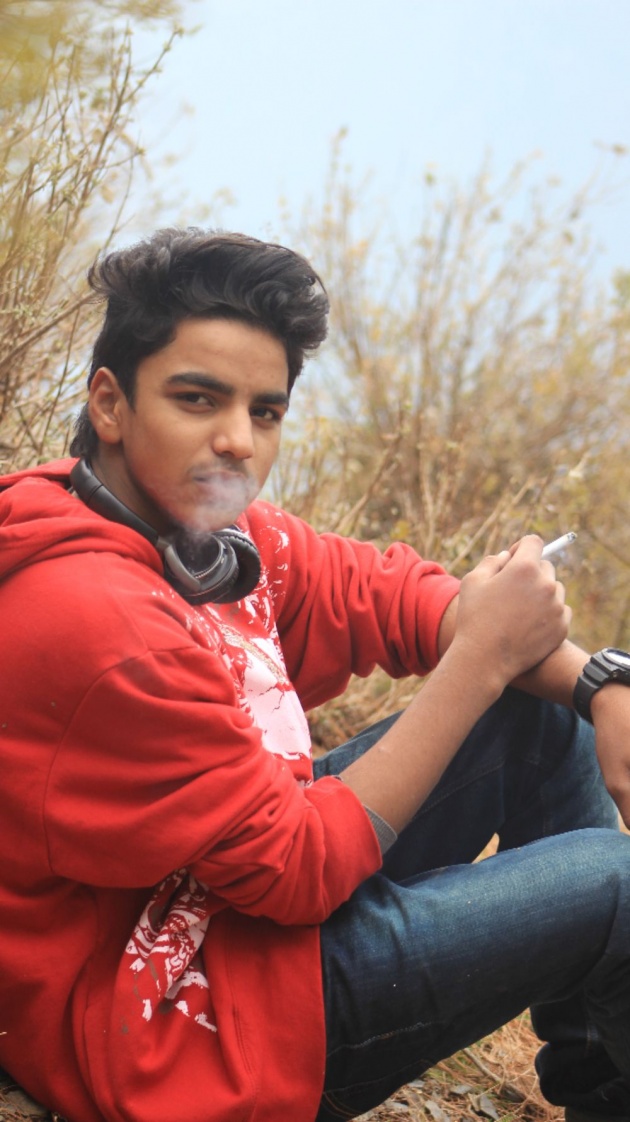 (Image Source=My won)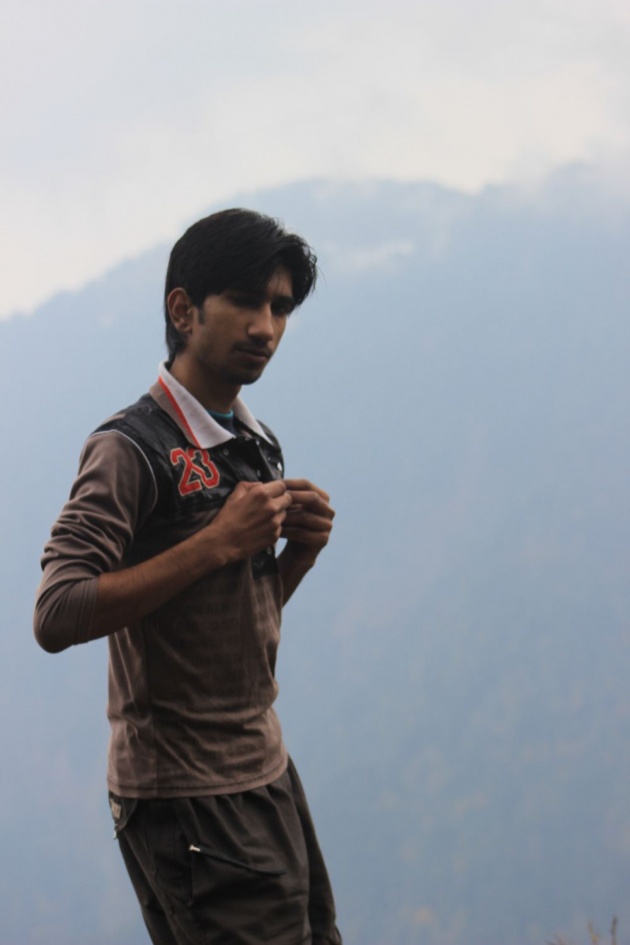 (Image Source=My won)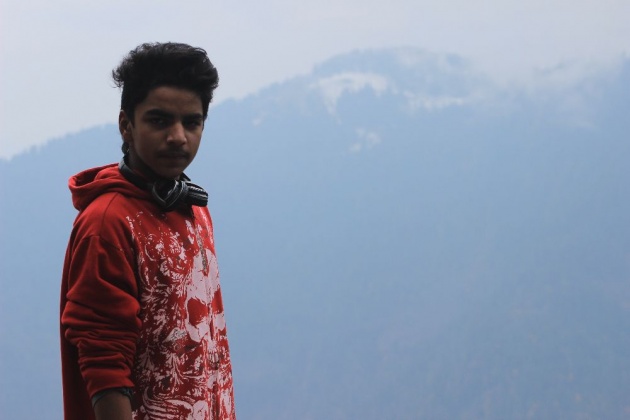 (Image Source=My won)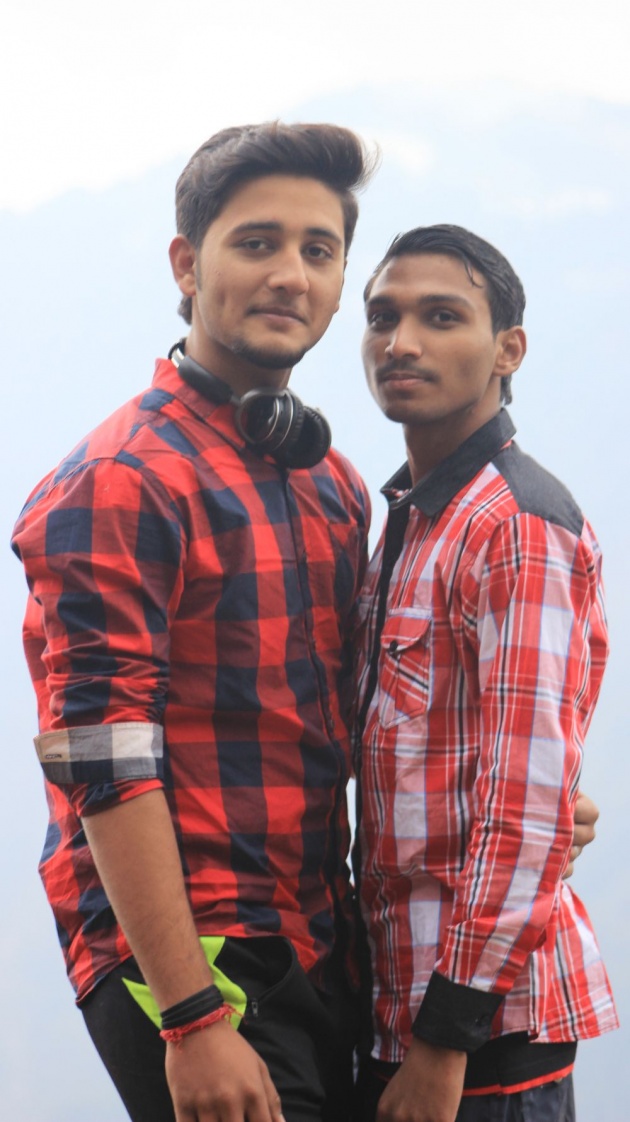 (Image Source=My won)
Started to rain again and Snow fight
When Rizwan, Sir and me went up 600 meters, we saw snow on the Miranjani part. Rizwan and me thought to tell others but they were busy in photography and then we planned to hit them snow balls and we made many snow balls and planned that whoever came up here first. We will fire the snow ball at him. After waiting for 10 minutes, we saw someone coming and on coming near to us, it was Waleed walking leisurely. We started to call his name and we were saying that hey buddy came here fast, We had something to show you. When he came near to us, we were standing on the snow and that part was steep. Waleed just shocked and he said few words that Oh Snow! and we launched the snow ball on him and others were coming to and we ran out of snow ball and then table turned and we had great fight. Zubair lay on the snow with great happiness.
The drizzling was begun again and we were unable to captured our snow fight. There I thought we should have water proof camera and I asked tour guide that how much left?. He said, " Oh! the way. It's not too much now. We've track up the steep path and the path is very straight". We were too relaxed to hear that there is no more steep path and when we started to move again, we hardly gone 800 meters when track changed its angle. It is even more steep than before and with a lot of grieve (Fun) I told tour guide that you didn't need to lie rather you could say that distance was not pretty much. Everyone laughed when I said that. He replied gently that he meant that the really distance we had covered and the distance is about 3 km left. The track became narrow too and now it was time to watch every step. We took a rest on track only we boys, our principal keep on moving and suddenly I remembered that Azeen's smart phone is Sony xperia Z1 and it is water proof and I told him to record video from here. The view from there was extremely beautiful and heart touching and it was too much height and everything (houses and electric poles) looked like a tiny creature down there. We recorded a video of Saying Nara-e-Takbeer. We were speechless to see the beauty of ALLAH created.
(My own recorded Video)
Finally Reached top of MIranjani Mountain
We finally reached the top after a lot struggle. When I saw the track ending, I started to run because I wanted to be the first from my crew to reached the top and I did. My legs were worn out due to run on too much steep path and then I felt need of more training in my Martial Arts(Taekwondo). Strong cold winds were blowing and clouds were passing through us on reaching top. I sat down on a rock and Rizwan was second to reached the top and sir Khalid was third. We all sat down to take rest and luckily, Rizwan found a bottle of Nestle Water. He hurriedly picked it up and showed it to me for asking it is cleaned or not. I checked and drunk water from it because I was dehydrated because we forgot water bottle to take with us. All of us drunk some water from it except Zubair. He said, " He does't drink water from someone's mouth touched". Well, we were drinking just for survival and I thanked to ALLAH for this very very much. It recharged me up but our sir was too much tired and he said that weather was becoming extremely cold. Captured some snaps and return. We all agreed on that because we were thinking that it the top. But our tour guide told our sir this is not the top of mountain. The top is there (an Iron pole representing the top of Miranjani). Our sir said that no we were okay with this. (thanked to guide) He pumped up our sir by saying this, "What will these boys tell their family that they returned from the top when it was nearer than ever". This pumped our sir and we all started to reached the iron pole to prove that we reached the top.
Recorded a Video on reaching Top
(My own recorded Video)
Best Clicks of the Second day By Me
When we reached the top of Miranjani. As the rain stopped and sun came out. Strong cold winds also stopped. It was the time of DSLR to come out of bag and captured some photos. I tried to capture this cloud in my cam but I was unable to do that because it was too much white and I was unable to distinguish. Then I borrowed glasses of my friend and putted it in front of my DSLR to change the colors. It worked and I clicked it. On seeing this photo, Sir Khalid said, "Amazing. you got nerves for photography, everyone of you. It was great technique to capture a pic of such white thing".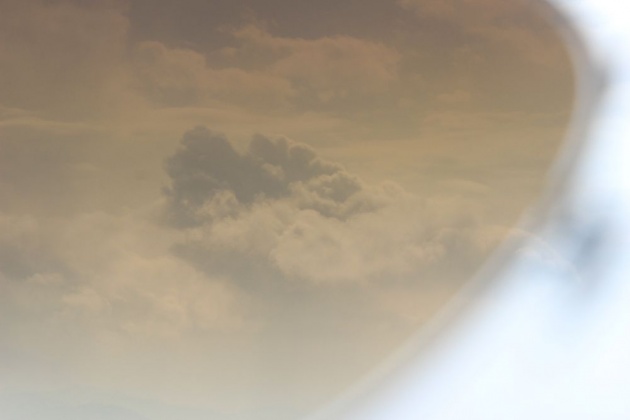 (Image Source=My won)
In these photos, I was trying to focus our reflection in glass. I did it but it was not too much clear I was expecting it to be but this effort made the glasses great.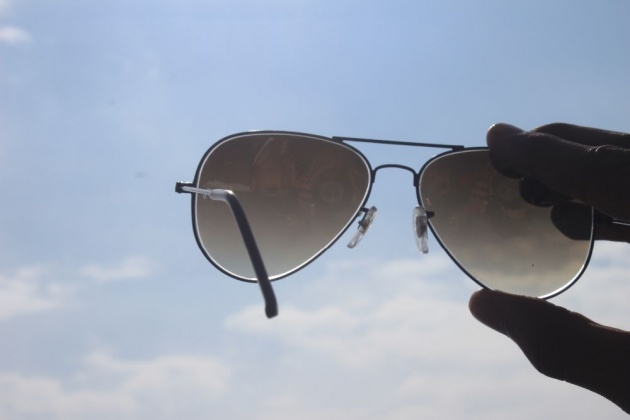 (Image Source=My won)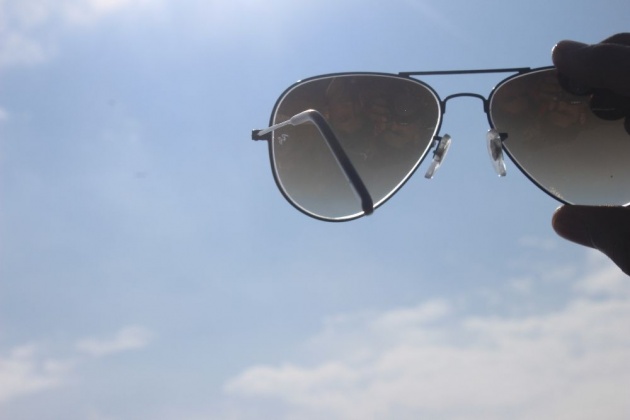 (Image Source=My won)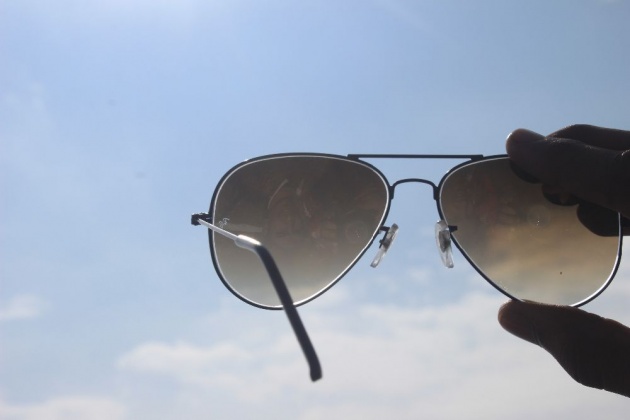 (Image Source=My won)
Photos on Top of Miranjani (Great Victory)
We started to capture more and more photos when we reached top of height 9800+ feet above sea level.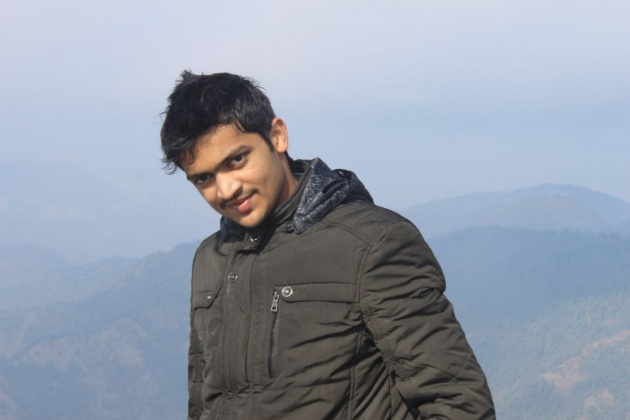 (Image Source=My won)
I captured this photo with edges black effect using shade of Cam.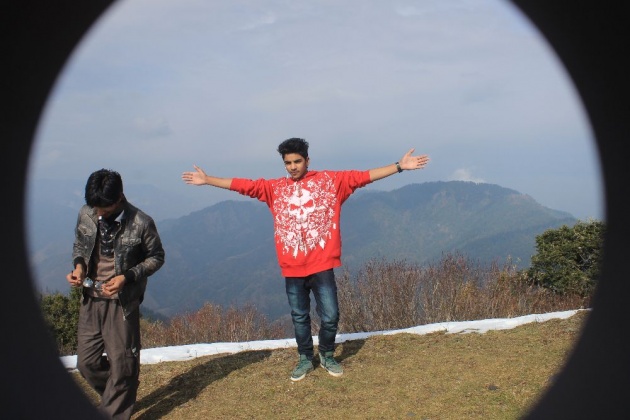 (Image Source=My won)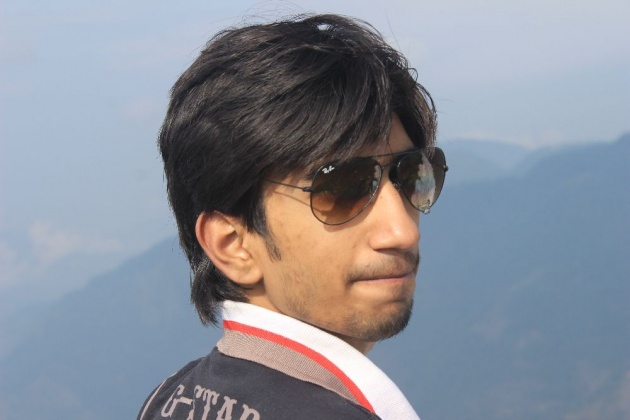 (Image Source=My won)
It was my friend Waleed's name on snow written by him.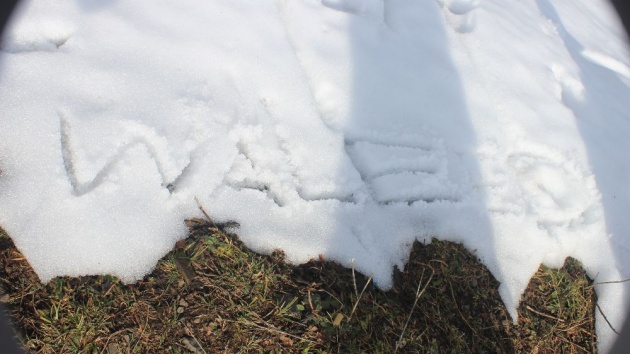 (Image Source=My won)
Got a chance to capture Zubair laying on snow.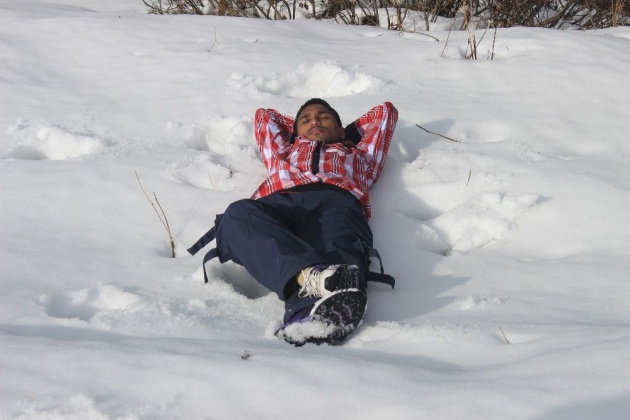 (Image Source=My won)
They were doing Bhangra dance and saying that Yeppi we reached the top of Highest peak of Nathia Gali i.e Miranjani.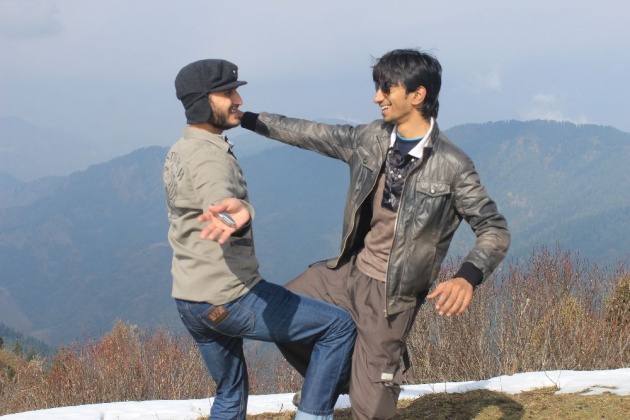 (Image Source=My won)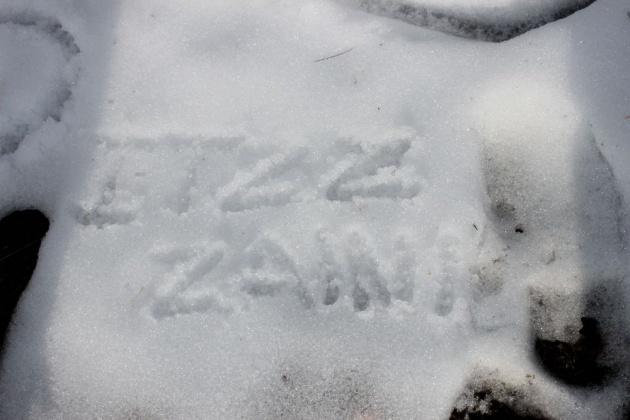 (Image Source=My won)
Oh! I forgot to introduce you to our guide. Here is he. I forgot his name completely.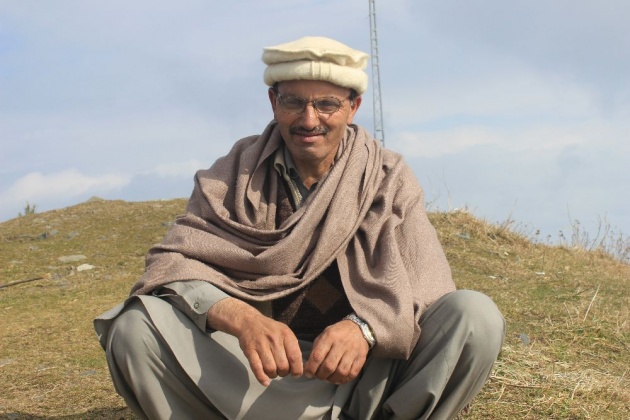 (Image Source=My won)
Everyone complaining our teacher that we were unable to capture a pic where our height could be judged. Then Our great Master Sir Khalid climbed up that Iron pole and took this photo of them. You must be thinking where I'm. I was with sir on top.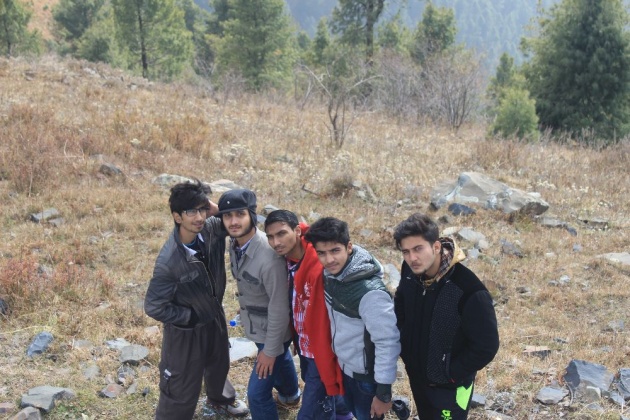 (Image Source=My won)
Extreme Height of Selfie
As Sir Khalid and Me was on iron pole. We thought of taking a selfie that would be the selfie taken on extreme height(some feet above the actually Miranjani Height).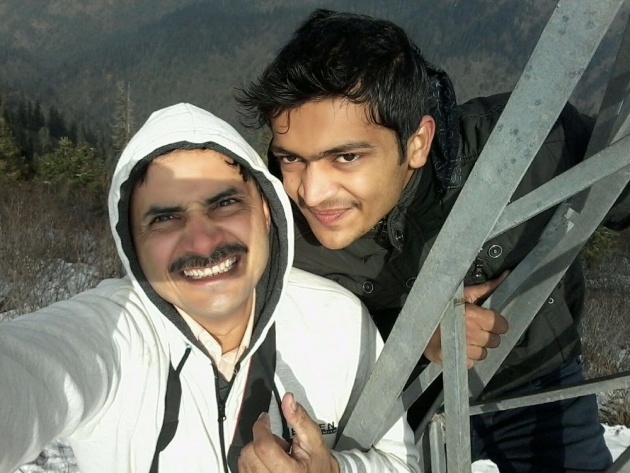 Photos with Snow ball
Rizwan was hit with snow by me and Waleed tried to capture the photo of snow hitting but he was unable to.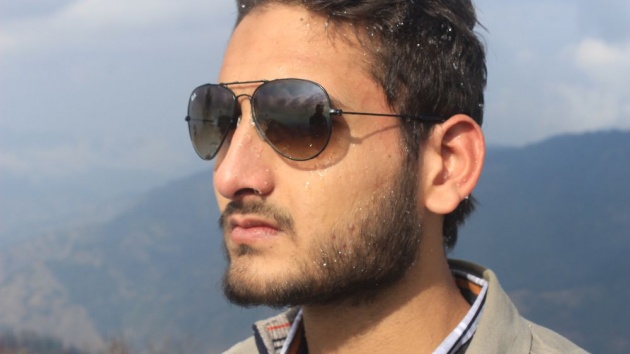 (Image Source=My won)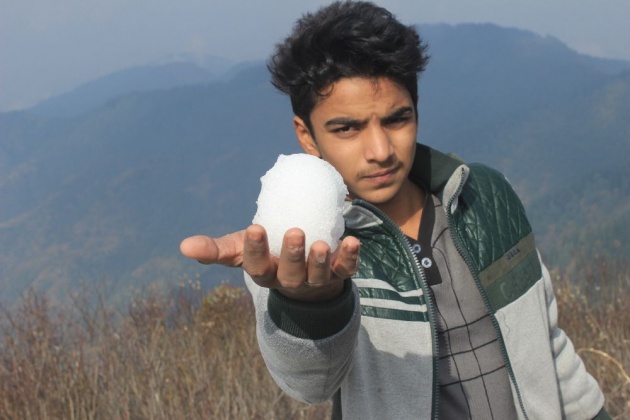 (Image Source=My won)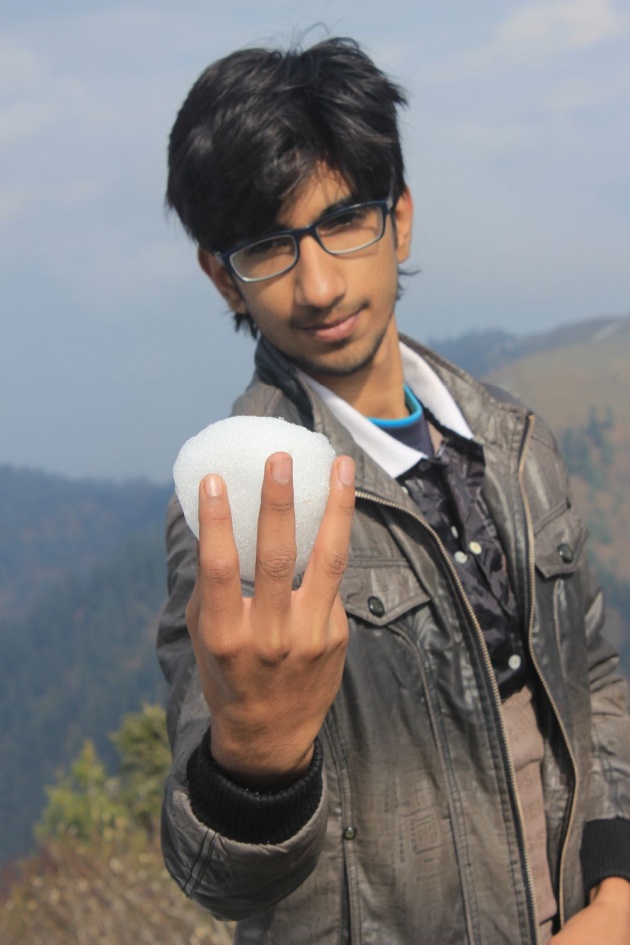 (Image Source=My won)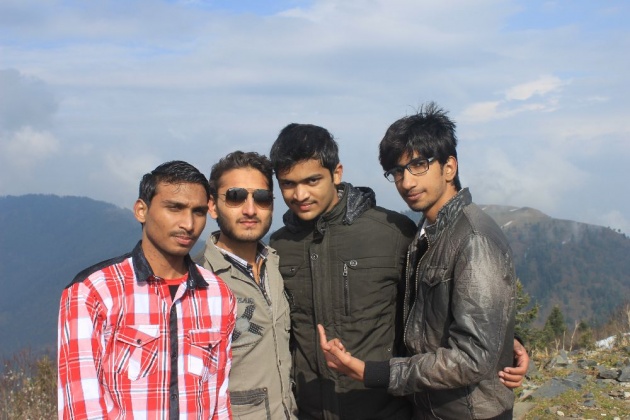 (Image Source=My won)
(Image Source=My won)
So, we actually managed the burst shoot to capture the snow coming and hitting.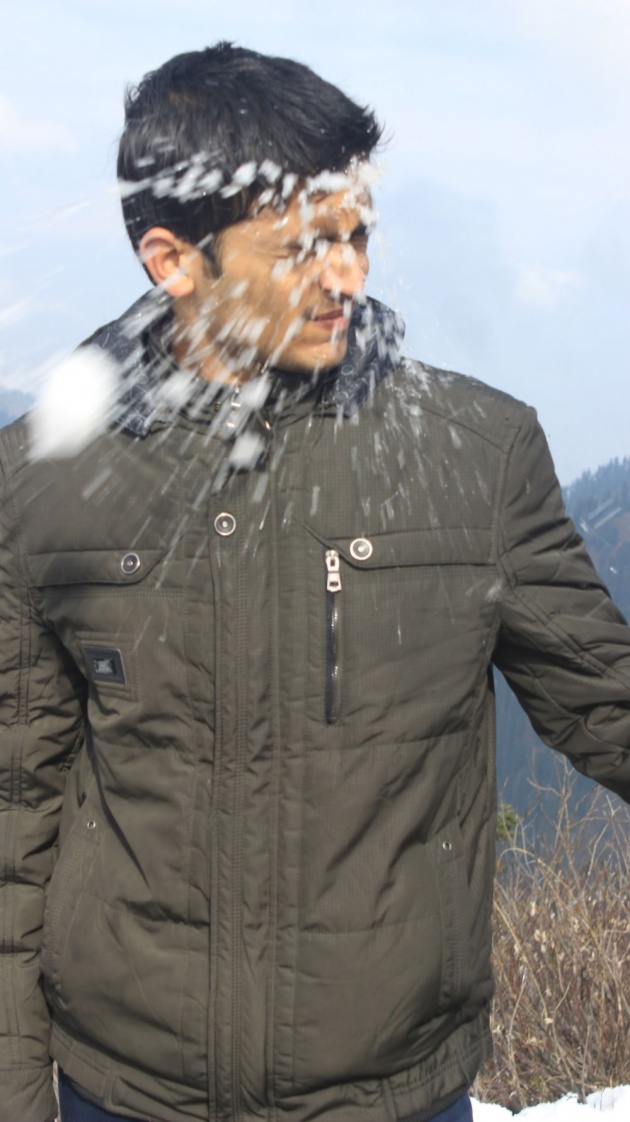 (Image Source=My won)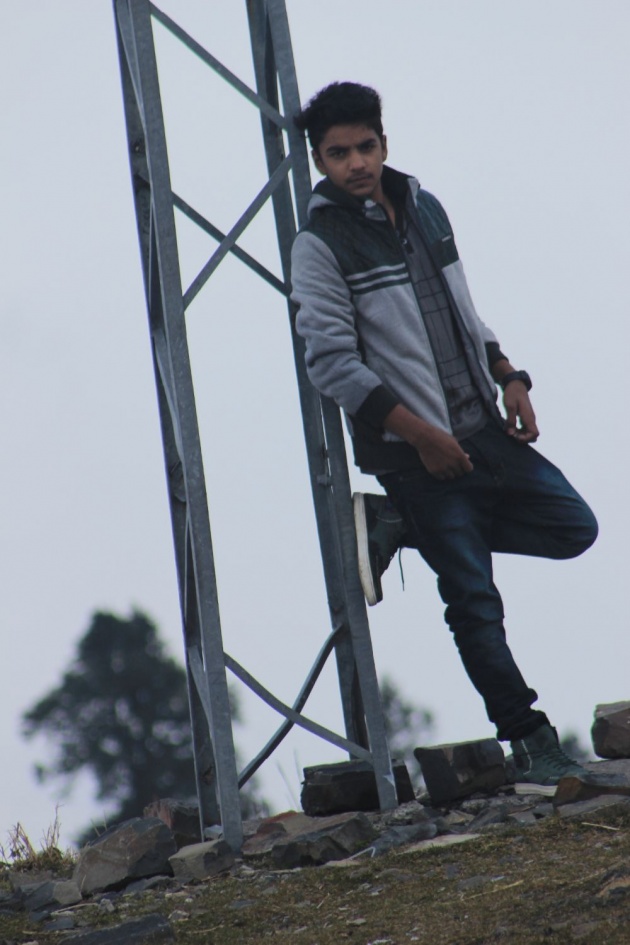 (Image Source=My won)
Views of Surrounding Mountains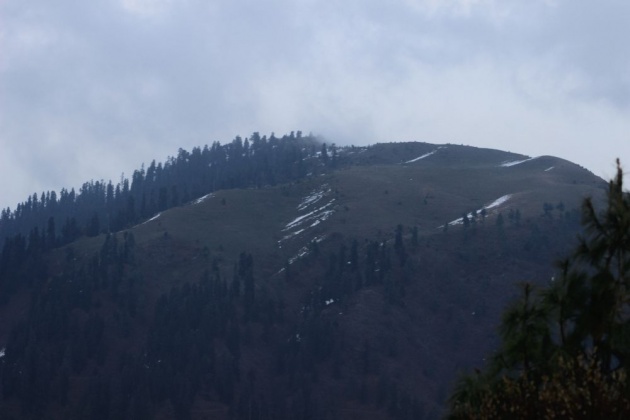 (Image Source=My won)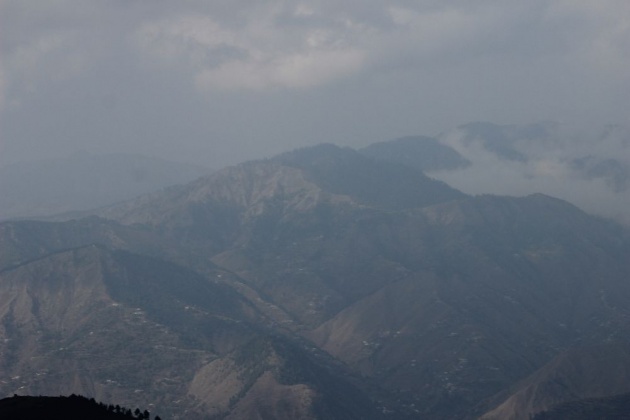 (Image Source=My won)
Zubair standing down a bit but it was the way from Miranjani that leads to Abbottabad.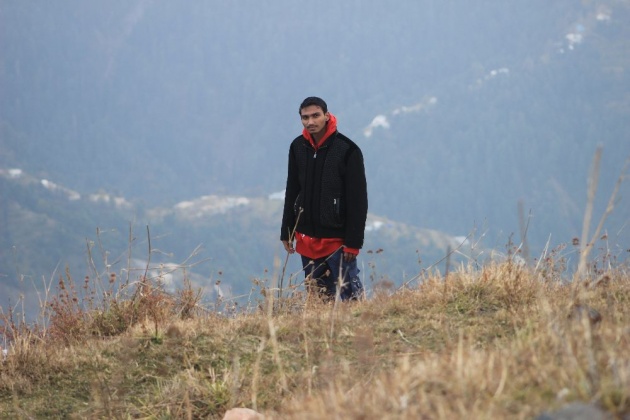 (Image Source=My won)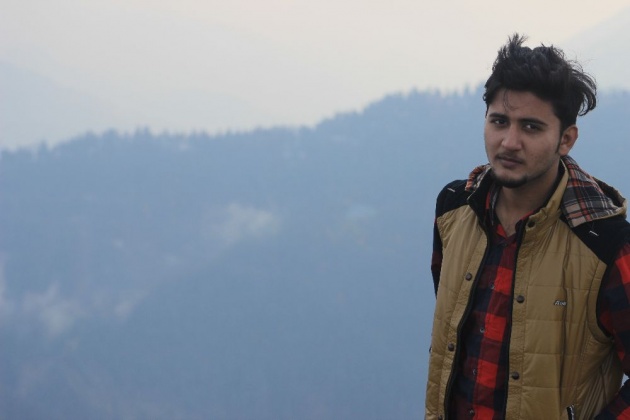 (Image Source=My won)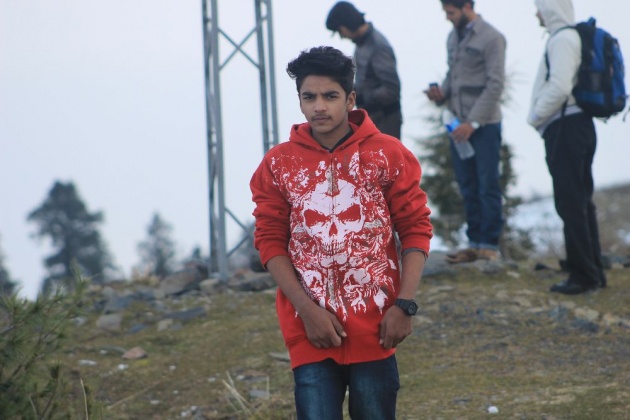 (Image Source=My won)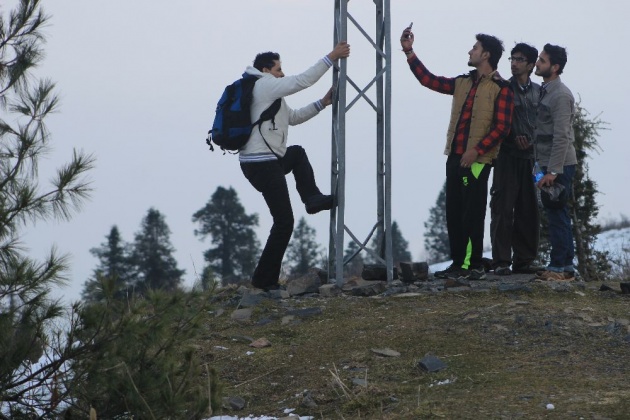 (Image Source=My won)
Returning back From Miranjani
The weather was changing continuously and this time black clouds was coming towards us and it was scary environment become. Our guide said that it were snow cloud and snow falling is possible. Lets moved back. We all packed up and started to go down and with in 1:30 minutes Ahmad, Azeen and Me reached the bottom where tourist rest corner is. Then we waited for others and they came too after few time. We asked for lift from someone going toward our hotel and they gave us lift. We reached Affaq and had great lunch. Then we were told that to pack up your every stuff in the room and checkout from Affaq. We packed up our everything and rented a Small buss that dropped us at Murree. We visited Murree and my friends bought somethings for their family and later we sat off for Faizabad to take Royal Luxury back to Lahore. We reached Faizabad near 8:45 pm and we didn't get a ticket on that time. We booked ticket to Lahore that would leave at 9;30.
These pictures were taken when buss stopped for a stay. Our Sir Khalid took cup of tea and I captured some photos and then I slept in the buss. When we reached Lahore, Rizwan woke me up and others. We reached Lahore at 3:45 am and took a rickshaw to our homes. As we lived near to each other except our Sir. We reached home safe and sound. When I reached home, My elder brother and his wife was waiting for me. They opened the gate for me and asked a short description of my trip. Then I mat my mother, She made me some food because I told her that I'm Hungry.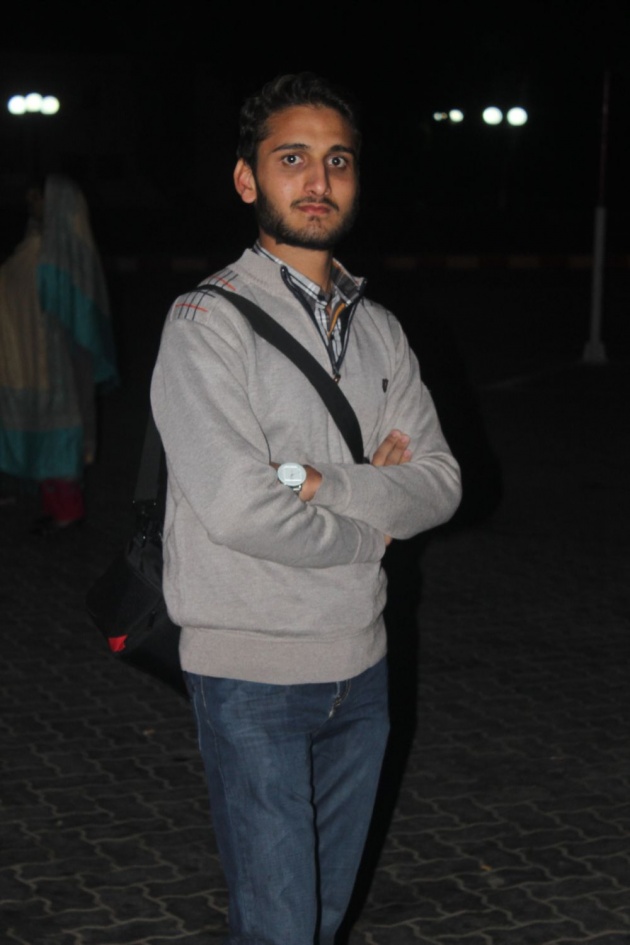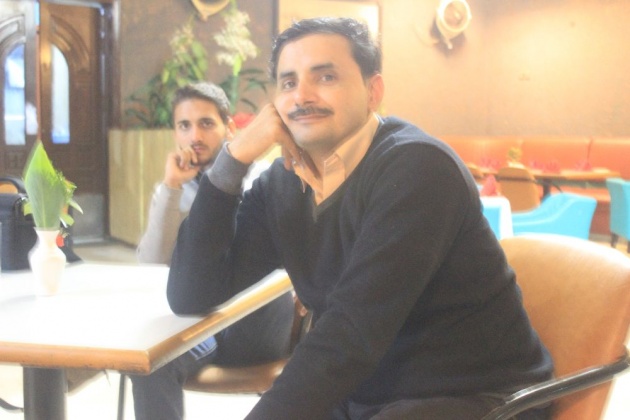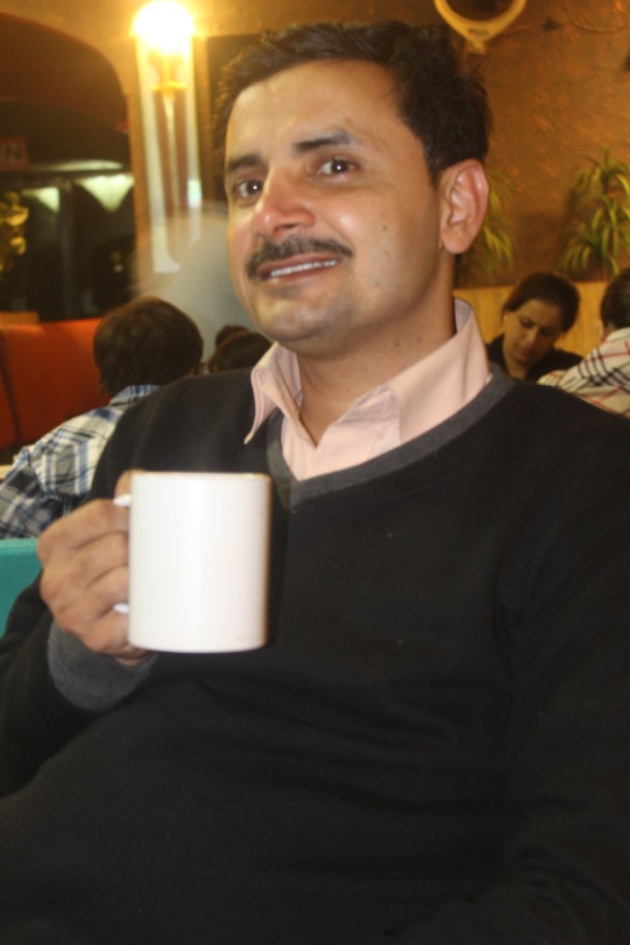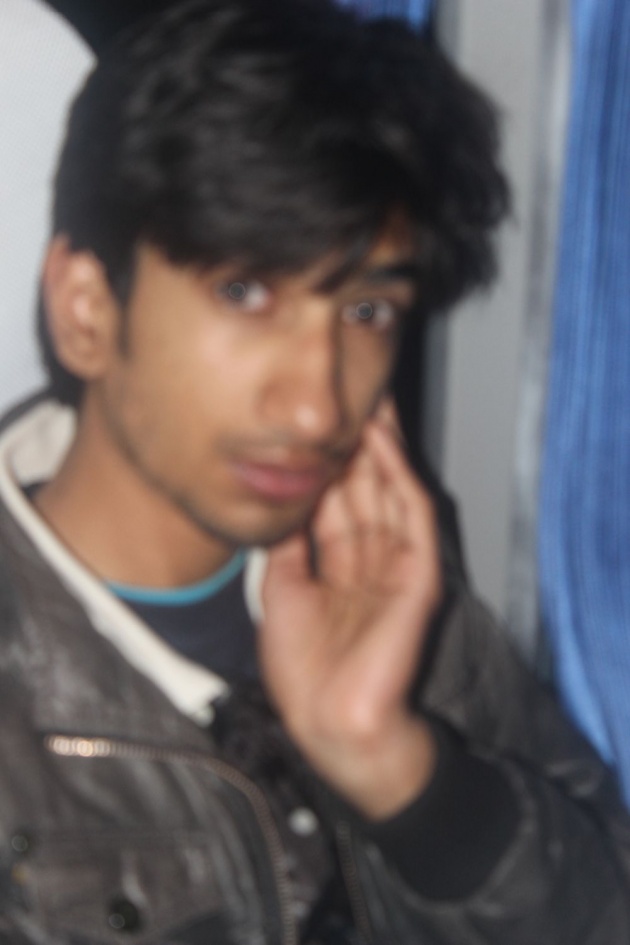 It was great trip of my life and we planned to go to Neelam Valley this year. I think 2016 gonna be the best adventurous year.