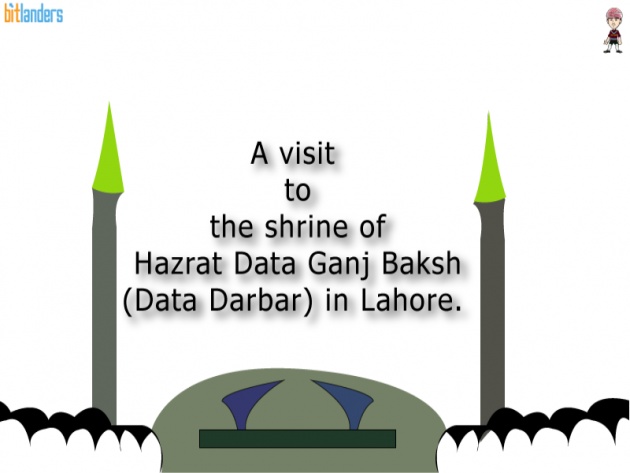 Image source: Created by me
Illustration of Data Darbar Shrine.
Just before the line of partition drawn between the Pakistan and India, the land of subcontinent was famous for the saints it had produced. But as the Sub-Continent got divided in Pakistan and India, the shrines of the famous saints also get stuck under the name of these countries. A larger number of historical sites, holy places, and shrines get distributed between both the countries. The shrine of a famous saint "Khwaja Moinuddin Chishti" Ajmair Sharif , "Khwaja Nizamuddin Auliya" remained the iconic places for the visitors in India amongst many others whereas, the land of Pakistan blessed with the shrines of famous Sufi saints like Hazrat Lal Shahbaz Qalandar in Sindh, Data Darbar in Lahore and others etc.
Image source: google.com
The shrine of "Khwaja Nizamuddin Auliya", Mumbai.
Recently, in January I had decided to go on a tour to Pakistan especially to explore the northern areas of my country. While returning from the northern side, we had a plan to visit Lahore for a couple of days. Well, it is to admit that Lahore is very rich when it comes to history and the historical places are preserved too in comparison with Karachi. We've visited many places including Minar-e-Pakistan, Lahore Fort, and Badshahi Masjid but before visiting these place we paid our visit to a very special place which is called "DATA DARBAR" about which you will come to know in this blog.
Image source: google.com
The famous shrine Data Darbar Lahore.
It was 15th January and 12:00 pm in the morning when I along with my four friends paid a visit to the shrine of honorable Hazrat Data Ganj Baksh (DATA DARBAR). Though we weren't the only who was there, a sea of a crowd was also there despite a regular day. Our plan was to pay tribute and offer Namaz-e-Zohar (Zohar Prayer) at there, so we made it according to our plan and witnessed some memorable and heartwarming scenes.
History
The Shrine of Hazrat Data Ganj Baksh (also known as "Data Darbar") is located in Lahore, Pakistan. It is one of the largest Sufi Shrine of South Asia. It was built to preserve the memories of the Muslim mystic of Data Ganj Baksh a great Islamic scholar, who is believed to live in it around 11th Century. The shrine was originally designed as a simple grave next to the mosque which Ganj Baksh had built on the outskirts of Lahore near around 11th Century.

It is widely believed in the Muslim World that the spiritual power of the great Sufi's are attached to their burial sites, therefore a larger shrine was built to commemorate the burial site of Ganj Baksh during Mughal era. Later, in the 19th century, the structure of shrine re-planned and expanded with Hajwairi's Mosque re-built.
Since after the partition, this shrine came under the Pakistani Government which controls as part of the Auqaf Ordinance (Religious Affairs) of 1960, with the official aim of preventing shrine caretakers throughout the country from financially exploiting the devotees. The shrine was greatly expanded again under the rule of military dictator General Zia – ul – Haq, by which the shrine became the largest in South Asia.
Image source: google.com
Data Darbar Lahore after final re-built.
However, a horrifying incident was also rooted in its name when two suicide bombers attacked the shrine and in the result of 50 people were killed and more than 200 people were injured in the blasts.
Significance
The shrine of Data Darbar is known as the most sacred place in Lahore. It's also famous because the Sufi saint of this shrine got the supreme authority over all saints in the Indian Sub-Continent that no new Sufi saint could immigrate to the sub-continent without obtaining the permission from the spirit of Data Ganj Baksh.

This shrine attracts thousands of devotees every day and is visited by Muslims and Non-Muslims both. Famous public figures such as Baba Farid, Moinuddin Chishti, Nizamuddin Auliya, Dara Shikoh, and Allama Iqbal all had paid their visit to the shrine. Even the former Prime Minister of Pakistan Mian Nawaz Sharif is a frequent visitor to this shrine.
Video source: youtube.com
Azaan at Data Darbar, Lahore.
Here are some quotes from the mighty sufi saint Hazrat Data Ganj Baksh:
Every good and evil that happens to man is decreed by God.
The glory of poverty is this, that the poor man's body is divinely preserved from base and sinful acts, and his heart from evil and contaminating thoughts.

- Hazrat Data Ganj Baksh
Architecture
Another reason for which I fell in love with this shrine was its architecture. Although, I got some photographs from my smartphone as a memoir which I've shared below, but first let me make you know about the history of its architectural design.
The shrine Ali Hujwiri (Data Darbar) was built in the Mughal Era. The tomb of this shrine is crafted of carved white marble. The whole tomb is surrounded by a massive marble courtyard with modern architecture deployed in a new educational institution at the complex. So let's taste the current pictures of this shrine.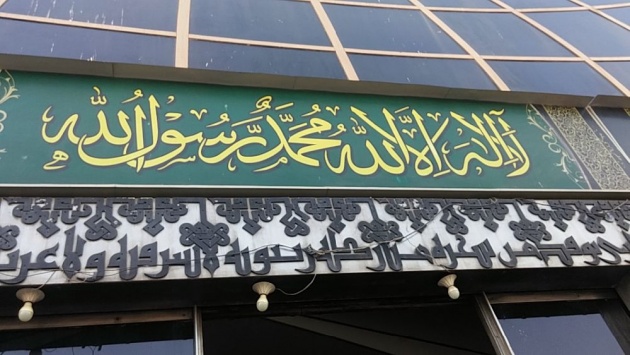 Image source: captured by me (LG-G3)
First Kalimah written on the main entrance of the hall of Data Darbar, Lahore.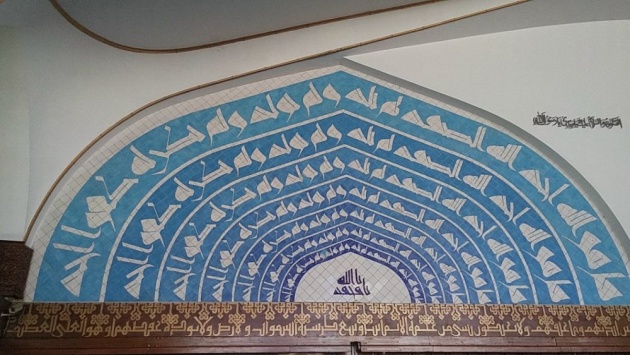 Image source: captured by me (LG-G3).
Inside Masjid Data Darbar, Lahore.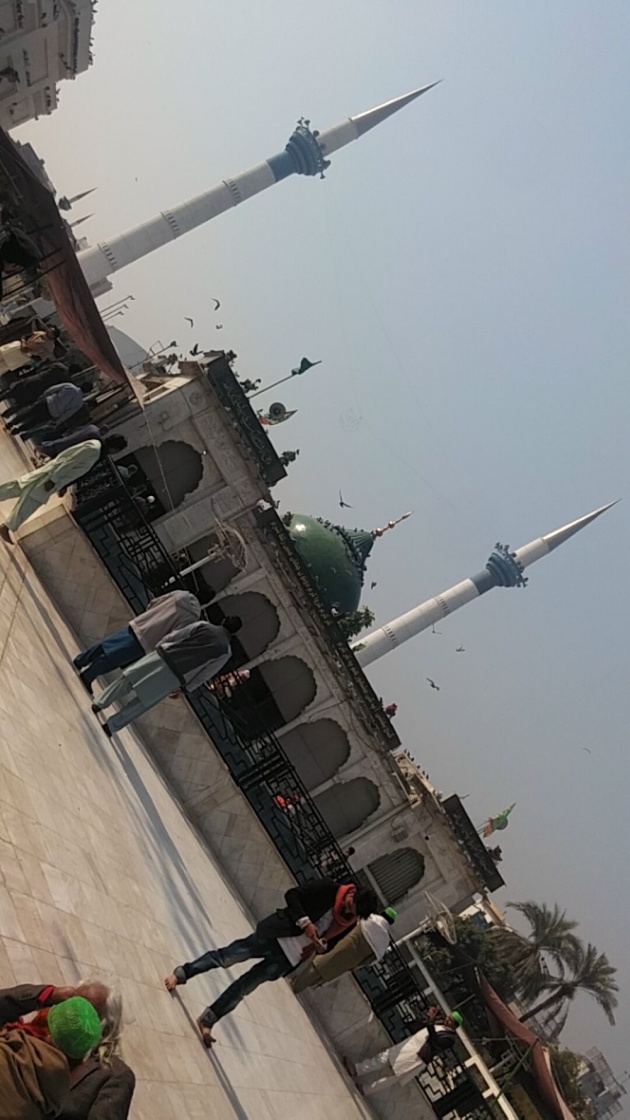 Image source: captured by me (LG-G3).
Court yard of Data Darbar, Lahore.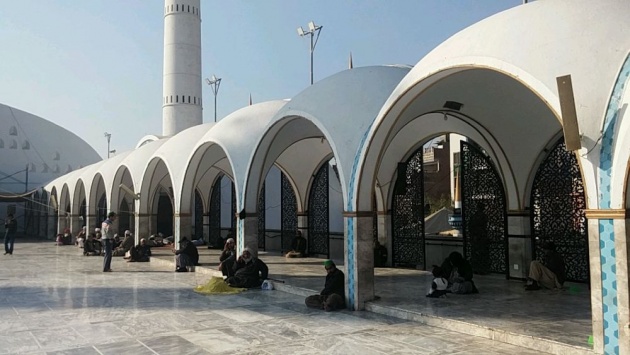 Image source: captured by me (LG-G3).
Shelters in the court yard of Data Darbar, Lahore.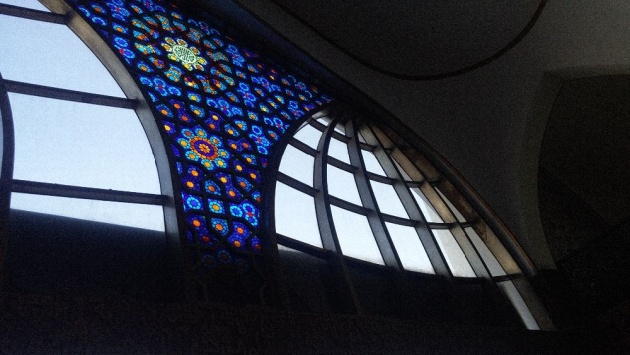 Image source: captured by me (LG-G3).
Interior Data Darbar Masjid, Lahore.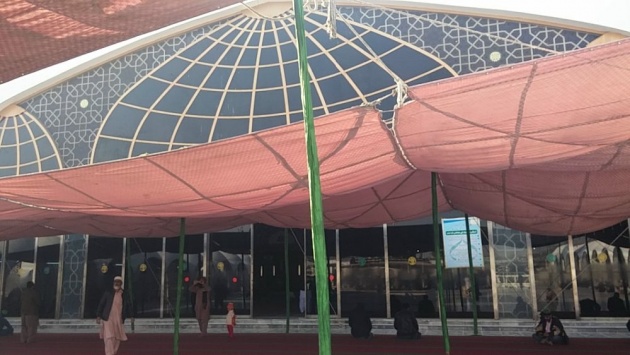 Image source: captured by me (LG-G3).
View of Masjid from the court yard of Data Darbar, Lahore.
Social Services
Video Source: youtube.com
As the shrine remains open at all hours, it is visited by approximately 30,000 to 60,000 visitors on a daily basis, though the number gets double on religious days, and on Thursdays. The traditional night which is also known as 'Urs' festival held every year, which attracts up to 1,000,000 devotees each day as the festival remains for only 3 days.
Beside all these things, this shrine provides a wide range of social services which play somehow a supporting role impoverished residents. According to the custom, which is 1000 years old, around 50,000 visitors offered free food at the shrine every day. Moreover, patron's facing personal difficulties often donate money in line with Islam's emphasis on feeding the poor.
Conclusion:
My experience of visiting "Data Darbar" was indeed memorable. The religious harmony I'd witnessed there, the peace, spirituality I found there, were the scenes which provided relaxation to my soul. People across the world, no matter what religion come under one roof and pay their tribute to the Hazrat Ali Hujwiri and when you get to see such things what else then you want. With the historic point of view, Data Darbar or even the whole Lahore city is rich than any other city of Pakistan when it comes to preserving the history. Thanks!