Recently, I had the world premiere of my latest animated short film, Yellow Sticky Notes | Canadian Anijam at the 2013 28th Santa Barbara International Film Festival which ran from January 24th to February 3rd. I had been to Santa Barbara, California once in 2006 to visit a buddy for the day and from what I remembered it was a very beautiful city. So I was really looking forward to spending an entire week attending the festival.
The festival was really nice and gave me three nights of comped hotel at the Hotel Santa Barbara (the festival HQ) and close to the theatres. Getting some free nights was actually pretty good considering my film is a short and most times short filmmakers don't get a lot of comped travel or accommodations. Although, sometimes I've found that if you can offer the festival something like conducting a workshop or being on a panel, they will cover your entire travel. Different festivals have different perks and it all depends mostly on their hotel and flight sponsors. When I made a feature film in 2010, I had a lot of my travel comped because my film was the main attraction so the festival really wants you to be at the festival to make your screening more of an event. When you have a short you're either put at the beginning of a feature or as part of a shorts program, so there are just more short filmmakers in comparison to the feature films which usually means less perks.
The festival put my film into an Animation Program with 7 other short films. Among the animated films were Oh Willy, Sleight of Hand, Old Man, Butterflies, Cicada Princess and the 2013 Academy Award nominated Head over Heels. What surprised me was that all the films were stop motion or classically animated films. There were no CG films at all. I found this rather refreshing considering all the feature length theatrical CG films coming out these days. The programmers even commented that they liked how all the films complimented each other with their traditional styles.
The festival had three screenings of the Animation Program. The first screening was at the Metro 4, a theatre on the main street of Santa Barbara, which was the main theatre of the festival. The screening was pretty late, at 10:30pm, so I was a bit skeptical that there would be a large attendance. Although, much to my surprise, the theatre was packed and it was a complete sell out! The response was great. It definitely was an eclectic mix of animated shorts. Oh Willy was a beautiful stop motion film made with wool and felt characters and sets. Although, a very surreal and strange tale. I recommend checking it out if you can. The film is without dialogue so it is very universal.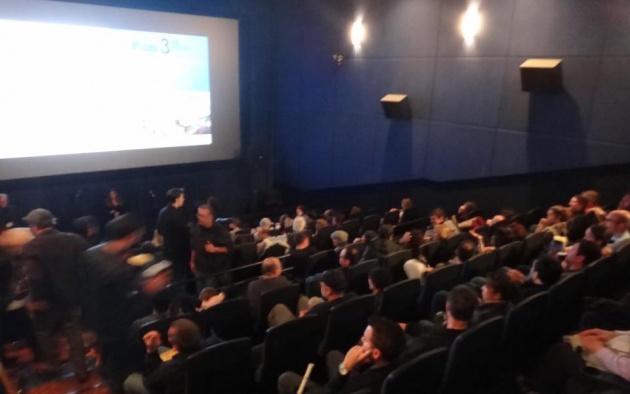 This year's Short Animation Oscar nominated Head over Heels has a very charming story that may bring a tear to your eye at the end. I found Old Man interesting as it is an animation of a phone conversation with Charles Manson. In the film, the animator tries to capture the crazy thoughts brewing in Manson's head as he speaks from prison which makes for some pretty crazy wacky animation. Butterflies features stop motion animation by Nick Hilligoss an Australian animator I met years ago at film festival. Although, I wasn't a huge fan of the aesthetics of that film as the characters were a tad creepy looking. Cicada Princess was well produced and was created mostly using hundreds of puppets and was narrated by Stephen Fry. Sleight of Hand is a stop motion film where a stop motion puppet ends up realizing that he is being controlled by the animator. Sleight of Hand actually ended up winning the best animation award at the festival. By winning the best animation award at the SBIFF, Sleight of Hand, now qualifies for an Academy Award for Short Animation.
The second screening I had was at a nicer time slot, 7pm, so a few friends from LA and Camarillo come up to check out the show. Again it was a sold out show at the Santa Barbara Museum of Art theater. There were roughly 150 seats. After each show there was a question and answer period with the directors. Although, at each screening it was usually just me and another producer from one of the other shorts but we had some great questions and an enthusiastic crowd. I had a lot of people come up afterwards to let me know they really enjoyed my film so that was nice. The only screening that didn't sell out was the last screening, which also happened to be a late show. Although, we had about a half full theatre for that one. After the screenings or at the festival, I didn't meet many distributors or very many other festival programmers, so as far as business goes, it's not really that kind of festival. Although, I did have one programmer ask to screen my film at his festival in Pennsylvania.
The Sanata Barbara Int'l Film Festival definitely has some money running through it and I'd consider it a pretty good party fest...lots of comped food and booze. If you wanted to buy a full festival pass, their Platinum passes were $1500 each. Which allowed you into all the screenings, parties, hospitality lounge, etc. As a filmmaker I received a couple Platinum badges so I brought my buddy Daren with me from Vancouver to enjoy the fest. I think we both needed some sun after a long gloomy Vancouver winter. We definitely had a great time and partied it up. Everyday there was usually a festival hosted party and a happy hour in the filmmakers lounge from 4pm to 6pm with free booze and good food!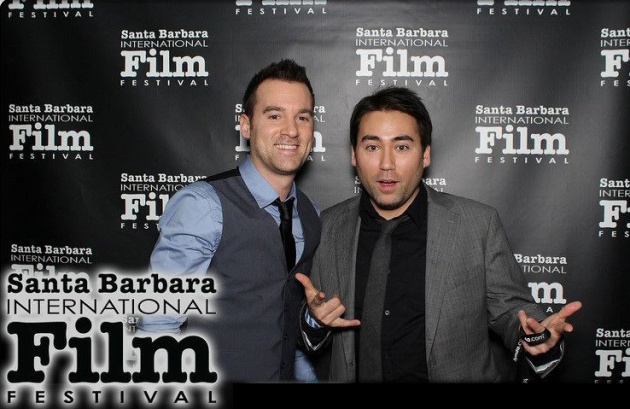 What was interesting about the festival was after taking to another producer, I learned that the festival strategically places itself just after Sundance and before the Oscars so they are able to attract some big celebrities to the fest. There are a lot of academy members, like Oprah Winfrey, who own houses in Montecito, which is very close to Santa Barbara. Therefore, the festival is able to get some Academy Award nominated actors and directors to visit the fest by presenting them awards. Studios are all for getting their actors/directors to attend since there are a lot of voting Academy members who live in the area and it's good publicity for their Oscar nominated films. This year Ben Affleck, Quentin Tarantino, Amy Adams, Jennifer Lawrence and Daniel Day-Lewis were honored.
I was able to check out the Ben Affleck tribute which was cool since Matt Damon came out to present him the award. They're like the dynamic duo so it was like seeing Batman and Robin together! As well, I checked out the Quentin Tarantino tribute. As a director and fan of Quentin's work, I enjoyed hearing about his creative process as a writer and director. He said that he writes all his scripts by hand first on pen and paper, which I can really respect. When asked why he does that, he said, "Because you can't paint a portrait on a computer." He spoke candidly and honestly about his films and it was fascinating to hear his perspective on how he approaches writing as someone who never went to school for it. He said that he works much like an author who is writing a novel and for him writing is all about creativity found in the journey and process of writing as opposed to finding resolutions or completion.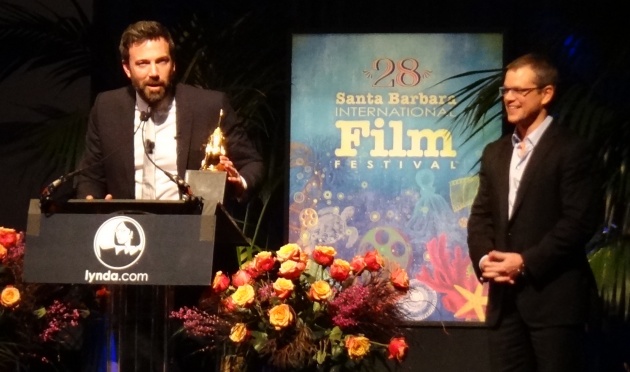 Overall, I can really say I had a great time at the festival, the sun was shining, it was warm, and I even had some downtime to bike around the city, sit by the pool, and check out the sites like Stearns Wharf (no relation!). As well, at the Opening Night Gala, my buddy Daren and I spent some time with our favorite TV dad and fellow Canadian, Alan Thicke. As a filmmaker, I'd definitely recommend submitting to next year's festival and trying your best to attend. They promote their films well, have great attendance, and treat you well!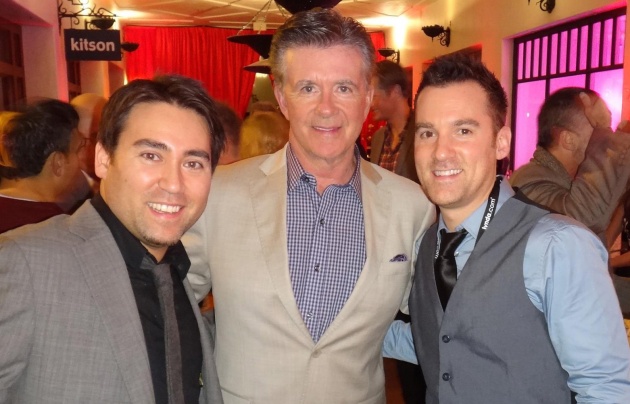 Hanging out with fellow Canuck, Alan Thicke, in the VIP Lounge at the Opening Night Gala of the 28th Santa Barbara Int'l Film Festival.