This year, as in the previous three, Ryan Newman has centered his victory. But this time was even more special because it came in the Cathedral of Indianapolis, in one of the most important races of the Nascar season and after folding with merit, both strategic and performance, competition from Jimmie Johnson, someone who kissed Indy's bricks four times and this year seems to be unstoppable in the race for his sixth overall title.
Today, however, the spotlight is for Ryan Newman, At a time when, after the announcement that the Stewart-Haas Racing will do without him next year, has an absolute need to make a good impression.
Started from the front row, Newman - who was also the poleman after sealing the records of the circuit during saturday - and Johnson had dominated the length and breadth of the Crown Royal 400 Samuel Deeds, covering a total of 118 laps in the 160 played, alternating the lead multiple times.
A couple of laps before the mechanics of Johnson, impeccable throughout the race, had a hesitation in replacing the left rear of the # 48 Chevy, making a pit-stop of 17 seconds. The boys of Stewart-Haas Racing have opted instead for replacing only two tires, Newman sending back on track with over 8 seconds ahead to handle and a car that had already been amply demonstrated to be very efficient.
The margin was perfectly adequate and the 35 year-old local hero - Newman lives in fact in South Bend, Indiana - has crossed the line 2.6 seconds ahead of the five-time champion of the NASCAR Sprint Cup Series. Newman is also the third driver, after Harvick and Johnson, to triumph in Indy starting from pole position. Kasey Kahne is coupling the third, fourth Tony Stewart, Dale Earnhardt Jr. sixth after being even among dubbed because of a bad wheel fixed and Jeff Gordon seventh. In their middle was put on a very solid Matt Kenseth, fifth at the finish line with the Toyota. Joey Logano has benefited from an alternative strategy to close the Penske Racing in eight place, ahead of Juan Pablo Montoya. The Colombian is usually very strong in Indianapolis, but this time, although fast, was never really in the fight for the victory.
While Johnson has taken his lead over Clint Bowyer, decidedly anonymous in Indianapolis, to something like 75 points, the NASCAR Sprint Cup moves to Pennsylvania for the second race of the season at Pocono Raceway, scheduled for next Sunday.
The results:
1 Ryan Newman Quicken Loans / The Smurfs (Chevrolet)
2 Jimmie Johnson Lowe's / Kobalt Tools (Chevrolet)
3 Kasey Kahne Great Clips (Chevrolet)
4 Tony Stewart Mobil 1 / Bass Pro Shops (Chevrolet)
5 Matt Kenseth Dollar General (Toyota)
6 Dale Earnhardt Jr. National Guard (Chevrolet)
7 Jeff Gordon Pepsi Max (Chevrolet)
8 Joey Logano Shell Pennzoil (Ford)
9 Juan Pablo Montoya Target (Chevrolet)
10 Kyle Busch M&M's Red-White-Blue M-Prove America (Toyota)
11 Martin Truex Jr. NAPA Auto Parts (Toyota)
12 Paul Menard Menards / Duracell (Chevrolet)
13 Carl Edwards Fastenal (Ford)
14 Kurt Busch Furniture Row / Beautyrest (Chevrolet)
15 Jamie McMurray Cessna (Chevrolet)
16 Marcos Ambrose DeWalt (Ford)
17 Aric Almirola Eckrich (Ford)
18 Denny Hamlin FedEx Express (Toyota)
19 Kevin Harvick Jimmy John's (Chevrolet)
20 Clint Bowyer RKMotorsCharlotte.com (Toyota)
21 Brad Keselowski Miller Lite (Ford)
22 AJ Allmendinger Phoenix Construction (Chevrolet)
23 Mark Martin Aaron's Dream Machine (Toyota)
24 Greg Biffle 3M Safety (Ford)
25 Ricky Stenhouse Jr. # Ford EcoBoost (Ford)
26 Austin Dillon(i) Mycogen Seeds (Chevrolet)
27 Casey Mears GEICO (Ford)
28 Trevor Bayne(i) Motorcraft / Quick Lane Tire & Auto Center (Ford)
29 David Reutimann Burger King / Dr Pepper (Toyota)
30 Danica Patrick # GoDaddy (Chevrolet)
31 Travis Kvapil Burger King / Dr Pepper (Toyota)
32 Michael McDowell K-Love / Curb Records (Ford)
33 Landon Cassill(i) Interstate Moving Services (Chevrolet)
34 David Ragan CSX / Play It Safe (Ford)
35 David Gilliland Long John Silver's (Ford)
36 Bobby Labonte Scott Products (Toyota)
37 Dave Blaney Tommy Baldwin Racing (Chevrolet)
38 Josh Wise(i) MDS Transport (Ford)
39 JJ Yeley Tommy Baldwin Racing (Chevrolet)
40 David Stremme Widow Wax / Lean1 (Toyota)
41 Joe Nemechek(i) (Toyota)
42 Timmy Hill # OXYwater (Ford)
43 Jeff Burton Caterpillar (Chevrolet)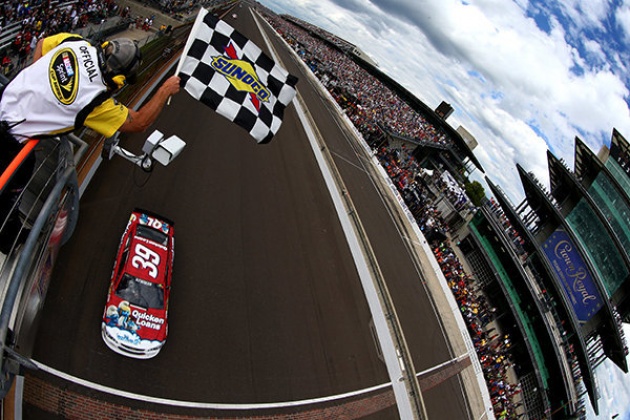 From the world of car races, the adrenalin which causes the fever for this wonderful sport.From rallies to the races on all types of tracks, the planet of roaring engines shown by fans,trying to share this passion with all who love races and all who are literally "sick" of this sport.
Increasing the culture and knowledge of Motorsport...