Hello Everybody!
As I share with you a couple weeks ago, our short film "Yellow Apples" was selected to be on the "National Talent" competition of SANFIC film festival.
This is going to be the first official screening of this work and also from almost all the short films in this section of the festival. From this point the distribution stage begins and I don´t know when it´s going to finish, the next move it´s an international screening and after that show it everywhere that we can!
The official premier it´s going to be on Thursday 23rd of October at La Reina Hoyts Cinema at 18.00. Our short film is part of the Block 1 of short films in the contest and also it´s going to be screened all the week in different universities in Santiago city.
So! If you are in Santiago of Chile, I would like to invite you to our National Premier at the cinema or in some of the screening in the universities.
Here is the schedule of our screenings and if you want more info you can visit www.sanfic.cl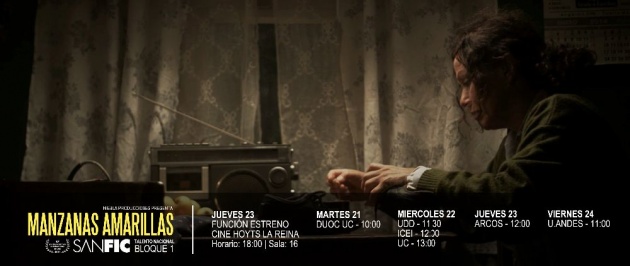 Thanks again for read this blog!
Ignacio